Definition
What is customer churn?
Customer churn refers to the cessation of the customer's relationship with the company. Companies determine customer churns upon establishing a predetermined time wherein the customer should re-engage with the company but did not.
Online businesses encounter many customer churns, which are evident in decline in the number of site visits and the purchase of services.
In combating customer churn, businesses should take care of their customers through proactive communication, constant updates, and friendly representatives who can always provide a positive customer experience. Having the best methods to build a long-standing relationship is more comfortable with the right people helping you.
Outsourcing can help you work with competent people in this area while focusing on innovation and growing your business.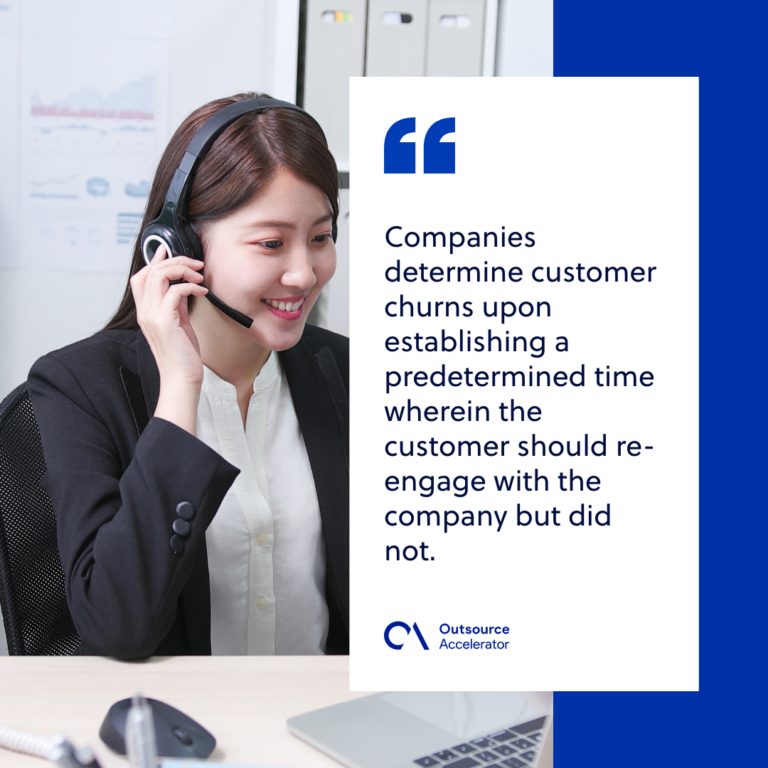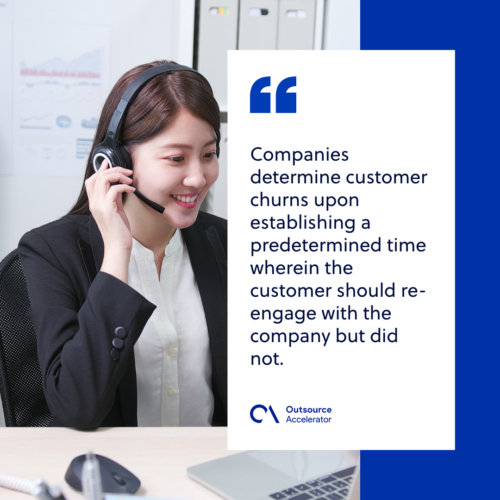 Why does customer churn happen?
There are a lot of reasons why customer churn happens. Here are some specific reasons and how you can prevent it.
You're not attracting the right customers
From the very beginning, your marketing team should target the right prospect. Attracting the wrong people will turn into customer churn. When consumers learn that your product doesn't meet their needs, they'll probably move to a competitor.
Detailed and well-planned strategy implementation is vital to attract the right customers. Also, your products and services must fit their needs.
Customers believe that your competitors are more reliable
No matter how good your products are, if buyers don't think it's the best fit for their needs, there's no point in producing them. This is primarily the problem of new small businesses.
Provide excellent service to your customers. Customer service is one of the most effective ways for businesses to build trust and confidence.
Your buyers doubt your pricing
Most customers depend on pricing. Customers tend to leave if they find your product too expensive. But it is not always about "which is more affordable" because some customers might also doubt if your pricing is too low.
For example, if customers think your product is too expensive, they're more inclined to go with a lower-cost competitor.
On the other hand, a customer may doubt your ability to solve their problem if they believe your solution is too cheap for the value you're providing. 
Failure to provide customer assistance
Customer service is not only a small part of customer success. It is important to note that customer success demands more proactive assistance.
There are a lot of practices to improve your customer service. You can deploy new technologies, hold training for your staff, or improve internal communications.
Customer churn prevention
Decreasing the possibility of customer churn can be crucial to business growth. Outsource Accelerator helps you battle customer churn by providing practical, proven, and research-based ways to maintain a good relationship with your customers and stay relevant and wanted by your customer circle.
Outsourcing your marketing and customer service functions can help you focus on your long-term goals.