Customer dissatisfaction: What it is and how you manage it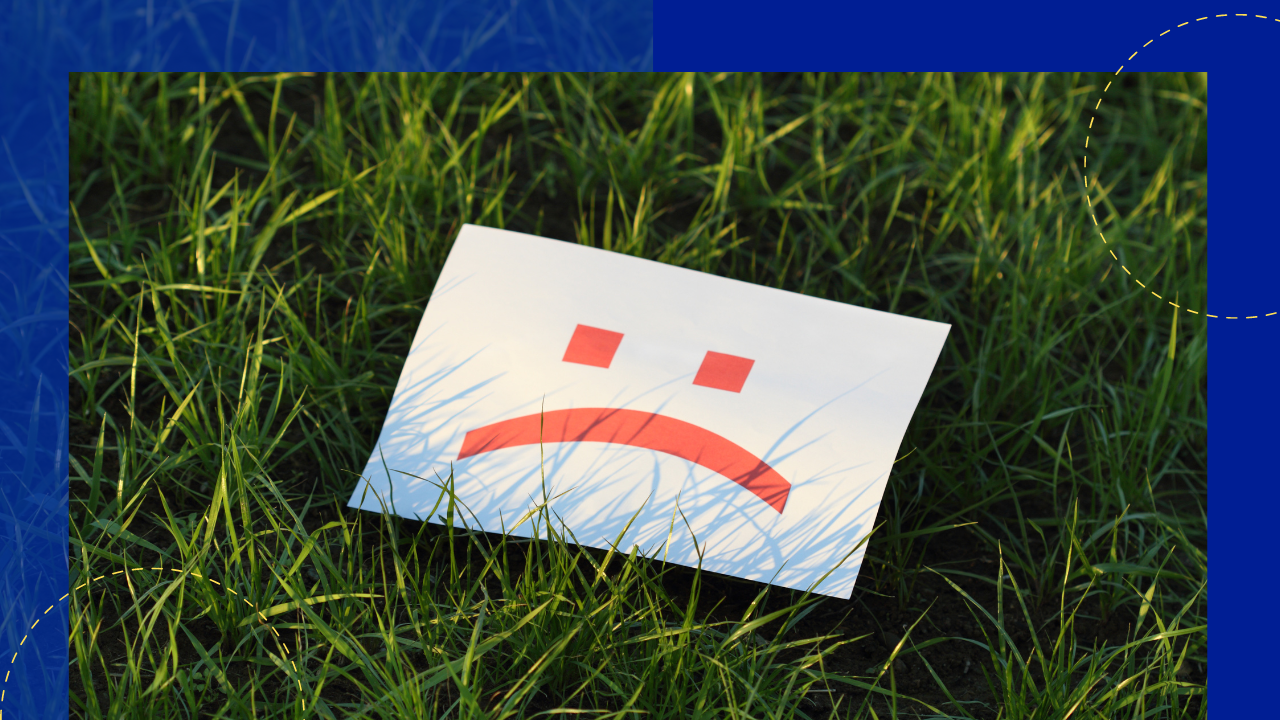 It is unfortunate for companies that unsatisfied customers have the potential to affect their business reputation[1] and profitability if not addressed promptly.
Customers prefer to keep things going smoothly. If they are never satisfied, they may end up being disgruntled by the level of service they have received.
Customer dissatisfaction is a common problem many businesses face today, and customer loss[2]] is a cost many businesses can't afford. When this happens, there's plenty to do to figure out its root cause and the course of action needed to address it. 
This article will discuss customer dissatisfaction, its causes, and some tips on how to minimize it. 
Defining customer dissatisfaction 
Customer dissatisfaction is a situation that occurs when the customer is not satisfied with the product or service provided. 
Many factors can cause customer dissatisfaction, including poor quality of the product or service, late delivery, or a negative experience during the buying process.
In many cases, it can result in consumers feeling anger, frustration, or even hatred toward the brand and its products. Consequently, businesses might lose revenue if they do not take action to prevent it from happening.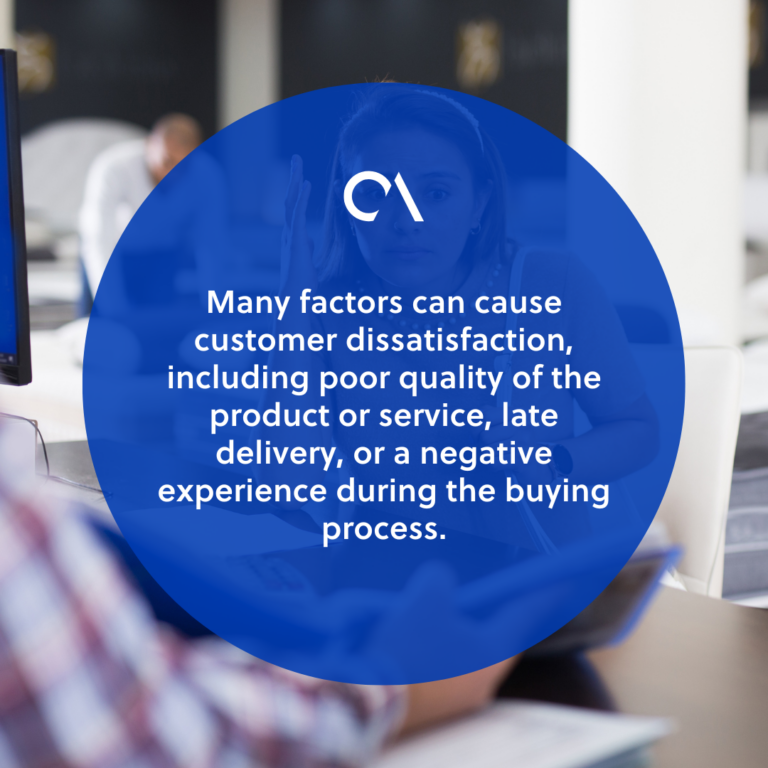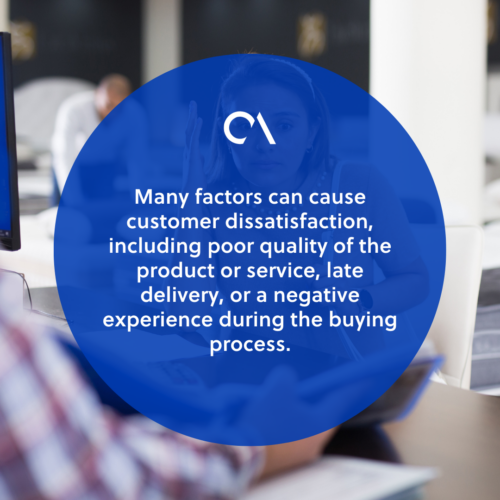 Essentially, customer satisfaction is one of the most important metrics. This helps determine how successful the company is and whether it will be able to attract new customers over time.
Harvard Business Review has reported that 80% of businesses use customer satisfaction scores to analyze customer experience and improve it. 
In today's competitive business environment, companies must exert an effort to understand the causes of customer dissatisfaction to address them effectively. By doing so, they can improve their performance and increase customer loyalty and even sales. 
Top reasons for customer dissatisfaction
Customer dissatisfaction can be caused by a variety of factors, including the following:
Issues with quality and usability 
Quality and usability issues are common causes of customer dissatisfaction. 
If a product or service doesn't meet the consumers' expectations, they will feel like they've wasted their time and money. These customers are more likely to leave and never return.
Companies must test their products before releasing them to the market. This way, they'll be more likely to recommend it to others or do business again in the future.
High prices 
Usually, high prices are often associated with premium products. But if products or services are overpriced, they'll make less likely to be purchased again. 
When a company is overpriced, customers might be frustrated since they feel they could have gotten something better for less money elsewhere. 
That said, if the pricing strategy isn't aligned with the target market, then high charges can lead to customer dissatisfaction or, worst, customer churn.
Failure to meet customer expectations 
Customers want to be satisfied with what they bought, and they want to be able to use it in the way they expect. If a brand promises something and fails to live up to its own standards, it's likely to lose customers quickly. 
Poor customer service 
In businesses, how customer complaints are handled can make or break their loyalty to the brand. 
Taking action quickly and effectively may lead most customers to forgive minor issues. But if they don't, customers may end up never coming back, no matter how good the products are. 
According to Glance's report, 70% of unhappy customers whose problems are resolved are willing to do business again. With a well-trained staff in place, companies can ensure that customers feel like they're being treated fairly and getting exactly what they came in for.
5 useful tips to minimize customer dissatisfaction 
Customer dissatisfaction has been a major issue for many businesses since, and it can be caused by a number of factors. 
Here are five ways to reduce unsatisfied customers: 
1. Identify the issue 
Firstly, a company must identify what the main issue is. This may sound simple, but it can be tricky when dealing with a complex product or service. 
The best way to do this is by asking customers about their experiences with specific products or services. This will give you valuable business insight into what needs to be improved, making it easier to address certain issues.  
2. Leverage the latest technology to track complaints 
Nowadays, customers expect a seamless experience when interacting with businesses. 
With the rise of social media platforms and review sites, consumers are getting louder and more demanding. It's no longer enough to simply deliver good products and services. 
As per Salesforce, 80% of customers say the experience a business provides is just as necessary as its products or services. 
With so many software choices available, finding the right tool for your business needs can be tough. However, having one helps track complaints and significantly improves customer service.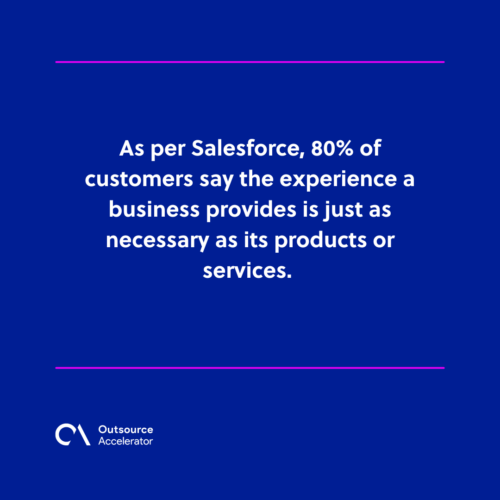 3. Provide seamless customer service
Seamless customer service is the key to retaining customers and preventing customer dissatisfaction. But many businesses are still struggling to provide it. 
With the advancement of technology, plenty of tools are available to help businesses improve their customer experience and make it easier for customers to get in touch. 
It's not enough just to provide good service; it needs to be seamless. That means resolving problems quickly, so customers don't have to wait days or weeks for an issue to be resolved.
4. Take proactive feedback 
The more a business knows about the customers' needs, the better it'll be able to fill them. It's important to take proactive feedback from customers. 
This can be done through various methods such as surveys, rating systems, and other tools to collect data from customers. 
Taking proactive feedback gives an opportunity to address any issues that may be preventing the customer from having a great experience.
5. Meet customers' needs
Once the problem is identified, find the solution. When a customer has a problem or concern, take it seriously and address it right away. Don't brush customers off or make them feel like they are being a nuisance.
Customers want products and services that meet their needs and make them feel good about themselves. Hence, solving the issue quickly and effectively can minimize customer dissatisfaction. 
Achieve customer success by effectively managing customer dissatisfaction 
There is no shortcut when it comes to customer success. Customer complaints are inevitable for business. Therefore, companies must use different approaches and strategies in order to reduce customer dissatisfaction. 
With customer loyalty in decline and the competition increasing, it's vital for businesses to address certain issues about their products and services head-on. 
Overall, managing customer dissatisfaction means not just keeping customers happy but also ensuring they are satisfied with their experience. 
Article References:
[1] Business reputation. Gul, R. (2014). The Relationship between Reputation, Customer Satisfaction, Trust, and Loyalty. Journal of Public Administration and Governance, 4(3), p.368. 
[2] Customer loss. Tatikonda, L. (2012). The Hidden Costs of Customer Dissatisfaction. [online] Management Accounting Quarterly, p.3.