Top 8 causes of customer churn in SaaS business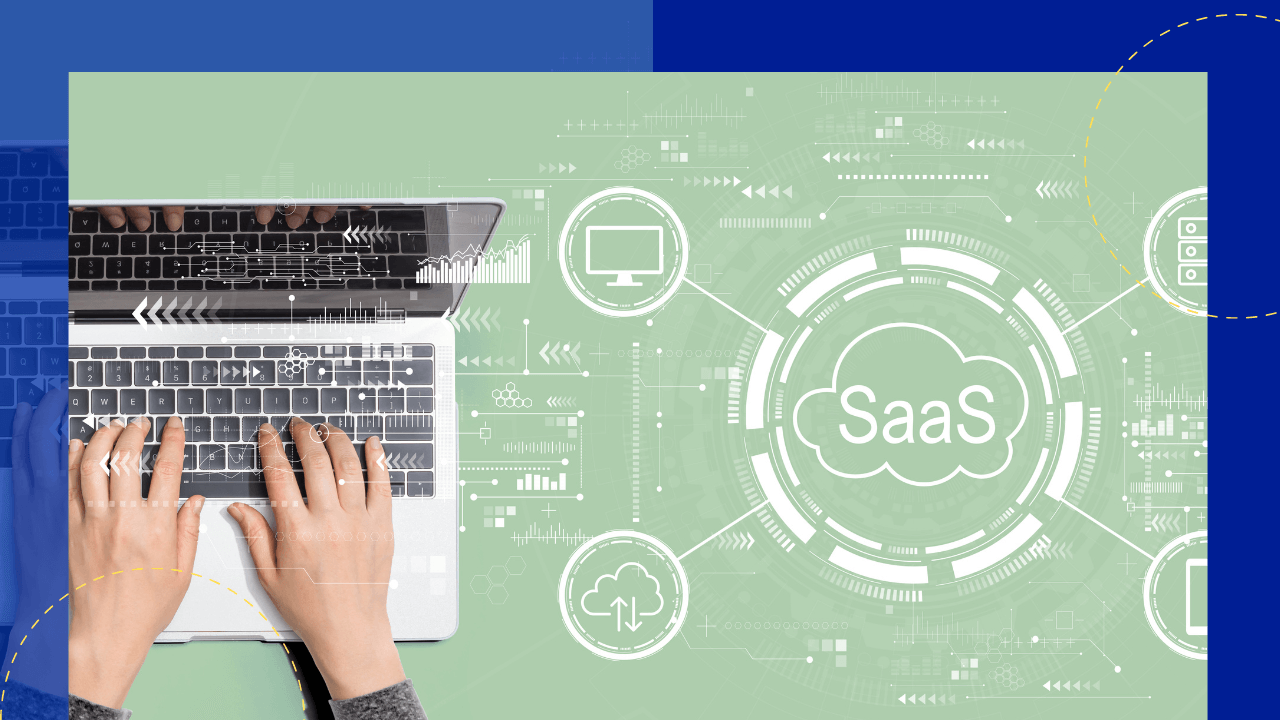 Every business owner wants loyal customers and repeat buyers. But people have limited time, money, and energy to spend. There are also many competing options for consumers, which is why they choose one company over another. 
In SaaS businesses,[1] customer churn is a major cause of business failure, and they have to deal with it everyday. 
This is considered a natural part of the customer lifecycle.[2] In fact, it's one of the factors that investors check when deciding whether to invest in a company.
Needless to say, losing customers has a negative impact on business. This can result in lower revenues as well as lost profits due to decreased or halted future sales.
In such cases, it highlights the importance of managing customer churn. Companies can better understand what customers think about the business and whether it's right for them.
This is a great way to anticipate how much churn a company will have and know how many new customers it will need to maintain current revenue levels.
This article will feature customer churn, its importance, and the top eight causes of why it occurs in businesses. 
What is customer churn?
Customer churn is the percentage of customers that leave a company and stop using a product or service for a period of time.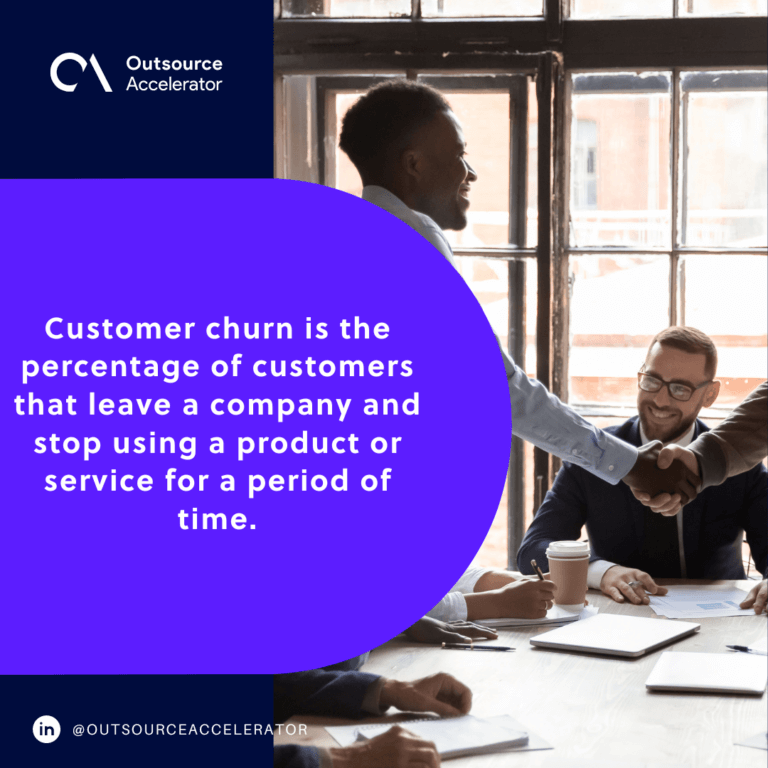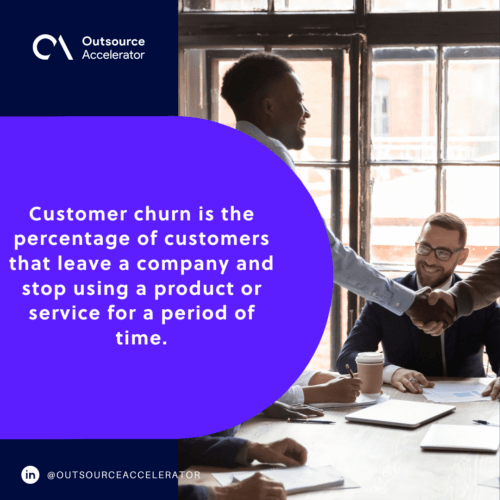 The term "churn" refers to an important metric businesses use to measure how many customers they lose each month or year. It also identifies how many customers they're gaining. 
It's normal for some customers to leave a company, but if they have more than their fair share of churn, it could be a sign that something is wrong.
According to SubscriptionFlow's latest report, the global churn rate across all industries is 5%. This is equivalent to five out of 100 customers who have left a brand in a certain period. 
SaaS businesses rely on recurring revenue from their customers. The longer each customer stays, the more money it can make in perpetuity. Typically, if a customer churn rate is too high, it will affect the revenue. 
When people cancel their subscriptions or don't pay their bills, they take away income from businesses that could have been used for marketing and other purposes. 
The revenue will decrease because there won't be enough money coming in the door to keep growing the company's bottom line.
Top 8 causes of customer churn in SaaS business 
Customer churn is a significant problem for SaaS companies and can be difficult to measure. But by understanding what causes customer churn, companies can take steps to reduce it.
Here we have the eight common causes of customer churn:
1. Poor product fit 
The most common cause of customer churn is poor product fit. If a product does not fit the target audience's needs, it will cause customer churn. 
Understanding customers' needs and how well the product meets them can be challenging. Businesses must know what is important to them to avoid churn.
Companies usually do this with surveys and interviews or by asking questions when customers cancel their accounts.
2. Poor customer service and support 
Customers who aren't getting the help they need may feel their issues aren't being addressed and can quickly become frustrated and look elsewhere for support.
ThriveMyWay reports that 42% of customers consider the quality of service and support to affect their decision to stop using a SaaS application.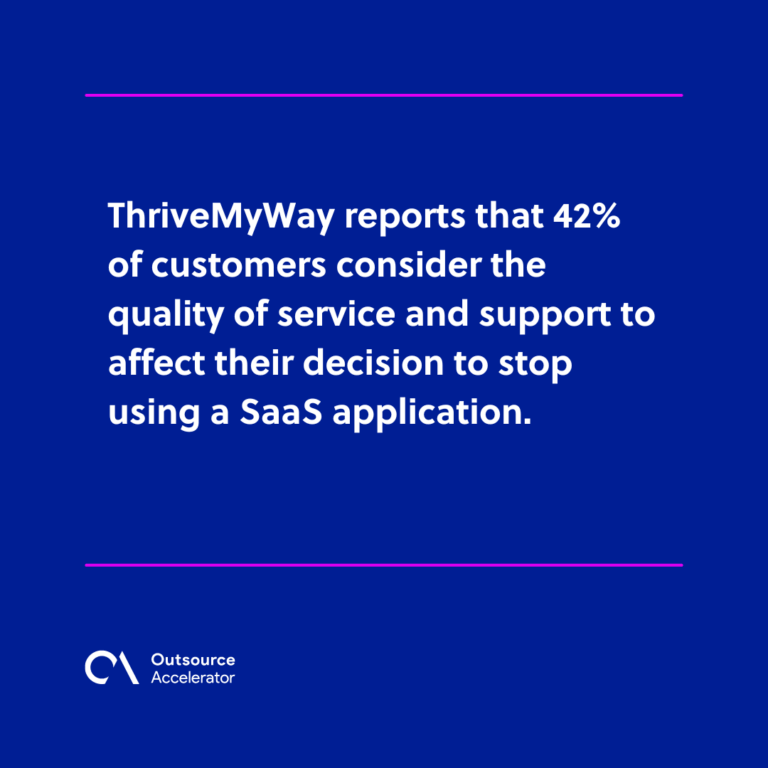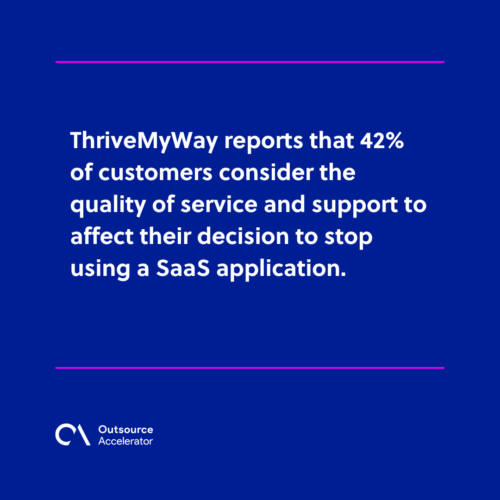 Thus, customer service plays a critical role in retaining customers as it mostly answers customers' queries about a product or service. 
This can be a make-or-break for customer retention. Part of good customer service allows customers to resolve issues quickly before they decide to leave or cancel their subscriptions altogether. 
Many SaaS companies have great products that solve real problems for their customers — but if they don't support those customers well enough, they could lose them anyway.
3. Attracting the wrong audience 
If a product isn't a good fit for the target customers, they're bound to customer churn. 
Many SaaS companies believe that it is enough to create a great product, and then people will come and buy it, but this is not true at all. 
Companies need to market their product well so that people know about them and find them useful for their needs. 
Thus, it is important to ensure a marketing strategy is effective enough so that people can see what benefits they get from using the product. 
To maximize your marketing efforts, consider partnering with experienced SaaS marketing agencies, as they can provide useful tips and guidance to nail your SaaS marketing.
4. Not providing personalized experiences 
Customers expect a personalized experience from every business they interact with, and if this expectation is not met, this will lead to customer churn.  
If they don't feel like their needs are met, they'll look elsewhere for better solutions that cater to their specific needs and preferences. 
5. Weak customer relationship 
A business that wants to create a long-term relationship with its customers should have a strong relationship with them. 
When companies have a solid relationship with their customers, they know what drives them and motivates them to continue using their products over time. This can be achieved by creating trust and maintaining regular communication with them.
6. Complaints aren't solved satisfactorily
If customers have problems with a product or service and don't feel like their concerns were addressed adequately, they'll become dissatisfied with the product. 
This can occur if the support team doesn't respond quickly enough or doesn't have sufficient knowledge about how the product works. 
Customers are also more likely to abandon brands if companies don't address their complaints quickly and efficiently. 
7. Competition 
Competition is always one of the main causes of customer churn. It can come from other SaaS providers as well as offline businesses that offer similar products or services. 
Customers will be tempted to switch to competing services if a product isn't differentiated enough from what competitors are offering.
8. Lack of value 
A product is only as good as its value to the customer. If customers don't feel they're getting enough value out of a product, they'll churn. 
Customers need to see that the product is valuable and worth paying for. It's important to understand how customers feel about the product and what it can do to improve their experience with it.
Why understanding customer churn matters
The cost of acquiring new customers is one of the biggest expenses for most businesses — especially startups. 
So if they lose customers quickly, it will be difficult to scale the business without raising more capital. 
Customer churn is a leading indicator for future profitability as it helps understand how well a company retains new customers and whether they will stay long-term. 
Businesses may prevent customer churn by understanding why customers are leaving and implementing solutions. 
That said, analyzing customer churn is one of the most important factors in determining business success.
Article References: 
[1]SaaS businesses. Ge, Y., He, S., Xiong, J., and Brown, D. (2017). Customer churn analysis for a software-as-a-service company. 2017 Systems and Information Engineering Design Symposium (SIEDS). 
‌[2] Customer lifecycle. Stone, M., Foss, B., Henderson, I., Irwin, D., O'Donnell, J. and Woodcock, N. (2003). The quality of customer information management in customer life cycle management. Journal of Database Marketing & Customer Strategy Management, 10(3), pp.240–254.