Satisfactorily overcome these 5 main challenges of outsourcing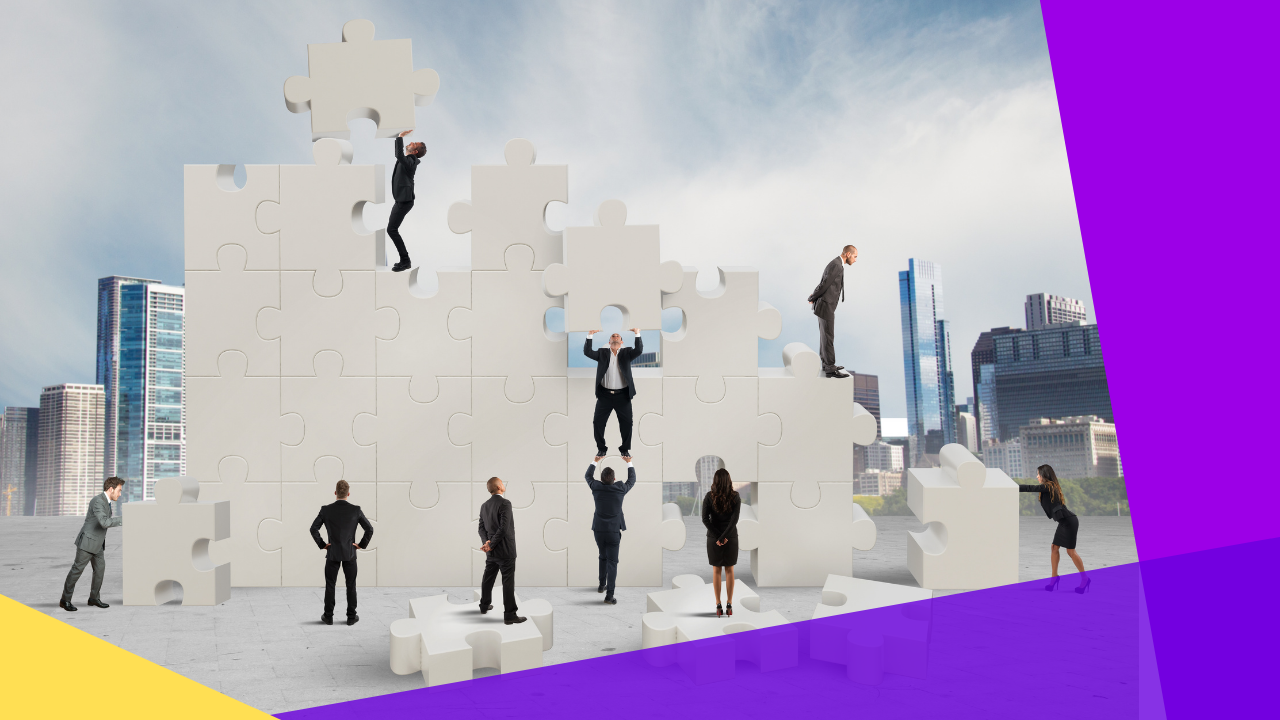 Outsourcing has become a buzzword in the global market industry for decades now.
What makes outsourcing a viable solution for various types of industry sectors is its cost-effectiveness. Despite this, prospects are somehow discouraged due to the associated challenges of outsourcing.
As businesses grow, they have to seek other ways to improve their business landscapes and productivity continuously. Besides being able to save on costs, outsourcing, in general, is able to support organizations of all types and sizes in a lot of ways.
Get to know some of the challenges of outsourcing before deciding to give it a go. In this article, we'll walk you through these challenges. This way, you'll learn how to overcome them to achieve a much better outcome.
What does it mean to outsource work? 
Outsourcing involves dealing with contracting out a certain part of your business processes to third parties.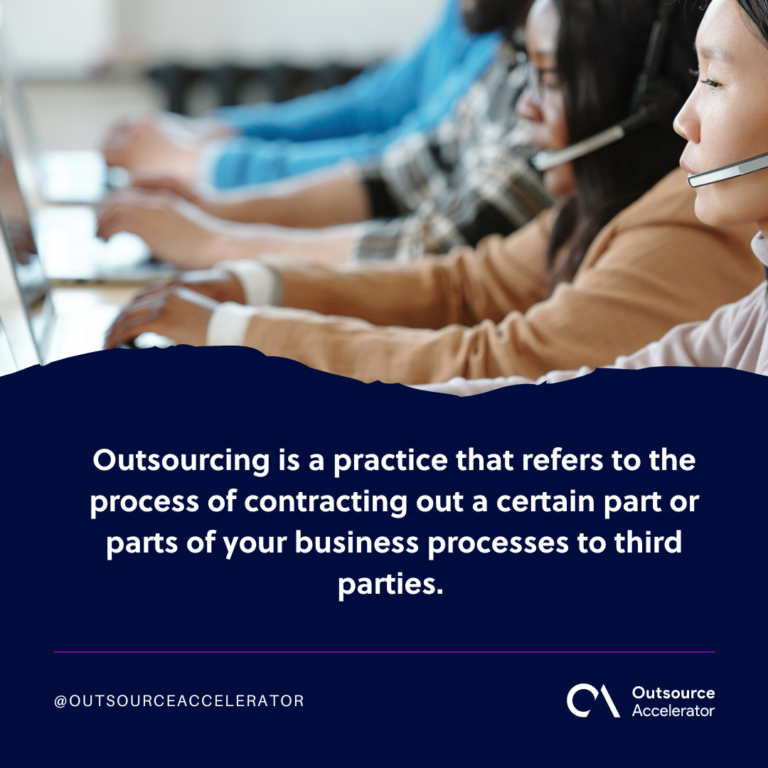 Outsourcing can be in various forms like the following:
Onshoring
This basically means outsourcing work to a third party that is located within your country. It can be an outsourcing provider that is based in another city, town, or province.
In onshoring, companies will not have to worry about certain challenges of outsourcing to other countries, like foreign tax policies and cultural differences.
Nearshoring 
Nearshoring is a form of outsourcing wherein you farm out work to an outsourcing company that is based in your neighboring country.
One example of this is when Australian companies transfer certain parts of their business operations to Fiji. In nearshoring, there are typically only a few time-zone differences, and both ends can still be able to work synchronously.
Offshoring
Offshoring, on the other hand, is the entire opposite of onshoring. This type of outsourcing means you will be contracting out work to an outsourcing provider that is in another country, far away from yours.
This is usually the case for Western companies that outsource work to countries in offshore destinations like the Philippines.
One of the main reasons for outsourcing, from start-ups, SMEs, and big companies is to save entirely on costs. Compared to onshoring and nearshoring, businesses are able to save more money on offshoring.
One perfect example of this is when US companies offshore work in developing countries in Asia. Relative to the US, the cost of living and wages in developing countries are way cheaper.
In offshoring to the Philippines, Western companies are able to save up to 70% in labor costs – as opposed to employing in-house.
On top of that, they aren't compromising the quality of work as they are also able to tap into global talents and fill in labor gaps.
But of course, there will always be a few challenges of outsourcing, specifically when you transfer parts of your daily work to another country.
Whether it's onshoring, nearshoring, or offshoring, you have to be prepared for the challenges of outsourcing and how to mitigate them.
Outsourcing practice in the modern world
The business process outsourcing (BPO) sector is one of the fastest-growing industries across the globe. The Philippines, India, and Brazil were considered among the top outsourcing destinations in the world.
Given today's rapid tech innovations, various countries from Asia, the US to the EU have also been emerging as BPO hotspots.
Over the past decades, the business process outsourcing industry has supported various businesses' growth and development. Although there are challenges to outsourcing, its boundless advantages outweigh the risks.
The global market industry in 2016 has plunged into its lowest value in a decade, amounting to $76.9 billion, as per Statista
In 2019, the global BPO was prized at over $92.5 billion. Thus, IT outsourcing has contributed a huge portion to these gains, valued at 26 billion and 66.5 billion, respectively.
Another good thing about the BPO sector is that it encompasses a broad range of services and areas of specialties. It can cover HR, finance and accounting, marketing, sales, contact center, and any area of your business.
With the rate of technological advancements in our modern world, it will significantly impact the demand for the BPO industry. Outsourcing is a strategic practice that is becoming an essential part of more and more thriving businesses around the world.
Granted that there are several challenges to outsourcing, it has come a long way from how it originally was brought about.
Traditionally, outsourcing only supports the manufacturing field. Over the years, it has and is continuously transforming and is able to cater to nearly every industry sector.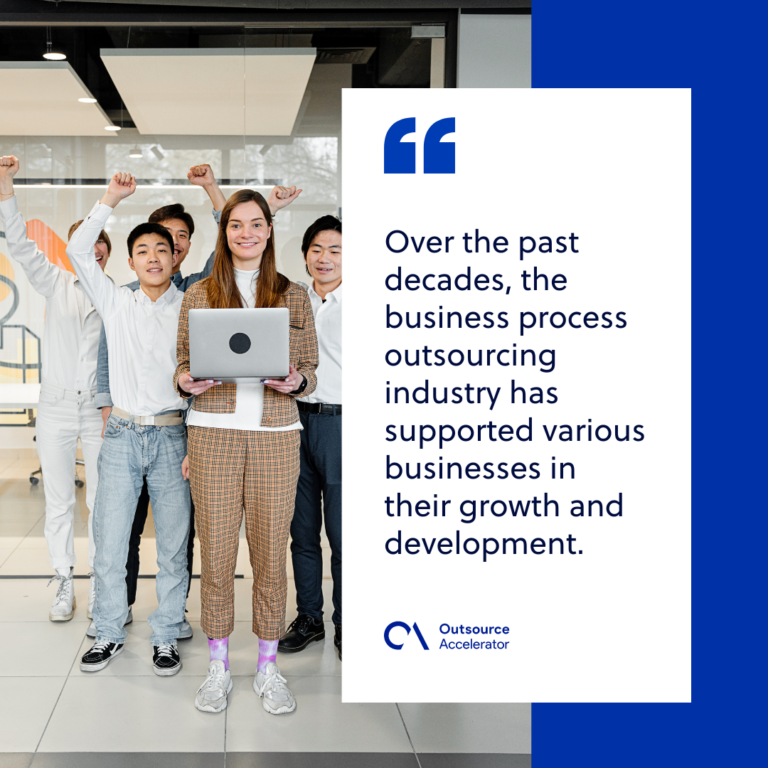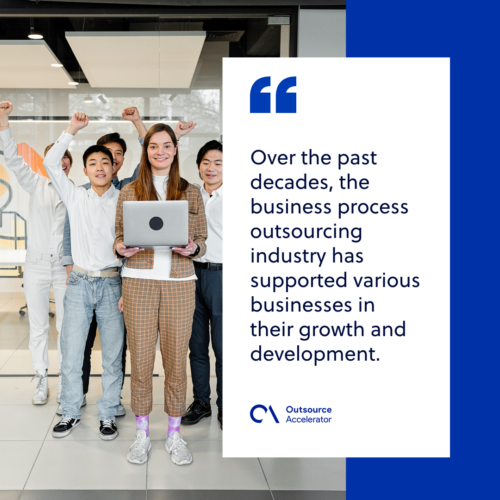 Are there any challenges of outsourcing during the COVID-19 pandemic?
There is no doubt that the COVID-19 pandemic has seriously affected the global economy and how businesses operate. Many companies had to shut down and succumb to the ill effects of this crisis.
The global business industry struggled as nearly every organization is not fully equipped to transition to remote work straight away. Companies were forced to maintain daily operations while working from home due to strict lockdowns that were imposed on every country.
BPO providers are built for remote work. This explains why many companies have turned to outsourcing to keep their businesses afloat during this trying time.
The pandemic has also led to heightened demand for IT outsourcing as organizations rely on the internet and technology for survival. Perhaps if there are challenges to outsourcing during COVID-19, it is finding the right BPO company to partner with.
However, note that the entire BPO realm consists of a plethora of outsourcing companies offering a wide array of services. More so, you also have the option to farm out services within or outside of your country.
5 biggest challenges of outsourcing 
Now that we have already explained how outsourcing works and how it aided businesses during the pandemic, let's jump to its challenges.
Basically, hidden costs and charges are one of the concerns arising when companies outsource to another firm. A third-party vendor may or may not disclose their full pricing unless a client asks for it.
We will be discussing other main challenges of outsourcing below:
1. Loss of control and the inability to monitor performance 
Some business leaders tend to disregard outsourcing as they dread the loss of control. Apart from this, another concern for some employers is the inability to monitor their outsourced staff's work performance.
2. Communication issues
Proper communication is crucial to the success of outsourcing. However, communication issues arise if you're not physically working in an office with your outsourced employees.
Miscommunication may often lead to serious ramifications that can impact your business as a whole.
3. Time-zone and cultural incompatibility
These specific challenges to outsourcing are applicable to onshoring and offshoring. Specifically with offshoring, in most cases, time-zone differences can be six to 12 hours.
Moreover, offshoring to a faraway country also means that you will also have to work with professionals from different cultures.
While your outsourcing vendor might have a neutral or similar work culture with your country, cultural differences can arise with your hired team.
4. Risks of losing intellectual property and data security
Outsourcing also means that you will be required to share private information and trade secrets with your outsourcing partner.
This is a critical issue, particularly if you will be outsourcing your accounting, sales, or human resources. It can also be a concern in software development outsourcing, where your intellectual property might be compromised with the system they create.
5. Inefficient skills and output
Last but not least, the lack of required skills for your contracted work is another outsourcing challenge. Especially when dealing with a shady service provider, you might encounter a team that performs below your expectations.
Inefficient skills will affect your desired output and how your outsourced task or project will progress.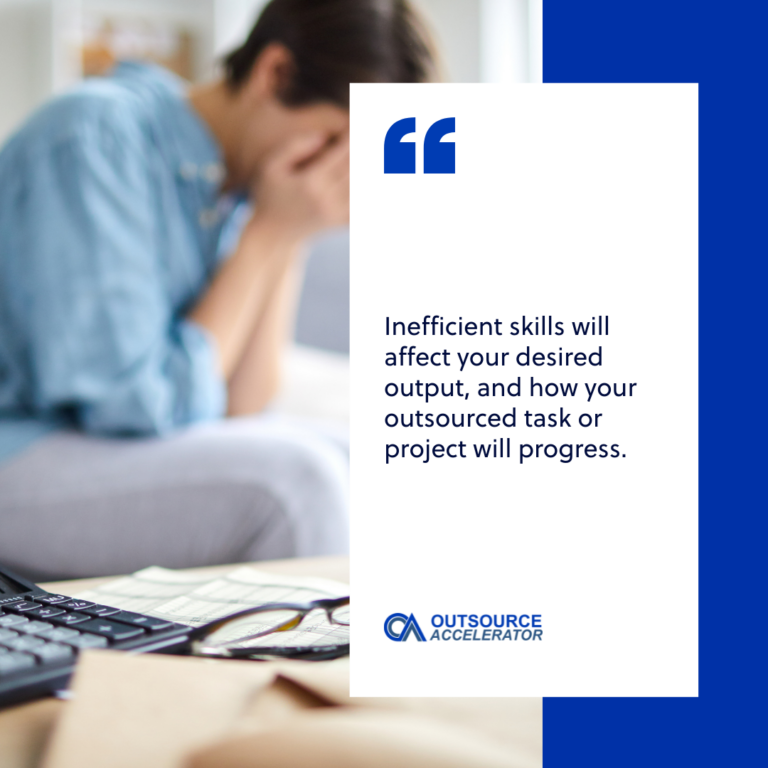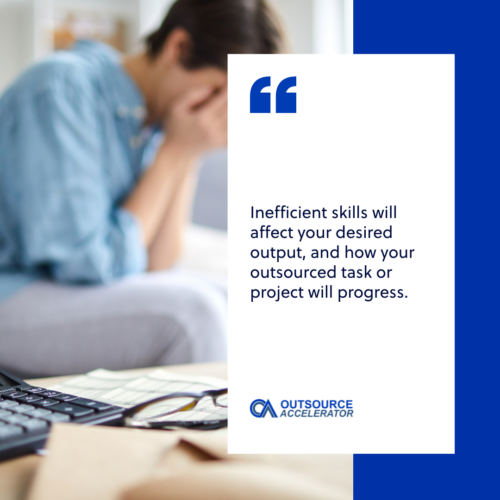 Overcoming these main challenges of outsourcing 
Surely, these challenges pose great concern for business leaders, especially for some who are looking to outsource for the first time. 
Considering the challenges of outsourcing we have disclosed above, here's how you can overcome them: 
1. Communication and collaborative tools
Working remotely has been made possible and easier through the use of the internet and various technologies. As for the ease of communication, you have the option to use Skype, Google hangouts, Zoom, and other communication tools that are for free. 
As for collaborative tools you can use, examples are, Slack, Clickup, or Asana. These collaborative tools also help in managing and monitoring your outsourced teams's tasks or projects. 
2. Choose the right BPO provider
It is very important to choose the right outsourcing partner that fits your type of business requirements and industry. Make a list of your options.
Do make sure to conduct a thorough background check for each. This will help you evaluate your options more effectively. 
3. Research, research, research!  
Identify which type of outsourcing best suits your needs and your budget. More so, determine what services you need to outsource. It's also good that you stumble upon this article as you are given an idea of the challenges of outsourcing you may encounter. 
Bottomline is, finding a reliable and trustworthy outsourcing provider will ultimately help you mitigate the challenges of outsourcing we have outlined above. 
To help you choose your outsourcing provider, you may also head over to our BPO Directory. Good news is that, we currently have over 900 BPO companies listed in our Directory page!