Understanding how call pop works in a business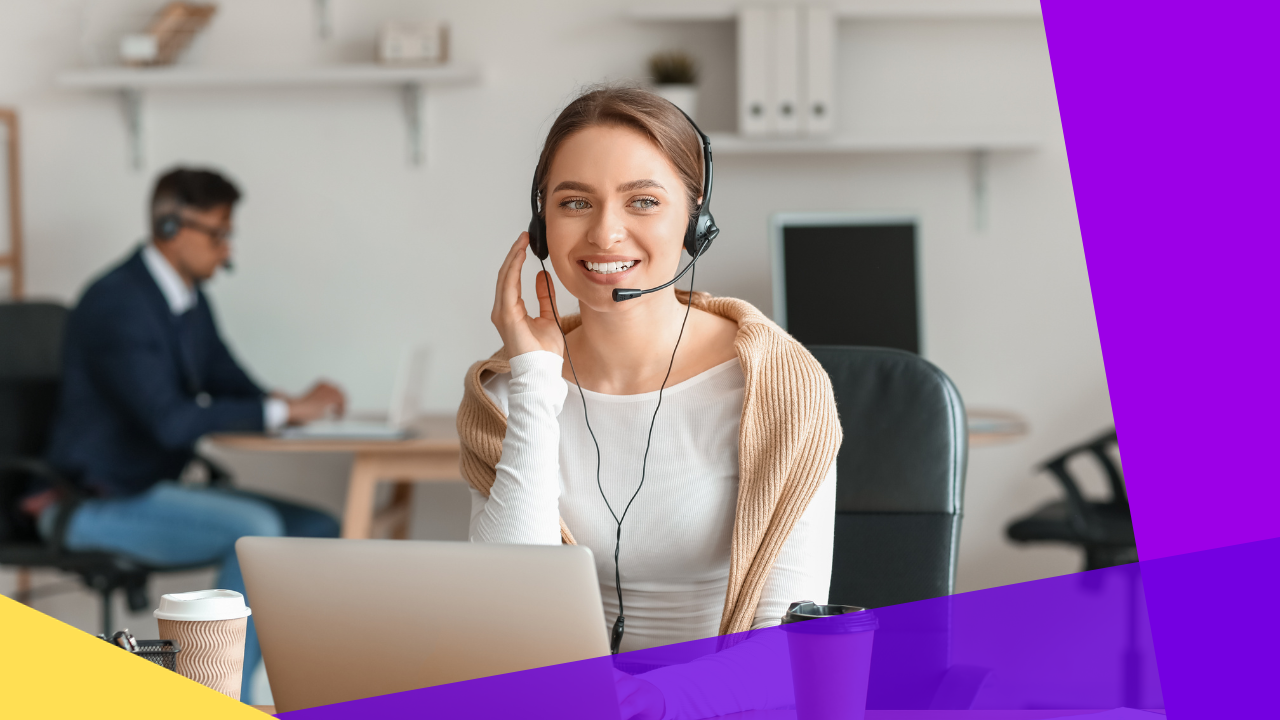 Businesses continually seek innovative tools to enhance customer experience. Heightened customer expectations and an ever-growing demand for personalized service define this era. 
One such tool, known as "call pop," has entered the game. It's an interactive feature that combines the convenience of website browsing with the efficiency of direct phone calls. 
This article explores the concept of call pop, its benefits, and how it can be leveraged to enhance customer experiences and drive business growth.  
What is call pop?
Call pop, also called call popping or call pop-up, is a technology feature that provides real-time data to customer service representatives when they receive a call. This information "pops up" so the agent can view it easily. 
Data can include the caller's name, contact details, call history, and relevant details about previous interactions. 
The purpose of call pop is to provide call center agents with immediate access to important customer information. This will help them deliver a more personalized and efficient service.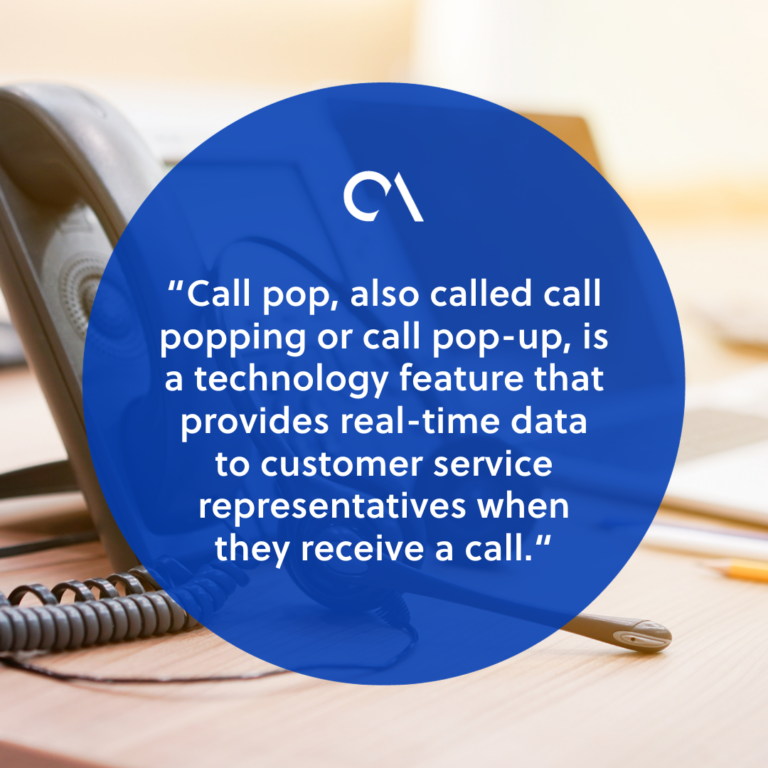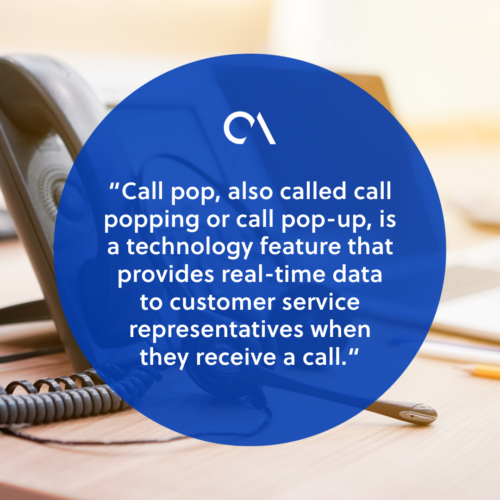 Benefits of call pop
Implementing call pop brings several notable benefits to businesses and customer interactions. Here are a few of its advantages:

Enhanced customer experience 
Call pop allows agents to access valuable information about the caller instantly. With information like names and interaction history readily available, agents can address specific issues and facilitate smoother interactions.
Improved efficiency
By eliminating the need for manual data retrieval, call pop streamlines the customer service process. Agents can quickly access relevant information, reducing call durations and improving overall operational efficiency. 
Increased first-call resolution
Call pop grants access to previous interaction history, which gives the agent more context to a call. This reduces the need for customers to repeat information and increases the likelihood of resolving issues in a single call. 
Personalization opportunities 
Call pop enables businesses to tailor interactions based on the customer's past experiences and preferences. Personalization fosters stronger relationships and contributes to increased customer loyalty. 
Integration
Call pop seamlessly integrates with CRM systems, allowing agents to update customer records immediately. 
Its functionalities can also be integrated with other communication channels like email or chat. This provides a unified view of customer interactions across various platforms. 
Call routing
Call pop can be utilized to improve call routing and direct calls to the most appropriate agent or department based on the caller's information. This significantly reduces the time that callers spend on hold.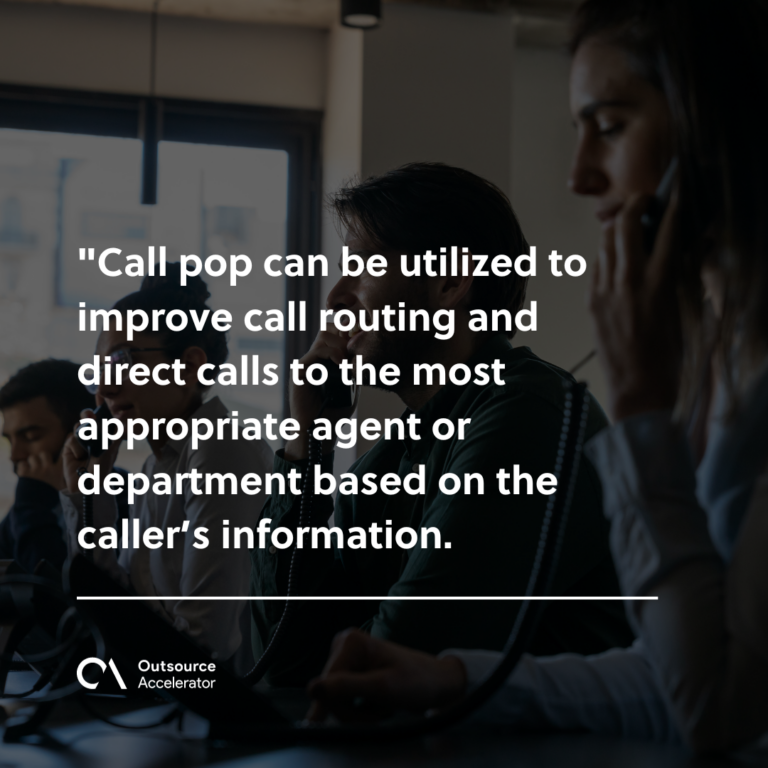 Data-driven insights
Call pop systems often provide analytics and reporting features. This allows businesses to analyze call data and gain insights into customer behaviors, preferences, and frequently asked questions. 
This data can inform strategic decision-making and improvements to customer service processes.Applications of call pop
Call pop technology has a wide range of applications across various industries and business environments. 
Here are some common applications: 
Call centers and customer support
Call pop is extensively used in call centers where agents handle a large volume of incoming calls. It provides agents instant access to customer information to quickly solve their needs. 
Sales and telemarketing
In sales and telemarketing environments, call pop can provide relevant insights to representatives before they even answer the call. 
This aids in tailoring sales pitches and improves the chances of successful conversions. 
Emergency services 
Call pop is essential in emergency services, where quick access to caller information is critical. It can provide emergency operators with vital details about location, medical history, or previous incidents, which enables a faster response. 
Human resources 
In the context of HR, call pop can be applied to access employee records and histories quickly. This is beneficial for handling HR-related inquiries and streamlining communication with staff.
Healthcare 
Call pop is valuable in healthcare settings, where quick access to patient information is crucial. It lets healthcare professionals view patient histories and details promptly, leading to more informed and efficient patient care.
Financial services 
Banks, insurance companies, and other financial institutions use call pop to access customer account information swiftly. This is especially important for addressing inquiries, resolving issues, and providing financial advice.
Hospitality and travel 
In industries such as hotels and travel agencies, call pop assists in recognizing and serving repeat customers better. Agents can quickly access reservation details, preferences, and past interactions to enhance the customer experience.
E-commerce and retail 
Customer service representatives in e-commerce and retail can also use call pop. This technology can retrieve order history, address customer inquiries, and assist with product-related issues.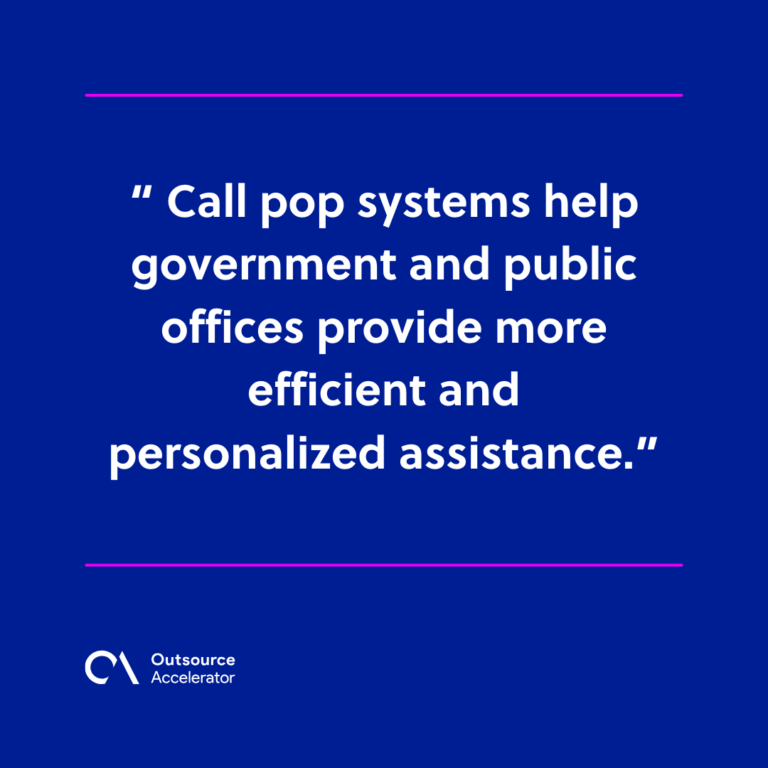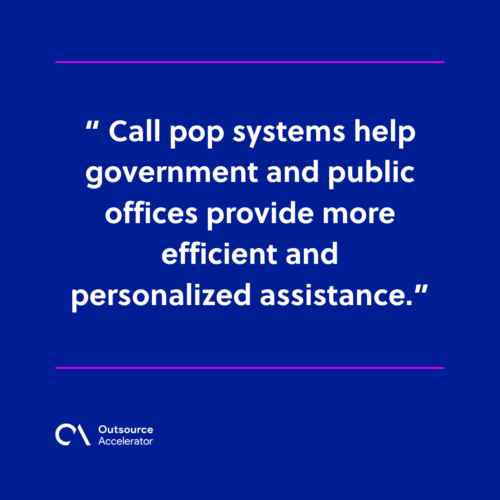 Government and public services 
Government agencies and public services that handle citizen inquiries can utilize call pop to access citizen records. Call pop systems help government and public offices provide more efficient and personalized assistance.
Education
Educational institutions may use call pop to access student information, including enrollment status, academic history, and contact details. This aids in responding to inquiries and providing support.
How to successfully implement call pop
Successfully implementing call pop involves careful planning, integration, and training to ensure that the system enhances customer service. 
Here are the key steps to consider: 
Define objectives and requirements.

Identify specific business goals and challenges that call pop can address. 

Choose the right software.

Research and select a call pop technology that aligns with your business requirements. 

Integrate with your CRM or database.

Ensure seamless integration with your CRM system or call center software. 

Customize and configure.

Customize the call pop fields to display the necessary information, visual layout, and user interface.

Train employees.

Provide comprehensive training to employees on how to use the call pop system. 

Monitor and optimize performance.

Regularly monitor performance and gather feedback. 
Successful implementation of call pop creates a more efficient and customer-focused environment. By following these steps, you can deploy call pop effectively and maximize its benefits for both your agents and customers.