Here's your quick guide to back-end operations
Businesses do not function with their client-facing teams and systems alone. Every front-end of a company needs a back-end that handles their needs and requirements.
The back end can usually be overlooked by companies when managing their operations. This is because they are used to handling it on their own from the start.
However, as a company grows, business owners slowly realize they need to organize and delegate these functions to several teams.
Now is always a good time to learn about several aspects of a business, including the back-end. The sooner companies get to know it, the better they can handle these functions. Here is a quick guide to back-end operations.
What are back-end operations?
Back-end operations refer to the behind-the-scene operations of a company. It involves handling functions, data, and other components not visible to customers but are still crucial in making things work efficiently.
Back-end operations supplement the client-facing side of any business. It makes sure that every aspect of the operations is taken care of, from human resources and the company's cash.
Think of a company's website. It is comprised of several codes, commands, and frameworks programmed for a client to view and use the website properly.
These components are not visible to the end-user but are handled by the company's back-end operations.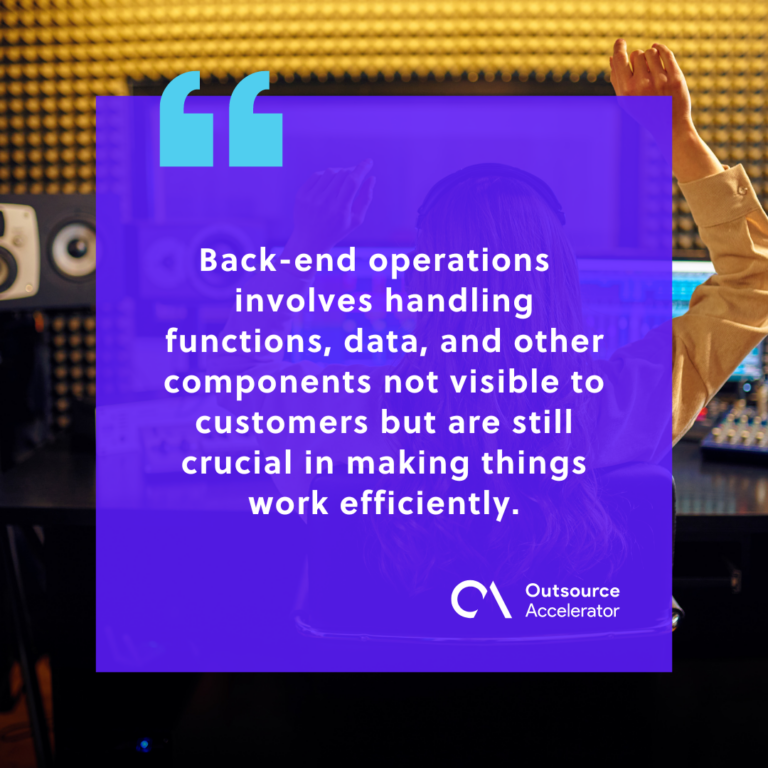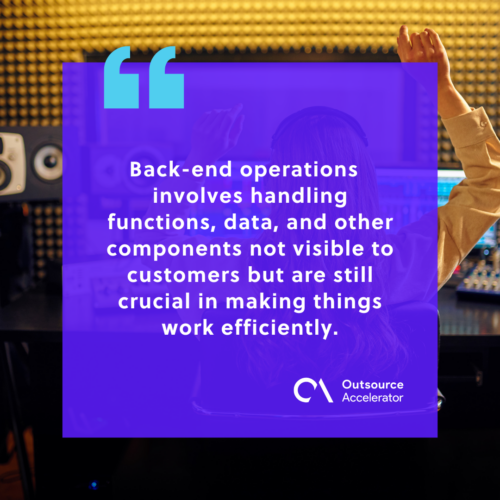 The difference between front-end and back-end operations
Every business has two sides: front-end and back-end. The back-end involves the functional side of the operations and is comprised of mostly administrative tasks.
Meanwhile, front-end operations involve its client-facing side, from marketing to business development.
In IT or web development, the back-end includes the program code, servers, and data accessed exclusively by employees. On the other hand, the front-end is the website or software interface that users interact with.
Front-end and back-end operations are found in several business functions and could work differently according to their purpose.
How back-end operations work in different aspects
Back-end operations have different components. These are some of the most crucial parts of a company's back end.
IT and development
Programmers use front-end and back-end operations to describe the layers of components in a device or software product.
Back-end operations in IT and development deal with running the data access layer of a component. It covers the data, storage, and other software elements managed by the service provider.
Back-end developers build the program's code using one or more programming languages to create working hardware or software. Aside from this, they are tasked to do the following:
Troubleshoot and debug applications
Utilize and manage system frameworks
Manage databases
Sales
The concept of back-end in sales is different from other business aspects. While the front-end load deals with selling products to new customers, the back end is more focused on selling to existing patrons.
It can be more expensive to sell to new customers than to existing ones. With this, companies need to build trust with their new patrons first in terms of brand quality and credibility.
By optimizing back-end sales, businesses can maintain good customer relationships and increase their profit by at least 25%.
Business operations
The back end in overall operations refers to the back-office functions of a company. It involves services that don't require facing customers but are crucial in keeping the business in shape.
Being the "backbone" of a company, back-end operations connect the essential functions that require expertise, so front-office personnel won't have to do them on their own. Some of the roles involved here are accounting, human resources, and document handling.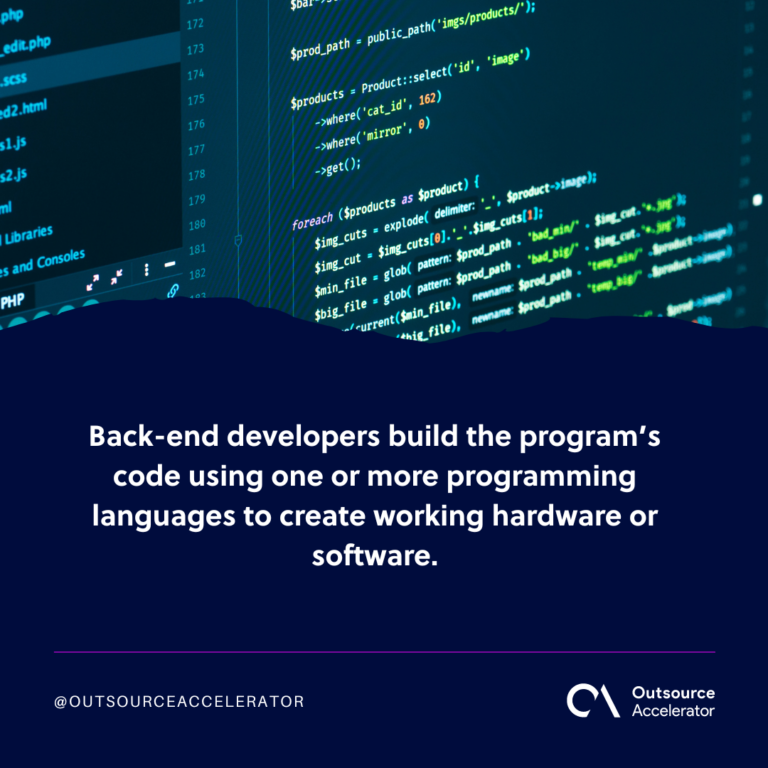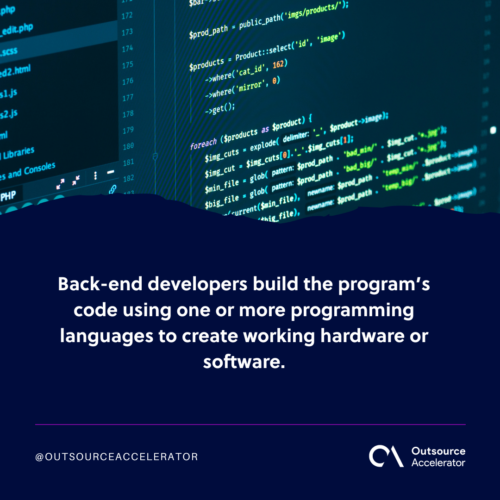 Best practices of back-end operations
Back-end operations are more important than ever. Here are some of the best practices businesses should keep in mind when it comes to back-end operations:
Integrate systems
To ensure that back-end operations are running smoothly and seamlessly, businesses need to integrate their systems. When systems aren't integrated, some issues may arise when transferring data from one system to another.
Thus, an integrated system enables data to be shared across multiple departments, bringing it into one functional system and allowing employees to access data easily and efficiently.
Automate tasks
Today, automation is one of the keys to business success. By automating routine tasks, companies can significantly save valuable time and money.
The more tasks it was automated, the better. This allows companies to reduce risks of error and delays, improve accuracy, provide seamless customer service, and increase a business's overall efficiency.
Streamline processes
Streamlining back-end processes can be done by implementing some policies or procedures that ensure employees are using the right tools and resources appropriately.
With back-end operations in place, firms can have streamlined processes. This is more flexible and allows staff to make changes easily as needed.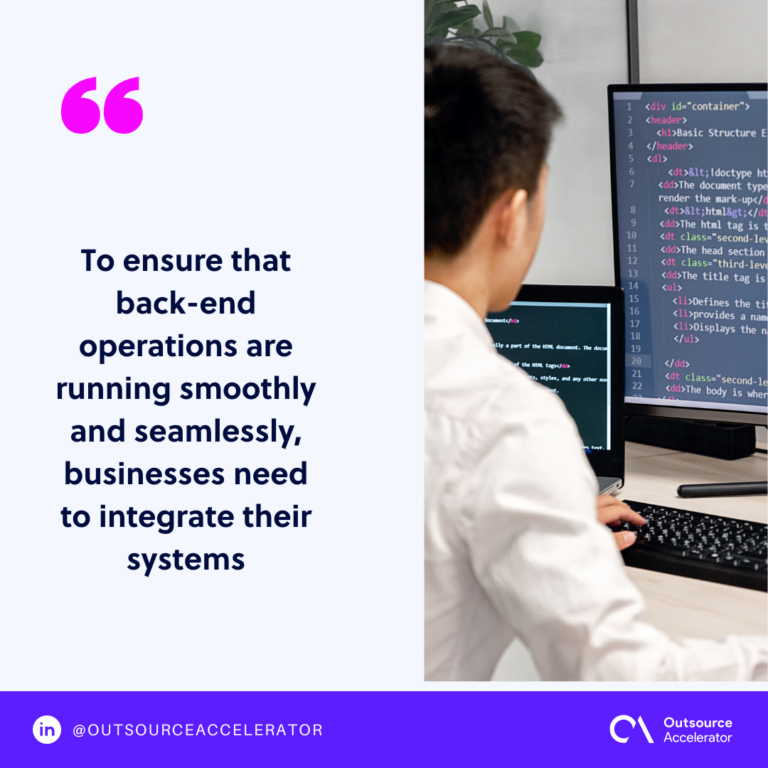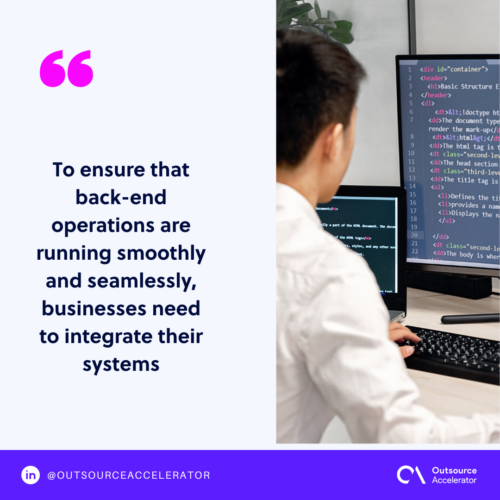 Outsourcing your back-end operations
Running your back-end operations in-house is not always practical, especially for small businesses. Even with the expertise and enough resources for a small team, maintaining them long-term can be difficult.
Outsourcing this function is the best option for businesses to optimize their processes. Especially in IT, a team of experts must handle the complex processes that will make software or website function properly.
Aside from this, outsourcing back-end operations will benefit companies with the following:
Scalability. Companies won't always need a huge team to handle functions such as sales, development, and design. With outsourcing, they can easily scale their teams according to the volume of work to be done.
Shared operational risks. When outsourcing back-end operations, businesses lessen their risks by sharing them with their providers. This prevents them from losing resources due to non-compliance and penalties.
Cost savings. Outsourcing providers will take care of the equipment, online tools, and office space needed along with the talents. With this, companies can save up to 70% on labor and resources when setting up their teams.
Finding the right service provider should not be difficult for businesses. They only have to plan for their outsourcing strategies and research a suitable outsourcing partner that will help them improve their functions.