B2B leads: 3 ways to get quality and active leads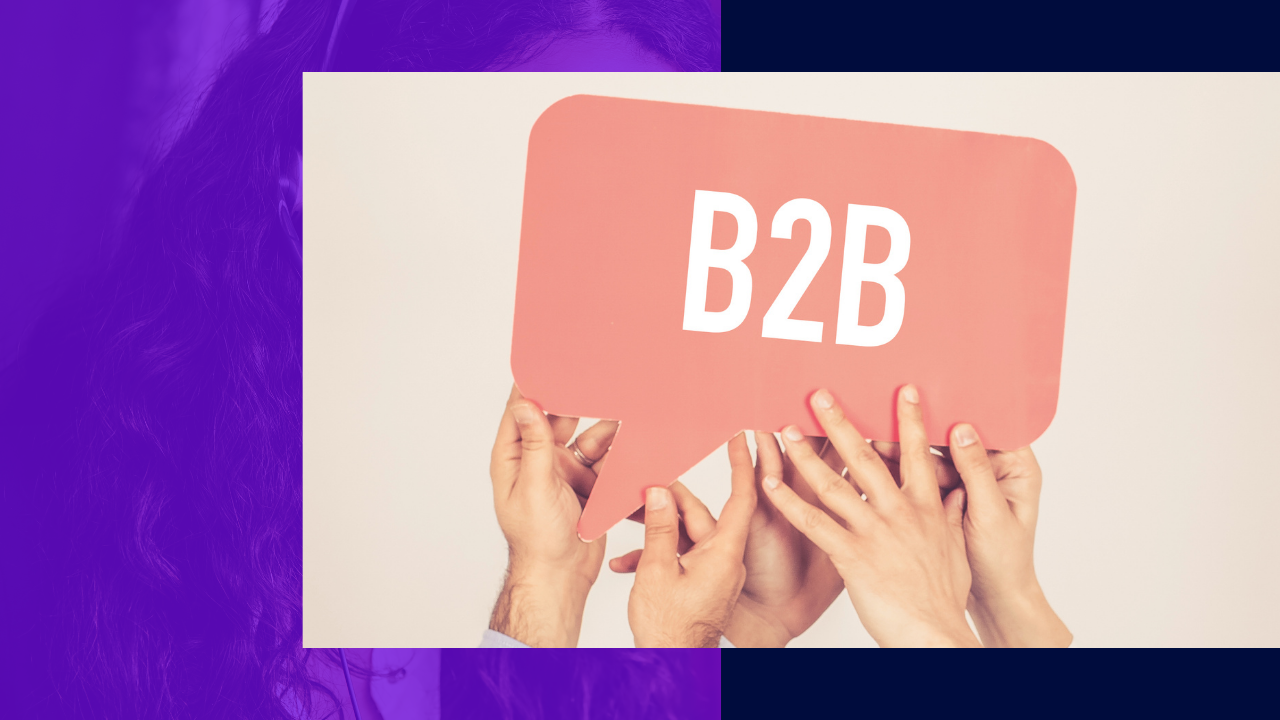 Businesses nowadays are doing everything they can to generate quality prospects. B2B leads serve as the backbone for their sales department as every lead is a potential customer already. 
It's just a matter of time before marketers and sales personnel will reach out to contact them.
If there's one thing important in B2B lead generation, it's that each name and contact information should be valid and thoroughly checked as authentic.
What is B2B?
B2B or business-to-business refers to the transactions that happen between companies and organizations in a purely "business only" nature. 
Notable examples are manufacturing firms transacting with a distributing corporation and a business process outsourcing agency working with companies and conglomerates.
There are three kinds of business transactions, namely B2B (business-to-business), B2C (business-to-customer/consumer), and B2G (business-to-government).
B2B companies cater to their fellow companies, but not necessarily to their direct competitors.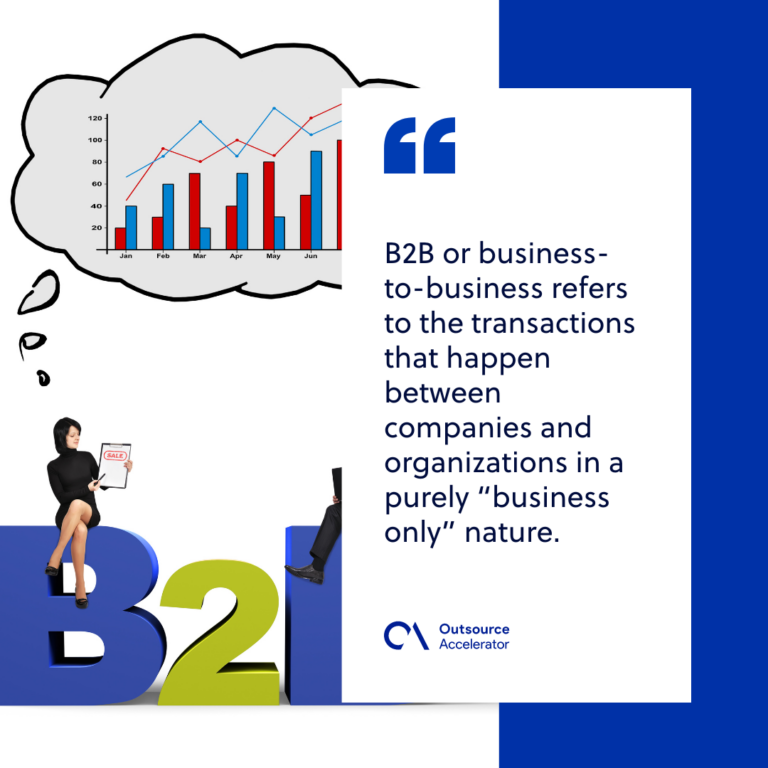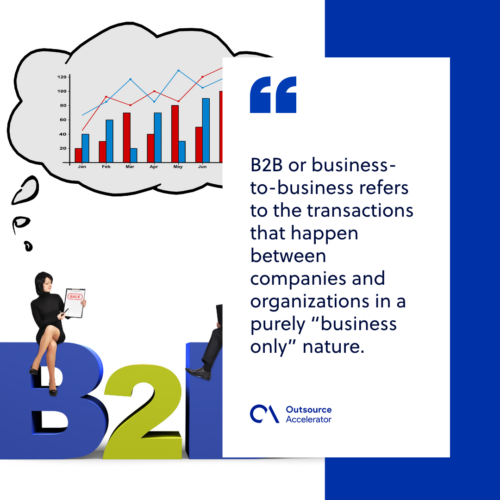 Defining your B2B leads
Leads, generally, are individuals that a company reaches out to gauge their interests and to make a sale. However, prospects aren't individuals but they are corporations and businesses.
B2B companies market their products as an enterprise-grade service for businesses to utilize in their own organizations. 
They usually market their products as cost-efficient and creative solutions.
Active leads
As the name suggests, active prospects are those who are more likely to be more responsive when reached out to via their preferred communication channel.
Some companies keep things simple in communication channels as some prefer email over phone calls and vice versa.
Active prospects are kept warm over a course of a few months if the deal didn't happen over a couple of attempts.
Inactive leads
As opposed to the above, inactive leads are those who are not that responsive or don't respond to any attempts of contact at all. 
This can stem from different reasons such as old numbers, inactive email addresses, and uninterest.
However, there is a way to reach out to an inactive lead that may end up with them becoming an active one: the re-engagement strategy.
If the inactive lead was previously active, the marketing department can issue a campaign to reengage past clients and partners.
But do keep in mind that some inactive prospects aren't worth contacting anymore. It's better to channel the effort back into active prospects and generating more prospects.
2 ways to reach out to B2B leads over the phone
There are two ways to reach out to a lead. However, one is much preferred than the other one. These are called warm and cold calling.
B2B sales departments usually have a system for both warm and cold calling as they can co-exist in a campaign.
Warm calling 
Warm calling is the polar opposite of cold calling, as the name suggests.
This refers to the act of "warming up" to the prospect even before calling them. Maybe the lead has been talking to an agent beforehand, leading the agent to schedule a call.
Cold calling
Contrary to warm calling, this activity is mostly frowned-upon these days.
B2B company agents reach out to a potential client without any foreword that they will be calling.
For an individual, this may be off-putting but in this case, cold callers are expected as most calls are screened and directed to a sales office.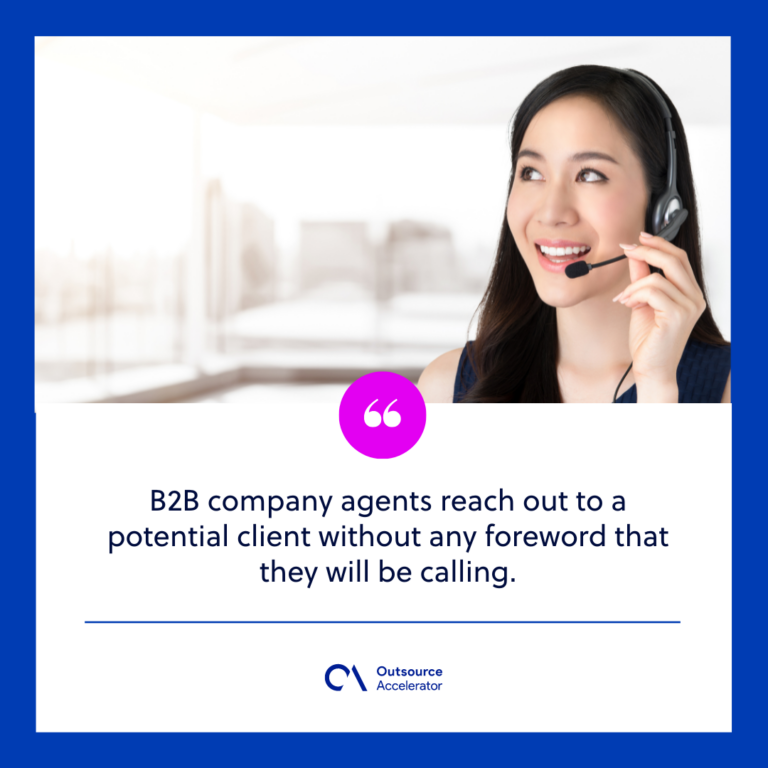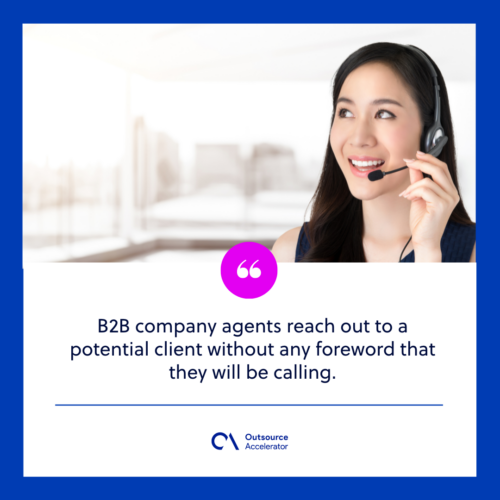 Surefire ways in getting B2B leads
Quality B2B leads are easy to acquire if companies just know where to look.
Most businesses have no problem in dedicating an entire department to lead generation, telemarketing, and telesales.
1. Acquiring qualified B2B leads through external third parties
External third parties such as business process outsourcing firms, or BPOs, and lead generation companies often partner up with other businesses to provide them with quality prospects.
The quality of the prospects from these companies is guaranteed as they go through a rigorous validating and qualifying process.
2. Generating B2B leads with software
Software and programs like Hunter.io and Hubspot are called lead generation tools, and they're a great way to turn website visitors into leads. However, there is a catch. The in-house sales department needs to qualify the information generated by these programs.
For a company larger in size, this might not be a problem as they can delegate these to lead generation specialists.
3. Through online forms and landing pages
Online forms and landing pages are on the rise as more and more businesses and individuals are actively seeking services and products designed to be a solution.
Getting prospects from online forms and landing pages is usually one of the fastest ways to get active and responsive prospects.
Why generating leads is important to a business
As mentioned earlier, B2B leads serve as the backbone of a business when it comes to generating revenue and widening its scope and market.
More valid prospects equal to more chances of getting a deal closed, which then means a greater chance of having a repeat client or even a long-term business partnership.