Unlock B2B success: Outsource telemarketing call center in the Philippines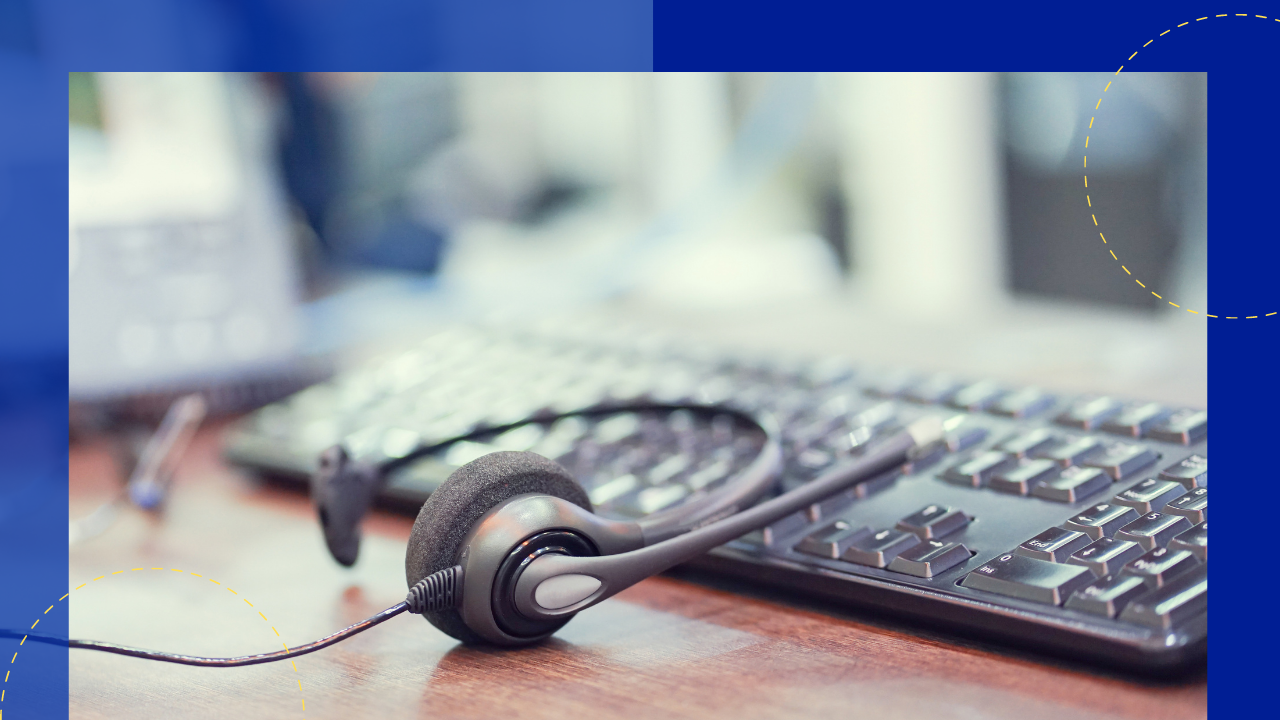 Telemarketing has been around since businesses started to outsource their services. This role has been effectively helping companies attract potential customers that could be turned into loyal customers over time.
Though many businesses widely use online platforms nowadays, most companies still utilize telemarketing to their advantage. However, a lot of changes also applied to how companies conduct their call center services.
Telemarketing services do not exclusively refer to phone calls. Call center agents are free to use other quality contact solutions and communication tools — particularly video calling and conferencing — to gain new customer data and more leads. They also don't have to scan tons of yellow pages and call random people, since offers will cover a more targeted audience now.
Are you ready to step up your game in lead generation and telemarketing call center via outsourcing?
What is telemarketing?
Telemarketing refers to a sales and direct marketing method where sales agents — known as telemarketers — call prospective customers by phone or web conferencing to sell their offered products and services. Telemarketing can be categorized into two types: inbound and outbound calling.
Inbound telemarketing
Inbound telemarketing is a strategy where telemarketing companies reach out to their existing customers or those who have previously initiated interest in the company's products or services. In this strategy, the clients are expecting a call from the telemarketer.
Outbound telemarketing
Outbound telemarketing is the complete opposite of inbound telemarketing. It is a proactive sales approach where telemarketers contact a potential customer who has not previously shown interest in the company's products or services. Cold calling falls under this category.
Outsourcing your telemarketing call center
Telemarketers are the phone-based representative in charge of telemarketing, raising brand awareness, and selling goods to prospective customers. Due to the COVID-19 pandemic, most people are staying at home, which makes it the perfect opportunity to reach out to them and talk about your offered products and services.
However, you should not forget that these telemarketers represent your company. You wouldn't want scammy or unprofessional telemarketers to carry your brand name, do you?
This is why most businesses seek outsourced staffing and hire call centers for their telemarketing needs.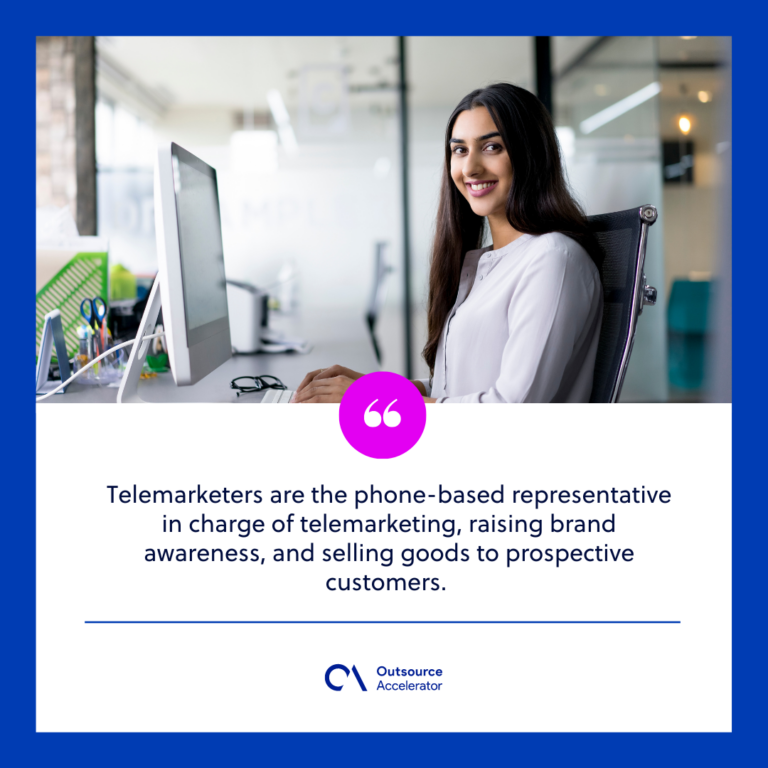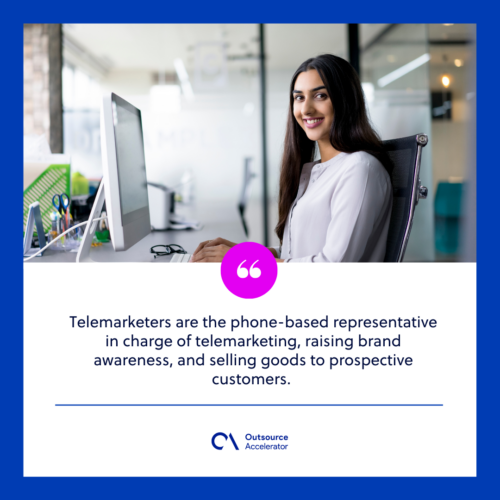 Telemarketing call centers
Outsourcing is the process of leasing skilled resources from third-party providers. There are so many benefits to outsourcing, like reduced 70% on overhead costs, no more worries about employees' equipment, internet, benefits, and more, as well as better work distribution.
Outsourcing your telemarketing team means saving on costs while not compromising the quality of your remote teams and their output. Call center employees in top outsourcing destinations like the Philippines are held to such a high standard – the country wouldn't be named the world's call center capital for no reason.
What to look for in a telemarketing call center
If you're looking for a call center provider for your telemarketing team, it's important to define your standards and know what you're truly looking for. Introspection would also help; define your vision, figure out the number of call center agents you want to hire, your target number of calls, your target market, your target numbers, and what you'd want to achieve (both short-term and long-term goals).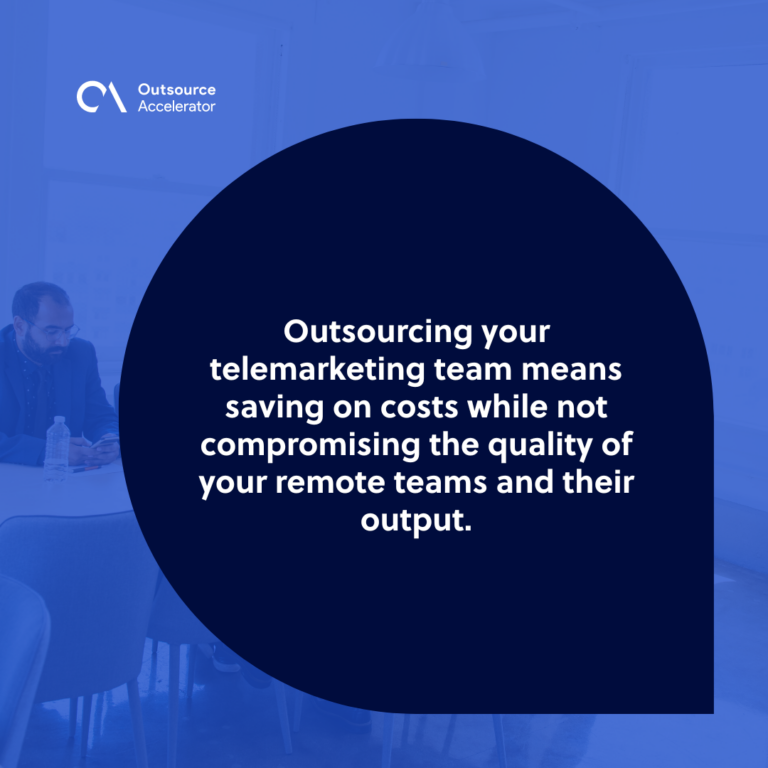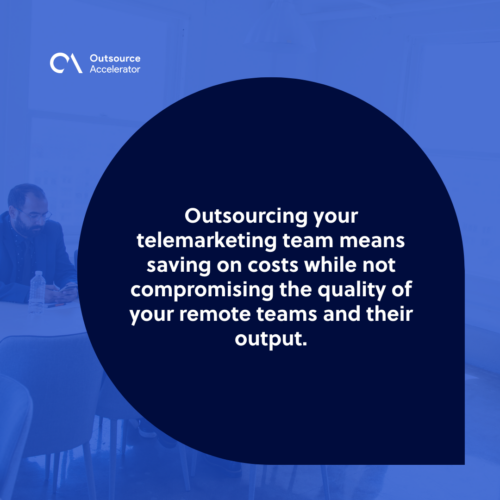 However, the challenge lies in finding out if these telemarketing companies are the right fit for you. Choosing amongst more than 700 options can be overwhelming, so here's a guide to remind you what to look for when outsourcing your telemarketing staff to a call center.
Company culture
Firstly, company culture plays a huge part in every team's productivity, efficiency, work ethic, and work-life balance. The company is your employees' second home, and you'll want to see if their ideas are encouraged if they're being listened to if they're being continuously trained, and so forth. See if the outsourcing provider's company culture is in line with yours.
Flexibility and scalability
The right outsourced call center provider for you will be flexible and understanding of your business needs. They should also be willing to adapt and scale as your business grows.
Performance and call statistics
Lastly, take a look and study how the BPO company has been performing for the past years. Observe their past telemarketing campaigns and call statistics.
From there you can study how the company has been doing performance-wise. Obviously, you'd like to get your money's worth. So, take your time and do your homework to make an informed decision about your potential telemarketing partner.
Telemarketing Philippines
The Philippines is one of the leading outsourced destinations in the world, next to India. With a vast English-speaking workforce, affordable cost, and cultural compatibility with the West, the country is sure to be the go-to for outsourced services.
Finding a business process outsourcing (BPO) company in the Philippines is not difficult at all. There are so many outsourcing providers in the country, all placed in strategic business districts around the archipelago.
In fact, Outsource Accelerator's Outsource Directory lists more than 700 BPO firms, all equipped with their own specialties, telemarketing services, cost-effective prices, state-of-the-art technology and equipment, and access to a wide pool of world-class staff. In the Philippines, you'll never run out of choices.
SixEleven BPO Services
As mentioned above, the Philippines is blessed with a good number of excellent BPO companies willing to help you with your outsourcing needs. One of these outsourced staffing providers is SixEleven BPO.
SixEleven is the first Davao-based solution-oriented contact center design to provide excellent sales, marketing, and customer support. The company provides an unparalleled class of service, flexible management and staffing, cost-effective pricing, and over 15 years of business expertise.
The company offers a wide range of services, including:
Lead generation and telemarketing sales
Booking and order taking
Technical support
Email and chat support
Inbound customer support
Data entry and research
Helpdesk services; and
Document processing and quality control validation
SixEleven's customizable packages and diverse pool of dedicated and professional talents can be exactly what your company needs. For more information, feel free to visit their website at www.sixelevenbpo.com.