The impact of AI in customer service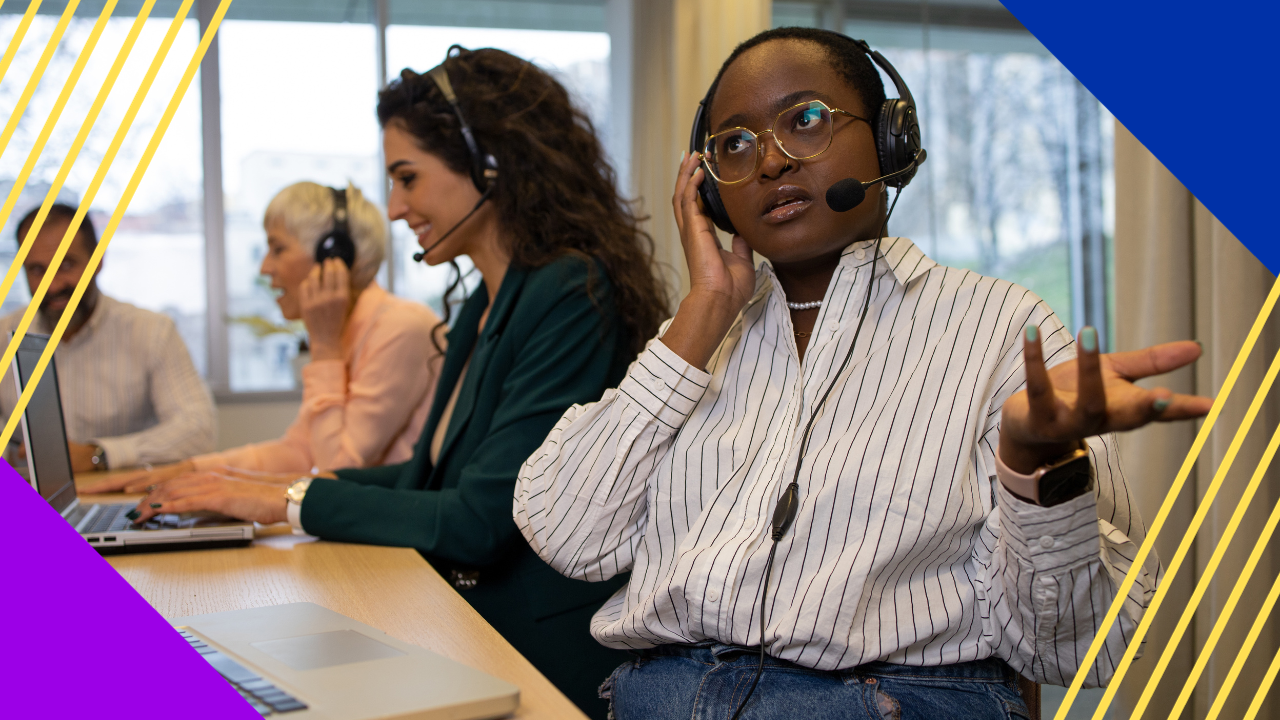 The emergence of AI over the past few years has revolutionized how businesses interact with their customers.
By implementing AI in customer service operations, company leaders have an easier and more streamlined way of communicating with customers.
However, how is it possible that customer service, once a human-centered aspect of business, is now being replaced by chatbots and artificial intelligence?
Let's dive into using AI in customer service and how it can affect your business.
Benefits of AI in customer service
There are a lot of advantages that come with implementing AI in customer services. Here are some ways it can help:
Reduced labor costs
Incorporating AI allows companies to save on costs that would otherwise go to employees or resources. There is no need to worry about additional costs for labor, benefits, insurance, or salary.
Different AI programs like chatbots, assistive agents, or robotic automation processing (RPA) can accomplish the same tasks for your business. These AI technologies can drastically reduce costs and lead to a better customer experience overall.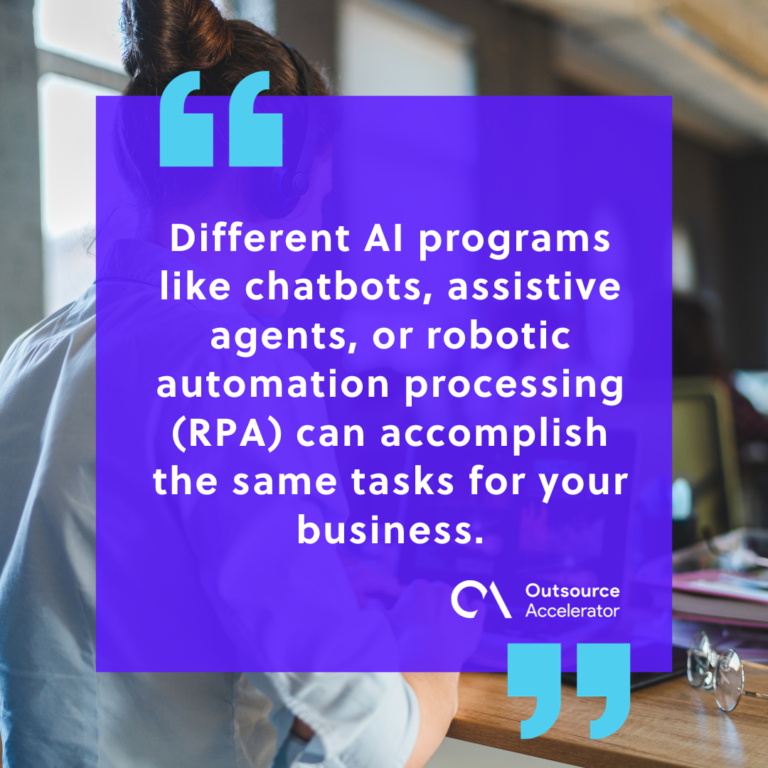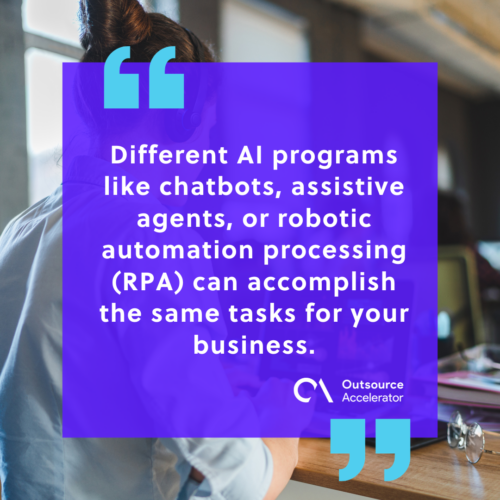 Faster response time
AI also saves agents the time and hassle of repeating the same tasks, thanks to its automation capabilities. They can use more of their time to address other important issues.
For example, businesses use chatbots to answer customers' questions immediately. Having an AI model handle these routine tasks makes a big difference, as it saves a lot of time.
Additionally, customers can turn to AI for their services 24/7, meaning they do not have to wait for a response and can solve their issues immediately.
Increase customer satisfaction and retention
Faster response times lead to happier customers, ultimately increasing customer satisfaction and retention.
Because AI models can detect common patterns and draw insights from customers' information, it becomes easier for businesses to cater to their customers' needs.
This increase in customer satisfaction is best maximized by tapping service providers such as SixEleven. Incorporating AI in their operations, their teams rapidly master managing automated tools to provide the best experience for their customers.
Decreased agent burnout
With the help of AI and automation tools, customer service agents are not overworked or exhausted with accomplishing several tedious tasks at once.
They can transfer that energy to more important duties requiring more time and human effort.
Customer service representatives who are not burnt out are more likely to remain in the company, reducing employee turnover.
Increased efficiency
Programs like AI chatbots and automation tools can handle large volumes of data and customers at once, increasing speed and efficiency when dealing with customer issues.
A proficient AI language model can instantly accomplish tasks that would usually take a team of employees hours, days, or more to complete. These tasks can include data analytics or addressing customer inquiries.
Data-driven insights
In relation to increased efficiency, one of AI's strengths is using conversation intelligence to analyze large amounts of data, such as customer conversations and behavior.
Before the emergence of AI, it would take long periods and additional resources for businesses to draw conclusions from customer data.
However, AI speeds up the process and gives customer service teams the necessary insights to solve certain issues without bias or making assumptions, improving the customer experience.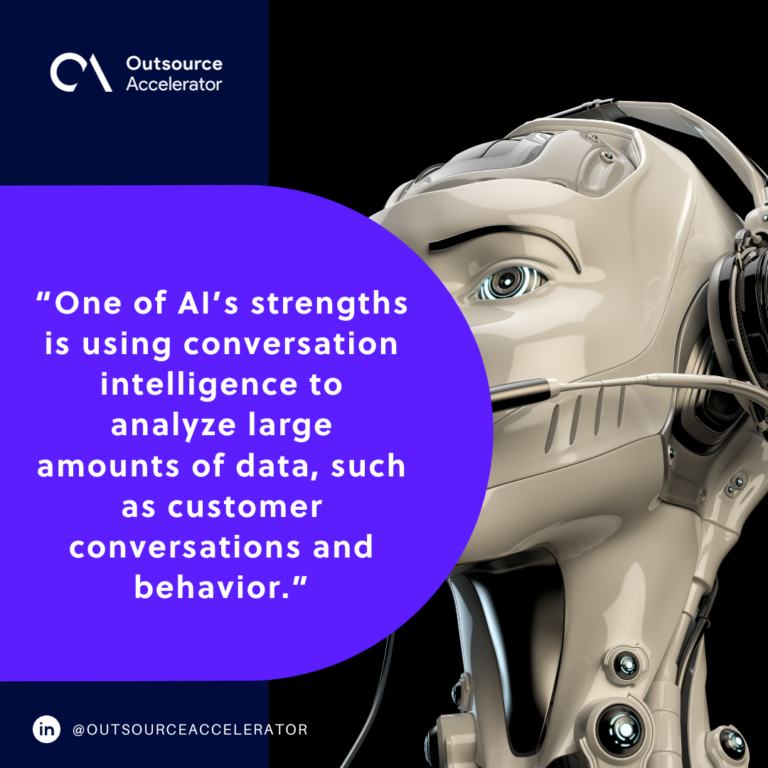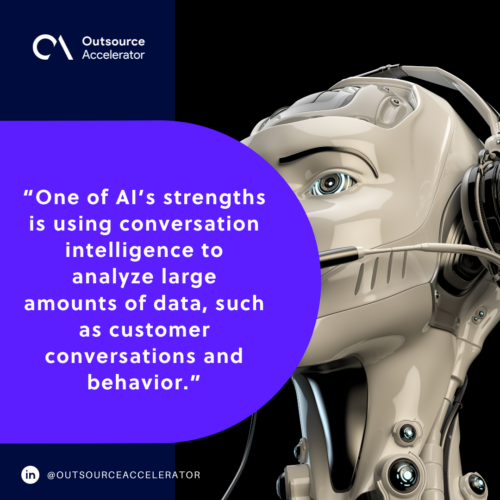 Challenges of AI in customer service
While AI provides many benefits to customer service, there are also some limitations and challenges companies may encounter.
Lack of human touch
The lack of human interaction that AI brings to customer service is a valid concern.
Some customers prefer personal interactions with brands and do not want to be serviced by a machine, which may turn them away from the company.
After all, a huge aspect of business is maintaining personal relationships with your customers. Having AI take the place of customer service reps may result in impersonal, emotionless connections.
Additionally, AI is very limited in terms of what it can accomplish. For example, it may not have the same creative capabilities that humans possess.
AI technology is not meant to completely replace human customer service agents, given the various limitations that come with AI as a whole.
However, what it can do is improve and streamline the connections made between the customer and the service representative.
AI training models
It takes time and effort to train AI language models to act and respond the same way humans do. Because it won't turn out 100% accurate all the time, companies can never fully rely on AI to do all of their work for them.
The process still needs human supervision. Despite its capabilities, AI may still make some mistakes that require human solutions.
There must be a balance between using AI and human capbalilities to complete certain tasks or processes.
Ethical considerations
Artificial intelligence is not a 100% risk-free technology as it can be unethically used to steal or compromise personal information. It can also be used to manipulate customers into making decisions that could hurt the company.
Protecting your business and your customers should be the priority. If your business thinks that it is not worth the risk to implement AI, consider other alternatives.

Examples of AI in customer service
AI has a lot of different implementations that can assist in the customer service experience. 
Listed below are a few examples:
Chatbots
Chatbots are the most common forms of AI customer service. They are usually found on the company's website and readily available to answer customer questions. 
This is done by providing the customer with personalized support through a virtual assistant. Providing tailored customer experiences creates a connection and improves their overall experience.
AI technologies have become more conversational, meaning they can address concerns more easily, improving customer engagement and retention.
Natural language processing
Natural language processing (NLP) teaches a computer or AI model to understand human language.
This type of AI is useful for analyzing customer concerns and giving the appropriate responses. NLP is commonly used in chatbots and voice of the customer programs. 
You can also use NLP to analyze customers' emails and social media feeds and figure out ways to improve their experience.
Normally, this process would take teams much longer to finish, but AI and natural language processing make it much faster and easier.
Sentiment analysis
Sentiment analysis determines if a customer feels positively or negatively about a specific product by analyzing their feedback.
Brands do not have time to sift through every single review and adjust to each one accordingly. AI helps make it possible to gather all this feedback and spot potential gaps in the company's selling processes.
This helps the company learn more about the customers' preferences and pain points. It allows brands to spot improvement areas and determine the most appropriate responses, making their customer journey more personalized.

Predictive analytics
Businesses can use AI-powered predictive analytics to develop solutions that will help them with future operations. It allows them to anticipate customer behaviors, patterns, and potential issues.
With this, companies can foresee the future in terms of what their customers will do, how much their sales will increase or decrease, and if there will be an increase in leads.
Text analysis
Similarly, you can use AI to analyze large chunks of text gathered from customer and competitor reviews. You can train the AI model to categorize text and recognize the context, mood, or purpose of what it is reading.
Recommendation systems
Nothing is more important than creating a tailored customer experience. AI can help make that happen by giving recommendations based on their purchase history and preferences.
This creates a holistic customer experience, as you know more about your customers and can cater to them accordingly.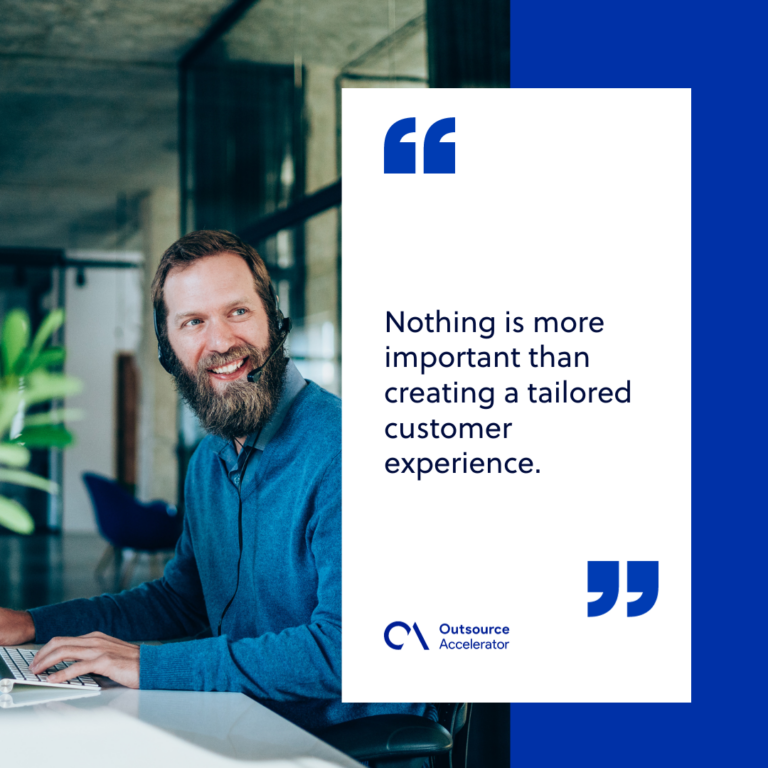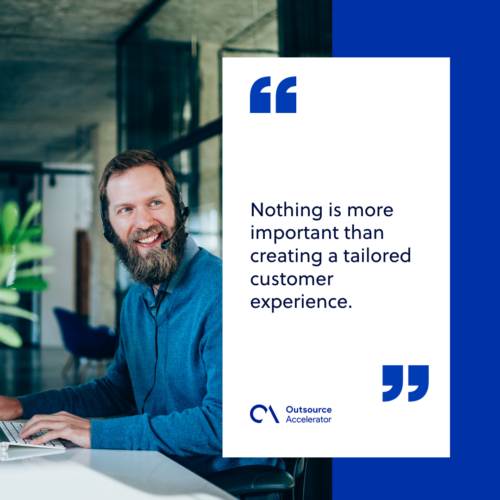 The future of AI in customer service
With many enterprises integrating AI into customer service, it is easy to see how much it has changed how customers and brands interact. 
Businesses can save on employee costs while still providing personalized services their customers need. It can increase operational efficiency by cutting down the time it would take for a human to accomplish heavy tasks, such as data analysis.
On the other hand, AI can never truly replace the human relationships that businesses forge with their customers. To some, AI may come off as impersonal and robotic.
It is best to weigh out the pros and cons of both sides and determine whether AI implementation is worth it.