How using AI in customer service boosts CX
Artificial intelligence (AI) has emerged as an innovative player in the customer service industry.
AI in customer service has revolutionized how businesses interact with their customers. Thereby leading to enhanced customer experiences (CX).
In the 446th episode of The Outsource Accelerator Podcast, LTVplus' co-founder and CEO GQ Fu tackled how AI assistance can enhance customer support team services.
"Human [customer service] agents will have so-called "superpowers" through AI assistance. 
As a result, customers are very happy because they either: Do not need to spend much time with an agent because they got their responses really quickly, or they will get a really good and fast response."
Understanding AI in customer service
Artificial intelligence (AI) is the power of computer systems or machines to perform tasks that typically require human intelligence. 
In customer service, AI enables businesses to automate various processes and improve efficiency.
How AI is used to enhance customer experience
AI technologies have significantly transformed the customer service landscape. 
AI-powered systems can now understand and respond to customer queries in real time. This is mostly due to the advancements in natural language processing and machine learning. 
It means AI assistance helps with immediate support, essential for establishing reliable businesses.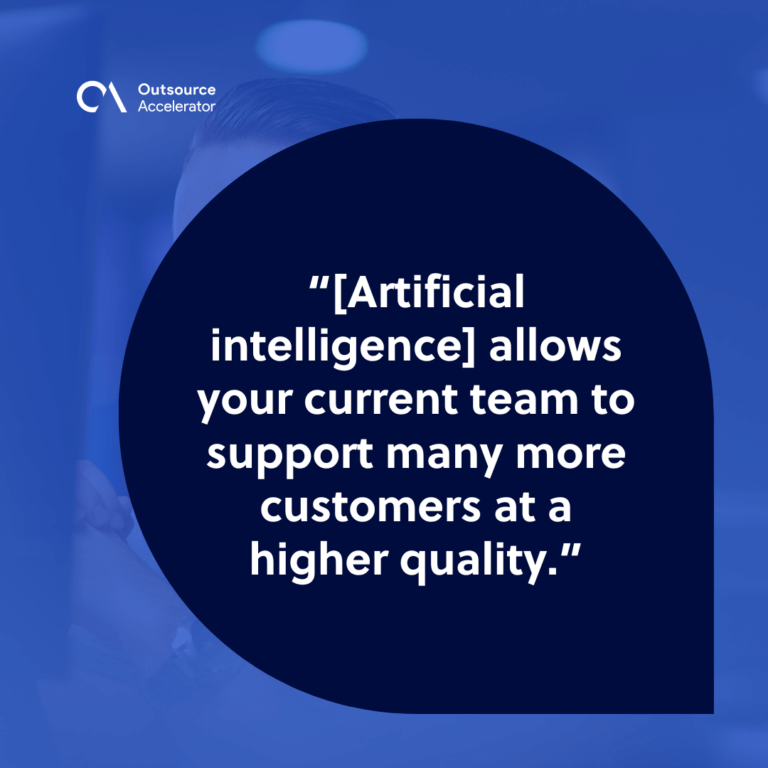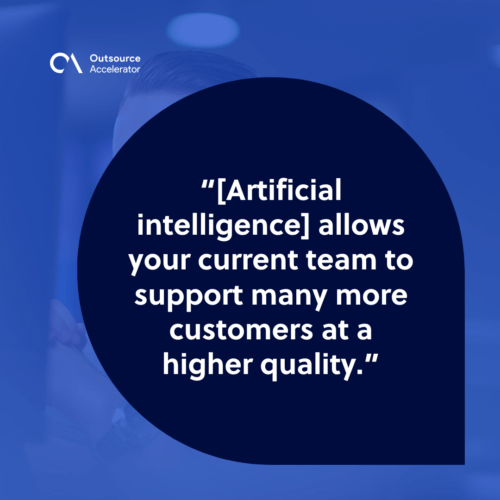 AI in customer service: The best tools to use
AI is utilized in multiple ways to enhance customer experiences. Here are some of the most effective applications of AI in customer service:
Chat bots
Chat bots are AI-powered software programs that can simulate conversations with customers in real time. They can:
Handle customer queries

Provide assistance

Complete transactions without requiring human intervention. 
Chat bots are available 24/7, ensuring that customers receive support whenever needed. 
According to Juniper Research, consumers and businesses using chat bots will save up to 2.5 billion hours by 2023. This also leads to a dramatic reduction in costs for the time spent on customer service inquiries.
Virtual assistants (VAs)
Virtual assistants are another powerful application of AI in customer service. These AI assistants can understand natural language and provide personalized assistance to customers. VAs can:
Answer customer queries

Provide product recommendations

Process orders
Virtual AI assistants are often cloud-based, meaning you can access them anywhere as long as you have internet. 
The market for VAs has been growing rapidly as AI starts to become prominent in business dealings. Here's a list of top AI assistants used in various industries.
Sentiment analysis
AI-powered sentiment analysis lets companies understand customers' emotions and opinions by analyzing their text or voice data. 
This technology allows firms to gauge customer satisfaction levels, identify potential issues, and proactively address them.
AIMultiple forecasts that in 2023, over 80% of companies will use AI technologies to analyze customers' sentiments.
Benefits of AI in customer service
Adopting AI in customer service offers many benefits for improved customer experiences. Here are some of them:
Faster response times
Today's customers expect fast resolution of their issues. AI-powered systems can instantly handle customer queries.
Using AI eliminates the need for customers to wait for extended periods before they receive assistance. Therefore, faster response times mean there's a chance for increased customer satisfaction.
In the same podcast episode, GQ highlighted this advantage, saying that AI assistance "can analyze the questions and provide certain responses or information to the agent. So the agent does not need a longer period of time to get back to a customer."
He adds, "[Artificial intelligence] allows your current team to support many more customers at a higher quality."
24/7 availability
AI-powered tools provide support to customers round-the-clock, eliminating the limitations of human availability. 
Personalized assistance
AI-based systems can analyze customer data to offer personalized recommendations and assistance. This results in creating a more tailored experience that lets customers feel valued. 
Efficient issue resolution
Sentiment analysis helps businesses proactively identify potential issues and resolve them. Companies that can quickly identify and resolve customer issues are likelier to enjoy customer loyalty and repeat business.
Cost savings
Implementing AI customer service tools can lead to significant cost savings by reducing the need for human resources.
When the issue of AI replacing people was brought up in the podcast, the LTVplus founder said: 
"On the topic of customer service and customer experience, I don't think [AI] will destroy jobs per se. I think it's going to enable people to do more."
"I think that the one thing is to embrace the technology and understand how well you can use it for your business or for your customer support team."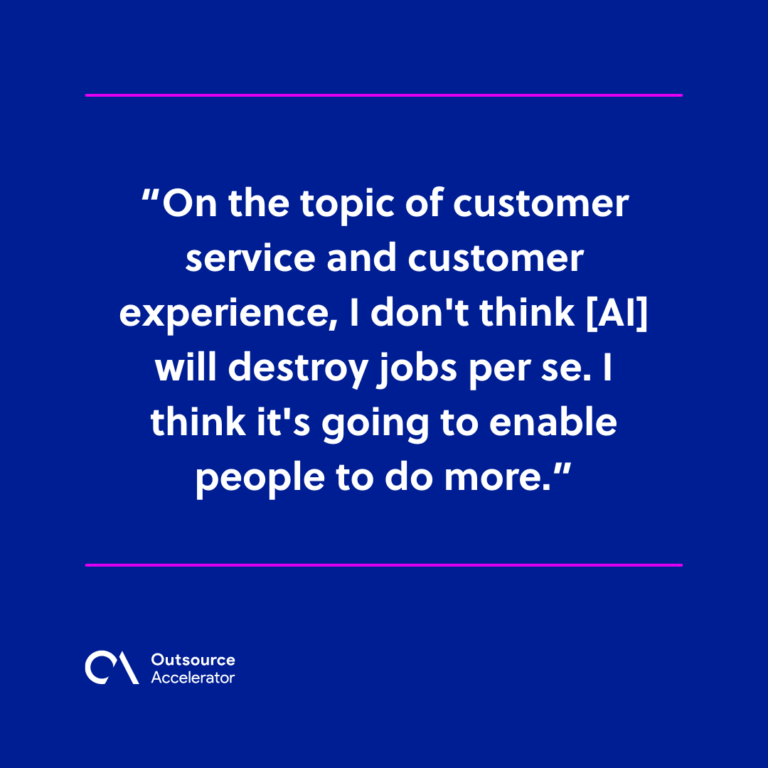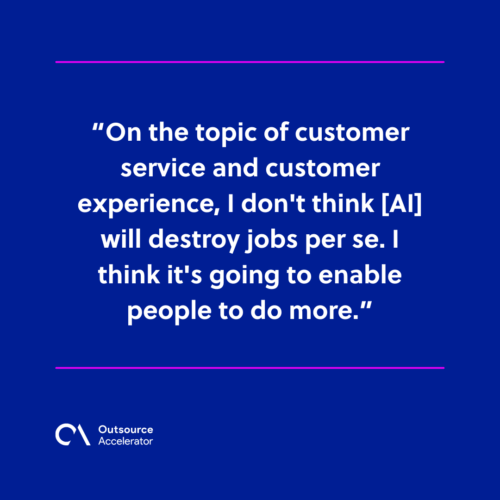 Tips for using AI in customer service
AI provides numerous benefits that helps with customer satisfaction and experience. Though, it is essential to use it effectively. 
Here are some tips to maximize the impact of AI in customer service:
Understand your customers' needs

. Identify your customers'

pain points

and challenges, and utilize AI tools to address those specific needs.

Continuously improve AI systems

. Regularly update AI systems based on customer feedback and evolving customer expectations.

Combine AI with human touch

. While AI can automate many tasks, it's crucial to strike a balance by offering human support when necessary. Certain situations may require empathetic and personal interactions that AI cannot provide.

Monitor and analyze customer data

. Utilize AI-powered analytics tools to monitor customer feedback and sentiment. This enables you to make data-driven decisions and improvements.

Train customer service representatives

. Train your customer support team to work with AI-powered tools effectively. This allows seamless integration between humans and AI.