Definition
What is employee turnover?
Employee turnover refers to the number of employees who leave a company in a certain period. It is one of the most crucial HR metrics that reflect the management and stability of a company. 
Companies regularly assess their rate of employee turnover to forecast the impact on production and customer service.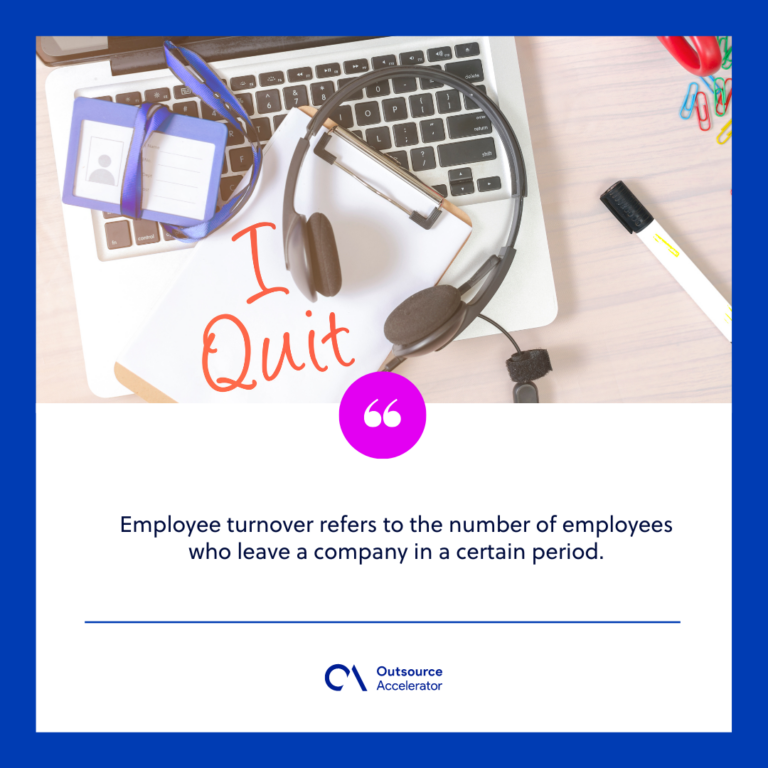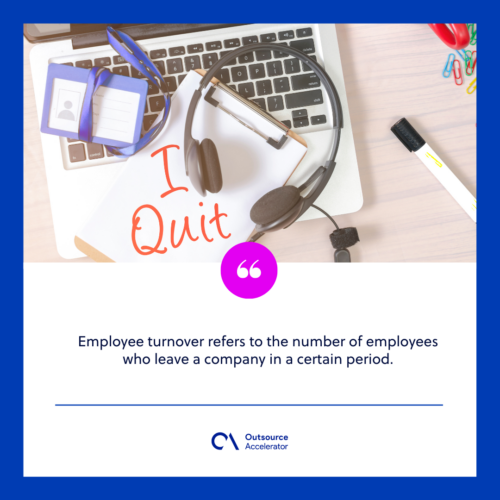 What causes employee turnover?
Here are some reasons why employees are quitting their jobs:
Culture fit
One of the most common reasons employees leave their job is that they feel that they aren't a good fit for the company. That's why companies must hire new members that match the company's culture, mission, and values.
Employees must have the necessary abilities to do their duties. However, if they are not a good fit for the company, they will immediately feel disconnected and lose their sense of purpose.
Lack of appreciation
A well-designed onboarding program boosts employee engagement and makes new employees feel like they're a part of the team. When you invest time and effort in onboarding new employees, it shows the company's interest in them.
In addition, expressing appreciation, monitoring employees, and making them feel they have a significant contribution are excellent ways to ensure that they are valued and an asset to the company.
Mismanagement
If your employees believe that your expectations are unclear, they are not treated with respect, or you do not offer appropriate training and resources, you can expect them to leave the company immediately.
Prioritizing supervisory connections in your business is the solution to this challenge. Managers must strive to treat all employees with dignity and respect, regardless of their position within the business.
How to reduce employee turnover?
Reducing employee turnover means empowering employees and giving them reasons to stay with the company longer. Here are ways to reduce a company's turnover rate.
Hire the right people
Hiring the right employees is the first step toward keeping them. You must hire employees who are socially and culturally compatible with the position. You may conduct behavioral interviews with candidates to learn how they behave in different circumstances.
Employees that do not fit in your work environment will be unsatisfied. They will have difficulty getting along with their coworkers and will be lonely. That said, an applicant who does not fit your company's culture will not last long.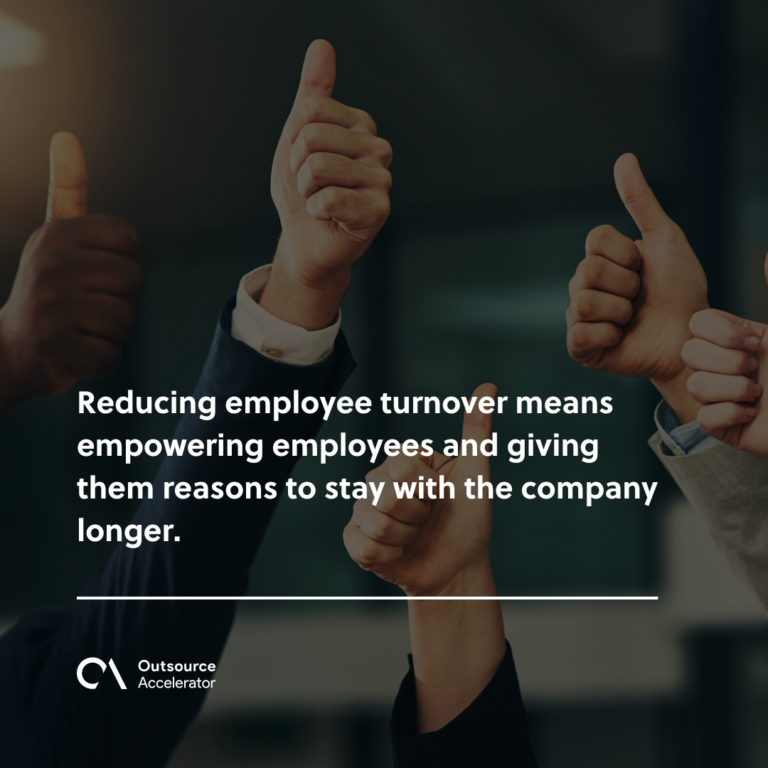 Offer competitive salary and benefits
When deciding on employee compensation, it is a good idea to do wage market research. Learn how much your competitors pay their staff. 
You must provide a competitive salary desired by workers and take the time to learn the most popular employee benefits. Find out what advantages your competitors and other companies in your industry offer.
Shape a positive work environment
Encouragement and appreciation are required for your employees. This goes beyond complimenting every good job and rewarding them. 
The company should also shape a work environment where support is readily available and workers are provided with the tools they need to perform their job well.
Pave a career path
Employees who remain stagnant at work for an extended period may look for another position where there's more growth. That said, the company should also take the initiative to develop workers' skills and open opportunities to explore other roles or get a promotion. 
Allow flexible work schedules
Employees with flexible work schedules might change their working hours and location, but they can establish a work-life balance for themselves. 
Employees may be required to report to the place of business at particular hours. However, there are other ways to provide flexibility, such as flexible lunchtimes.