15 best AI assistants to make your life easier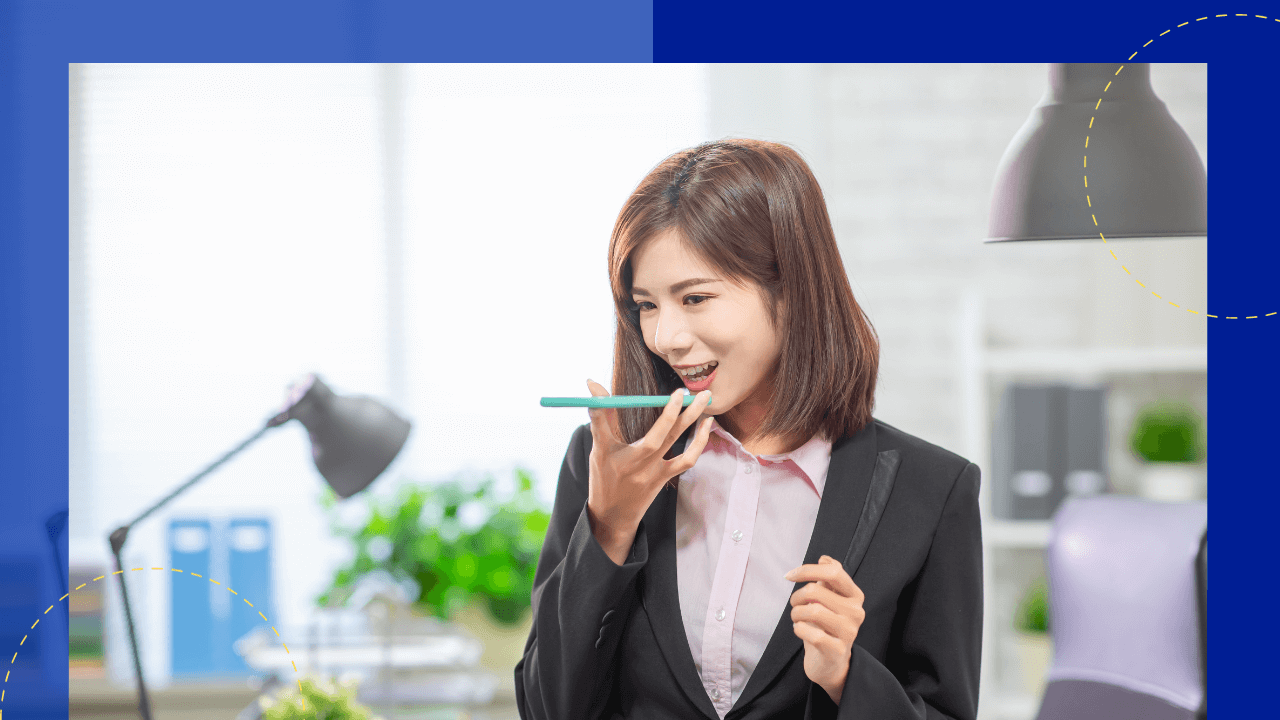 List of best AI assistants
Technology has rapidly evolved, with artificial intelligence (AI) becoming an integral part of our lives.
One area where AI has made significant advancements is in AI assistant applications. These digital helpers are designed to simplify and enhance various tasks. 
In fact, Zippia found that 77% of people use a device or service powered by artificial intelligence.
This article breaks down the 15 best AI assistants that can positively impact your work and daily routine.

What are AI assistants?
AI assistants are software programs that utilize artificial intelligence algorithms to interact with users and perform various tasks.
These assistants are designed to simulate human-like interactions and provide relevant information or complete specific actions.
They employ natural language processing (NLP) and machine learning (ML) techniques to understand user queries and commands. This allows for a seamless and intuitive user experience.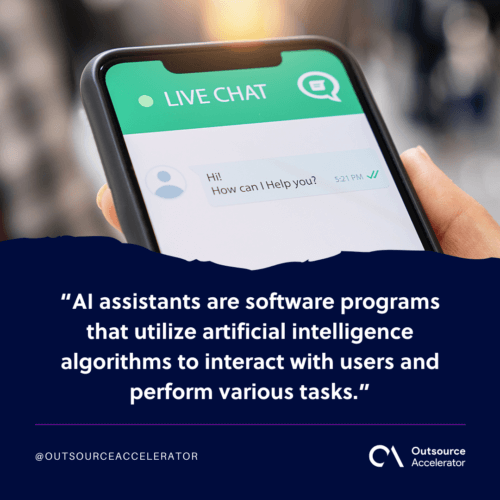 Uses of AI assistants
AI assistants serve a wide range of purposes and can be used in various contexts:
Voice commands

. An AI assistant lets users perform tasks using voice commands. You can make phone calls, send messages, play music, and control smart home devices hands-free.

Information retrieval

. AI assistants excel at retrieving information from the web. They can answer questions, provide directions, and offer recommendations on a diverse range of topics.

Smart home control

. Many AI assistants integrate with smart home devices, allowing users to control lights, thermostats, and security systems with simple voice commands.

Personal reminders and scheduling

. An AI assistant can set reminders for important tasks, events, and deadlines. They can also manage your schedule and send you timely notifications.

Personalized recommendations

. AI assistants learn from your preferences and behavior to offer personalized recommendations for movies, music, restaurants, and other activities.
Types of AI assistants
AI assistants come in various forms, each tailored to specific tasks and domains, such as:
Chatbots
Chatbots are designed to interact with users through text-based conversations. They are commonly found on websites, messaging apps, and customer support systems. 
Chatbots can respond instantly, answer FAQs, and guide users through specific processes.
Voice assistants
Voice assistants, as the name suggests, respond to voice commands. They can be found on smart speakers, smartphones, and other devices equipped with microphones.
Voice assistants can perform various tasks, like searching the web, playing music, controlling smart devices, and providing weather updates.
AI avatars
AI avatars are more visually interactive AI assistants. They can take the form of animated characters or virtual beings to provide a more engaging user experience.
AI avatars are often used in entertainment and gaming applications to guide users, provide information, and facilitate interactions. They can also be used at work during virtual meetings.
Domain-specific virtual assistants
Domain-specific virtual assistants are designed for specific industries or domains. They possess specialized knowledge and are trained to perform tasks relevant to their respective fields.
For example, there are AI assistants tailored to healthcare, finance, education, and customer service.
AI assistants can also be distinguished into three main categories based on their use:
Voice-activated assistants
Voice-activated assistants respond to specific wake words or trigger phrases. They always listen for designated activation commands and become active when these phrases are spoken.
This technology allows for seamless and hands-free interaction with an AI assistant, making tasks even more convenient.
Task-oriented assistants
Task-oriented assistants focus on performing specific tasks efficiently. They are designed to streamline and automate repetitive or time-consuming activities.
This type of AI assistant can help with calendar management, scheduling, and note-taking. They provide effective solutions to common organizational challenges.
Predictive assistants
Predictive assistants utilize ML algorithms to analyze user behavior and make proactive suggestions or recommendations.
They can anticipate your needs based on past interactions and provide timely suggestions to enhance productivity and decision-making.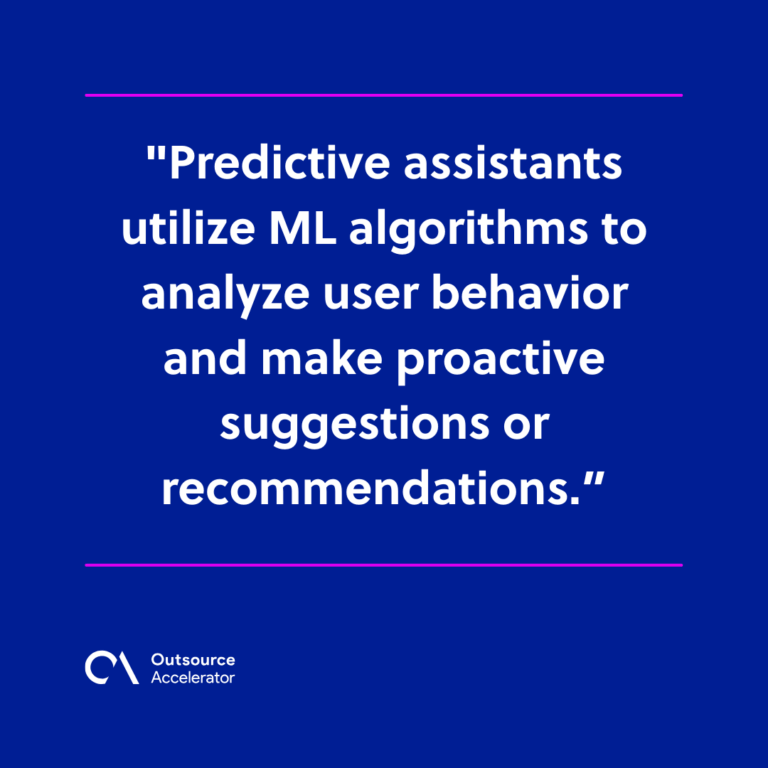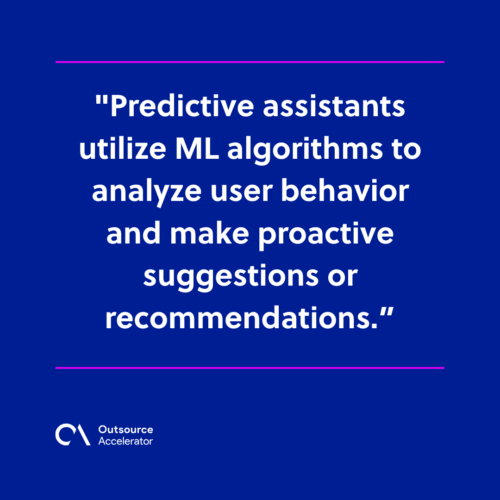 Benefits of having an AI assistant
AI assistants offer many benefits that can simplify improve work and daily life:
Time-saving

. An AI assistant can complete tasks faster and more efficiently than humans, freeing up valuable time for other activities.

Personalization

. AI assistants learn from your behavior and preferences to provide personalized recommendations and experiences tailored to your specific needs.

Convenience

. With intuitive interfaces and voice commands, an AI assistant offers a seamless user experience. This makes tasks easier and more convenient to complete.

Productivity enhancement

. AI assistants can assist with organization, scheduling, and task management. They

boost productivity

and help you stay on top of your commitments.

Access to information

. An AI assistant provides quick access to vast amounts of information, allowing you to stay informed and make better decisions.
15 best AI assistants to try in 2024
Explore the top 15 AI assistant applications to try based on specific uses:
AI personal assistants
This type of AI assistant offers comprehensive capabilities, smart integration, and seamless usability:
Known for its comprehensive features, Google Assistant can perform a wide range of tasks, from answering questions to controlling smart devices. Its integration with Google's ecosystem provides a seamless user experience.
Alexa, the AI assistant found on Amazon Echo devices, excels in smart home integration. With a vast array of skills and capabilities, it can perform tasks, provide information, and entertain users with ease.
Siri, Apple's AI assistant, comes pre-installed on iOS devices and offers a seamless integration with the Apple ecosystem. It can help users with various functions, from scheduling appointments to providing weather updates.

Developed by Microsoft, Cortana is a versatile AI assistant available on Windows devices. It's a valuable productivity tool that offers voice commands, calendar management, and integration with various Microsoft services.
Best AI writing assistants
These AI-powered writing assistants help users generate content, brainstorm ideas, and improve writing quality:
Copy.ai utilizes AI algorithms to automate and enhance writing tasks. From generating blog posts to crafting engaging social media copy, Copy.ai can save writers significant time and effort.
Writesonic helps users create content, brainstorm ideas, and improve the overall quality of their writing with AI. Its advanced algorithms and intuitive interface make it a valuable tool for any writer.
Jasper is an AI assistant specifically designed to assist with content creation and copywriting. It provides suggestions and inspiration to writers, helping them create compelling and engaging content.
Best AI SEO assistants
These use artificial intelligence to optimize SEO, providing content analysis, competitor research, and keyword suggestions:
SurferSEO is an AI-powered assistant that analyzes web content and provides optimization recommendations. It conducts competitor analysis, offers keyword suggestions, and helps improve search engine rankings.
Frase utilizes AI to assist with content creation and SEO optimization. It offers features like content briefs and AI-powered research assistants, letting users create high-quality content that ranks well in search engines.
Best AI meeting assistants
These AI assistants offer real-time transcription services and note-taking features:
Otter uses AI to provide real-time transcription services, making capturing and revisiting meeting discussions easier. It enables participants to focus on the conversation rather than taking notes.
Fireflies.ai offers AI-powered note-taking and collaboration features, facilitating efficient meeting management and follow-up tasks. It automatically transcribes conversations, generates meeting highlights, and integrates with popular productivity tools.
Best AI financial assistants
AI financial assistants help users with budgeting, expense tracking, and financial planning:
Cleo is an AI assistant who helps users with budgeting, expense tracking, and financial planning. Its intuitive chat interface allows for easy communication and provides insights to improve personal finances.
Wally tracks expenses, analyzes spending patterns, and provides personalized insights to help users better control their finances. With its user-friendly interface and AI-powered features, Wally is a valuable tool for financial management.
Best AI coding assistants
AI-powered coding assistants suggest code snippets, provide context-aware suggestions, and enhance the programming process:
GitHub Copilot is an AI-powered coding assistant that suggests code snippets and provides context-aware suggestions to programmers. It speeds up the coding process and assists developers with writing efficient and high-quality code.
Tabnine predicts and suggests code completions, reducing the time and effort required for developers to write code. Its machine learning capabilities make it a valuable tool for programmers.
Future of AI assistants
As we look ahead, the future of AI assistants appears promising. With advancements in NLP and ML, these digital companions will become even more intuitive and helpful.
We can expect AI assistants to continue enhancing our daily lives, simplifying tasks, and providing valuable insights.
The future holds exciting possibilities as we get to have smarter decision-making abilities and enhanced personalization.