The world's leading
Outsourcing marketplace & advisory
Save 70% on staff costs, whilst driving innovation & growth. Guaranteed.
GET YOUR FREE TOOLKIT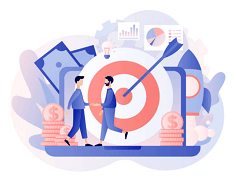 Get 3 Free Quotes
Free Independent quote
700+ leading suppliers
Unrivalled expertise
Learn more about quote

Lisa
Business Consultant
How many staff to outsource?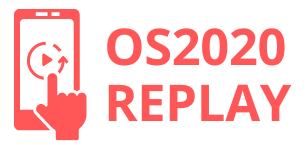 The Outsourcing Summit 2020
Unique Live Event: Invaluable Insights & Business Solutions
WATCH THE REPLAY NOW
WHO WE ARE
The leading Business Process Outsourcing (BPO) marketplace, advisory & operator for businesses across the globe
Outsource Accelerator helps businesses build and operate their offshore teams. Our typical clients have 20-500 employees, based in the high-cost English-speaking world and operate in any sector or vertical. OA is the expert in transforming these businesses with outsourcing.
Learn more about us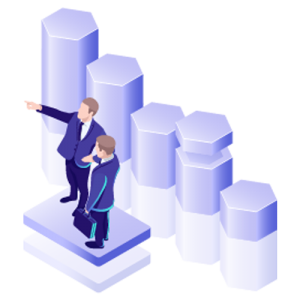 WE OFFER YOU
Independent outsourcing expertise
We are the trusted independent resource for those seeking to know more about their outsourcing options in the Philippines Information
A huge repository of information offering invaluable insight and experience
Browse Advisory
Select opportunities for bespoke advisory and training programs to accelerate results
Book a call Implementation
Expert-led offshore implementations, co-management & fully-managed solutions
Book a call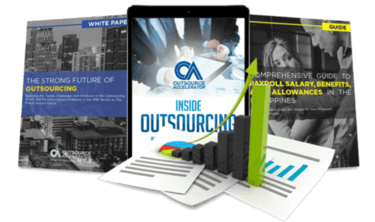 Get the comprehensive outsourcing tool kit
Get up to speed in outsourcing with this all-in-one tool kit.
The Strong Future of Outsourcing White Paper
Comprehensive Guide to Payroll & Salaries
Inside Outsourcing Blueprint
Outsourcing Savings Calculator & report
GET THE FREE TOOLKIT NOW
HOW WE HELP YOU
Proven outsourcing solutions for your business
Outsource Accelerator offers you a full range of independent outsourcing advisory and integration services. We are not a traditional outsourcing supplier, which is what makes us independent – and unique. Our core products make it easier than ever to explore, integrate and optimize outsourcing in your business.
FULL-TIME DEDICATED
STAFFING & FACILITIES
Simple pricing structure, all inclusive of the ff.
COMPLETE STAFFING
Dedicated full-time staffing
Highly qualified & professionalised workforce
Recruited specific to job description
Excellent English & cultural alignment
Vetting, training & onboarding
FULL SALARY, TAXES & BENEFITS
Gross basic salary, plus 13th month bonus (compulsory)
Government contributions (SSS,etc.) & Health insurance (inc. dependents)
FACILITIES
A-grade facilities in prime locations
Modern hardware, desk & equipment
Fast Internet, utilities & redundancy
Serviced office accessible 24x7*
ADMINISTRATION
Human resources, +/- recruitment services
Administration, corporate tax & compliance
IT support, security & redundancy
Company events & outings
BEST FOR
1-50 staff (agile, varied roles)
Hands-on team management
Varying day-to-day deliverables
Cost-effective staff augmentation
START NOW
compare
All of the 'dedicated staffing & facilities' PLUS
STRATEGIC ARCHITECTURE
Identifying facilities, location & outsourcing structure
Designing hierarchy, key roles & resources
Identifying the deliverables & key metrics
Process documentation & knowledge transfer
OPERATIONAL OVERSIGHT
Building the team & hierarchy
Defining the deliverables
Implementation & alignment
Alignment to HQ mission, objectives & culture
End-to-end setup & management
DELIVERABLE-BASED SOLUTIONS
KPI, targets & metrics
Process mapping
Operational management
Continuous improvement
RESULTS GUARANTEED
Ensuring best operational structure, prices, processes & results
BEST FOR
5-50++ staff (structured teams)
Clearly defined, delineated & mapped processes
Hands-off team management
Existing, stable roles & processes
START NOW
compare
BESPOKE ADVISORY EXPERTISE
Compatible with any outsourcing structure, supplier or model
ONGOING OUTSOURCING CONSULTATION & ADVISORY
Hands-on optimisation of suppliers, facilities, & strategy
Mitigating overall cost by saving on prices, improving terms & outperforming deliverables
Structural analysis, design & implementation
Operational oversight & management
CALIBRATED ASSISTANCE
Variable oversight & assistance
Light advisory, to complete solutions
From $0.50 to $2.00 ppph
PROVEN OUTSOURCING FRAMEWORK
Operational & strategic needs analysis
Engaging the right facilities & structure
Recruitment, training & skill development
Defining deliverables, mapping & metrics
Managing operations, inputs, processes & outputs
Exponential expansion of business
BEST FOR
Small-medium business owners & management
Businesses currently outsourcing
Businesses about to outsource
Avoiding outsourcing pitfalls
START NOW
compare
COVID-19 Business Recovery Action Plan: Advice For Businesses Affected By COVID-19
BROWSE & EXPLORE
The complete list of outsourcing companies in the Philippines
We review 700+ BPOs – articles, interviews, video tours & more
BROWSE DIRECTORY (700+)
Staffing for any role, any sector
Outsourcing solutions for any business
Outsourcing can be integrated into any business type, sector, or role with equal success and benefit.
GO TO 'THE SOURCE'
Abundant outsourcing information
The Source offers an extensive range of highly relevant and invaluable resources specific to your outsourcing journey.