Tom Graham – MAD Company Catering to the West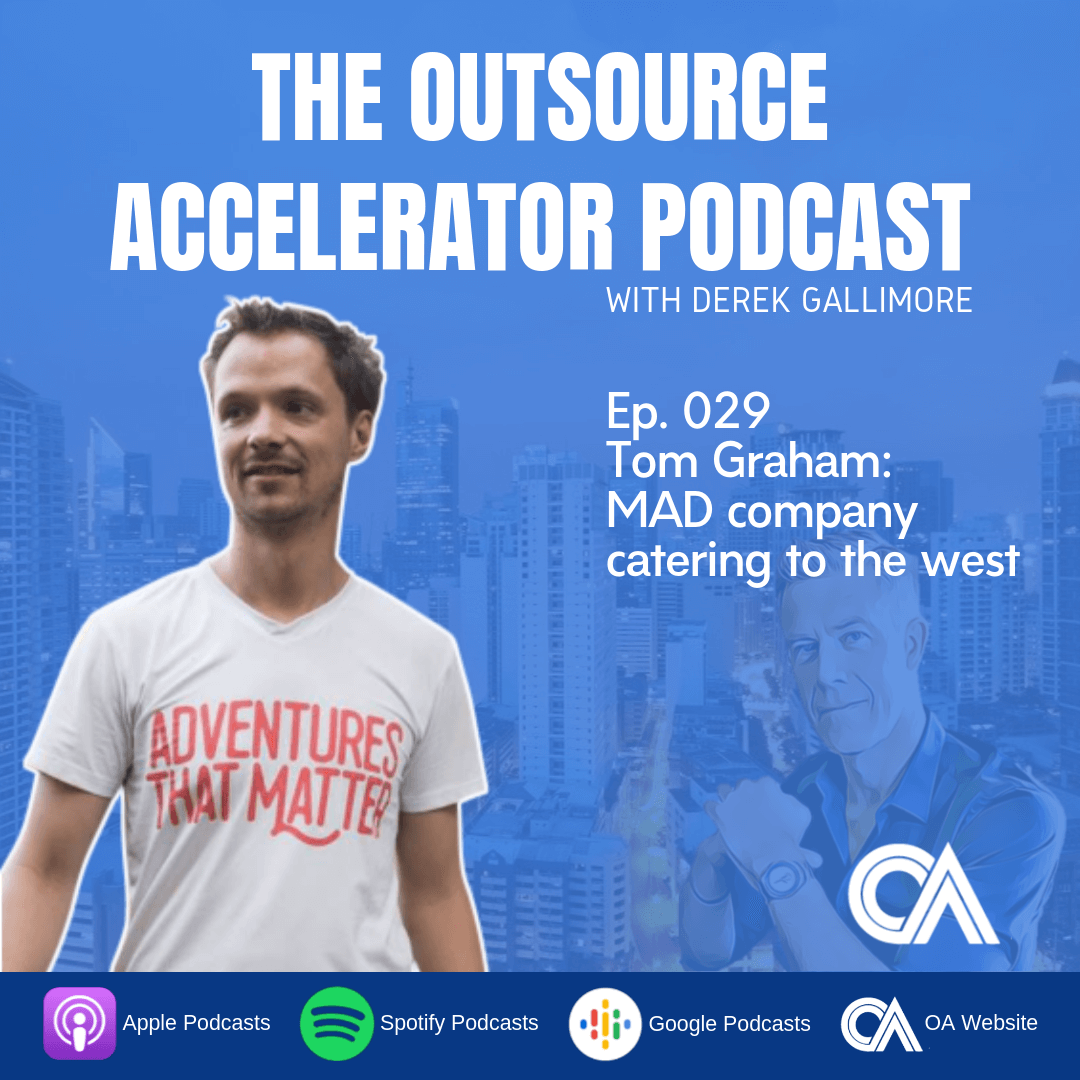 Ep 029 Tom Graham
Derek is joined by Tom Graham in this episode. They are going to talk about Tom's travel company which is Mad Travel. They will also briefly discuss about building a business in the Philippines which is effectively catering to the West.
Summary
Tom Graham is an English guy brought up in London and is now based in the Philippines. They talked about Mad Travel which is a conscientious ethical travel company where people reach out to the poor and integrate with society's less fortunate.
Mad Travel, MAD stands for Make a Difference Travel. They are developing social tourism in the Philippines. They are also creating villages of Gawad Kalinga.
Gawad Kalinga is one of the biggest NGOs in the Philippines. They're creating immersion experiences.
They have only about 12 staff here in the Philippines but they're not all Filipino. The members of their team are from Taiwan, Australia, Germany, France and the U.K. and the rest are Filipinos. They also have some volunteers abroad people to help them out part-time.
On the plus side, they have access to fantastic people. Tom has a very good team and they've been able to grow a lot faster because they are located in the Philippines. Salaries and other operational expenses are a lot cheaper in the Philippines than in the West.
It also helps that Mad Travel has a bold vision and they're focusing on social impact and that's something which appeals to the millennials today. If they want to find meaning in their work and in what they do.
The company's mission and vision resonate equally with their staff. Since it's particularly important here in the Philippines because unlike in the West where there is still inequality and there are social challenges but somehow it is not the same as here in the Philippines.
Mad Travel has everything from customer service, to marketing, to finance a full range of positions that you'd find in a small company.
People from the West can't quite imagine running a company from the Philippines or staffing significant proportions of their companies to the Philippines.
Tom mentioned that Manila is his home as of this moment. Of course, he would go back to London for holidays. For him, the Philippines is a good place and a fun place to be.
The Philippines has an uneven growth economically. Metro Manila is one of the most densely populated cities in the Philippines and in the world. Some jobs opportunities, infrastructures are focused on this area so some rural areas lack jobs and enterprise.
Mad Travel has grown last year and had quite a busy start of 2017. Tom's looking into building more partnerships with corporations and schools and travel agencies all around the world.
Key Points
It's much easier for Mad Travel to grow in the Philippines because of the highly skilled workers and cheaper salaries and operational cost.
Mad Travel's vision and mission are much easier to be realized here in the Philippines since Filipinos are more aware of the situation of the poor people because they are more exposed to it.
The Philippines has an uneven growth economically, Metro Manila or the main cities experience more growth than in rural areas where there is a lack of jobs and enterprise.
Resources
outsourceaccelerator.com/podcast/episode29
Transcript
Expand transcript
Listen to more podcast episodes here: