Systems and Outsourcing with Dr. Steve Day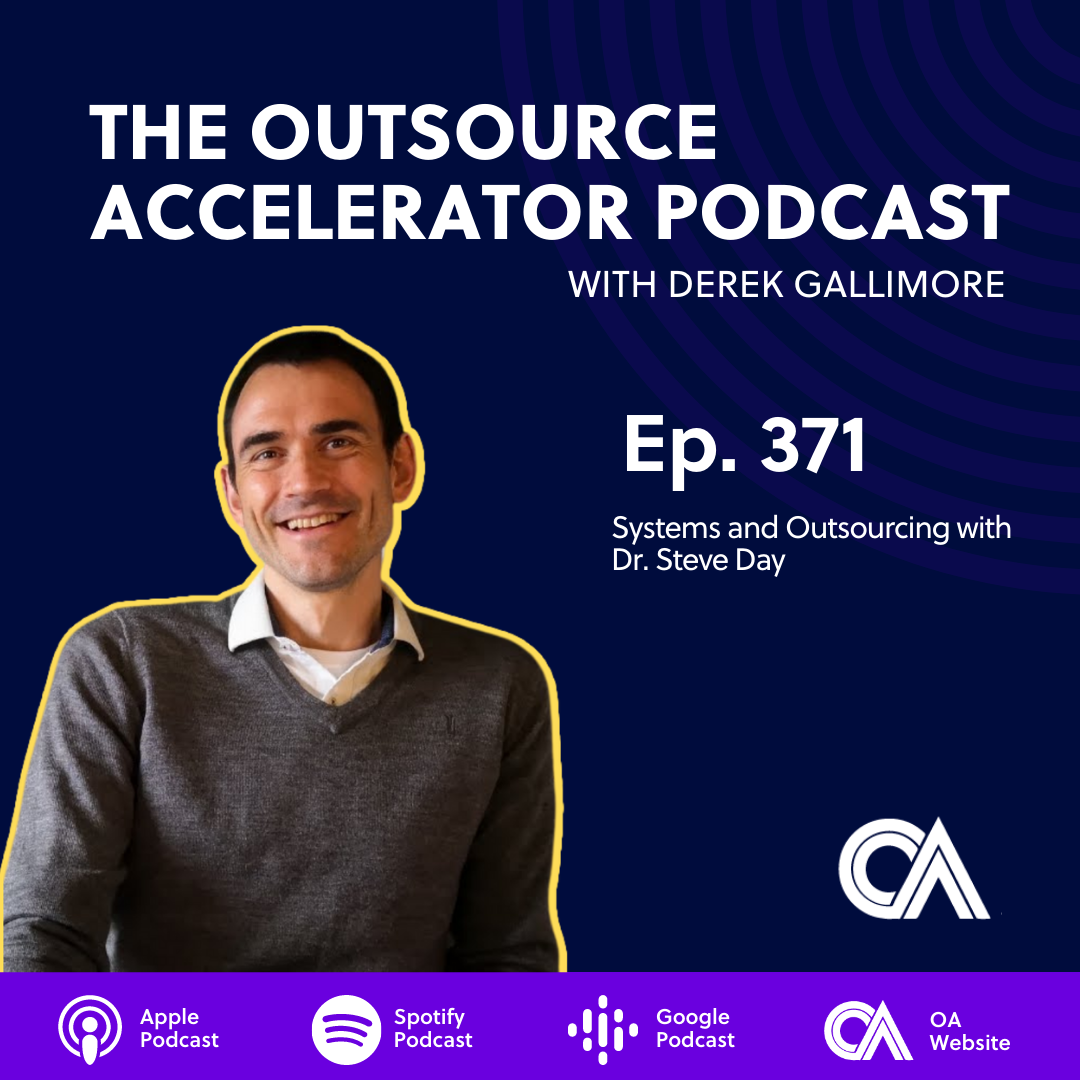 Systems and Outsourcing
Derek Gallimore talks with Dr. Steve Day, CEO and founder of Systems and Outsourcing. The company offers courses and coaching sessions about outsourcing and improving business processes for companies of all sizes.
In this episode, Derek and Steve will discuss the importance of organizing systems for successful outsourcing. They will share insights as to how a company can maximize its outsourced staffing by improving processes and organizing its systems.
Dr. Steve Day is the CEO and founder of Systems and Outsourcing. The company provides courses and coaching sessions about outsourcing and how it can change the way businesses – and entrepreneurs – work.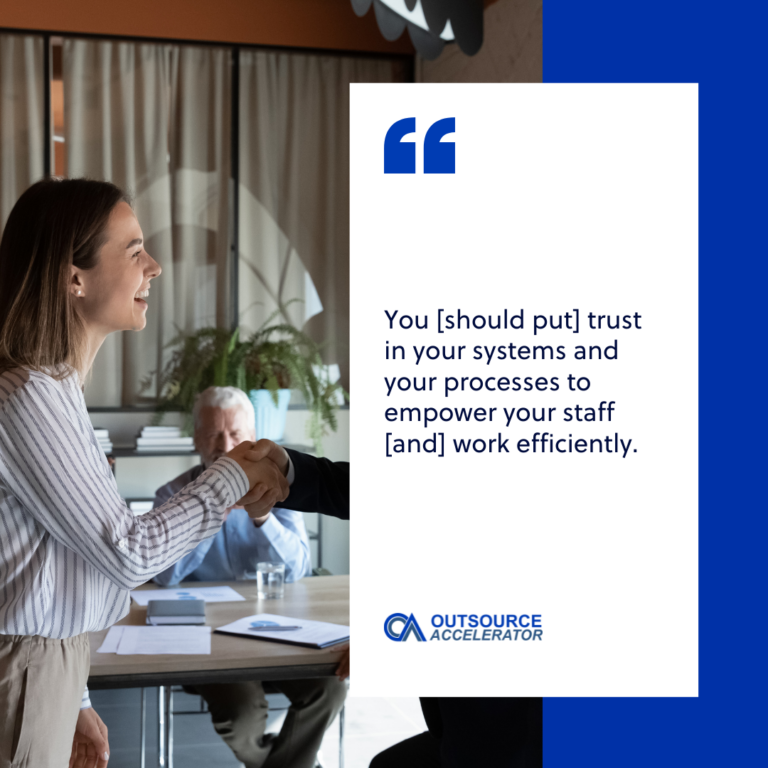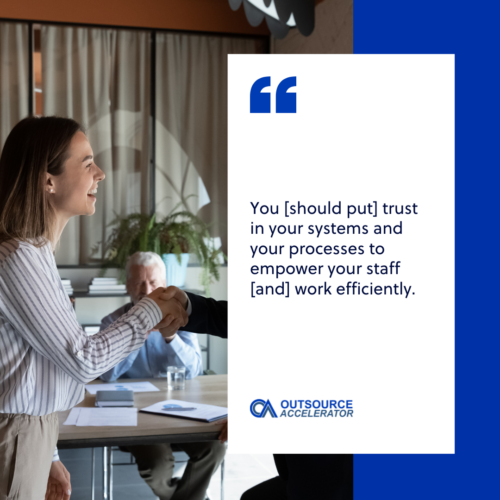 Dr. Steve's involvement in the industry
Steve once worked as a medical doctor in accidents and emergencies. He has always had an entrepreneurial mindset, building his first "business" at nine and owning his first property at 22. 
He went back into entrepreneurship five years ago upon moving to Sweden. Being miles away from England, Steve tried to figure out how he could run his business without going to the UK most of the time.
He then stumbled upon the idea of outsourcing. Figuring out his strategies and helping others run their businesses better helped him "create [his] dream job" and build Systems and Outsourcing.
What Systems and Outsourcing provides to its clients
Like other entrepreneurs, Steve has experienced working extra hours for his business for 15 years. Being a "control freak," he wanted to know what's going on with his company. Steve admitted that this move could be "draining and tiring" even for other entrepreneurs.
Through Systems and Outsourcing, he gives entrepreneurs "the tools, knowledge, and power" to change the way they think and work to "have their lives back."
Tim Ferris as an inspiration
Steve admitted that before reading Tim Ferris' Four-Hour Work Week, he was not aware that small businesses could tap the global workforce. He once knew of outsourcing for big companies where customer service is shipped to other countries with a few repercussions.
According to Steve, reading Ferris' book "opened [his] eyes" in the industry. This made him hire outsourced staffing from different countries and achieve few successes.
The majority of businesses today are aware of the high-quality global workforce. They think a virtual assistant could "solve [their] problems." Steve always advises his clients that "finding [remote employees] is not [an] issue" as long as they trust in their systems and processes.
Creating an organized structure for a business
Stemming from his experiences, Steve took years to document his processes using his combined expertise in technology and medicine. From this, he has outsourced "thousands of hours of work [worldwide]" and continues to improve how they work.
Having an organized structure has been a "prime focus" for Systems and Outsourcing for years. The organization believes that other companies can also organize and improve their processes effectively the way they did.
Per Steve, organizing processes less involves "having a manual that sits on a shelf." Rather, it is about "having a plan for [a] business" and seeing how each business aspect integrates. 
Steve advises companies to "start with simple [processes]" to organize. According to him, these simple processes "are the ones that see the biggest benefits" since it relies more on teams that already know how it works.
When should companies systemize their processes?
Steve usually gets asked by companies about the right time to systemize their processes. Admittedly, as much as he thinks companies should do it "[since] day one," he notes that systemizing became possible with the idea of "creating a usable document that [staff] can use."
Companies usually face challenges in optimizing and improving their operations. They take "huge amounts of time" writing documents and long checklists of their operations that "people rarely use."
As a result, most of them get outdated easily.
Steve thinks there is "definite value in getting [a company's] core processes documented" early. He said that a lot of tasks in a business are repetitive, even as simple as updating websites and answering phone calls. 
Documenting processes makes it easier for companies to update them over time and outsource them. It even creates a domino effect on a business since they can "replace people easier" when some staff are promoted.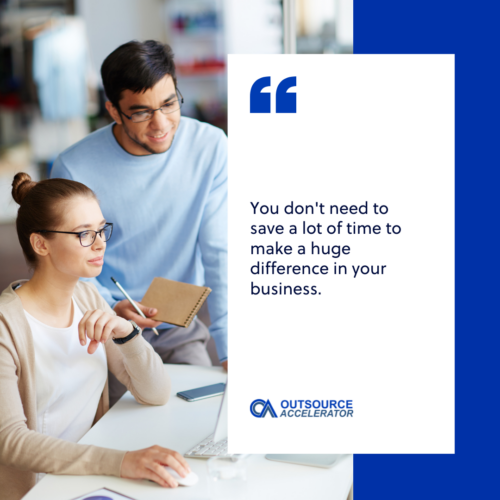 Getting "quick wins" in outsourcing
Steve believes that there are "quick wins" when outsourcing functions. Companies only have to look at "what [their employees] do within their time" and see what they can offload. He added that each process has "a way to get documented" if an employee already does it. 
Steve explained that companies can "attract the right [staff] and manage [teams] effectively" with a systemized management. Having reliable people on a company's side makes "the rest [of the business]" much easier.
Even today, Steve encounters some companies that fear loss of control and data security when outsourcing. He iterates that having good systems and building trust with their service provider are the keys to success.
At the same time, Steve advises against the term "virtual assistant." Hiring a VA "limits [a company's] beliefs in what [a staff] can do," which could hold them back. Instead, he makes businesses understand that they're simply "hiring from another location" and should be treated the same as local staff.
Steve offers a free mini-course in creating systems through this link: https://bit.ly/sys-006. Interested clients can learn more about outsourcing through their website at https://systemsandoutsourcing.com/ and Systems and Outsourcing Facebook group.
Listen to more podcast episodes here: