Growing to 2,000 Staff in 2 Years – With Mary Lupisan of Callhounds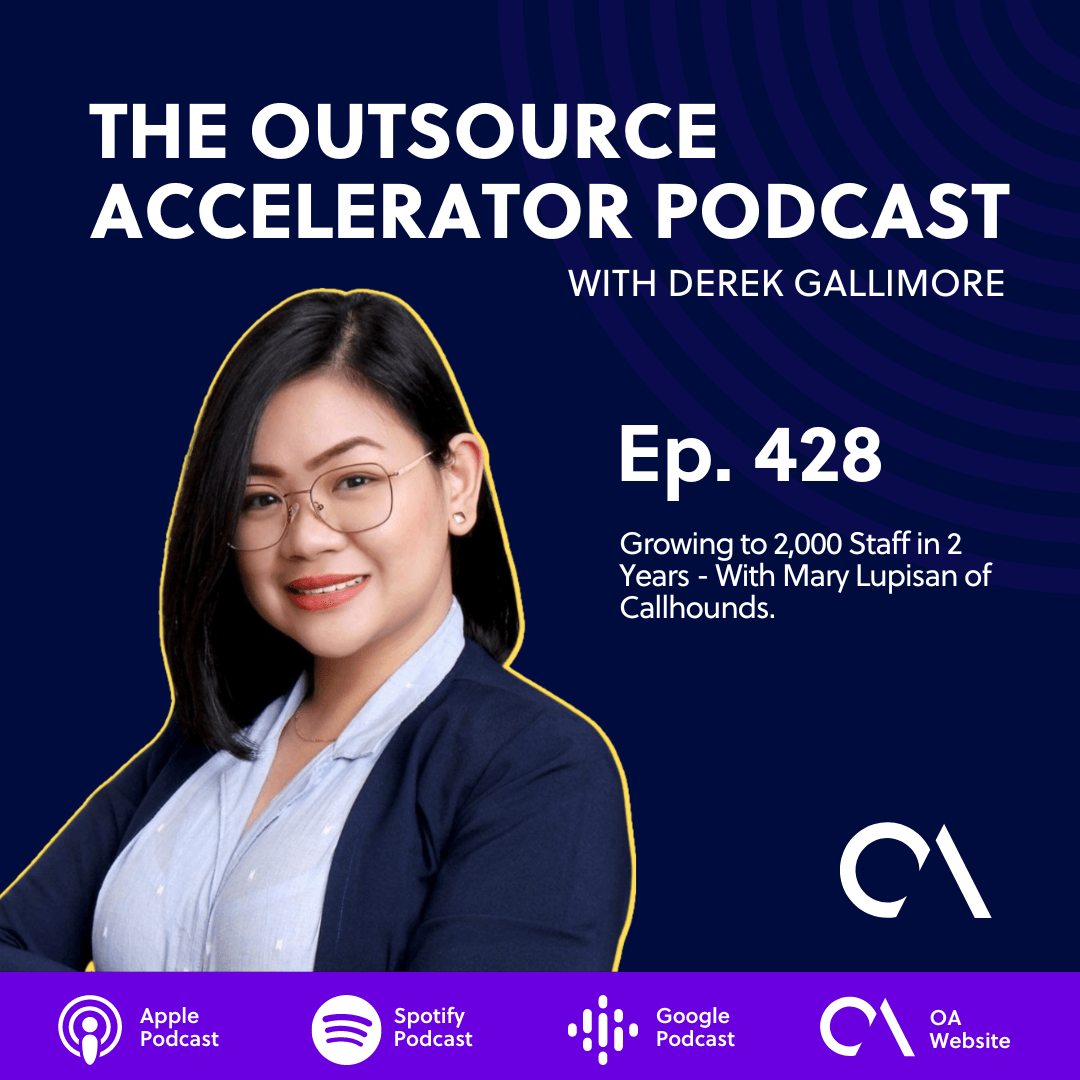 Callhounds 
Derek speaks with Mary Lupisan, Chief Marketing Officer of Callhounds, a Philippine-based BPO and Call Center solutions provider. The firm has gained notice by growing to 2000 staff in just over two years. 
In this episode, Derek and Mary discuss the circumstances that led to this rapid growth and how Callhounds offers its personalized touch to BPO solutions.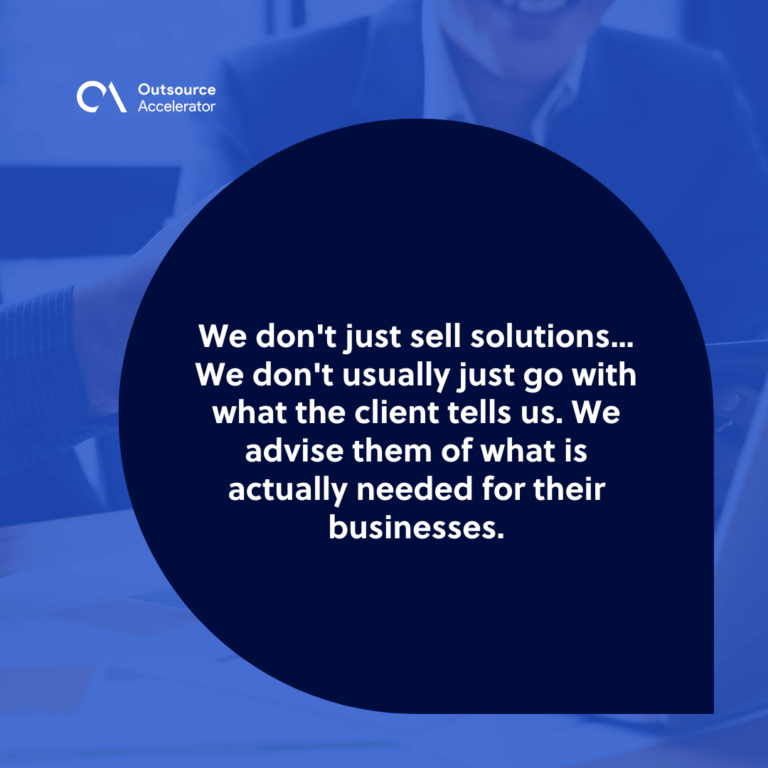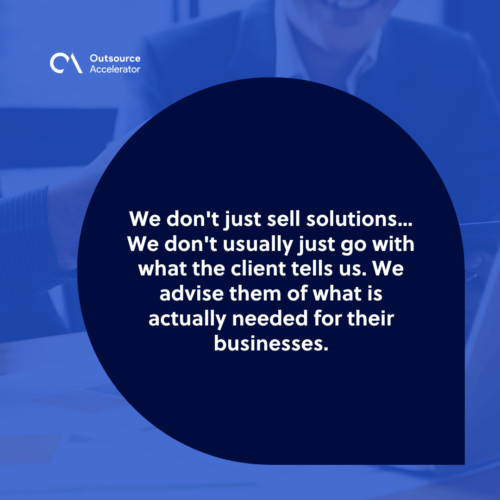 Collective experience in the BPO industry
Callhounds was founded in August 2020 and has since grown its employee base to about 2000 staff. Located in Ortigas, Pasig City in Metro Manila, the firm offers almost all sorts of call center solutions, including: 
Voice

Non-voice

Inbound calling

Outbound calling

Chat support

Email support

Virtual assistants 

Staff leasing
The Callhounds founders saw what Mary described as an "employment hole" in the CALABARZON (Cavite, Laguna, Batangas, Rizal, Quezon Province) area, one that the booming BPO industry in the Philippines could cater to. 
"What our founders have seen is that the CALABARZON area seems to have like an employment hole [and] they actually wanted to cater and give more employment opportunities [to] these people.
So with the BPO background that they already have, they thought, why not?"
Though a new firm, the management team collectively boasts 20+ years of experience in the BPO industry. Mary says this allowed them to identify gaps in their clients' business that Callhounds can assist in smoothening out. 
The secret sauce of growth
Asked about the "secret sauce" to their rapid growth, Mary noted that the company is "basically interconnected."
She says, "from the sales process to the marketing to the sales process to even to operations, it's very important for one company… to have the right team and the right persistence per se, in terms of our sales approach."
Callhounds initially only connected with clients needing less than five requirements. It soon became apparent they could tap into opportunities for growth in industries like technology and e-commerce. 
This has enabled them to also cater to medium and large companies. 
Additionally, Mary describes the personal touches of their BPO solutions. She adds, "We don't just sell solutions… We don't usually just go with what the client tells us. We advise them of what is actually needed for their businesses."
The Callhounds CMO thinks this is one of the reasons clients kept coming in. 
To keep up with client demands, Callhounds had to expand rapidly. Onboarding 1500 employees in three months proved to "very exhausting." Mary says she had to "be with a team to make sure that [the process is successful]" and compliant to the timeline they've set. 
On finding office space, Callhounds had to find an office space that has a seating capacity of more than 1500 people. Mary once again credits the experience of the management, saying that "it was quite easy for us," and that the BPO company was "able to set up a location in a span of just a month even."
Presenting capability and competence 
According to Mary, it's critical for startup companies to "position yourself as experienced, even if you are actually experienced." 
Even with the management's history, Mary notes it can be challenging for clients when looking for BPO partners in the Philippines because "our processes are just continuously smoothening out." 
"One of the main challenges is to instill to our clients that we are capable of doing a successful campaign and achieving their company goals with the team we already have, and with a team we'll onboard," she says when asked about marketing a fast-growing firm.  
For Callhounds, it's all about reassuring the clientele and collaborating with them on achievable goals.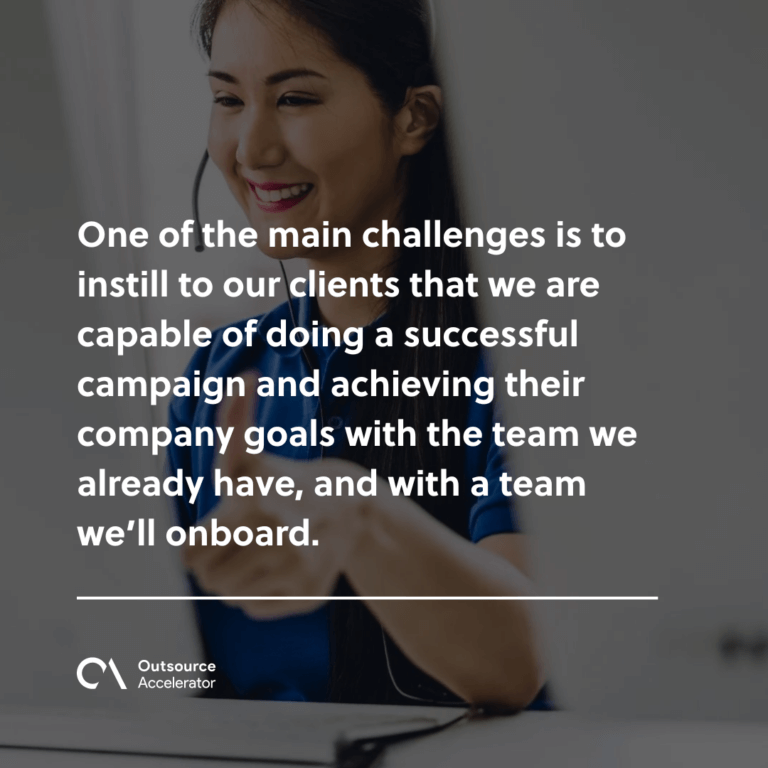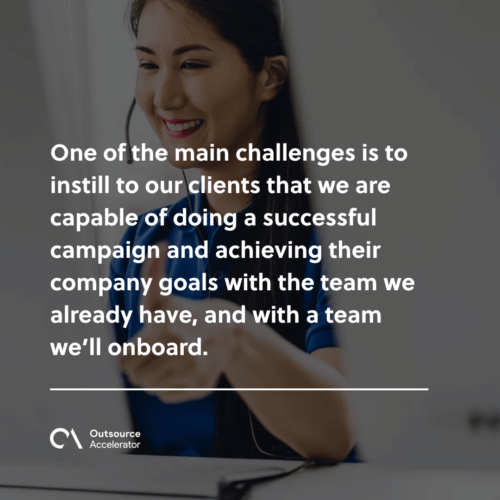 Playing for the long-term 
Mary sees this year to be "very big" for Callhounds, mentioning the importance of the partnerships they're building with their existing clients. 
For the Callhounds CMO, "it's always about the long-term relationships where we try to build and see what other ventures we can explore with [our clients] as business owners." 
Callhounds currently has partners that mainly specialize in the e-commerce and technology industries. They see this as a starting point to "become very huge" due to those sectors' endless capabilities and opportunities. 
At the end of the day, Mary maintains that Callhounds remains open to any requirements their clients have. 
"What we have as a goal is not only to help them but also to educate," she concludes. 
For outsourcing concerns, Mary can be reached through her LinkedIn profile.  
You may browse Callhounds' website at https://callhounds.com/ or send an email to [email protected] 
Listen to more podcast episodes here: