Exploring African Outsourcing and Trade with CRDLE.com's Valerie Bowden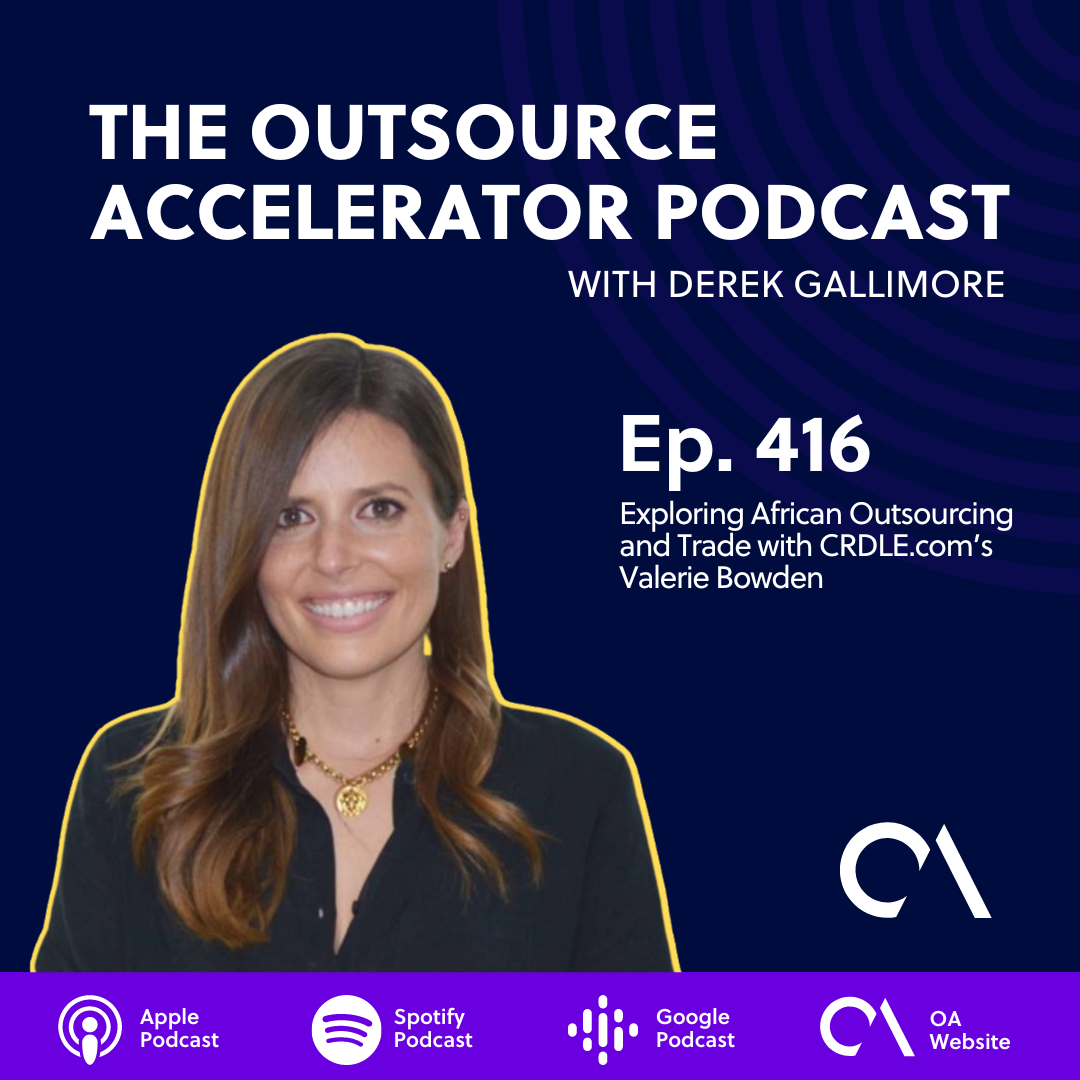 CRDLE
Derek Gallimore speaks with Valerie Bowden, Founder and Director of Business-to-Business (B2B) marketplace CRDLE.
CRDLE (pronounced as "cradle) is an Ethiopian-based platform that connects African brands to the world. It contains everything that the region has to offer, from physical products — like T-shirts, coffee, and vanilla — to remote assistance and outsourcing agents. 
"It's an Alibaba-like alternative," cited Valerie.
In this episode, Derek and Valerie talk about their common love for traveling, Africa and its riches, and how Ethiopia has been gradually rising as a top tech outsourcing hub in the world.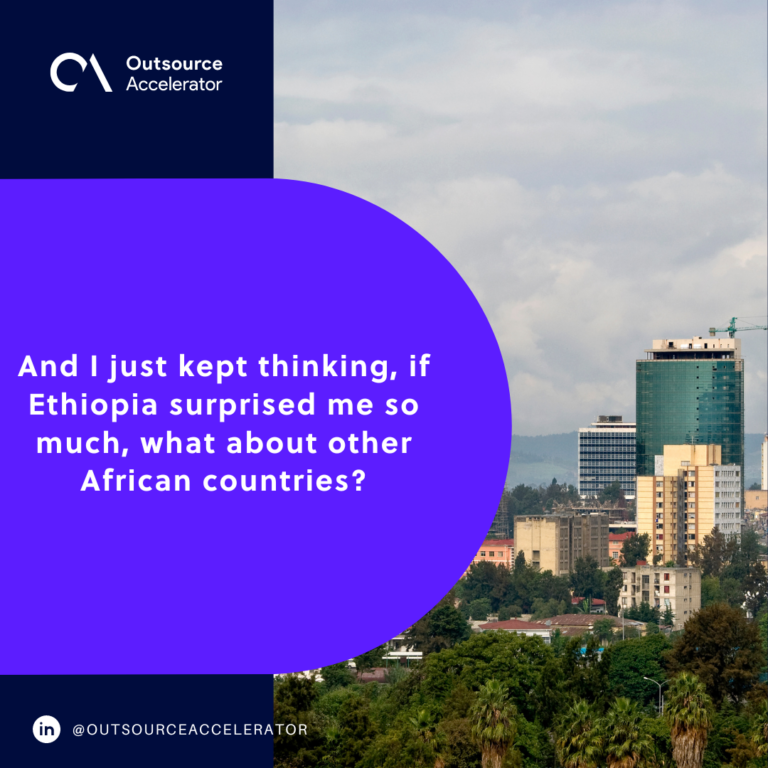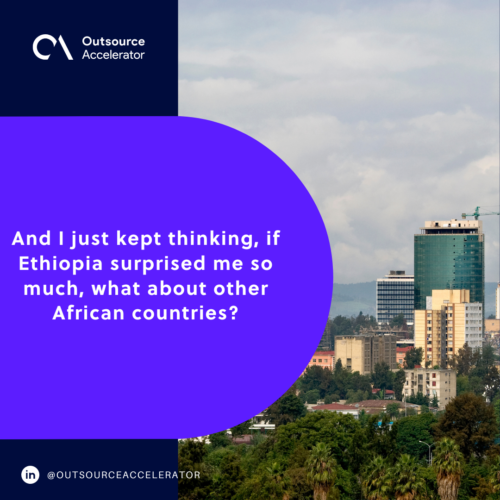 Backpacking in Africa
Valerie first stepped foot in Africa through a three-month volunteer trip in Ethiopia. There, she worked with orphans and learned the good and bad of charities whose sole purpose should be helping the underprivileged population. 
After falling in love with the country's culture and food, Valerie then had a thought, "if Ethiopia surprised me so much, what about other African countries?"
So after finishing grad school, she booked a one-way flight to Cape Town and backpacked from South Africa to Egypt for seven months and nine days – crossing 13 African countries along the way. 
Valerie said that her trips to various African countries usually consist of reaching out to people and stopping by various communities. "So when I was backpacking, I would stop at tech hubs, women's associations, missionaries, nonprofits, charities, schools," she stated.
"I just kind of visited a lot of things, and it just became so obvious that whenever [there are] good, well-paying jobs, that's when communities thrive."
CRDLE's birth
After that trip, Valerie started working at a big tech outsourcing firm MCI Tech in Addis Ababa. There, she started to appreciate how employment reduces poverty in a sustainable way, lessens political and ethnic tension, and creates win-win partnerships between people and businesses.
A call from Swedish furniture distributor IKEA also encouraged Valerie to start CRDLE. Despite being a large company, IKEA had difficulty finding the right supplier and right product to source in Africa.
After lending a hand to the firm, Valerie then started posting all the things that could be sourced from the continent online while pointing out how African suppliers could bring benefit to the world.
And as people started inquiring directly to her about the products, Valerie then realized how the country's tech workforce could compete with other countries, yet no one knows this.
From there, she officially launched CRDLE.
Socially minded commerce
Valerie describes CRDLE as a "socially minded commerce." According to her, the company is a for-profit business that takes time to know the good business propositions that is best for their clients. 
When asked what she loves most about the platform, the business-savvy professional said that she loves how it creates jobs for everyone in the region — from college youth to farmers. The platform also contains a lot of eco-friendly, conscious brands, which help create a social and environmental impact while also doing good business.
Further, CRDLE is a good marketplace for companies looking to find partners as it takes out the middleman and allows business leaders to talk to their suppliers directly. 
"Our whole goal is just to make it easy to connect with African brands."
Ethiopia's outsourcing industry
However, the highlight of CRDLE is its vast pool of outsourcing professionals from the entire African continent.
More so, Valerie strongly believes that Ethiopia is going to be one of the fastest-growing tech Business Process Outsourcing (BPO) countries in Africa. Through her eight years of working in the country, she said that everything has been pointing towards making the country a great hub for outsourcing. And there are a few reasons for that. 
First, because Ethiopia is a country with a huge population — about 110 million people — it is easy for larger companies to get 100 to 1,000 seats.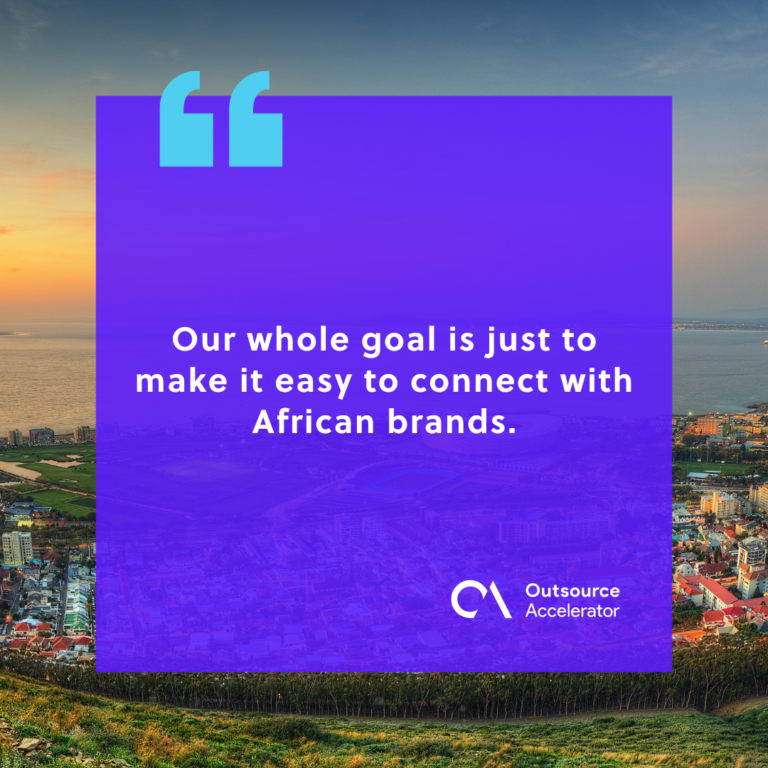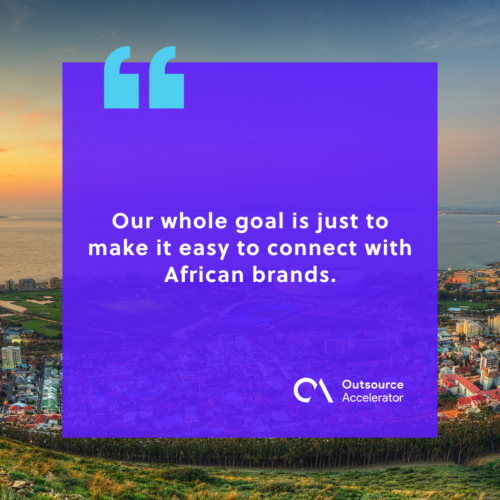 Second, English is well-spoken. Ethiopians also have a very American-leaning accent which is good for customer service and cold-calling representatives. 
Third, Ethiopia is a great country to work with. The country is opening up to other Internet service providers, ensuring faster network connectivity anywhere in the nation. 
And the highlight? Ethiopia is churning out more computer science graduates than anywhere on the continent and probably high up in the world as well, supporting its tech workforce.
Promoting Ethiopia to the world
However, the biggest disadvantage of Ethiopia's outsourcing sector is that, locally or even internationally, not a lot of people are aware that the country is becoming this. 
"Even when I talk to U.S. clients about hiring from Ethiopia, they're still questioning. They still bring up things like the famine in the eighties. So I don't think it's really on anyone's radar. And in Ethiopia or abroad, I don't think it's quite there yet," Valerie shared.
But, as the Ethiopian saying goes, "little by little, the chicken grows legs." 
There are all these amazing things about Ethiopia that most people don't know. And Valerie hopes that little by little, people will start catching on to its wonders, and companies will start looking for third-party partners in the country and, to an extent, Africa in the years to come.
Learn more about Valerie and her passion for Africa's resources through her Linkedin profile.
You can also visit CRDLE and see more of the company's work at https://www.crdle.com/.
Listen to more podcast episodes here: