A Quick Review of 2022 from Derek Gallimore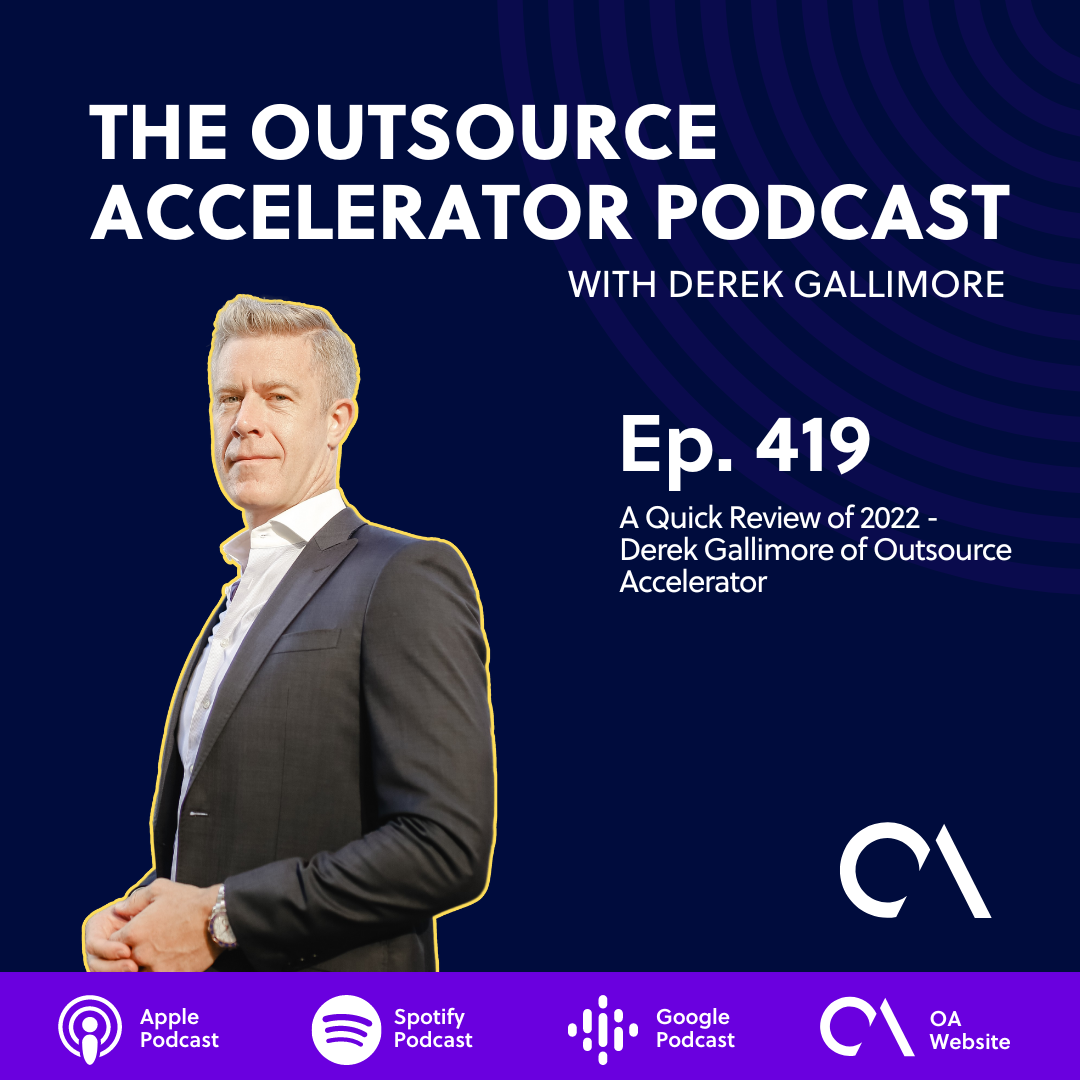 Year in review
As 2022 comes to an end, Derek Gallimore takes the opportunity to extend his heartfelt thanks to The Outsource Accelerator Podcast listeners. 
In this special episode, Derek gladly reports on the Outsource Accelerator's performance in the year that has passed. He also talks about milestones that have been marked by the growing Outsource Accelerator team. 
He closes this 10-minute episode with his projections for 2023. 
Looking at a good growth trajectory
This year, Outsource Accelerator's (OA) website did a great job welcoming 1.5 million unique visitors and a total of 5 million page views in 2022. 
"We have actually almost tripled or quadrupled our traffic in December to the prior January. So we're on a really good growth trajectory," Derek says. 
The OA website is the heart and soul of the company. Through this platform, Derek and the OA team spread awareness about outsourcing, an industry surrounded by misconceptions. 
Derek says that through the awareness-building efforts made by OA and through its business process outsourcing (BPO) list initiative, the outsourcing marketplace received 25,000 inbound inquiries.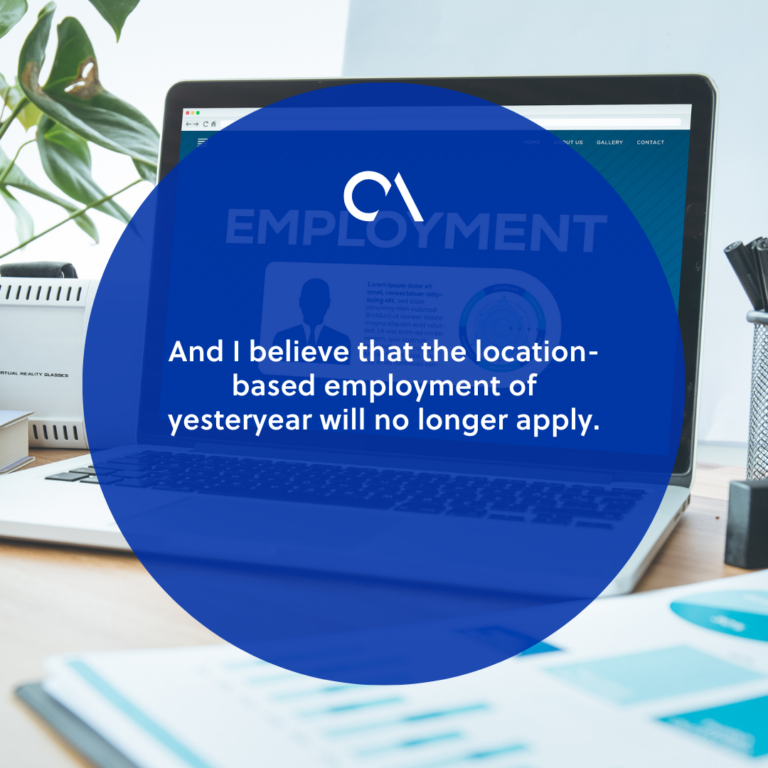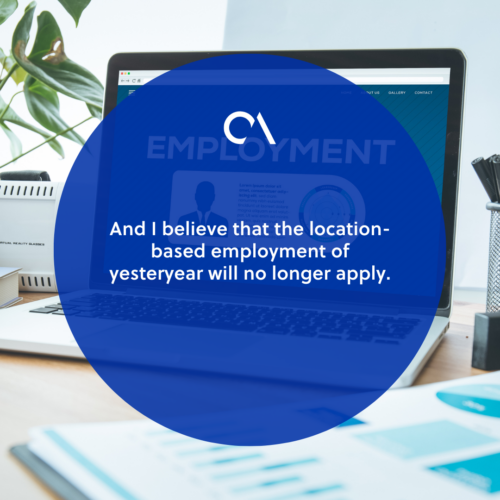 "We have generated over 25,000 inbound outsourcing inquiries, which is a huge number. That's 25,000 businesses, business owners, entrepreneurs, and startup founders that have come to the website and decided that they want to learn more about outsourcing for their business," Derek says. 
Derek explains that these 25,000 inquiries were conservatively comprised of 35,000 full-time jobs. This, according to Derek, "is pretty incredible that economic activity is valued at approximately $1 billion."
Breaking the misconception about the bad boy of business
Last June, Derek published Inside Outsourcing, a book that took him 4 years to write. 
Derek describes the book as a labor of love and a great effort to shine a light on the outsourcing industry. In the book, Derek portrays outsourcing as "the bad boy of business," often misunderstood yet it holds great potential as the "most powerful business tool."
"Earlier this year, I published Inside Outsourcing… It has been well received by the market. It's a big book. It's about 500 pages. It was a labor of love. But I felt that the outsourcing industry is so big, it's a sleeping giant, and not enough people are aware of it and its potential," Derek says. 
Derek says that small and medium-sized companies across the world could benefit from outsourcing but are not aware of it yet. The goal of Inside Outsourcing is to spread awareness and useful information about the industry. 
"Many people are aware of Upwork and freelancers and VAs (virtual assistants), and they're also aware of the big call center industry, but they're not aware of the global employment opportunity, the staff augmentation that is represented by the middle market of outsourcing," Derek explains. 
Opening 2023 on a positive note
Derek said he is very optimistic and positive about the outsourcing industry in the coming year. 
"Collectively, the industry and the official figures show an 8% year on, year on year cumulative growth, and that's projected to continue for the next few years at least," Derek said. 
He also notes that small and medium-sized companies are easily growing 20% to 50% or even by 100% per year. 
With the end of the Covid-19 pandemic in sight, Derek says, companies would look for options in terms of employment and running their business efficiently. 
"The workforce has voted significantly and has had a large say in what they want and what they see as the future of employment. And one thing is for sure, I think the future of employment is going to be very different to what it was for the few decades prior to Covid," Derek says. 
Derek shares his opinion about the future of employment saying that he thinks it will continue to change and companies will have to adapt. 
With the changes in employment during the pandemic, Derek says the outsourcing industry really benefitted, making it grow significantly.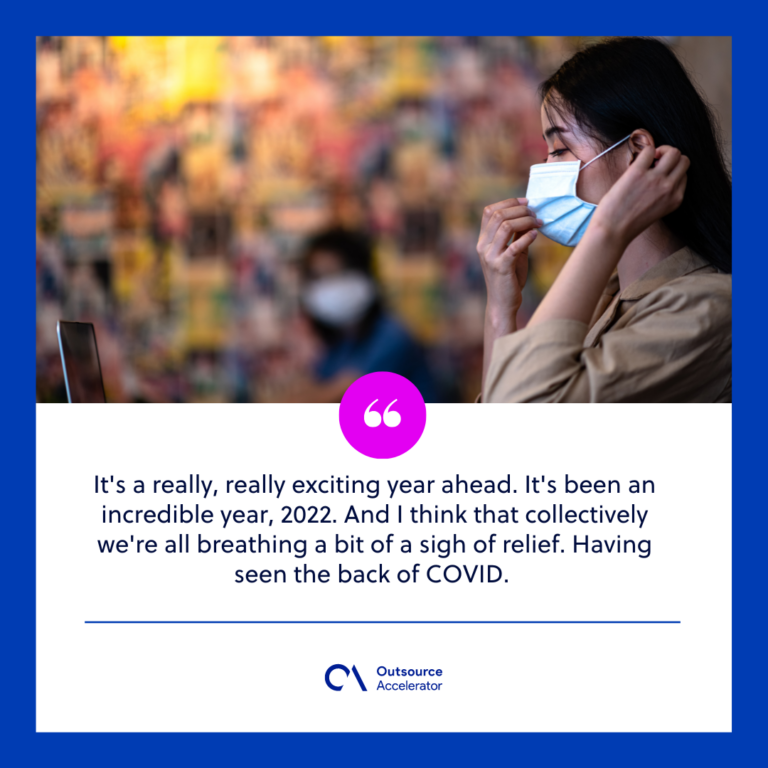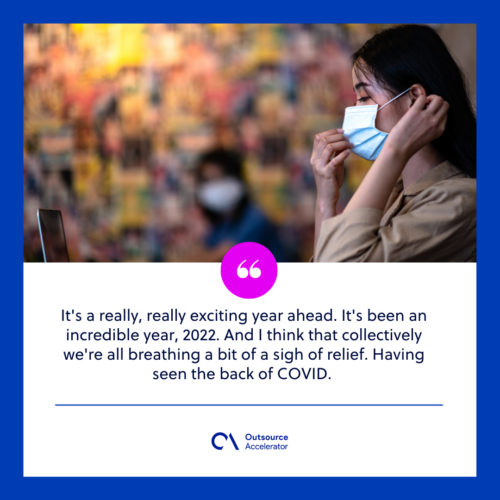 Looking forward to the next year
Derek closes his message with something to look forward to. 
"Next year, in February, next year, we launch the OA500, which is an index of the top 500 outsourcing firms globally. We have spent the last 12 months and about a quarter of $1,000,000 researching every single outsourcing firm on the planet," Derek says. 
The comprehensive list is a product of a methodology developed by the OA team. 
"We have developed a methodology using multiple publicly available metadata points. And this is really important because most of the BPO firms are privately held companies and they cross multiple jurisdictions and countries and regions. So potentially really difficult to collect internal data on a lot of these companies," Derek said. 
Derek also shared that he is looking towards what he calls a "singular global workforce" in 2023 and the years to come.  
"And I believe that the location-based employment of yesteryear will no longer apply," Derek says. 
He says the transition to this new-age workforce might take a long time but eventually the whole world will adapt to a singular global workforce. 
With the economic challenges presented to global economies this year, Derek says he is looking at 2023 with much hope and optimism. 
"Hopefully 2023 won't be too tough a year in terms of recession and availability of capital. But certainly, the outsourcing industry is going to be rocketing ahead. So please join us on that journey," Derek says. 
Listen to more podcast episodes here: