Derek Gallimore and The Philippines – Radio Interview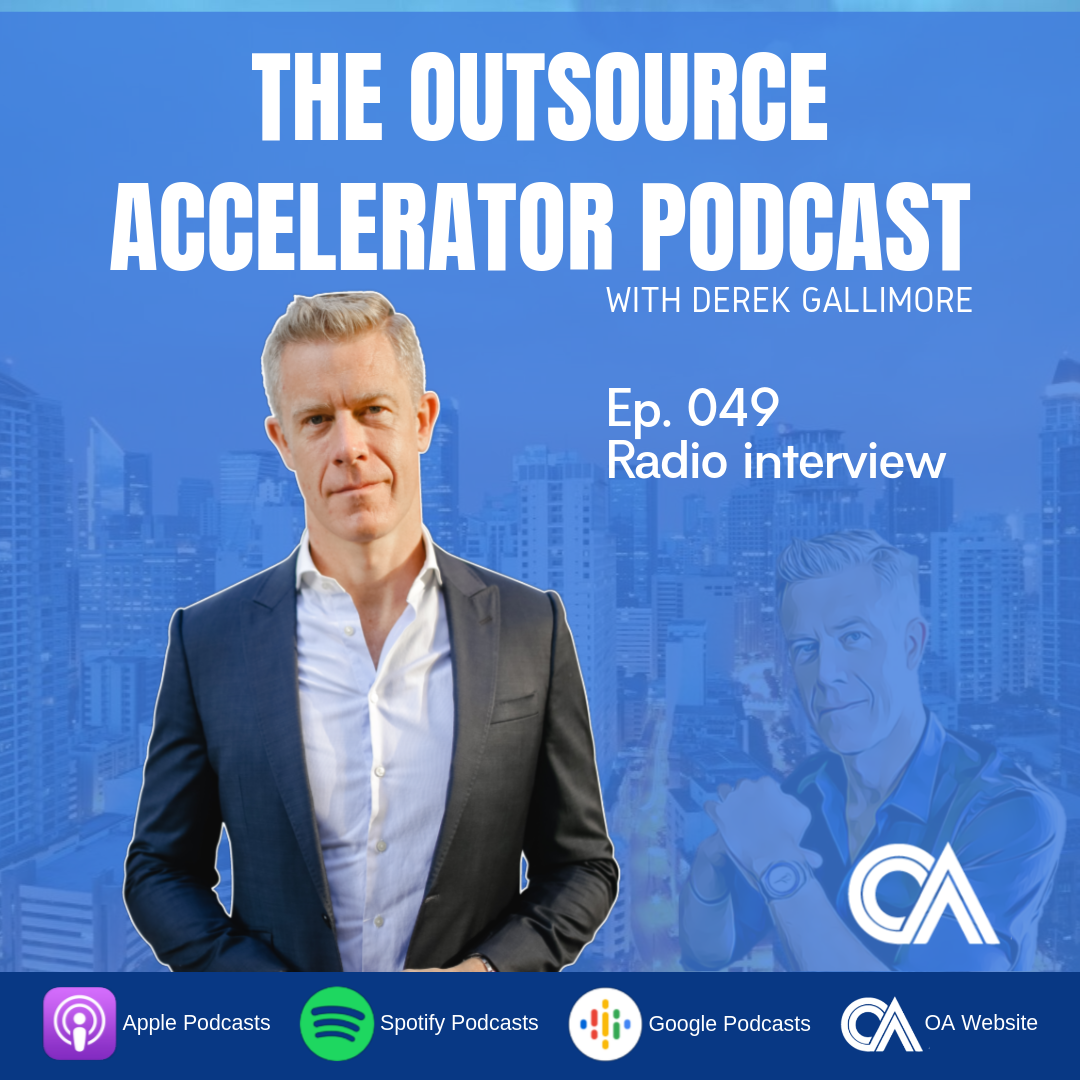 Ep 049 Derek Gallimore
In this episode, Derek was interviewed by Rose Mary Magsaysay and Attorney Bong Suntay and they discussed Derek's journey with outsourcing and his mission with Outsource Accelerator to get more people from the West, business owners and businesses generally to consider outsourcing and try outsourcing specifically here in the Philippines.
Summary
Derek was introduced first to the Philippines not by coming here but by outsourcing. So, he actually had three staff previously in the Philippines. And then he eventually visited them.
Back in 2009 Derek started a service company in London and then in 2011 and he started having staff here to operate the London company. And he effectively used an outsourcing or BPO operator for that.
There's a lot of traffic in the Philippines which is good if you like reading books you would have a lot of time for that.
So now, Derek no longer has a Serviced Apartment company. He built that office to about 60 staff here in the Philippines and there were about 15-20 staff in London.
Derek is so enamored by outsourcing that he now runs Outsource Accelerator which is an information hub and authoritative site for outsourcing. Encouraging more Western SMEs, small to medium sized enterprises to come over to the Philippines and try outsourcing.
Mary Rose and Attorney Bong knew Derek through an initiative of the PCOO of Secretary Martin Andanar and Asec. Marie Banaag and that was a dinner at the palace.
The BPO industry has been growing year out. And a lot of companies have been setting up and creating a lot of jobs for Filipinos.
There are a lot of initiatives to getting outsourcing facilities out into the provinces in an initiative to decongest Metro Manila and to create jobs in provinces.
The functions that BPOs carried out have now broadened to almost any job that is done in front of a computer screen or doesn't need direct interaction with clients.
PEZA is giving out incentives for business owners who will set up their companies in Visayas and Mindanao.
The problem or the only challenge which needs to be solved when setting up BPO centers in provinces would be of course infrastructure and of course fast internet connection.
Mary Rose spoke about a contact center inside a Women's correctional facility.
The media sometimes tends to sensationalize news which actually scares people especially foreigners who are not that familiar with the Philippine situation.
After discussing BPO and outsourcing, the three discussed some famous food in the Philippines, must-visit places and some hobbies of Derek.
Derek also mentioned that he has never felt uncomfortable or unsafe in the Philippines. Also, the Philippines is a great place for both business and leisure.
Key Points
BPO and outsourcing have been going now for about 20-25 years and it really started with the advent of cheap telephony and then the internet. But it was only available to big conglomerates.
Employees can now work in the comfort of their own homes. Either through Upwork, Freelancer or other SMEs.
The BPO industry grew rapidly in the Philippines because of the Filipinos' grasp of the English language. They are also very culturally aligned to the West.
Outsource Accelerator's target audience are SMEs.
Resources
outsourceaccelerator.com/podcast/episode49
http://dzme-1530.com/
Transcript
Expand transcript