Coronavirus & BPO Update – Business Risk Analysis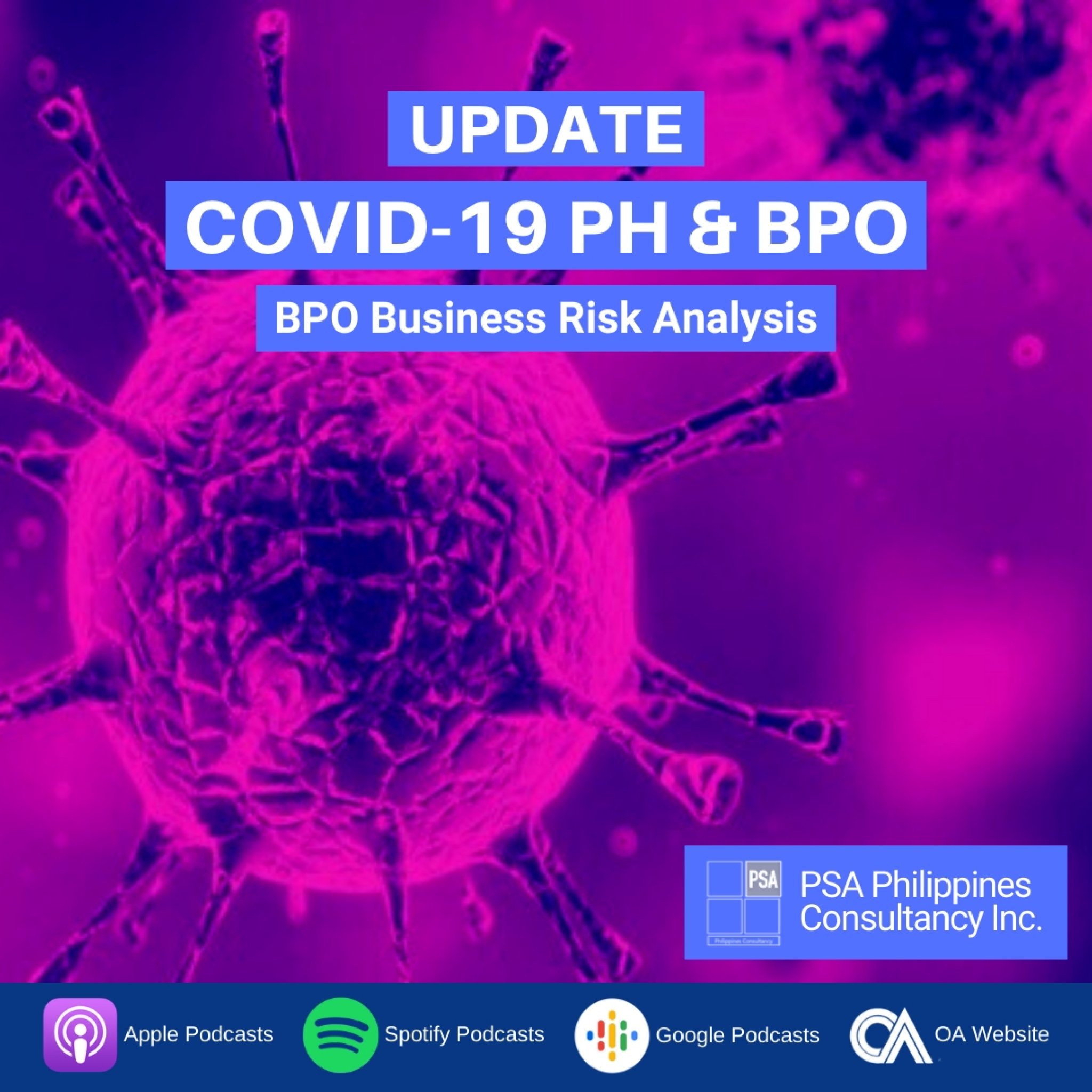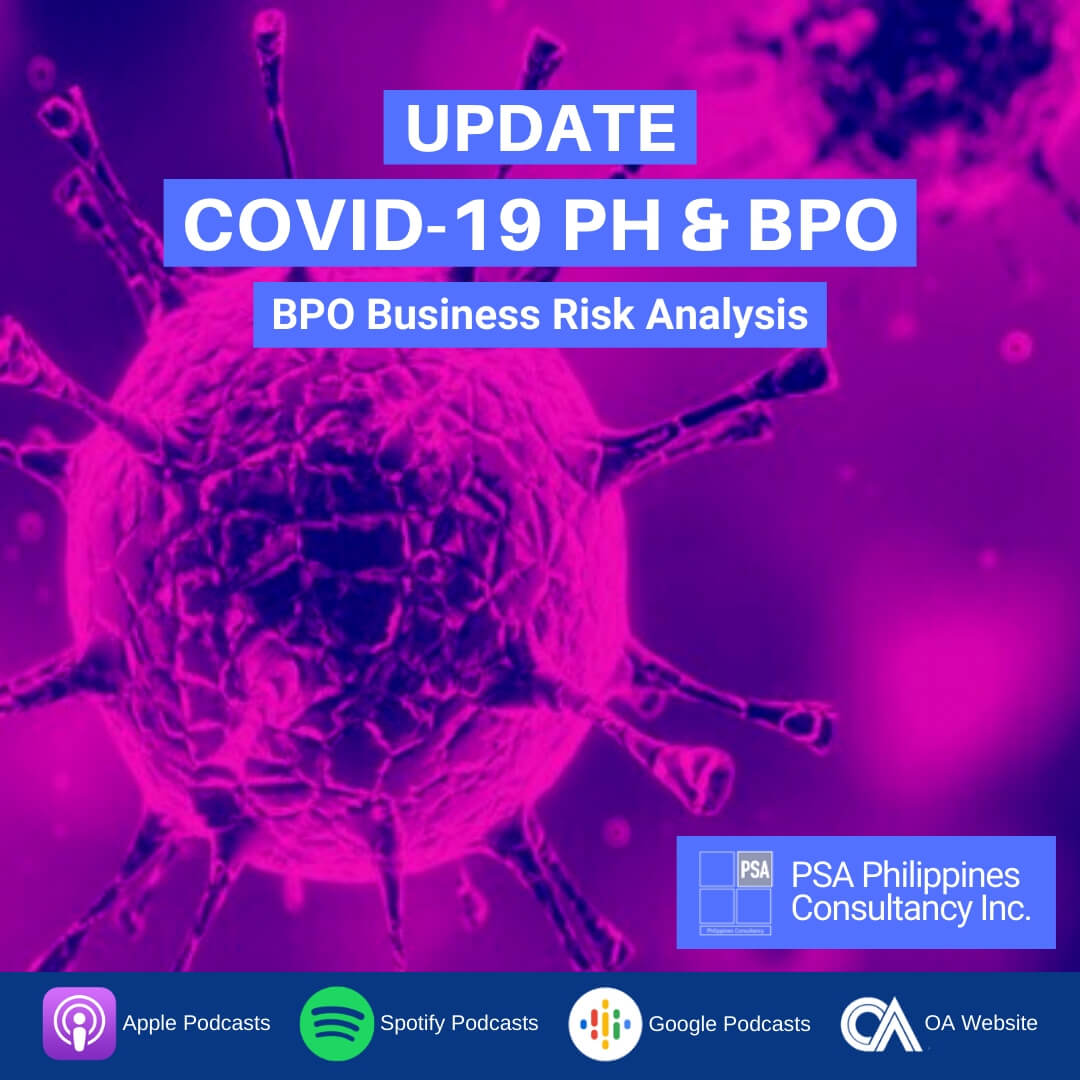 >>> CORONAVIRUS BUSINESS & LEGAL FAQ: Critical advisories & explainers for BPO & businesses in the Philippines
>>> W.H.O. ON COVID-19 & BPO INDUSTRY: [PODCAST] WHO interview with OA on COVID-19 & BPO
>>> CORONAVIRUS BUSINESS RECOVERY ACTION PLAN: Plain advice for businesses affected by COVID-19
>>> COVID GCQ UPDATE: Back to work: what PH employers and employees need to know
[UPDATE] Coronavirus & BPO Outsourcing – Business Risk Analysis
On this episode, Derek Gallimore talks with Greg Wyatt, Director of Business Intelligence at PSA Philippines Consultancy. PSA is a specialist risk advisory for the SEA region.
In light of the current PH Coronavirus situation, they discuss the current lockdown of Manila intended to prevent the spread of Coronavirus and how this will impact the people and economy of the Philippines. They explore the risks of the current lockdown to the economy, how businesses can cope up with this situation, and how the BPO industry can begin to adapt.  Listen now.
How to listen to this podcast: You can download and listen to this podcast from all the standard podcast players. Search for "Outsource Accelerator Podcast" on Apple Podcasts, Spotify, Stitcher, Google Podcasts, PlayerFM etc.
References:
Coronavirus Risks facing Philippine outsourcing
In this episode, Derek Gallimore talks to Greg Wyatt of PSA Philippines Consultancy, Inc. The company offers risk consultancy services specialising in business intelligence, security crisis management, business resiliency, and research & litigation support.
With the current Coronavirus pandemic, a lot of aspects are affected worldwide, including businesses and the entire economies. Different cities and countries, including the Philippines, have implemented lockdowns. This causes several businesses to halt their operation or face closures. Some industries, including BPOs, are allowed to operate according to the standard measures.
This episode tackles the impact of the lockdown in the economy, how the business process outsourcing companies are resilient in these kinds of situations, what measures can be applied to businesses to ensure continuity, and what they should watch out for during this situation.
The Coronavirus cases in the Philippines
Currently, there are around 200 cases of Coronavirus in the Philippines with 17 deaths (as of March 20, 2020). However, Greg mentioned that though the numbers are relatively low, there may be a lot of undetected cases at hand. This is because health institutions prioritise patients with a travel history to affected countries. Meanwhile, they send home patients with mild cases to undergo quarantine.
Greg Wyatt's insight on the lockdown
When it comes to their insight on the lockdown, Greg said that a technical working group is formed to advise the inter-agency task force (IATF) of the Philippine government. one of the things that this group factors in is the weakness of the healthcare system. Compared to other countries, in terms of hospital beds, the Philippines has a ratio of one hospital bed to 1,000 patients, which he sees as a negative mark for the country. 
Greg thought that what the IATF tried to do was balance the humanitarian and economic aspects of containing the virus. This, he said, maybe a difficult decision for the government, knowing that a part of the population may still be affected whatever their decision is.
PSA Philippines's projection on the impact of lockdown
He said that there are two measures that businesses, even big companies, take during the lockdown. Many companies either put their employees on paid or unpaid leave or just take pay cuts. Some, meanwhile, let their employees work from home. However, Greg mentioned, most businesses that do the latter are concerned about the liquidity of their business. Their employees may do the work, but their clients may not be able to pay them.
In the case of the BPO companies, he highlighted that outsourcing is a strategic industry.  BPO companies can put their employees on a flexible work setting, something which some industries can't do. This may be the reason the Philippine government has made an exception to it, along with manufacturing and service-oriented industries.
PSA Philippines on business continuity plans in force majeure situations
Greg cited a few solutions that businesses make to guarantee continuity. 
A short-term solution for this may be teleworking. Some businesses may be practising teleworking on specific dates in a week and measure their companies' readiness to it. BPOs to have distributed workforce as a part of their continuity plan, depending on their business model.
Second is having other offices in different locations. This, meanwhile, is helpful when it comes to calamities such as the Taal Volcano eruption last January. 
Both instances may have pros and cons, but Greg mentioned that teleworking is a more effective method during an outbreak. Outsourcing is also a strategic way of continuing business operations knowing that the US, UK, and Europe companies are shutting down locally.
PSA Philippines' insight on the challenges for the Philippine government amid lockdown
Greg mentioned earlier that the government aims to balance the humanitarian and economic aspects amid lockdown. However, he forecasted that countries like the Philippines might suffer a 6.9% drop in GDP should the Coronavirus continue to be an epidemic until a vaccine is created. 
He cited that the government announced a lockdown in advance to give the people time to go to the province and be with their families. From this, there's been an improvement on lowering the civil unrest and crime reports in Luzon. However, potential deterioration looms into this. 
Greg Wyatt on what everyone should monitor and do to change things 
As Greg mentioned, the government gives both the people and businesses assistance with the ongoing lockdown. For instance, the LGUs provide food packs to the citizens and transportation for health workers. 
The government also exempts service-oriented industries to the lockdown to continue providing services to the people. BPO companies, meanwhile, implemented flexible work arrangements and provided temporary accommodations to other employees to ensure continuity.
For the measures, Greg cannot advise a concrete action yet but he said businesses are having contingency plans for a much worse situation. This includes having half of their people go back to their home countries.