Confronting the Ethics of Outsourcing – with David Prichard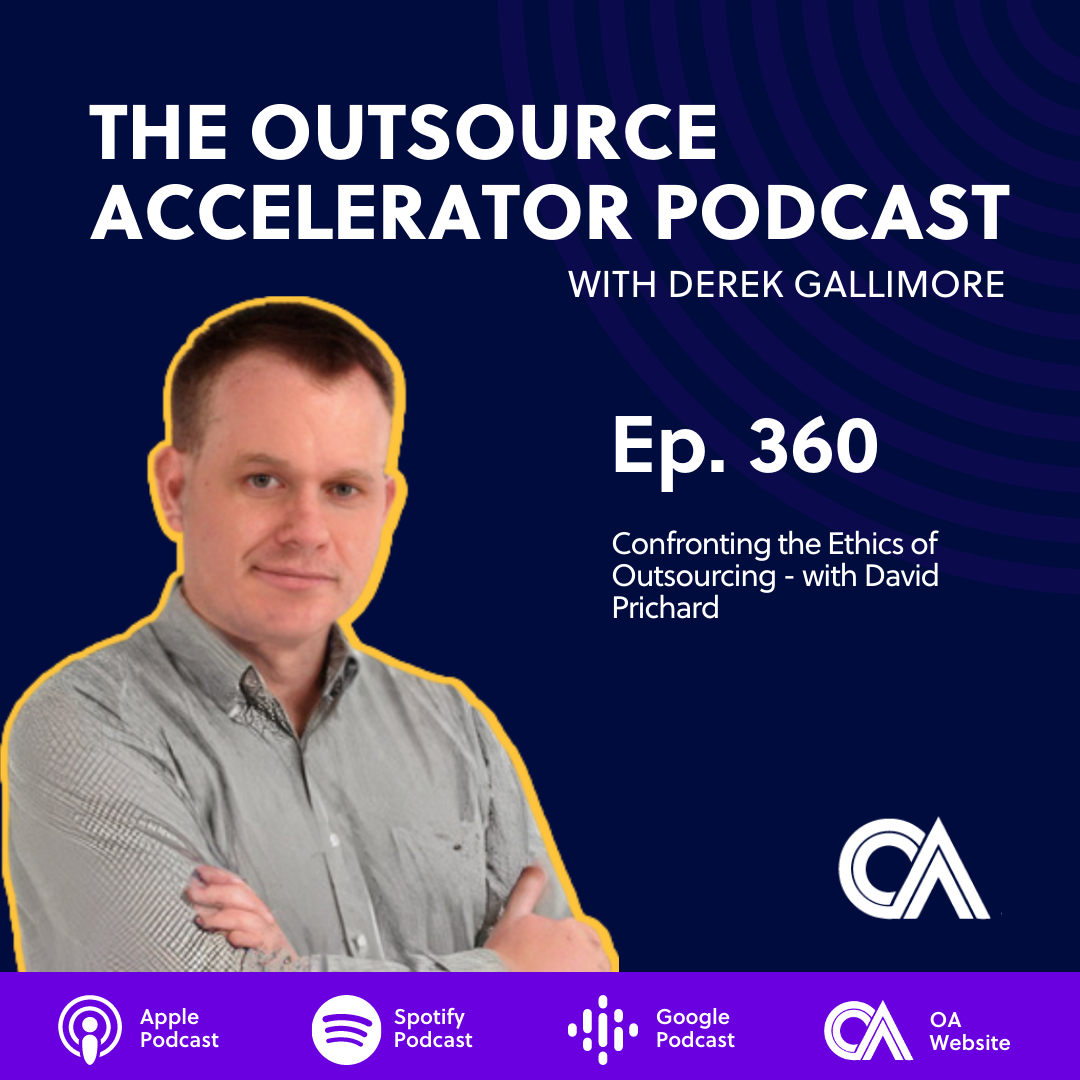 The Nile
Derek Gallimore talks with David Prichard, country manager of The Nile Group. An established company for over 15 years, The Nile is one of Australia and New Zealand's leading e-commerce enterprises. David has also been a guest in previous episodes of the Outsource Accelerator podcast.
Several objections about the ethics of outsourcing have been around for decades. In this episode, David and Derek will discuss and confront these objections by explaining the purpose of outsourcing in an objectivist's view.
David Prichard, Country Manager in the Philippines for Nile Group, has been a regular guest of the OA podcast since its early episodes. 
The Nile is an Australian online retailer for books, baby products, and several household products. As a Country Manager, David is tasked to oversee their Philippine operations providing customer support for the parent company.
He has been based in the Philippines for eight years now and runs the country's Ayn Rand Society
Now, David will share with Outsource Accelerator CEO Derek Gallimore his insights into the common arguments regarding the ethics of outsourcing and the industry.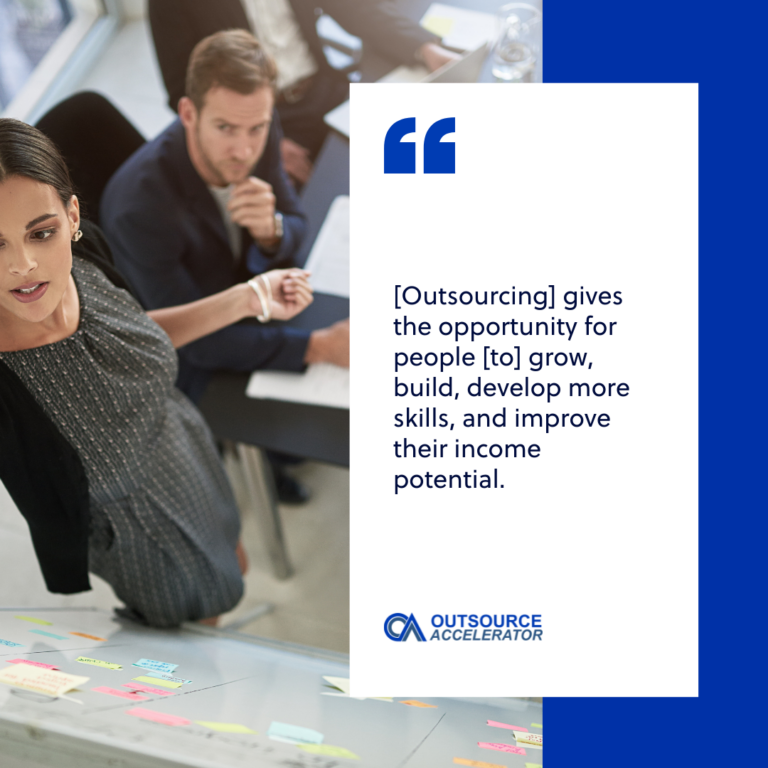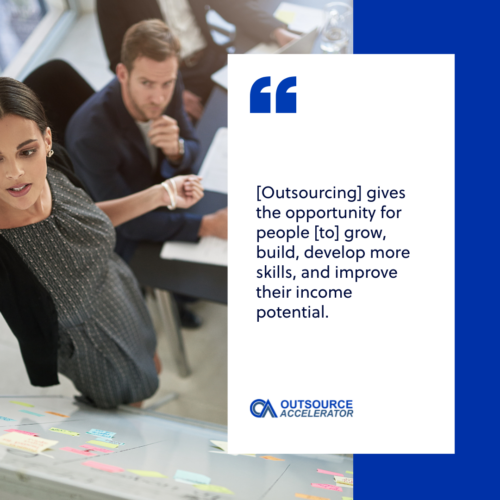 Introducing Ayn Rand, Objectivism, and its relation to outsourcing
Ayn Rand was an American philosopher of Russian origins. A known novelist and fictionist, she wrote notable works including The Fountainhead and Atlas Shrugged.
Ayn Rand also founded a "comprehensive system of philosophical theory" she called Objectivism. Formed on reason, rights, individualism, and self-esteem, Objectivism believes in a single reality: that of "the world we live in."
Rand defines the concept through its main tenets: objective reality, reason, self-interest, and capitalism. It implies the teaching that "man is an end in himself" and its purpose is to "flourish [as individuals] and have a fulfilling life as possible as an individual."
The theory, per David, can be applied to a variety of areas, including art, politics, and economics. David tries to apply Objectivism to "what outsourcing is" in its deeper philosophical meaning.
David on the significant objections about outsourcing
"Onshore people are losing jobs"
One of the objections people have about outsourcing is about the industry "taking away jobs" from onshore employees. Businesses tend to hire outsourced employees from a low-cost country such as the Philippines to help them save on costs.
David recognizes the sentiment of people losing a job that's "no longer viable where they live." At the same time, he questions the notion of a business's obligation to hire people strictly onshore.
Through an Objectivist lens, David sees a business as "an individual" created by a group of people to form an entity. This gives it the sole purpose to enhance its own life and flourish.
This purpose further justifies the reason for businesses hiring offshore staff. Per David, business owners can simply provide what they need to improve their business, including their products, suppliers, and the amount they're willing to pay to give their customers the utmost experience.
He also questions whether a company really "supports their country" by keeping a role that can be done more cost-effectively offshore. Through outsourcing, as David implies, local employees get freed up and upskill to "find different things that produce more value."
"Outsourcing exploits cheap labor"
Another notion about outsourcing involves its practices, where providers "exploit cheap labor and pay people below an average wage."
In the Philippines, for instance, a business can hire an employee with a $500 per month wage on a role where local employees usually earn $5,000 per month. 
David explains this in two versions.
Black and white principle

. "If you'll pay $5,000 [a month] for somebody offshore, why would you do that?"

In the Philippine context

. Even when businesses only pay $500, the purchasing power in the country is "lower than what [everyone thinks] is acceptable."
According to David, the employer-employee relationship in outsourcing and business is seen through the Trader Principle. In this concept, two individuals – the employer and the employee – chose to transact with each other since they see value in each other. 
By doing a certain role, per David, employees expect to move from a worse situation to a better one.
He also explains that employers do not hire as an "act of charity." Rather, they believe that person offers value for a business. This goes the same as with employees, who don't work because of a duty to build the company.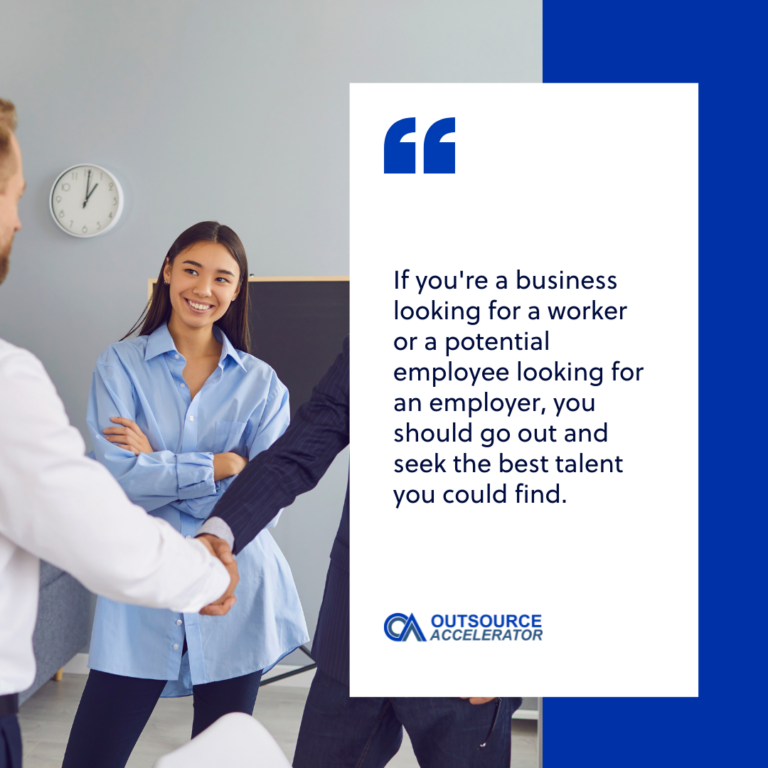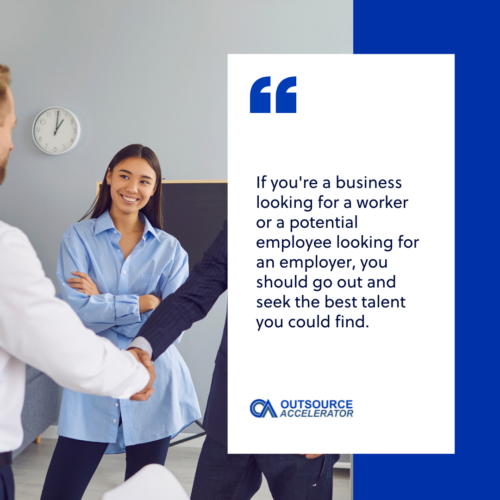 Objectivism applied to other business aspects
The environmental effects of a company
There is an increasing emphasis on the "expanding obligations" of a business, which now includes the environment. 
David implies that objectivism is not anti-environment and believes in property rights. He explains that there's a "legitimate cost" that should be accounted for " if the interaction of those two parties imposes a cost on a third party." 
In this case, any legitimate damage brought to the environment should be accounted for by the company that brought these damages.
Workforce globalization
David iterates that the world is kept in "holding pens" in the form of borders and countries. This, thus, creates imbalances with winners and losers due to each country having immigration laws, quotas, and regulations. 
Outsourcing and globalization take advantage of this. Outsourcing allows people to grow, develop their skills, and increase their earning potential even when they are limited to their border.
David thinks it is a good idea to "allow greater labor mobility and have a globalized workforce."
For inquiries and interests about Objectivism, check out https://www.aynrand.ph/. David Prichard can also be contacted through his LinkedIn account.
Listen to more podcast episodes here: