Andrew Mault – Enterprise Outsourcing Service for the SME Market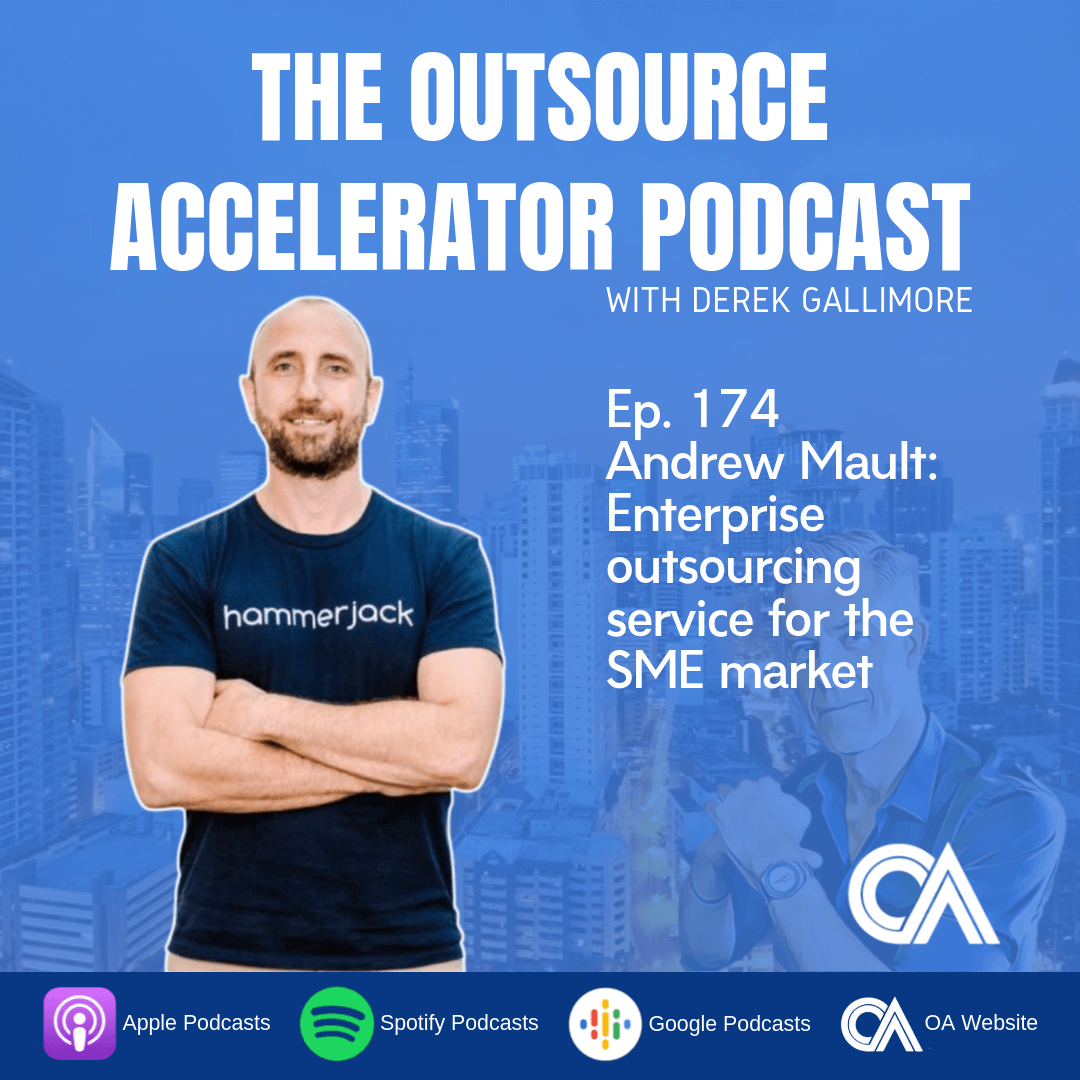 Ep 174 Andrew Mault
Our host Derek Gallimore delve into the future and potential of outsourcing with third-time guest, Andrew Mault, country manager of Hammerjack, an outsource service solutions and technology company.
Andrew has been working in operational management for the last 20 years, and in outsourcing for around 12 years.  He shared his insights and his challenging 12-years journey in the outsourcing industry in Episodes 165 and 167.
Summary
Andrew believes that automation will not shutdown outsourcing but will impact large outsource service providers and they will have to make the biggest changes. Hammerjack is embracing technology and is building their business around those technologies to deliver greater value to customers specially to the SME market.
Cost saving is generally the quick wins that companies gain in outsourcing ad-hoc and time-consuming tasks, and the simplest staff.
Outsourcing benefits SMEs as it opens the opportunity for these small companies to operate offshore at a relatively lower cost and risk. They can take advantage of new leads coming from live chats or foresee growth in improving technology and operational platform through outsource resources.
Outsourcing is not the answer to everything, but it offers a lot more options for SMEs. It's simply a case of deciding on what the business want to do, what the business really need, and then finding out and engaging the service model that's unique to the business.
Key Points
There is a great growth in the SME market for outsourcing service providers.
For the small business, there can be a custom-designed service model or platform that's unique to the business.
SMEs can expand their operations and market by tapping options and opportunities offered by outsourcing service providers.
Resources:
https://www.outsourceaccelerator.com/podcast/episode174/
https://www.hammerjack.com.au/
Expand transcript
Listen more here: