Top 12 CMO companies in the UK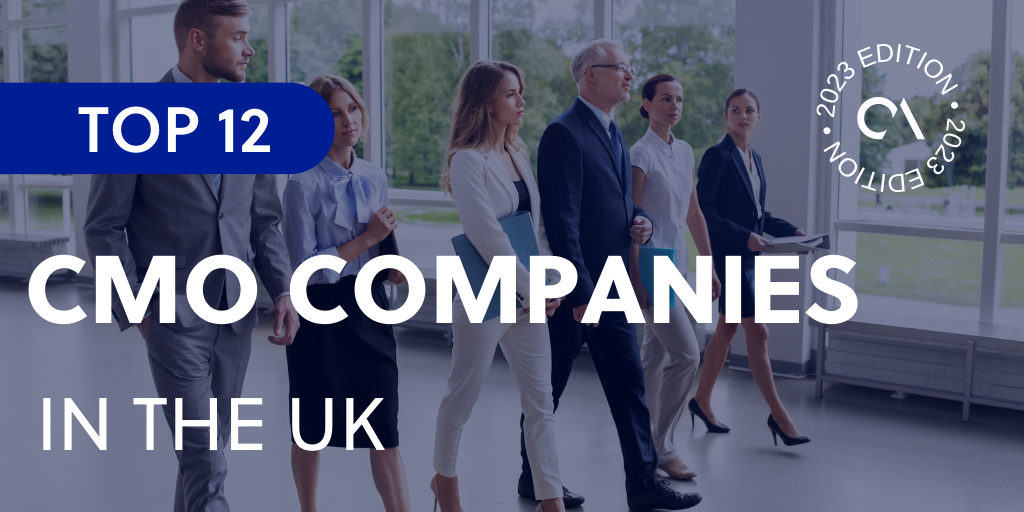 The ever-evolving trends in today's business have been a challenge for most marketing teams, especially in crafting unique and strategic business objectives.  
The future of marketing will certainly be more diverse, culturally different, and more connected to customer needs. 
If a business is not careful with its marketing campaigns, this might result in a sudden downfall and may end in losing money instead of earning. That's why it is always crucial to have a robust marketing strategy. 
An in-depth understanding of the customer needs is the key to successful marketing. If your marketing department isnt that great, then your business might be on the wrong track. 
What you need is a chief marketing officer (CMO) specialist who can guide you throughout your marketing journey. A CMO company will be responsible for your overall business insights, developing a marketing strategy, and overseeing its development and growth over time. 
CMOs support businesses in all sizes and industries. A lot of companies in the UK, at present, are choosing to outsource CMOs instead of hiring in-house as it is a more viable option.
In this article, we have gathered 12 of the top CMO companies in the UK. We have also provided a brief overview regarding a CMO company.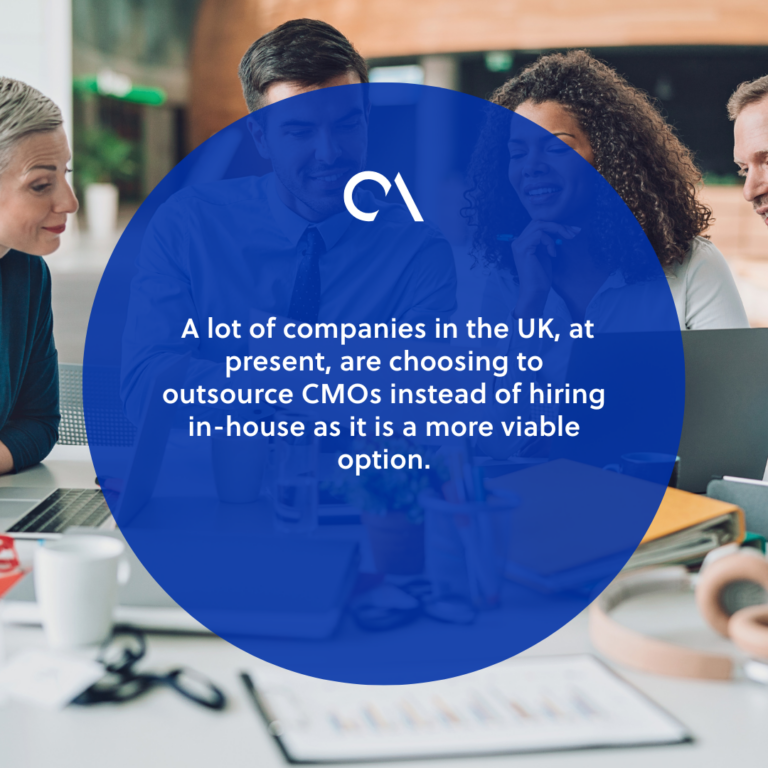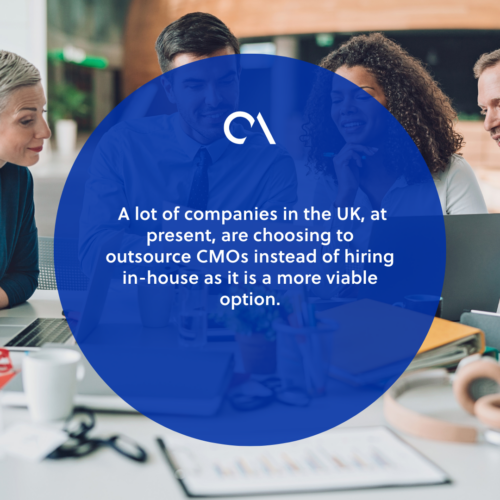 Top 12 CMO companies in the UK
Top global outsourcing lists
Outsource Accelerator is the world's leading outsourcing marketplace and advisory. We list over 3,000 BPO firms located across the globe in our global directory, and we provide detailed information, price guides, and reviews.
Whether you're a solopreneur, SME owner, or a corporate executive, we can help you find the most suitable outsourcing provider for your business.
Explore our outsourcing directory now. You may also check out our other Top CMO companies lists here:
What is a CMO company? 
CMO companies provide fractional chief marketing officers (CMOs) that work on a fixed amount of time, usually in a given month. CMOs typically work as a contractor and/or consultant on a part-time basis
CMO companies help businesses in terms of sales development and customer acquisition including their overall growth and development. They provide a wide array of expertise in digital marketing, including the following:

Search engine optimization

Analytics

Marketing automation

Marketing strategies

Branding

Website design and development
Businesses outsource CMO services to CMO companies that offer a comprehensive marketing plan to help then gain a competitive edge in the market. 
Top 12 CMO companies in the UK
Here are the top 12 CMO companies in the UK:
Headquartered in York, England, Open Velocity is a marketing consultancy company that provides fractional CMO, digital marketing strategies, and marketing leadership services. 
Open Velocity offer long-term fractional CMO support. This marketing consultancy firm deploys experienced senior marketing professionals who can help businesses accelerate, especially tech companies. 
Founded in 2018, Bridge F61 commits to providing a collection of specialists who are experts in marketing, brand, digital and commercial strategy relevant to business growth. 
Bridge F61, is a business consulting and services company that is laser focused on business growth. The company specializes in developing business, marketing, brand, and GTM strategies. It also an expert in marketing execution, and performance analytics. 
Skilful Pursuit is a business and management consulting company that has years of experience in integrating business through various marketing campaigns. 
The company provides a team of fractional CMOs that leads and guides businesses toward successfully managing their integrated marketing team. 
This is an international and award-winning staffing and recruiting firm specializing in senior marketing roles in businesses of all sizes. Headquartered in London, tml Partners consists of highly experienced marketing experts that offer fractional CMO services to private equity firms. 
gigCMO is another CMO company founded in 2016 and is headquartered in London, England. It offers fractional chief marketing officers for SMEs, startups, and established companies. 
Additionally, the firm specializes in business growth solution strategies, brand strategies, digital marketing, and analytics to help businesses scale up. 
Cognition is an advertising services company that helps businesses in achieving their commercial value through marketing investment. 
Its featured services include digital strategy, consultancy, digital marketing, CRO, CMO, website development, content marketing, creative design, and copywriting.
Social INK has been operating as an advertising services company since 2018. It has helped SMEs achieve business success through creating high-quality and valuable content in digital marketing and social media marketing. 
Headquartered in London, England, Social INK Ltd has been serving clients in various industries, including technology, media, finance, utility, health & wellbeing sectors. 
Digital BIAS is an award-winning CMO company based in London, England. It is a growth marketing agency serving clients across the world, mostly B2B SaaS and B2B service businesses. 
Digital BIAS support business marketing, sales, customer success, and product teams to reach their full potential in accelerating revenue growth. 
This is an advertising service company that claims to be a leading provider for UK's biggest outsourced marketing function. The Inspired Marketing Group has worked with UK's biggest brands for almost 20 years. 
Part of the company's offerings includes strategy & planning, branding, digital marketing, acquisition & retention, public relation, creative design, and coaching & mentoring.
Audiencely is a UK-based advertising services company that provides fractional CMO, CGO CaaS functions for businesses. This company offers growth solutions to startups, small businesses, and private equity firms focusing on e-Commerce and Saas businesses. 
Founded in 2019, Spine is a data-driven digital marketing agency based in London, England. It supports marketing and business operations solutions for early-stage businesses. 
Spine Agency provides clients with fractional CMOs, digital strategies, and developers in planning and executing marketing campaigns towards higher ROI.  
Part of the company's other offering includes SEO, digital marketing, marketing automation, marketing consulting, advertising technology, and more. 
Ivanka Digital is a full-service digital marketing agency with physical offices in London, Newyork, and Budapest. It provides results-oriented approach, marketing, and digital solutions for businesses. 
The company specializes in B2B marketing, SEO, digital marketing, marketing strategy, website design, and marketing operations.
Significance of CMO companies to businesses
We all know that businesses usually have staff handling their marketing campaigns, some have been in the industry for years. Yet, sometimes, it still doesn't reflect on their ROI since most staff still lack strategic experience. 
For startups or small businesses they mostly aren't ready for full-time marketing executives. Because of that, business owners  often opt to  hire a CMO company. 
Working with a part-time CMO company can be the best solution for organizations to develop their overall marketing strategy as well as marketing leadership. 
It is worth noting that CMO providers bring flexibility to businesses. A CMO will be working along with the company's day-to-day operations for significantly lower costs. 
Outsourcing a CMO enables companies to boost their profitability and business growth leading to a competitive edge in the market.