Top 15 CMO Companies in the USA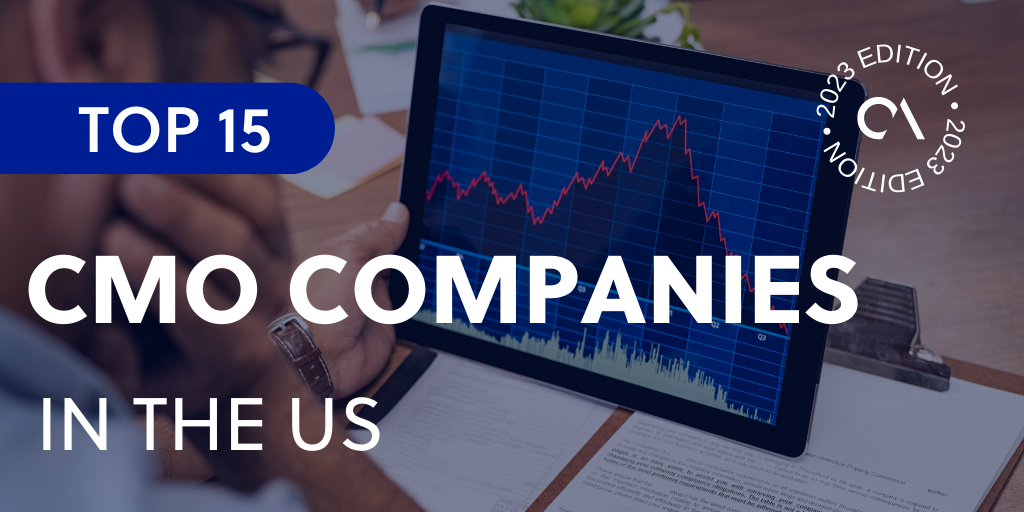 A lot of businesses, especially startups, face various challenges in terms of their marketing. Regardless of the company size, keeping up with current trends gives businesses an insight into the market opportunities. 
Successful companies know how to follow the current trends in the market. And  what better way to boost marketing efforts than to outsource a chief marketing officer to a CMO company. 
This is a rising business strategy: outsourcing CMO companies instead of hiring full-executive staff to shoulder the marketing job. 
Considering CMO companies for your businesses might be a game changer for your businesses in reaching higher sales and profitability. 
In this article, get to know the top 15 CMO companies in the USA that businesses can outsource.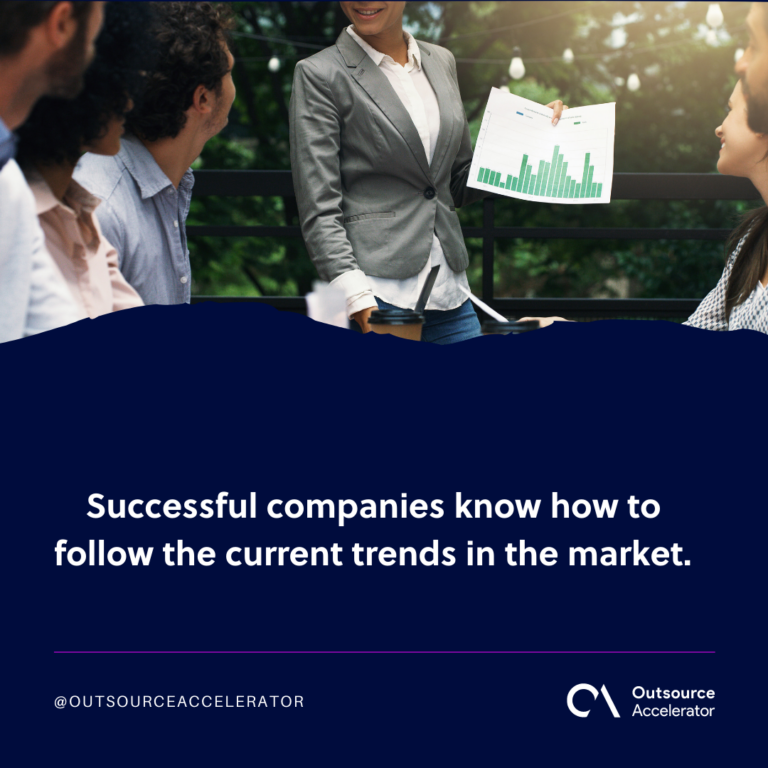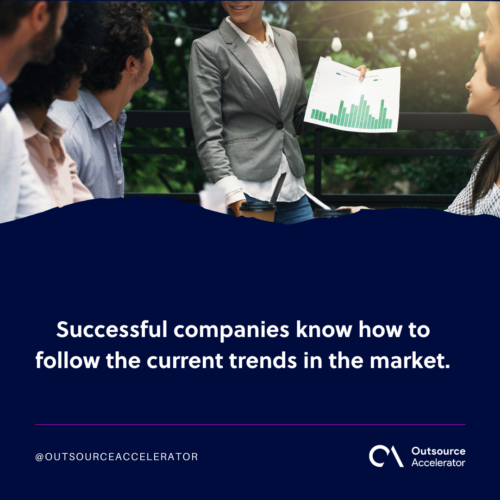 Top 15 CMO companies in the USA
Top global outsourcing lists
Outsource Accelerator is the world's leading outsourcing marketplace and advisory. We list over 3,000 BPO firms located across the globe in our global directory, and we provide detailed information, price guides, and reviews.
Whether you're a solopreneur, SME owner, or corporate executive, we can help you find the most suitable outsourcing provider for your business.
Explore our outsourcing directory now. You may also check out our other Top CMO companies lists here:
What are CMO companies?
A CMO (chief marketing officer) is an individual who is responsible for running and managing the marketing department to drive higher revenue and sales for the company. 
While CMOs can be hired directly, CMO companies provide benefits much like outsourcing companies. They serve as the extended or outsourced marketing department of a particular business overseeing its marketing activities. 
Also commonly referred to as fractional CMOs, CMO companies aim for your business growth through their specialized marketing efforts. 
They work with several businesses at one time and take over control of their marketing campaigns, such as strategic marketing, branding, social media marketing, advertising, digital marketing, and search engine optimization. 
Top 15 CMO companies in the USA
Here are the Top 15 CMO companies in the USA:
CMO Exponential or CMOx is a US-based company founded in 2017. It provides large-scale firms with part-time CMOs responsible for producing great results. CMOx consists of talented marketers and expert communicators. 
Chief Outsiders is headquartered in Houston, Texas. It has more than 100 CMO professionals and marketing executives who work with companies seeking growth. 
Chief Outsider's CMOs have served more than 1,400 companies providing them with market-based growth plans and high-quality services. 
Authentic Brand is located in Minneapolis, Minnesota. It consists of a group of fractional CMOs that works with companies towards their growth.
Part of the company's offerings includes fractional marketing leadership, marketing strategy, marketing coaching, B2B marketing, BS2 marketing, and channel marketing.
Founded in 2003, Techcxo is an Atlanta-based consulting company that pioneered in providing CTO, CMO, and CSO services. 
Techcxo provides on-demand executive talents that perform executive advisory & consulting, executive and team coaching. It also offers full outsourcing functions for finance, sales & marketing, and HR. 
Prophet is a consultancy company that helps businesses establish brand loyalty, generate revenues, and grow their market shares by developing their marketing, sales, and services. 
It also specializes in an array of services such as brand strategy, marketing strategy, digital strategy, consultancy, and business growth. 
Digital Authority Partners is a data-driven content marketing company. Its featured services are content marketing services, including SEO, SEM, analytics, digital marketing, digital product development, CMO professionals, and e-commerce development.
Marketri is a B2B strategic marketing consulting and Fractional CMO & CGO company that is based in Philadelphia, USA. It caters to companies in finance, investment, marketing consulting, engineering, technology, manufacturing, and life sciences sectors. 
Founded in 2017, Forget the Funnel is a marketing service company that helps SaaS companies achieve grow their revenue. Part of the company's offerings includes impactful marketing, sales, product, and success strategies relevant to business growth. 
The Marketing Blender is a B2B marketing agency that helps companies maximize their revenue growth. Aside from B2B marketing, it also specializes in branding, marketing strategies, social media, sales strategies, and lead generation. 
Taking the lead of marketing strategists, creative experts, and visionaries, The Marketing Blender commits to transforming businesses and driving their sales.
Imprint digital is a Colorado-based digital marketing company with over 30 years of experience helping businesses to accomplish their marketing goals. This digital marketing company offers fractional CMO, SEO, paid ads, brand identity, email marketing, web design, and social media management. 
Intention.ly is a newly launched consultancy and marketing company that is headquartered in Philadelphia, Pennsylvania. It works with fintech and finserve companies in transforming their marketing trajectory to reach their growth goals. 
Intention.ly's fractional CMO services are focused on strategic guidance, marketing leadership, and marketing talent recruitment & placement.
Griffin & Co. is a strategic marketing company that is located in Virginia. It helps businesses of all sizes across various industries improve their marketing campaigns. 
Griffin & Co. offers marketing strategies and methods to help clients keep up their competitive edge in the marketplace. Its featured services include fractional CMO, outsourced marketing, SEO, website design, and marketing plans. 
Prudent Pedal, is a Chicago-based digital marketing consulting firm that helps companies elevate their business growth through a strategic marketing approach. 
This company offers solutions in fractional CMO, consulting, and coaching, serving clients and firms to strengthen marketing and increase their overall performance. 
Moving Minds is a technology and marketing agency that serves businesses from venture-back startups to well-established companies. It is the go-to partner for clients in terms of technology, financial services, healthcare, and digital services. 
Moving Minds specializes in SEO, digital marketing, strategic marketing, marketing communications, marketing automation e-commerce, social media, and growth strategies. 
Dolomite Consulting is a business consulting company that offers fractional CMO solutions for scaling up businesses. This company consists of marketing experts that create unique, data-driven marketing strategies depending on the company's specific needs. 
Dolomite Consulting offers marketing services, including strategy, advertising, branding, and training for businesses. 
Why might you consider hiring CMO?
A CMO company offers all-inclusive marketing services appropriate for your business needs. 
It typically provides marketing functions such as –  developing fact-based short-term & long-term marketing strategies, developing marketing campaigns, leading and training marketing teams and overseeing marketing tech integrations. 
Acquiring a CMO company for business doesn't necessarily mean it will replace the existing marketing team. Instead, it plays a huge support system in the marketing department that a company may currently be lacking. 
If you desire to grow and keep up with your business competitors, you should consider hiring CMO. It is one of the fastest ways to augment your marketing activities while reducing your costs.