Top 30 CMO companies in India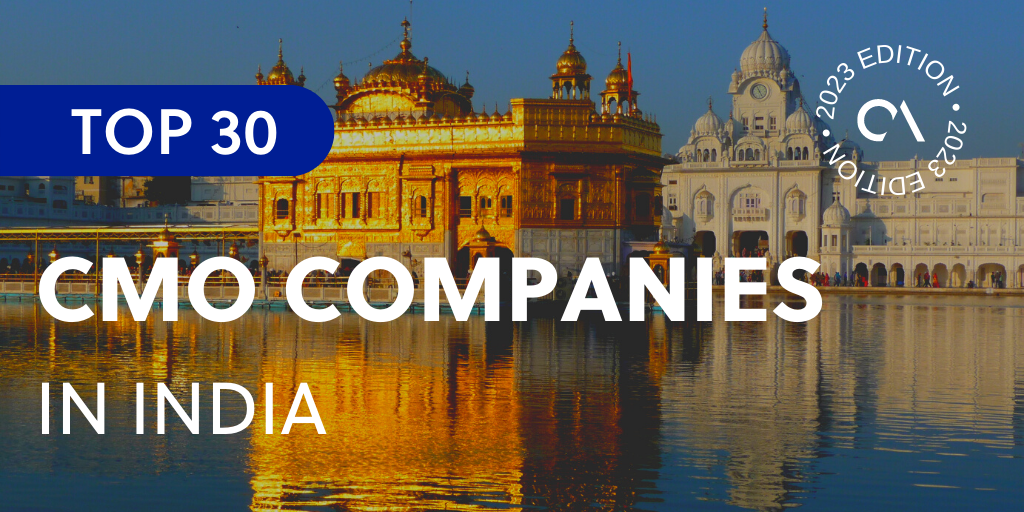 In the previous decades, India has successfully revamped its contract manufacturing industry, specifically pharmaceutical production. The COVID-19 pandemic mainly pushed small to medium-sized enterprises to increase their healthcare efforts.
List of CMO companies in India
What is a contract manufacturing organization (CMO)?
Also known as contract development and manufacturing organizations (CDMOs), contract manufacturing organizations (CMOs) specialize in the research, development, and production of pharmaceutical drugs on a contract basis.
2023 growth trends and forecasts of Indian CMOs
India is the biggest supplier of generic medications, and 60% of the world's vaccinations come from the country. By 2026, the global CMO market size is expected to reach 188 billion dollars. India continues to be a huge exporter of pharmaceutical products worldwide.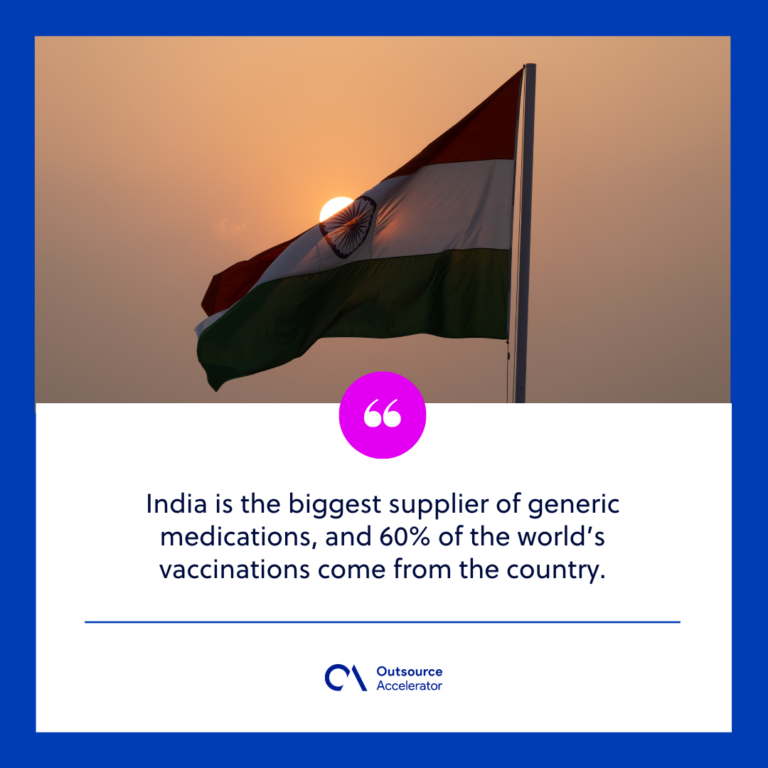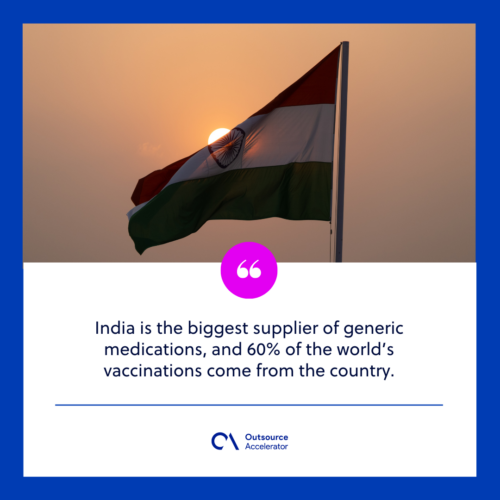 Top global outsourcing lists
Outsource Accelerator is the world's outsourcing marketplace and advisory. We list over 3,000 BPO firms located across the globe in our global directory, and we provide detailed information, price guides, and reviews.

Whether you're a solopreneur, SME owner, or corporate executive, we can help you find the most suitable outsourcing provider for your business.

Explore our outsourcing directory now. You may also check out our Top CMO companies lists per country here:
Top 30 CMO companies in India
Here's a quick rundown of the leading CMO companies in India.
Founded by scientist and philanthropist Dr. K Anji Reddy in 1984, Dr. Reddy's Laboratories is India's leading pharmaceutical company with a mission to produce affordable medicines within reach.
The company takes pride in its custom pharma services (CPS), giving clients access to 
highly potent active pharmaceutical ingredients (HPAPIs), steroids, and activated methoxy polyethylene glycol (mPEGs).
Previously known as Cadila Healthcare, Zydus Lifesciences has developed affordable, high-quality medicines through cutting-edge technology for decades.
Their services primarily focus on biotechnology, active pharmaceutical ingredients (APIs), and finished dosage formulations.
Currently, Zydus Lifesciences is the only manufacturer of natural Streptokinase and Hyaluronic Acid in India.
Founded in 2003, MSN Laboratories is one of the fastest-growing pharmaceutical companies in India, with 15 facilities for API and oncology.
The Hyderabad-based venture focuses on boosting innovative research and development practices in the pharmaceutical industry to make drugs more affordable.
MSN Laboratories comprises a team of scientists and engineers with expertise in quality management, formulation development, synthetic chemistry, supply chain management, and more.
Headquartered in Mumbai, Cipla Limited is one of the global leaders in the pharmaceutical industry. The company works closely with scientists and healthcare professionals to produce high-quality medicine at an affordable price.
Cipla provides various services focusing on therapy and consumer health. With a commitment to building a caring foundation for life, the firm has extended its services to over 80 countries worldwide, producing more than 1,500 therapeutic products.
As one of the pioneer CMO companies in India, Akums Drugs & Pharmaceuticals manufactures more than 12% of the country's locally produced medicines. It has three locations in India, two in Punjab and one in Haryana.
At present, the company is the leading drug supplier domestically and other multinational pharmaceutical companies globally.
Akums Drugs & Pharmaceuticals mainly focuses on researching, developing, and manufacturing food supplements, sterile dosage forms, ointments, cosmetics, and other active pharmaceutical ingredients.
Started in 2015, Medlock Healthcare is a top Pharmaceutical third-party Franchise Company in India equipped with a world-class testing company.
With more than ten years of experience, Medlock Healthcare works closely with highly reputable chemists who utilize innovative technology to come up with effective treatments for dangerous ailments.
Medlock Healthcare specializes in the large-scale production of gym supplements, pharma sachets, and herbal capsules.
Based in Chandigarh, Sunwin Healthcare is an ISO-certified pharmaceutical company with over 600 medicinal products launched worldwide.
Since 2012, Sunwin Healthcare has provided WHO-GMP (best) grade generic medicines. They have an impressive product portfolio roster, including tablets, capsules, eyedrops, ointments, and supplements addressing women's health.
Established in 2015, Swisschem Healthcare has provided affordable and world-class healthcare products such as antibiotics, antifungal drugs, multivitamins, enzymes, sedatives, and more.
Swisschem Healthcare adopts high-tech testing procedures and works closely with experienced medical experts to ensure the safety and quality of their drugs.
Located in Chandigarh, Swisschem Healthcare is a division of Swastic LifeSciences, a well-known Ayurvedic Pharmaceutical and Manufacturing Company in India.
Founded in 2008, Healthsearch Pharma is a leading ISO-certified pharmaceutical company based in Chandigarh, India. Since then, the company has been procuring and supplying innovative pharmaceutical formulations.
Healthsearch Pharma takes pride in its state-of-the-art facilities with the approval of significant regulators worldwide, including WHO.
With more than 110 products, Healthsearch Pharma is now a trusted manufacturer of highly effective antibiotics, capsules, tablets, and syrups.
Another WHO-certified PCD Pharma Marketing Company is Arlak Biotech, one of India's leading CMO companies with over 500 products and 14 divisions.
Founded in 2008, Arlak Biotech is a multinational pharmaceutical company that works closely with medical experts in different areas such as dermatology, gynecology, cardiology, and so on.
Since its establishment in 2016, Zencus Pharma has been recognized as one of the top pharmaceutical companies in Haryana, India. 
Zencus Pharma is an ISO-certified company that manufactures wholesale medicines and formulations such as tablets, capsules, ointments, gels, syrups, and proteins. Their team consists of chemists, pharmacists, and logistics staff.
Established in 2011, Healthkind Labs is a well-renowned supplier, trader, and distributor of premium quality pharmaceutical medicines at affordable prices.
Healthkind Labs focuses primarily on researching and developing drugs that can cure harmful diseases like cancer and HIV. The company is based in Chandigarh, India, with around 50 to 100 employees.
Since 2007, Saffron Medicare has been committed to providing cost-efficient medical solutions within people's reach.
As one of India's top PCD pharma franchise service providers, Saffron Medicare is one of the leading manufacturers of more than 55 products. This includes ointments, creams, tablets, and capsules.
Located in New Delhi, Gracure's Pharmaceutical is one of the largest and fastest-growing pharmaceutical companies worldwide. It has two state-of-the-art manufacturing facilities in Bhiwadi, Rajasthan.
The leading CMO company was founded in 1992 and has been a trusted supplier of medicines in more than 25 countries, such as Malaysia, Vietnam, Australia, the UK, the Philippines, and Germany.
As a global leader in the pharmaceutical industry, Nvron Life Science strives to manufacture the best high-quality medicines and formulations at an affordable price.
Founded in 2015, Nvron Life Science specializes in producing anesthetics, non-opioid analgesics, nonsteroidal anti-inflammatory medicines, anticonvulsants, and other generic products.
Producing unique formulations since 1994, Kremoint Pharma has been committed to delivering quality healthcare for the benefit of all.
With more than 200 products launched, Kremoint Pharma caters to various areas in the pharmaceutical industry. Their clients include cosmetics, herbal, ayurvedic, and dermatology centers.
Kremoint Pharma aims to help more people gain access to medicine at an affordable price.
Established in 1992, Makcur Laboratories is a trusted sterile dosage manufacturer of liquid formulations and dry powder products. It is located on the outskirts of Ahmedabad in Gujarat, India.
Because of their quality healthcare products, Makcur Laboratories has gained accreditations in different countries such as Sri Lanka, Yemen, Cambodia, and Kenya.
Since the 1970s, Sain Medicaments has been an ISO-certified company and a trusted manufacturer of dry syrups, tablets, dietary supplements, and other forms of medicine.
With more than 40 years of experience, Sain Medicaments works closely with veteran pharmacists to formulate highly effective drugs using modern equipment.
Established in 1998, Schwitz Biotech is a global manufacturer and exporter of pharmaceutical formulations such as antibiotics, laxatives, vitamins, minerals, and injectable products for acute and chronic diseases.
Schwitz Biotech uses state-of-the-art manufacturing facilities to formulate medicines per WHO, GMP, and FDA quality standards.
Specializing in pharmaceutical formulations, Pharma Cure Laboratories is a GMP-certified manufacturer, trader, and supplier of healthcare products in Punjab, India.
Pharma Cure Laboratories primarily focuses on formulating and developing medicines such as vitamin injections and other injectables for various health conditions.
With more than 14 years of experience in contract manufacturing, Kosher Pharmaceuticals is an ISO-certified company that produces an array of products such as tablets, capsules, ointments, injections, and more.
Founded in 2009, Kosher Pharmaceuticals is a registered member of the Bombay Chamber of Commerce, GS1 India, & Pharmexcil based in Mumbai, India.
For more than 40 years, Synokem Pharmaceuticals has been one of the largest exporters and manufacturers of pharmaceutical drugs in India and across the globe.
Based in New Delhi, Synokem Pharmaceuticals has three manufacturing plants in Haridwar and four business verticals, such as self-marketing brands through medical representatives, contract manufacturing, institutional and government supplies, and exporting.
Since 1995, Ankur Drugs and Pharma has been a top pharma contract manufacturing company based in Mumbai, India.
Ankur Drugs and Pharma manufactures many healthcare products, including complex formulations, tablets, dry syrup, capsules, and ointments.
Owned and operated by Mr. Aniket Dhingra (MD), Protech Telelinks is committed to improving people's lives through innovative injectable technologies.
Protech Telelinks has over 1000 pharmaceutical formulations manufactured through its WHO-GMP manufacturing facilities at Yamuna Nagar in Haryana and Kala Amb in Himachal Pradesh.
The company has a quality control laboratory and quality management system to ensure the safety and effectiveness of its products.
Founded in 2004 by Gulshan Rawat,  Biophar Lifesciences is one of the country's biggest producers and exporters of pharmaceutical formulations.
Based in Chandigarh, Biophar Lifesciences manufactures a wide range of products, such as ointments, capsules, tablets, and high-quality injectables. Their market value is expected to reach $120-130 billion by 2030.
Established in 2012, Sai Distributors is a market leader in the contract manufacturing industry in India. The company is a well-known wholesaler of medicines, including Anti-Cancer drugs and injections.
Sai Distributors consists of experienced medical specialists who meticulously develop formulations to ensure the effectiveness of drugs.
Founded in 2011, Innovexia Lifesciences is a leading pharmaceutical franchise business company based in Chandigarh. The company produces and distributes a wide range of medicines and injectables.
Innovexia Lifesciences manufactures drugs in accordance with the guidelines and standards of WHO and the FDA. Most of their medicines are used in hospitals and clinics to treat harmful diseases.
Established in 2008, Saphnix Lifesciences is a reputable pharma contract manufacturer in India. The company has gained a top reputation for producing highly effective healthcare products.
Saphnix Lifesciences takes pride in using innovative technology and modern equipment to meet quality standards. They have state-of-the-art modern equipment and GMO-certified facilities to manufacture their products in bulk.
Established in 2010, Lifevision Manufacturing is among India's leading pharma third-party manufacturers.
The company offers various healthcare products, including cosmetics, ointments, capsules, and nasal sprays.
With more than 800 employees, Lifevision Manufacturing is a trusted CMO company that works closely with medical experts to deliver quality products.
Founded in 1994 by Shri Sushil Kumar Gupta, Logos Pharma is a WHO-GMP and ISO-certified company based in Chandigarh, India.
Logos Pharma has manufactured cost-effective drug formulations for more than two decades. The company primarily focuses on Contract Research and Manufacturing Services of healthcare products globally.
Why are CMOs in India important?
As the world continues to evolve, chronic diseases are becoming more aggressive and harm humans more than ever. 
Medical experts must come together to develop robust technologies and cost-effective drugs to treat patients. CMOs can help advance innovative healthcare solutions to the market at affordable prices.