Understanding pharmacy benefit management and its role in the pharmaceutical industry
The pharmacy benefit management (PBM) market is a highly competitive, dynamic, and growing industry. It works behind the scenes to deliver affordable drugs to patients and make medications more accessible to everyone.
However, critics are pushing the PBM industry to move away from securing rebates and work toward improving pharmaceutical spending in both consumers and companies.
Learn how to use pharmacy benefit management to your advantage with this guide.
What is pharmacy benefit management?
As an industry, pharmacy benefit management (PBM) refers as a whole to organizations that act as an intermediary between drug manufacturers, pharmaceutical companies, and insurance providers.
The industry is considered an important part of the drug supply chain. Pharmacy benefit managers connect employers, insurance claimers, drug wholesalers, and pharmacies to provide service to people at the best possible costs.
Aside from serving as a liaison for all these organizations, pharmacy benefit managers also perform the following tasks:
Keeping medication lists on behalf of health insurers 

Determining the effects of each medication on consumers

Settling the out-of-pocket costs of medicines

Negotiating rebates and discounts from drug manufacturers

Contracting individual pharmacies to reimburse distributed drugs in the market
According to data by market research firm 360 Research Reports, the amount brought in by the global PBM industry in 2020 reached $449.12 billion. It is expected to grow further to $735.05 billion by 2027.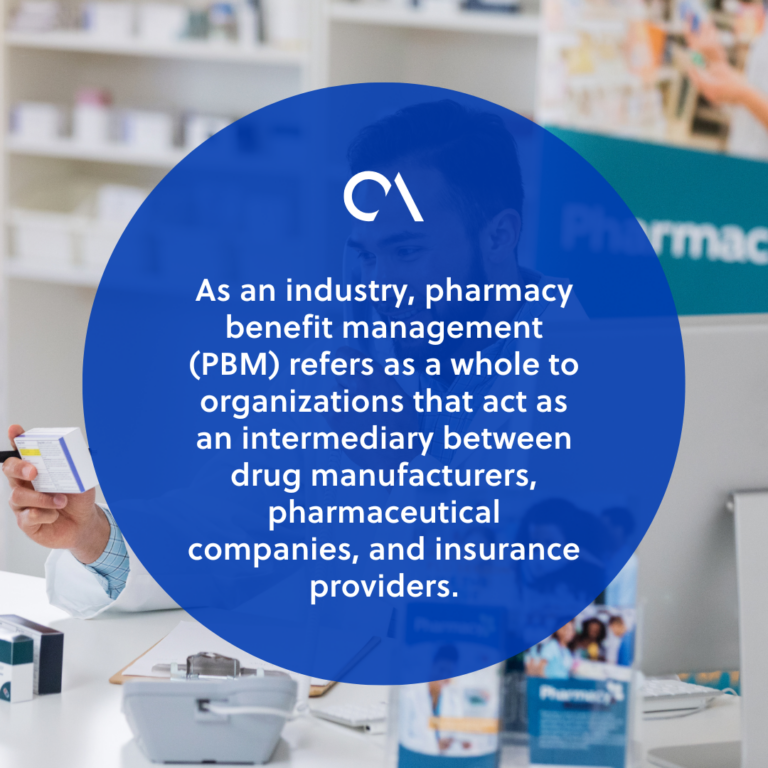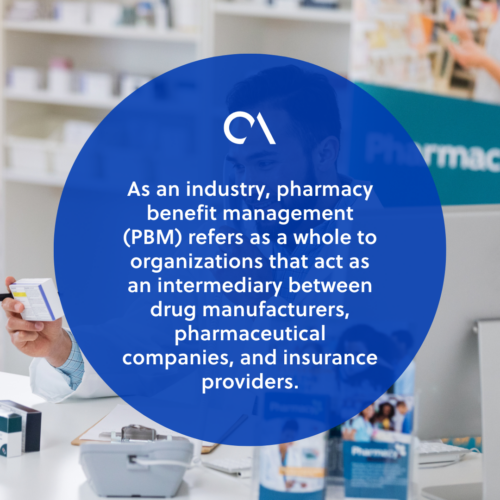 How does pharmacy benefit management work?
The PBM sector enables employers to design and maintain a health insurance plan for their employees. Then, pharmacy benefit managers administer and educate workers about their coverage.
Aside from this, they are also responsible for the insurance claims, rebate reimbursement, clinical programs, and drug utilization reviews that are needed within the whole health insurance lifecycle.
Meanwhile, for pharmacies and patients, pharmacy benefit management help put out the most affordable drugs and treatments to the market. They take charge of the following processes:
Rebate programs.

PBM mainly works on negotiating rebates or discounts from drug manufacturers and then passing them to health payers.

Formulary coverage.

Working alongside physicians, PBMs determine the formulary or medicine list to include the most effective and affordable drugs for health payers.

Step therapy programs.

This is a step done by PBM managers to show that a patient has at least tried an affordable medication for their health problems before moving to expensive ones.

Prior authorization programs.

This is a cost-saving process that prevents improper prescribing or the use of a certain medication to patients.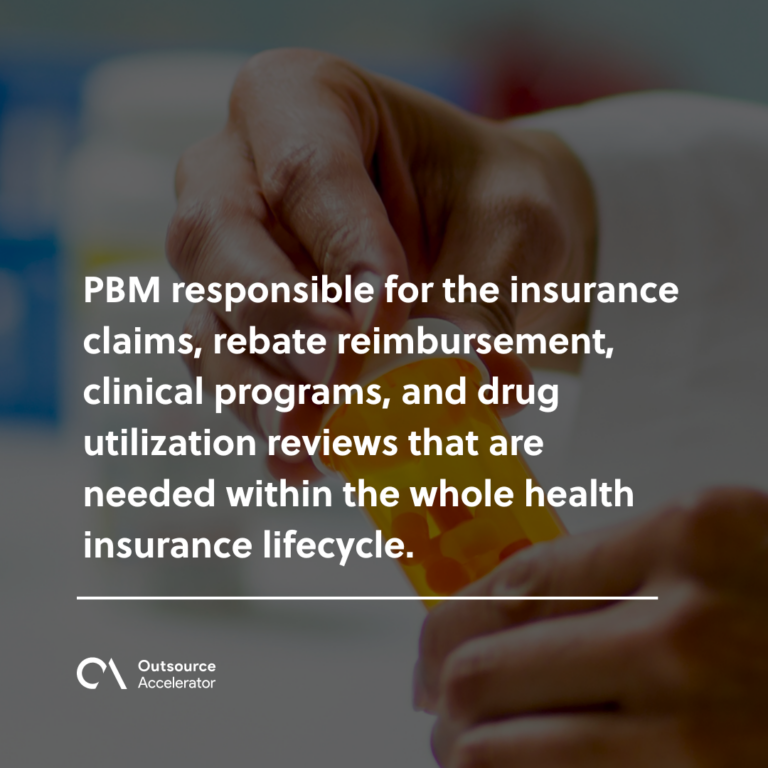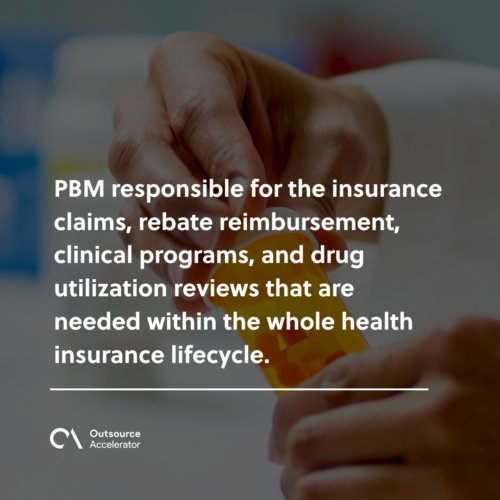 Advantages of having a pharmacy benefit manager
Recruiting a pharmacy benefit manager is quickly gaining popularity as a way for companies to manage their prescription drug expenses. 
Here are other advantages in hiring a pharmacy benefit manager.
Reduced drug spending
There are three primary ways in which PBM helps reduce drug spending — first, by negotiating better prices from drug manufacturers; second, by encouraging the use of lower-cost drugs; and lastly, by promoting generic drugs. 
Drug manufacturers usually keep a drug price list called wholesale acquisition cost (WAC) that does not include discounts or rebates. PBM managers negotiate a lower purchasing price for these medicines that they could then pass on to their clients.
Increased access 
PBMs connect with a large network of healthcare providers, allowing them to deliver increased medication access to employers and, ultimately, the patients.

Their increased effort in securing better prices and passing rebates to consumers helps expand patient access to new and innovative drugs.
Moreover, their formularies also help patients understand the benefits and the type of care that they can access in their health plan.
Safety monitoring
Pharmacy benefit managers have an active role in monitoring the safety of drug distribution. They do this by working with pharmacies and manufacturers to ensure that patients receive the correct medication and that medications are properly stored and distributed.
PBM managers provide advice and recommendations on different plan designs and clinical programs that employers can give their workers.
They also offer clinical programs — such as quantity edits, step therapy, and prior authorizations — to safely monitor the drug use of patients.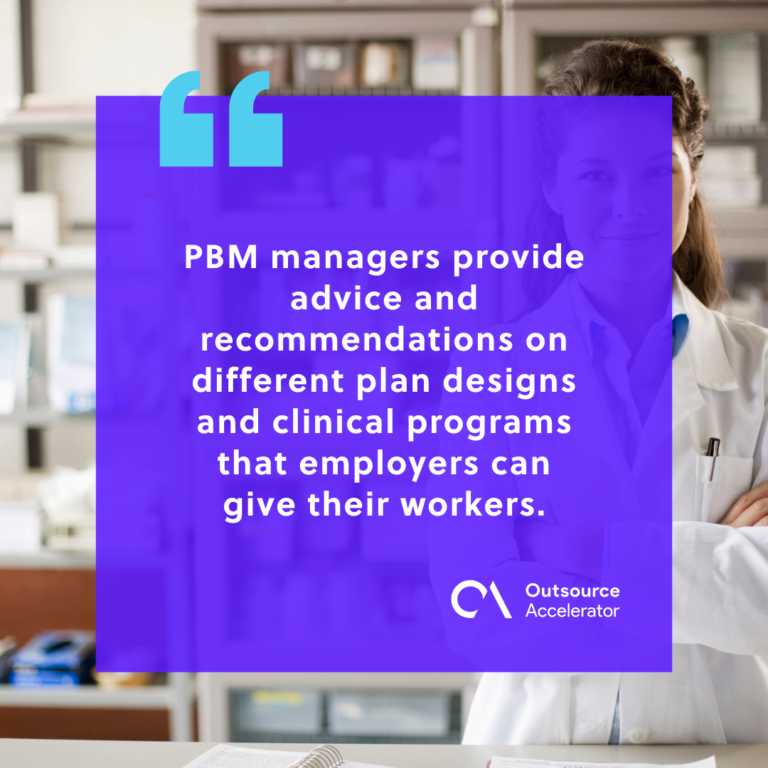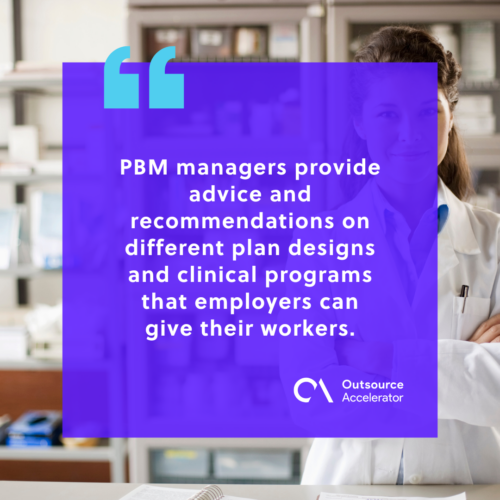 Regulations needed in the pharmacy benefit management sector
PBM companies are in a unique position to help control prescription drug prices and protect patients. 
However, the industry can also be abused for fraud. PBMs are currently not subject to the same regulations as other healthcare providers, and they have taken advantage of that fact.
This is why critics said that the industry should be regulated through the following methods.
Transparency
Pharmacy benefit management companies are known to require pharmacies to sign "gag orders" in order to receive reimbursement for prescriptions. This means that the pharmacies are not allowed to publicize the discount deals that they have with PBMs.
The lack of transparency can encourage the use of higher-cost drugs. This also raises concerns on stakeholders as they do not directly distribute the medicines to consumers.
Industry analysts say that transparency in the pharmaceutical process could help the sector — even the small PBM agencies. 
A transparent PBM process could encourage small-time pharmacy benefit managers to deliver the same discounts and market share that larger PBM companies provide.
Passing rebates
One of the functions of PBM is to administer rebates. A rebate is a sum of money that a PBM receives from a drug manufacturer or pharmacy in return for including that manufacturer's or pharmacy's drugs on their list.
There is growing consensus that the rebate system is in need of reform. This is due to the fact that rebates are not publicized so there is no way to ensure that consumers are really offered the most reasonable prices for medicines.
Some critics believe that all or most of the rebates received by PBM firms should be passed to health insurers and payers. 
If this was mandated, the savings could be used to further decrease the price of health plans offered to consumers.
Spread pricing ban
"Spread pricing" is a PBM practice where health plans and employers are presented with a higher reimbursement cost than what the PBM actually paid for. 
This usually happens due to, again, the lack of transparency in the pharmacy benefit management process.
Experts believe that policymakers should ban this practice as this would help payers and employers avoid overpaying for their prescriptions and treatments. 
Other critics urge governments to mandate PBM companies to update their cost schedule to reflect price increases for generic drugs.