Top 20 B2B marketing agencies to partner with in 2023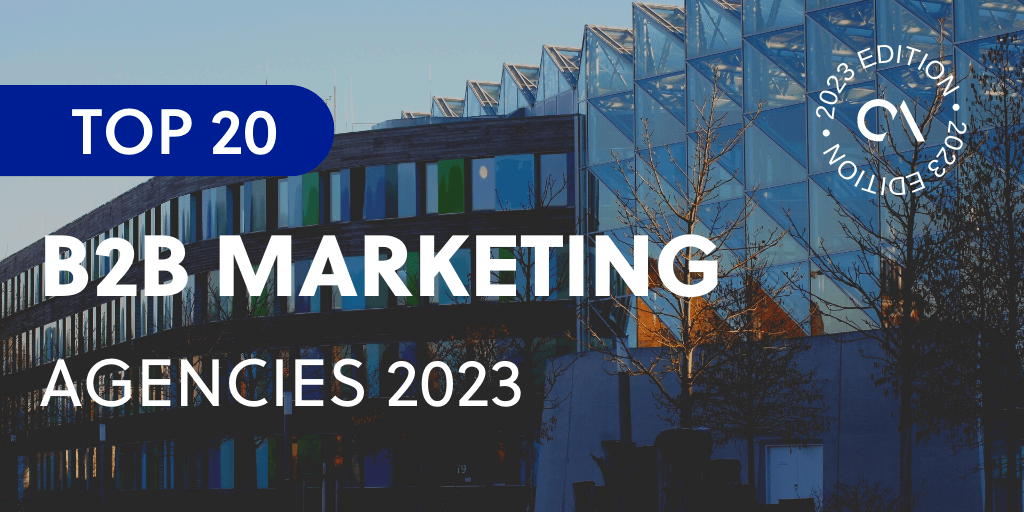 List of top B2B marketing agencies in 2023 
With the words itself, business-to-business (B2B) marketing is the process of promoting a product or service in affiliation with other industry businesses to share common strategies.
It is usually a multi-level approach that links the work of email, Pay Per Click (PPC), Search Engine Optimization (SEO), advertising, and social media marketing, to name a few.
Today, the future of B2B marketing is becoming hybrid because of digitalization and technological advancement. It has also become beneficial in many businesses considering the effectiveness of its progression to include outsourced marketing.
This article will showcase today's B2B marketing trends and how top agencies offering this service can help generate higher rich and more sales for your company.

B2B marketing trends today
The constant change in marketing strategies led marketers to be more aware and take full advantage of its benefits. 
Businesses must keep abreast of the most effective B2B marketing trends worldwide. It will play a vital role and act as a driving force towards organizational success. 
Here are some of the emerging trends to look out for in 2023:
Digital transformation and technology-based marketing

Automation and data-driven marketing

Strategy personalization and target setting 

Social media and influencer marketing

Content and visual marketing

Telesales and cold calling 

Inbound and outbound marketing
What are the best practices in B2B marketing?
Applying B2B marketing approaches to your business does not guarantee a direct profit, given the high competition in the market. 
Knowing the following best practices will help boost your business initiatives:
Analyze your target market
In the B2B marketing approach, knowing your target market is the first thing to do. Market research and competitive analysis will help you benchmark and position your product based on the needs and tastes of your customer.
Develop multi-channel marketing
Multiple B2B marketing channels may lead to higher reach and engagement to target leads. Some buyers are not active on social media but are capable of search engines and emails. 
This setting led some businesses to use Search Engine Optimization (SEO) and B2B cold calling as part of the company's strategic marketing channel.
Utilize advanced lead generation strategies
B2B lead generation will help acquire potential leads for a business that promotes and sells products or services to one another.
For B2B agencies, lead generation is an integral part of the business process that helps businesses to ensure sustainable growth. This practice aims to connect more customers and generate more revenue for the company.
Establish target setting and measures 
After learning the dynamics of your target market and the most appropriate strategies, the next step is to set targets and measures. It will allow the business to set objectives with clear direction and timelines.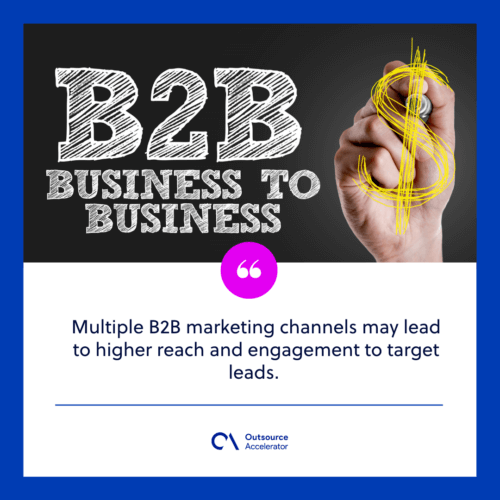 Top global outsourcing list
Outsource Accelerator is the world's leading outsourcing marketplace and advisory. We list over 3,000 BPO firms located across the globe in our global directory, and we provide detailed information, price guides, and reviews.

Whether you're a solopreneur, SME owner, or corporate executive, we can help you find the most suitable outsourcing provider for your business. Explore our outsourcing directory now. 
Top 20 B2B marketing agencies in 2023
The following are among the leading B2B marketing firms we have at present:
Location: New Jersey, USA
Founded in: 2011
SmartSites is a leader in the digital marketing industry. It blends quality performance with exceptional customer service experience. Its PPC specialists are driven and highly competent, with a proven track record of successful business partnerships.
It is also one of the leading US digital marketing agencies and the fastest-growing companies in North America. Since 2011, SmartSites has serviced numerous clients in the B2B space around the globe.
Location: Memphis, Tennessee
Founded in: 2009
HigherVisibility is a Best-in-Class digital marketing agency specializing in SEO, paid media, and website design. It is also a 4-time SEO Agency of the year and was named Best Full-Service SEO and Sem by Forbes. 
As one of the top SEO agencies in the U.S., HigherVisibility develops personalized SEO services to gain higher reach and more business customers and partnerships.
Location: Pleasant Grove, Utah
Founded in: 2012
Disruptive Advertising is a top-rated PPC & digital marketing agency focused on driving results. It provides a full-funnel marketing strategy leveraging the best platforms and services to help you solve your business challenges and achieve its goals.
Location: New Jersey, USA
Founded in: 2017
Sagapixel is a digital marketing agency that gets businesses found online. It offers SEO, WordPress web design, and PPC management. 
This agency works with clients in different industries but specializes in legal and healthcare marketing. Its services include promotional strategies for the following sectors:
Home care agencies

Plastic surgeons and medical establishments 

Spas, dermatologists, and other healthcare providers
Location: Los Angeles, California
Founded in: 2017
Cleverly uses data from a series of outbound B2B campaigns to provide proven, personalized message replies to a business client on LinkedIn, acquiring positive responses straight to your inbox.
This agency drives tangible outputs through LinkedIn ads from conceptualizing thousands of successful campaigns. It manages campaigns and targets, design, lead magnets, and bidding to maximize business conversions.
Location: United States, United Kingdom, Australia
Founded in: 2014
Directive is a customer generation agency for tech companies that focuses on delivering services to ensure revenue growth through data-backed marketing strategies. 
It helps businesses by delivering growth efficiency to adapt to the ever-changing tech space and use financial modeling to ensure the attainment of revenue goals for businesses.
Location: London, United Kingdom
Founded in: 2013
Bright is a global B2B marketing agency specializing in agile marketing. It practices a test, learns, and iterates to approach force-driven marketing transformation and accelerate profitability. 
Their B2B marketing experts focus on reinventing the marketing model to improve operational capabilities and capacity. It increases engagement through new ways of working.
Location: Providence, Rhode Island, and Boston, Massachusetts, USA
Founded in: 2019
This B2B and SaaS marketing agency specializes in SEO and paid ads for traffic and qualified prospects for B2B companies. As a small-scale agency, its team comprises experts with extensive industry experience, and their services are best-in-class. 
It is also a growth-driven agency whose approach includes strategy, content, and campaign optimization for measurable results with the following services offered:

Growth consulting

Strategy and content

Paid Social and Paid Search (PPC/SEM)

Search Engine Optimization (SEO)

Conversion Rate Optimization (CRO)
Location: Boston, London, Berlin, Singapore, Sydney
Founded in: 2007
Acceleration Partners is one of the most experienced global partnership marketing agencies. It has a dedicated team to provide in-market program strategies for top brands in more than 40 countries.

It has comprehensive local and international expertise in all the key areas of partnership marketing, including the following services:
Business to business

Influencer marketing

Content marketing

Mass media marketing
Location: New York, London
Founded in: 2000
This top-performing agency specializes in B2B marketing services and provides expert consultation in advancing a client's content marketing strategy.
Velocity Partners is known for focusing efforts beyond four main areas: 
Strategy

Content

Data

Digital
They provide trendsetting and innovative digital marketing services, web development, and brand positioning services.
Location: New York City, New York
Founded in: 1968
Mower is an independent and well-known B2B marketing agency that operates in 9 offices across the United States. It offers marketing services, including PR, public affairs, and strategic consulting.
This agency's featured functions include advanced marketing services and more comprehensive communication marketing approaches. It provides strategic marketing practices to sectors such as the tourism industry, finance, energy and sustainability, and health care and construction.
Location: London, United Kingdom
Founded in: 2005
Jellyfish has established a name in global marketing agencies. Known for its strategic and creative marketing methodologies, it has developed strategic maps for various companies.
It offers services to B2B and B2C clients operating as a technology transformation expert and Google training partner for many years. 
Jellyfish provides marketing workshops, courses, and training seminars to help elevate the marketing operations of its clients.
Location: United Kingdom, Singapore, China, Malaysia, USA
Founded in: 1973
Bray Leino is an award-winning one-stop-shop B2B agency headquartered in the United Kingdom. With determination, it become a standard and respected B2B marketing agency today.
This esteemed firm provides services for both B2B and B2C marketing. It collaborates with clients and helps in conceptualizing specialized and personalized marketing campaigns. 
Bray Leino is marked as part of the top 3 B2B marketing agencies in the UK.
Location: United Kingdom, Austria, UAE, Spain, Italy, France, Germany
Founded in: 2000
Expandi Group is an established global B2B marketing agency with full knowledge of growing the digital transformation of technology companies. Its marketing solutions focus on elevating its client's profitability and advancing digital solutions and sales activities.
It also centers its services on performance-based marketing. With an intelligent solution, this brought out the concept of an agency getting paid based on the results of collaboration with clients.

Location: USA, Canada, Caribbean
Founded in: 2014
Viral Nation is named the world's first influencer marketing agency. It is an international digital and social innovation group that activates social relations through multi-level solutions that align strategy, creatives, social media, and technology. 
As a champion of global influencer marketing, its diverse and multi-talented team is masters in driving growth for leading brands. 
Location: London, Dubai, Singapore, Hongkong, New York, Vilnius
Founded in: 2017
NinjaPromo caters to brands in different business aspects, particularly in social media marketing strategy. It combines them with their prospect leads by creating a personalized appearance in a digital space.
It also develops creative solutions to achieve desired results through unique and strategically designed videos and graphics that attract traffic to the company site. 
NinjaPromo usually provides exceptional services on top social media platforms like Facebook, Instagram, Twitter, Youtube, and Snapchat.
Location: Atlanta, Georgia USA
Founded in: 2011
As a leading social media management agency, LYFE helps businesses to expand online, generate leads and increase sales profit with the help of media marketing.
LYFE Marketing offers social media services, PPC, SEO, website design, and development. It creates top-rated campaigns and builds social media networks. Its team has vast experience transforming social media ad investment into leads and increased sales.
Location:  Iowa City, Iowa USA
Founded in: 2012
Sculpt is a B2B social media marketing agency that helps clients maximize paid and organic social media to gain more reach, generate leads, and close more deals.
Since its founding, Sculpt's mission was to help businesses grow using advanced social media practices. Today, it works hand-in-hand with B2B tech, services, and industrial brands, including Adobe, Blend, Velo3D, and Schneider Electric, to name a few.
Location: London, New York
Founded in: 2009
This is an award-winning B2B marketing agency that helps businesses in exploring all aspects of digital marketing. Its clientele includes top global brands like Vodafone and Samsung.
Earnest positively solved unique challenges in B2B marketing since its establishment. It has earned a name in devising competitive solutions that go beyond expectations and often deliver far more than the client's original objectives.
Location: London, London 
Founded in: 2009
This agency has delivered award-winning project results on various specializations, including branding, creatives, PR, digitalization, and technological transformation. 
Gravity Global is the world's most awarded B2B agency network. It has a full-service, integrated brand-to-demand marketing consultancy which offers the following services:
Branding and digital strategy

Media planning and public relations

Content and direct marketing

Design & creative

Social media, CRM, and strategic planning