Top 20 tech companies in Sacramento, California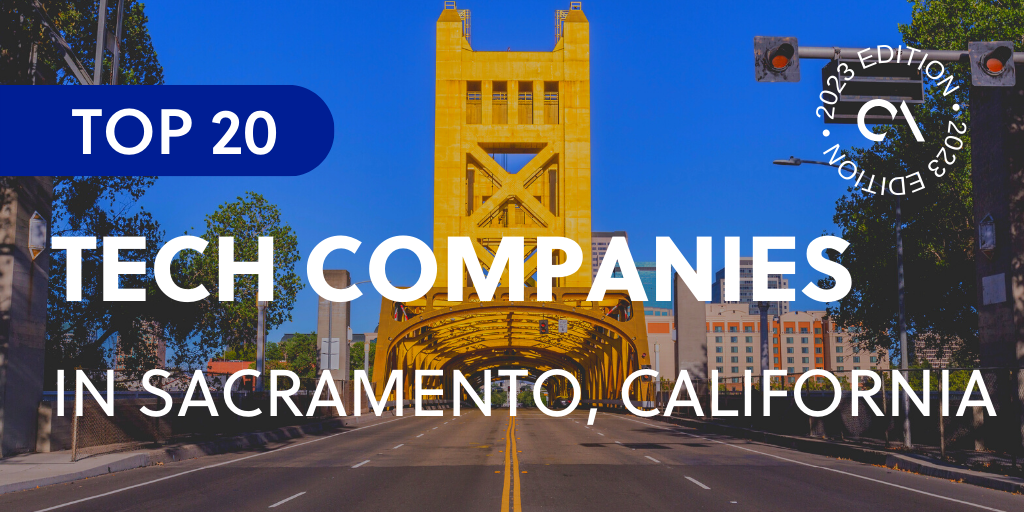 List of tech companies in Sacramento, California
In today's fast-paced world, technology has become an integral part of our daily lives, and the relevance of tech companies has never been more pronounced. 
Tech companies range from industry giants like Apple, Google, and Microsoft to startups pushing the boundaries of what's possible.
They offer various services, from hardware and software development to cloud computing, artificial intelligence, and beyond. Their role in our world is not just significant but indispensable.

The rising Sacramento tech hub
Initially known for its government-centric landscape, Sacramento has diversified into a thriving tech community. With proximity to Silicon Valley and a lower cost of living, it's become an attractive destination for startups and established tech companies.
The Sacramento tech hub has emerged as a dynamic force in California's tech landscape, offering a unique blend of innovation and opportunity.
In a giant-dominated landscape, the Sacramento tech hub offers a refreshing alternative. It fosters innovation, collaboration, and growth while maintaining a distinct identity and sense of community.
As it continues to rise, Sacramento's tech companies promise to be a key player in shaping the future of California's tech industry.
Top global outsourcing list
Outsource Accelerator is the world's leading outsourcing marketplace and advisory. We list over 3,000 BPO firms located across the globe in our global directory, and we provide detailed information, price guides, and reviews.
Whether a solopreneur, SME owner, or corporate executive, we can help you find the most suitable outsourcing provider for your business.
Explore our outsourcing directory now. You may also check out our Top IT software/companies lists here:
Top 20 tech companies in Sacramento, California
As this tech hub continues to rise, it promises to be a powerhouse of innovation, collaboration, and positive change in the tech world. 
Here are the top 20 tech companies in Sacramento, California:
Sibros is a dynamic tech company for the automotive industry that seamlessly integrates with vehicles, enabling real-time data collection, analysis, and remote updates.
This end-to-end solution empowers clients to monitor vehicle performance, and diagnose issues remotely. It deploys software updates swiftly and securely, reducing maintenance costs and enhancing overall safety.
Caithness Energy has consistently pushed the boundaries of clean energy technology. Specializing in renewable energy projects, it offers clients wind, solar, and geothermal solutions that reduce carbon footprints and enhance energy independence.
It puts forward end-to-end services, from project development and financing to construction and operation, making sustainable energy accessible and efficient for clients worldwide. It is a driving force in shaping a greener future.
Bluelight Consulting comprises a team of developers and engineers. This tech company creates customized business software solutions, digital applications, cloud migrations, and infrastructure management. 
Chief Information Officers (CIOs) seek help from this company to attract the increasing value of their IT assets.
Inductive Automation supplies web-based industrial automation software named Ignition. This software addresses the issues of technological and economic obstacles. It combines information technology (IT) with SCADA technologies through its creation–Ignition Software.
Inductive Automation allows the creation of a hassle-free industrial application that fosters a web-based HMI system.
Grin is an influencer marketing software that values content creator relationships by reporting, analyzing, and refining the individual and campaign levels matrics. Its relationship management involves finding the right applicants and communicating with them. 
It is also its role to do product seeding and payment processing in simplifying influencer marketing campaigns.
Capitol Tech Solutions has numerous customers, such as retailers, restaurants, non-profit organizations, and small businesses. Its objective is to serve as a digital agency that drives their sales while cutting expenses and optimizing their processes.
It has services for online advertising, ADA compliance, graphic design, web design, cloud architecture, IoT architecture, source code analysis, and applications.
The iFish Group only serves the state and local government in building efficient digital services that will be applied to their departments and citizens. Coaching, mentoring, and collaborative working are its main actions for them.
It can be tapped for strategy and consulting, technology solutions, hosting and managed solutions, and professional source management.
Vacasa targets consumers who want the best vacation rental options. It connects homeowners to guests for the successful operation of vacation homes through smart home technology that secures control and contactless check-ins.
Homeowners can get an online account to get insights and see actual revenue dashboard, booking calendar, and maintenance concerns.
Tech Cells, headquartered in Sacramento, is a cutting-edge tech company founded in 2010. Specializing in software development and IT consulting, it has built a reputation for innovative solutions.

With a diverse team of experts, they offer services ranging from custom software development to cybersecurity solutions. 
Founded on sustainability and precision farming principles, InnerPlant utilizes nanotechnology to develop plant-based sensors and data-driven solutions. 
Embedded within crops, these sensors monitor vital growth parameters in real time, enabling farmers to optimize resource allocation, reduce waste, and enhance crop yields.
Its innovative approach is poised to reshape the future of farming, fostering a more sustainable and productive agricultural landscape.
POS Portal is a leading tech company specializing in point-of-sale solutions. It offers various services, including POS equipment distribution, payment processing solutions, and innovative software platforms
POS Portal empowers businesses to streamline operations and enhance customer experiences. It has evolved into a trusted provider of hardware and software for businesses nationwide. 
Crowe falls into the accounting, consulting, and technology category for smart-decision making of clients. 
It has process optimization and automation, public company readiness, and business process outsourcing. Crowe also offers SOX compliance, platform implementation and enhancement, and digital and cybersecurity.
Businesses can grow and reduce costs through numerous consultations and availing its services.
Ebara Technologies has a components division and a systems division. 
The first one gives out advanced vacuum and abatement technologies. The latter can provide advanced technologies in Chemical Mechanical Polishing (CMP), Wafer Plating Systems, and Bevel and Backside Clean Treatment Systems.
It is a global leader in manufacturing vacuum pumps and advanced technologies products front-end and back-end manufacturing.
PTP is seen as a customer service solutions partner for obvious customer satisfaction, enhancement of investments, and cutting of costs. It believes that happier customers are longer-term customers and have a competitive advantage.
It puts forward strategies, implementations, and support on contact centers, CRM, and security technology platforms.
Topdevz is a software company clients talk to for technologies they need with their daily operations. It has a team of quality assurance testers, software developers, project managers, and designers to customize software in highly complex environments.
It listens to the visions and ideas of every client to bring them into reality without investing too much.
Informatix, Inc. is known for its Financial Institution Data Match (FIDM) services for a better and increased collection from shareholders of businesses. It also has RAPID solutions for more organized payment processing, tracking, and recording.
It leverages AI and machine learning to empower businesses with data-driven insights for their decision-making. 
Nutanix reduces the complicated processes under the cloud software of every client. It aims to give cost-efficient and simple hybrid multi-cloud environments to highlight improving private cloud performance and security.
It also sells software, software-defined storage, and cloud services as a subscription business model.
Codistan is trusted for its software development and digital marketing services through compelling storytelling. It is an expert in simplifying business activities to excel in the virtual market effectively.
Digital democratization and access for everyone is its main mission in achieving the improbable and infeasible for businesses. 
Micron Technology masters memory and storage solutions for clients to thoroughly and adequately utilize computer memory and computer data storage. Its products are available for automotive markets, networking, cloud server, graphics, and enterprise.
It has four segments under operations: Computer and Networking Business Unit, Storage Business Unit, Embedded Business Unit, and Mobile Business Unit.
CoreSolutions is an Apple IT Consultant that caters to and supports companies and individuals with on-site technology services. Its specialty is mobile device management, web development, Apple, point of sales, Google Workspace, security, and installation. 
For Apple users, it can provide deployment and management of macOS. iOS, and Apple tvOS with the guide of Apple Business Manager and mobile device tools.