Top 20 tech companies in Omaha, Nebraska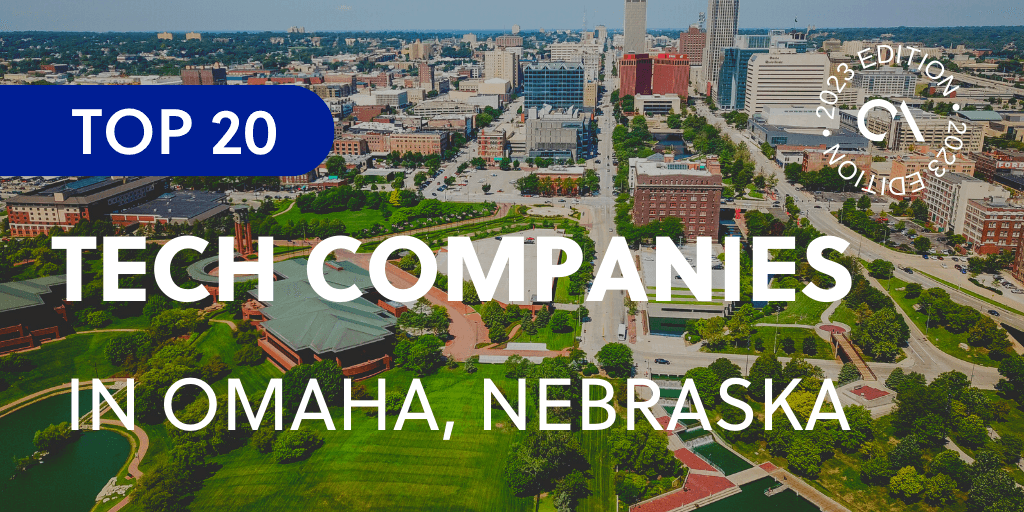 When pondering about technology hubs, Omaha may not be the initial city that springs to mind. However, this hidden gem in the heartland boasts a thriving tech scene. 
Set amid renowned industry giants and trailblazing startups, Omaha is a focal point for tech enthusiasts and entrepreneurs. 
We explore the top 20 tech companies that have shaped Omaha's landscape.
List of tech companies in Omaha, Nebraska
Top global outsourcing list
The Outsource Accelerator is a leading international marketplace and outsourcing consulting service. In our extensive directory, we present over 3,000 BPO companies from around the world, including detailed insights, price data, and assessments.
It doesn't matter if you're a solo business owner, someone who runs a small or medium-sized company, or an executive at a corporation. We can help you find your ideal partner for all your outsourcing needs.
 Look through our outsourcing directory. View our carefully chosen lists of the best IT service companies in India (Top 50), Europe (Top 20), and the world (Top 100).
Top 20 tech companies in Omaha, Nebraska. 
Omaha's tech companies have established unparalleled standards by delivering services and solutions that have garnered international acclaim. This marks their journey into becoming a nationally sought-after tech destination. 
Here are the top 20 tech companies in Omaha, Nebraska.
1.
Toast
(570 Fallbrook Blvd, Ste 105, Lincoln, NE )
Toast, an ascending star within Omaha's tech scene, specializes in restaurant management software.
With innovative solutions tailored to the food industry, Toast has revolutionized restaurants' operations. Today, they stand as one of Omaha's most promising tech companies.
2.
HDR
(1917 S 67th Street, Omaha, NE)
Headquartered in Omaha, HDR is globally recognized as an architectural, engineering, and consulting firm. Leveraging cutting-edge technology, they create sustainable solutions for clients worldwide.
HDR acts as a driving force within Omaha's tech industry through its unwavering commitment to innovation.
Turner Technology is a tech company based in Omaha that offers services such as IT consulting,  computer networking, software development,  and cybersecurity.  
4.
TEAM Software
(407 S. 27th Avenue, Omaha, NE 68131)
Founded in 1989, TEAM Software is a leading provider of technology solutions for the building services and security industry. 
The company primarily provides cloud-based tools for all-around organizational management, from financial to workforce and payroll management. Distributed workforces worldwide mostly rely on their products and services.
5.
Sojern
(18135 Burke St 3rd Floor, Elkhorn, NE)
Sojern, a data-driven travel marketing company headquartered in Omaha, analyzes travel data to provide insights and solutions for the travel industry.
With its innovative approach to travel marketing, Sojern firmly secures its place among the leading tech companies in Omaha.
Located in Omaha, Priority Technologies is a cloud-based student loan solution that has been in the financial service industry for 20 years. They aim to help students solve their loan problems  and claim to lower your CDR by 12%. 
Headquartered in Omaha, Scantron Technology Solutions is dedicated to providing solutions for data collection. The company also has software solutions that automate the analysis and scoring of results. 
8.
Capstone IT
(12120 Shamrock Plaza. Suite 200. Omaha, NE)
Capstone IT is a premier IT services company in Omaha.
Offering a comprehensive range of technology solutions, including managed IT services, cybersecurity, and cloud computing, they are the go-to choice for businesses seeking top-notch tech services in Omaha.
Their expertise and unwavering commitment to client satisfaction solidify their position as a key player within the city's tech landscape.
9.
Quantum Workplace
(13810 Fnb Pkwy Ste 401, Omaha, NE)
Quantum Workplace specializes in employee engagement software right here in Omaha.
Their innovative solutions measure and improve workplace culture through technology-driven approaches to HR.
In this way, Quantum Workplace has become a prominent tech company in the city.
10.
Tango Card
(11510 Blondo St Suite 103 Omaha, NE)
Tango Card, with its headquarters in Omaha, leads the pack as a provider of rewards and incentives technology.
With their platform designed to enable businesses to send digital gift cards and rewards to employees and customers, they have earned a reputation for providing convenient and scalable solutions.
Tango Card proudly secures its place among Omaha's top tech companies.
11.
SP+ (SP Plus)
(1013 Harney St., Omaha, NE )
SP+ is a notable parking management company driven by technology, leaving an indelible mark on Omaha. Their advanced parking solutions, encompassing mobile payment apps and data analytics, optimize parking operations for businesses and municipalities.
SP+'s remarkable technological innovations contribute significantly to Omaha's urban development.
12.
GHD
(3807 South 148th St. Omaha, NE)
GHD, a global professional services company with a branch in Omaha, offers engineering, architecture, and environmental consulting services.
By harnessing advanced software and cutting-edge methodologies, GHD plays an integral role in shaping the future of Omaha's urban landscape.
13.
Event Vesta
(7305 Main St Omaha, NE)
Event Vesta is Omaha's premier event management software company.
Event Vesta's platform takes event planning, ticketing, and promotion and simplifies them all. Their user-friendly interface and robust features make it perfect for event organizers in Omaha.
14.
Aviture
(8802 S 135th St #500, Omaha, NE)
With a focus on innovation and technology-driven problem-solving, Aviture has positioned itself as one of the leading tech companies in Omaha. Located there, they develop custom software solutions for businesses of all kinds.
15.
Viterra
(1331 Capitol Avenue, Omaha, NE)
Located in Omaha but with a presence that spans across the globe, Viterra utilizes technology to improve agriculture processes. The farmers don't have to do anything besides focus on their crops and livestock.
16.
Spreetail
(1515 S 75th St Omaha NE)
Headquartered in Omaha, Spreetail is an e-commerce company that operates retail stores online. They can easily manage their inventory, customer service, and order fulfillment because of the technology they implement.
17.
Valmont Industries
(15000 Valmont Plaza Omaha, NE )
Valmont Industries, based in Omaha, is a leading provider of engineered products and services for infrastructure development and irrigation equipment.
They utilize advanced technology in manufacturing and product design, contributing to the growth of Omaha's industrial tech sector.
National Indemnity Company, headquartered in Omaha, is a subsidiary of Berkshire Hathaway. They provide insurance and reinsurance services, employing risk assessment and claims management technology.
National Indemnity Company's use of advanced algorithms and data analytics keeps them at the forefront of the insurance tech industry in Omaha.
Vermeer Corporation is a global manufacturing company with a branch in Omaha. They produce industrial and agricultural equipment, incorporating advanced technology into their products. 
Vermeer's commitment to innovation has made them a leader in the manufacturing tech sector in Omaha.
Healthcare can face many problems if not done efficiently. WPS Health Solutions focuses on making health insurance efficient using the latest technology so clients can get what they need ASAP.
The future of Omaha's tech industry
The future is looking bright for startups in Omaha, considering its history with successful businesses like Aviture gaining success there. 
With all the resources at these entrepreneurs' disposal, like supportive ecosystems for startups, they nail down funding opportunities so they can focus on creating their startups.
Don't dare underestimate Omaha's ability to keep up with technology. The city has its eyes set on emerging technologies like artificial intelligence, blockchain, and the Internet of Things. 
These aren't just improvements to industries like agriculture, healthcare, and manufacturing. These advancements will give birth to new business sectors and opportunities for companies.
See the methodology for qualifying participants for this list.