Top 15 tech companies in Nevada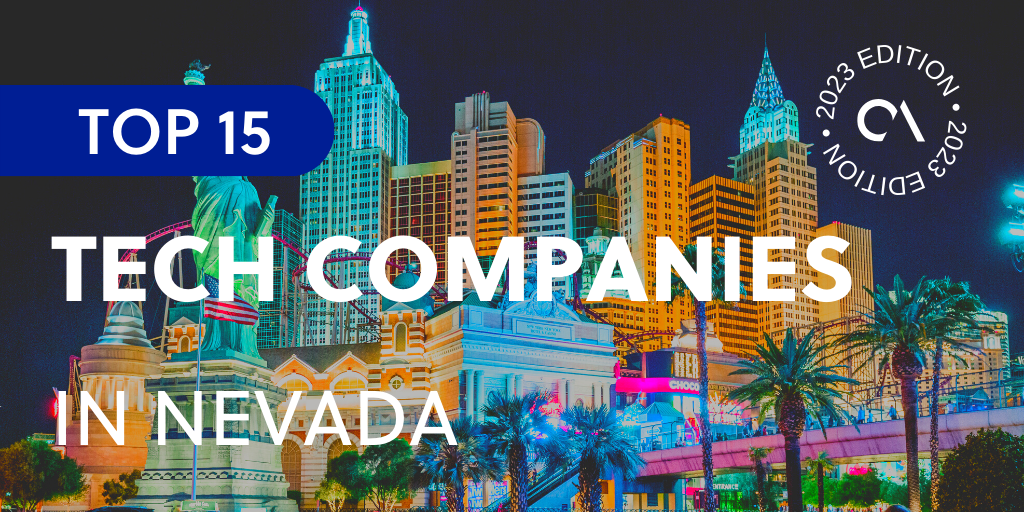 List of tech companies in Nevada 
Nevada, a well-known state for its barren lands mirrored with lively entertainment scenes, has secretly emerged as a thriving nucleus for the technology industry in the United States. 
The Silver State, predominantly connected with gambling venues and tourist attractions, currently houses increasing tech organizations stirring up colossal strides in diverse sectors. 
This guide highlights 15 of the top-ranking tech companies in Nevada and sheds some light on their innovations and contributions. We'll also uncover factors that are transforming Nevada into this high-tech hub.

How Nevada became a tech industry center in the US
The transformation of Nevada into a high-profile technology center signifies not only adaptability but also a forward-thinking mindset.
While Silicon Valley remains unbeatable at the epicenter of the global tech market, Nevada has been tactfully carving out its distinct niche within this industry. 
Factors instrumental to transforming the state into such an influential technology center include:
Business-friendly setup
Nevada boasts friendly policies like no state income tax and minimum regulatory barriers. These programs successfully led several businesses to establish a presence in an economically favorable setup.
Tax incentives to drive growth
Tech companies get access to a wide range of tax incentives and credits. These incentives encourage investments, resulting in faster business growth.
Top-notch tech infrastructure 
The region has placed a considerable amount of investment in constructing its infrastructure. Data hubs and superfast internet connectivity are seen as precursors for successful tech ventures.
Diversified tech campaigns 
Nevada acknowledges the need to venture beyond traditional tourism and gaming sectors. The state's local government actively supports the expansion of technology segments by launching strategic campaigns.
Nevada as a tech industry center: FAQs
People always associate Nevada as a gambling hub. Some may not be aware of how the state's tech industry thrives over the years.  
Here are a few FAQs about Nevada as a tech industry center:
How did Nevada grow into a tech industry hub? 
Nevada's emergence as a tech industry hotspot can be traced back to multiple factors, such as its:
Pro-business environment

Tax incentives

Strategic positioning

Infrastructure advancement
The state also employs diversification efforts that extend beyond conventional sectors like tourism and gaming.
Which industries contribute to Nevada's booming tech sector?
Nevada boasts an array of computing domains including space and defense, data centers, software engineering, gaming technology, and clean energy initiatives among others.
What impact does Nevada's tech sector have on its economy?
The presence of the state's vibrant tech domain significantly influences its economic landscape. Job creation opportunities attract significant investments while driving revenue diversification strategies beyond tourism-gaming-centric sources.
What is Nevada's role in the worldwide outsourcing market? 
Nevada houses numerous outsourcing establishments that extend a range of offerings to global businesses. These outsourcing firms commonly provide IT services, software development solutions as well and customer support.
What makes Nevada an appealing choice for tech firms and start-ups?
Technology companies are enticed to expand their business to Nevada because of its:
Tax regulations favoring business

Ongoing infrastructure expansion and development

Availability of skilled workforce 

Strategic positioning within the western American region
As Nevada strives to nurture its growing technology ecosystem, it is poised to make even greater strides in the realms of global outsourcing industries. Nevada has indeed become a central hub for all things tech both within America and beyond.

Top global outsourcing list 
The Outsource Accelerator is a major global marketplace and outsourcing advisory service. We display over 3,000 BPO firms globally in our large directory, providing complete insights, price information, and evaluations.
We have the knowledge to help you identify the appropriate outsourcing partner for your specific company nee­ds, whether you're an independent entrepre­neur, a small to medium-sized business owner, or a corporate exe­cutive.
Take a look through our outsourcing directory. Explore our curated lists of the top IT service providers in different countries:
15 most prominent tech companies in Nevada
Hidden amidst the Nevada desert is an ever-growing tech scene. The state's glitzy reputation belies the dynamic undercurrent of innovation quietly brewing here. 
Below we have 15 tech companies at the forefront of this burgeoning ecosystem:
Situated in Las Vegas, Switch stands tall as an international tech infrastructure organization specializing in data centers and colocation services.
It operates some of the world's largest and most advanced data centers catering to diverse industries namely cloud computing, gaming, and retailing.
Sierra Nevada is headquartered in Sparks, Nevada. This leading tech firm is a well-known entity with broad reach within several industries including aerospace, defense communications, and commerce.
Rimini Street, headquartered in Las Vegas, is a reputable provider of third-party support services for enterprise software. 
It helps companies maximize the worth of their software investments while cutting down on expenditures. With a client base that spans the globe, Rimini Street has made its mark in the industry.
Positioned in North Las Vegas, Bigelow Aerospace stands at the forefront of innovation with its breakthrough work in expandable space habitats.
Its cutting-edge technology has attracted worldwide attention and positioned it as an important contributor to space exploration and future colonization endeavors.
Trane, a subsidiary under Ingersoll Rand's umbrella, boasts a strong foothold in Nevada. It provides heating, ventilation, and air conditioning (HVAC) solutions to clients across the globe. 
Trane's know-how in energy-efficient HVAC systems is highly coveted.
TSI Corporation is a technology firm specializing in high-precision measurement instruments and particle counters.
This tech company caters to businesses in the healthcare, environmental monitoring, and semiconductor manufacturing sectors around the globe.
Ormat Technologies, headquartered within Reno, is an internationally recognized frontrunner in the geothermal and recovered energy power plants sector. 
Its innovative green power generation solutions are now deployed across numerous countries globally.
SkyDrop, formerly known as Flirtey, is a leader in drone transportation technology. The organization's cutting-edge advancements with autonomous drone logistics can potentially restructure last-mile delivery worldwide.

Tao Corp, situated in Las Vegas, offers a wide array of computing services that include software engineering, information security, and managed IT systems. 
It collaborates with clients from multiple sectors, pushing the advancement of technology outsourcing in Nevada.
With its headquarters in Las Vegas, Aristocrat is a dominant player in gaming device engineering renowned for exciting slot machines and gaming platforms. Its products are widely implemented across global casino markets.
JT3 provides specialized technical support to the U.S. Air Force and Department of Defense. 
Its expertise encompasses aerospace technologies and experiments vital for national defense endeavors.
The Las Vegas office of Attract Group houses a software development organization providing web and mobile application construction facilities. Attract Group caters to global customers, contributing significantly towards the software outsourcing trend evolving within Nevada.
Las Vegas-based SoluLab specializes in evolving domains such as blockchain & IoT. It also specializes in crafting mobile applications aimed at assisting corporations globally to adopt ground-breaking technologies for enhancing their operations.
Optum, a subsidiary of UnitedHealth Group, plays a substantial role in Nevada. The company leverages healthcare technology and services to enhance patient care and results across the globe.

GAN is a software business based in Las Vegas that specializes in creating online gambling and sports betting platforms. Its technology is used by many gambling companies and casinos throughout the world.
These outsourcing firms located in Nevada embody how the state has evolved into an influential force within the worldwide technology and outsourcing sectors. 
Their pioneering offerings are highly sought-after by enterprises across all continents, propelling Nevada's image as a tech-centric destination.