Top 15 tech companies in Montana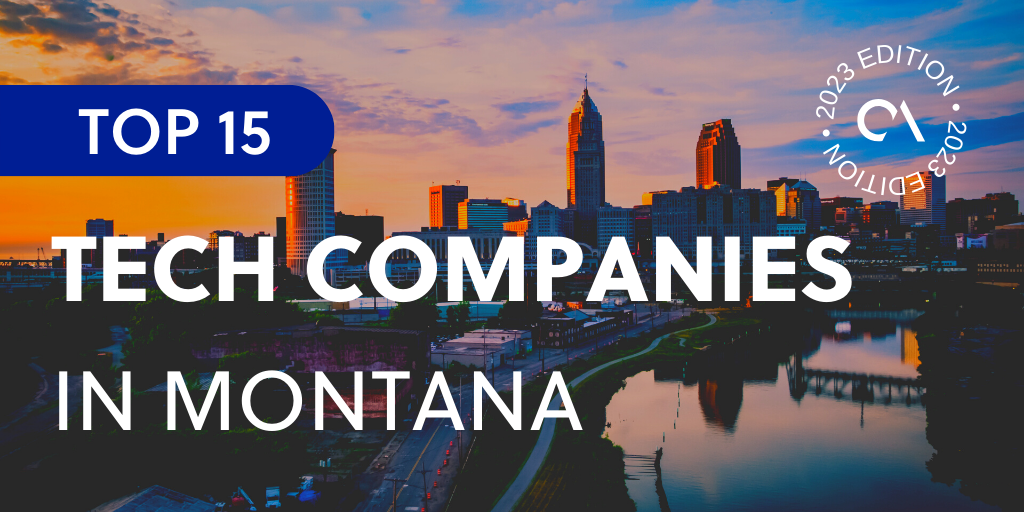 List of tech companies in Montana
Montana may not be the first state that comes to mind when you think of the tech industry, but it is quietly making a name for itself as a hub for innovative tech companies.
In this guide, we have broken down 15 of the top tech companies in Montana. We'll explore the state's thriving tech scene and the opportunities it presents for those in the industry.
A look at Montana's tech industry
Montana's tech industry is on the rise, with a focus on innovation, collaboration, and a unique blend of outdoor-oriented and tech-savvy culture.
While it may not be as prominent as Silicon Valley or Seattle, "The Treasure State" offers a distinct advantage for tech firms. Montana has a high quality of life, natural beauty, and access to outdoor recreational activities that can attract tech talent seeking a balanced lifestyle.
Moreover, tech companies are making waves both regionally and nationally. The state's supportive business climate and job market are more reasons why it's an attractive destination for startups and established companies alike.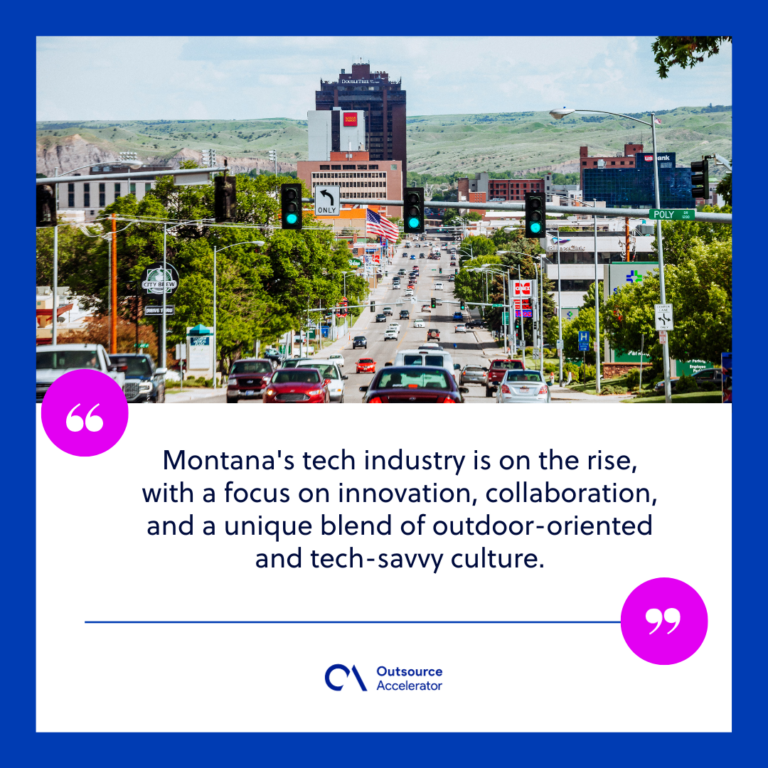 Challenges and opportunities in Montana's tech industry
As an emerging innovation center, having tech companies in Montana brings plenty of advantages and disadvantages:
Challenges in Montana's tech industry
While Montana's tech scene has seen remarkable growth, it hasn't been without its challenges:
Limited pool of skilled professionals compared to larger tech hubs
Attracting and retaining top tech talent can be challenging in Montana. Professionals may be drawn to larger cities with more diverse job opportunities and amenities.
Tech companies in Montana must find creative ways to position themselves as attractive employers and offer competitive compensation packages to compete for talent.
Limited access to venture capital funding
The Western state may have limited access to venture capital funding compared to more prominent tech centers. 
This can make it more challenging for startups and emerging tech companies in Montana to secure the necessary funding for growth and expansion.
Geographic isolation
The state's geographic location and lower population density can create challenges in connectivity and collaboration with other tech hubs and industry networks.
The physical distance from major cities and tech centers may hinder access to resources, partnerships, and networking opportunities.
Limited diversity and inclusion
Like many tech ecosystems, the Western state's tech industry may face challenges related to diversity and inclusion.
Creating an inclusive and diverse workforce drives innovation and fosters a more vibrant and representative tech industry and ecosystem.
Limited market size
Montana's smaller population size can present challenges when it comes to market size and customer reach.
Companies may need to develop strategies to expand their market presence beyond the state's borders to achieve sustainable growth.
Opportunities in Montana's tech industry
Conversely, there are many reasons why tech companies in Montana present great opportunities:
Investment in local talent development programs
In response to the skills gap, the Treasure State invests in local talent development programs, including internships, apprenticeships, and training programs.
These initiatives help develop a local pipeline of skilled professionals to meet the needs of growing tech companies in Montana.
Examples of this include Early Stage Montana's and Butte Local Development Corporation's tech sector programs.
Working with educational institutions to bridge skills gaps
Tech companies in Montana are partnering with educational institutions and universities to bridge the skills gap and develop programs that meet local industry needs.
This helps to ensure that the local workforce is equipped with the necessary skills to support the growth of Montana's tech industry.
Among the institutions that take part in this are Montana Tech and Montana State University.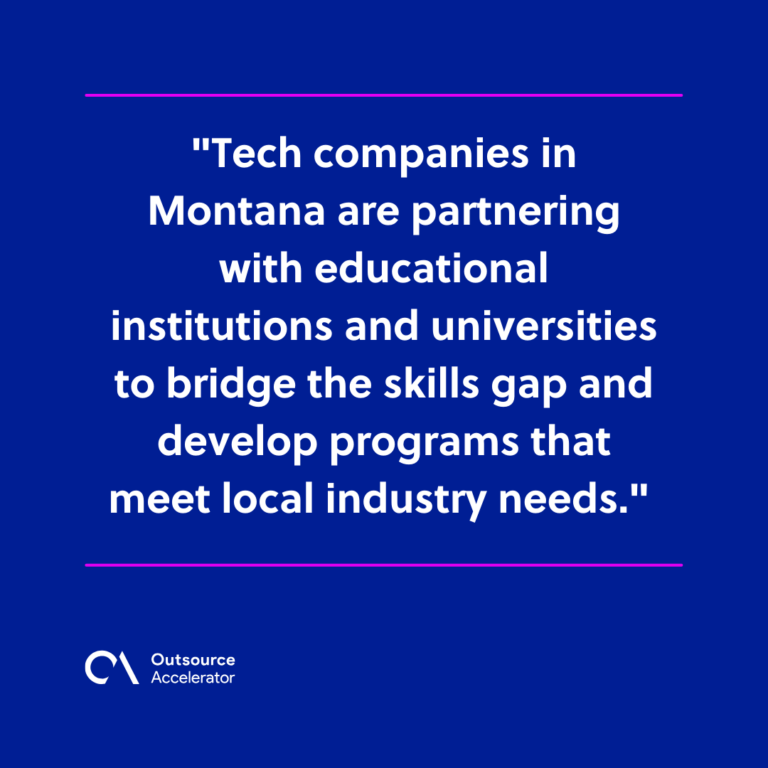 Montana's entrepreneurial spirit and supportive business environment
Montana's business environment supports entrepreneurs and startups. It offers low taxes, accessible funding, and a welcoming culture that encourages innovation and creativity.
This makes it an attractive destination for startups and established firms.
Low cost of living
The western state's cost of living is lower than many other tech hubs. This means tech companies in Montana can attract and retain talent at a more affordable cost.
This can help to offset some of the challenges of locating in a smaller market.
Access to quality infrastructure
Montana has invested in quality infrastructure, including high-speed internet, transportation, and logistics. Companies would then have an easier experience doing business in the state and compete at a national level.

Strong sense of community
The state has a strong sense of community, with close-knit networks of entrepreneurs, business leaders, and investors. This fosters collaboration, innovation, and a supportive environment that can help businesses to flourish.
Top global outsourcing list
Outsource Accelerator is the world's leading outsourcing marketplace and advisory. We list over 3,000 BPO firms located across the globe in our global directory, and we provide detailed information, price guides, and reviews.
Whether a solopreneur, SME owner, or corporate executive, we can help you find the most suitable outsourcing provider for your business.
Explore our outsourcing directory now. You may also check out our other top tech industry-related organizations here:
Top 15 tech companies in Monntana
Let's break down today's leading tech companies present in Montana.
Tech companies founded in Montana
Many tech companies in Montana call the state home, including:
Founded in 2007, iProgrammer is a web, cloud, mobile, and software development company based in Missoula. It specializes in providing custom software solutions for businesses across various industries.
With a team of experienced developers, it has successfully delivered innovative software solutions to clients both locally and globally. 
iProgrammer also has headquarters in India and the UK.
onXmaps, established in Missoula in 2009, is a leader in outdoor navigation technology. It provides hunters, hikers, and outdoor enthusiasts with detailed maps and GPS tools to enhance their outdoor experiences.
Its apps' user-friendly interfaces and advanced features have let onXmaps gain a loyal following. As a result, it has become a go-to resource for outdoor enthusiasts.
Bozeman-based Foundant Technologies offers software solutions for nonprofit organizations. One of their most popular products is GrantHub, which streamlines the grant application process.
The company's so-called "software for philanthropy" has earned it a strong industry reputation.
Prominent tech companies in Montana
Below are the top tech companies in Montana in terms of the number of employees:
S&K Technologies in St. Ignatius is a family of several tech-driven firms that are leading providers of technology solutions and professional services.
Focusing on information technology, engineering, and technical services, they work with clients in both the public and private sectors.
Number of employees: 1,000 – 5,000 global workers across all its subsidiaries
Printing for less, based in Livingston, is a tech company that revolutionized the printing industry. It is America's first-ever e-commerce printer, offering online design and printing services. 
The firm allows businesses to create and order custom-printed materials easily. Its user-friendly platform and commitment to exceptional customer service have made it a go-to printing resource for companies of all sizes.
Number of employees: About 300 workers
Founded in 1990, Zoot provides financial institutions with advanced credit decisioning and loan origination solutions. Its platform allows lenders to make data-driven decisions quickly, reducing risk and enhancing efficiency.
Number of employees: Over 200 staff
Tech startups in Montana
Here are among Montana's most successful tech startups:
Quiq is a Bozeman-based company and customer messaging platform that enhances business engagement through various messaging channels.
By consolidating business interactions into a single platform, Quiq helps improve customer service and streamline the communication processes.
Quiq's innovative approach and use of AI have attracted numerous clients and fueled its rapid growth.
Founded in 2014, NeuroID is a tech firm specializing in user behavior analytics. Its platform leverages machine learning and advanced algorithms to detect fraud and authenticate users in real-time.
By analyzing user behavior patterns, NeuroID provides businesses with actionable insights to improve their security measures. Its cutting-edge technology has garnered attention and partnerships with major industry players.
Skyfish provides drone data collection and analysis services. Besides offering autonomous work drones and flight planning, it provides data processing and management solutions.
This tech company's products and services are mostly used on cell towers, utilities, surveillance, and government work.
Payouts Network market technology provider innovating the modern payment system. Its products and services help originate, issue, and approve real-time payments to consumers, employees, and businesses.
Based in Bozeman, Payouts Network streamlines payment processes across various industries such as hospitality, insurance, loans, and transportation.
Zero Longevity Science, Inc. is an app development company established in Big Sky. It created Zero, a fasting and health tracking app.
The information on the app is based on peer-reviewed studies and developed with its Scientific Advisory Board.
Largest tech companies in Montana
Lastly, below are some of the largest tech companies in the United States with base locations in Montana:
Blackfoot Communications, which has headquarters in Missoula, is a leading telecommunications and technology solutions provider.
They offer a wide range of services, including internet connectivity, network solutions, cloud services, and managed IT services.
Estimated revenue: $65.4 million
Century Gaming Technologies is the state's largest route operator specializing in gaming and entertainment solutions. It develops and distributes gaming machines, systems, and technology for casinos and entertainment venues.
Its industry expertise and innovation have made it a reputable provider of gaming solutions throughout Montana and beyond.
Estimated revenue: $25.7 million
Headquartered in Missoula, Lumenad is a leading digital advertising software company. It offers a comprehensive platform that helps businesses plan, create, and optimize digital advertising campaigns.
It is the parent company of Joinr, an ad data standardization tool, and Pathlabs, a media execution partner.
Estimated revenue: $11.8 million
Snowflake is a cloud computing data warehouse firm mainly based in Bozeman. It offers a variety of data services like cloud storage, analytics, machine learning, and data warehousing.
Despite being just founded in 2012, it is one of the largest publicly traded tech companies in Montana.
Estimated revenue: $2.1 billion