Top 20 tech companies in Massachusetts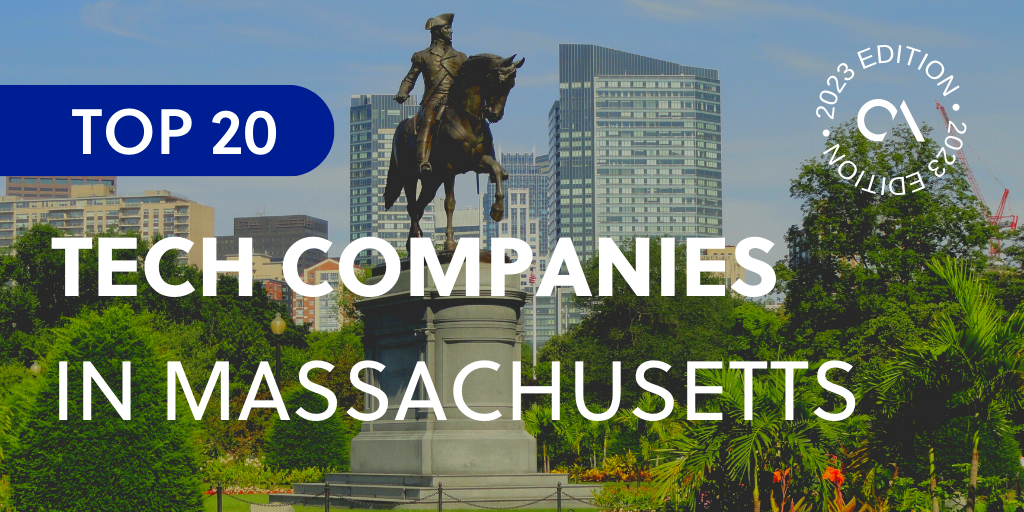 List of top tech companies in Massachusetts
Nestled in the heart of New England, Massachusetts, has established itself as a veritable hotbed of technological innovation and industry prowess. 
The state is home to some of the most prominent tech companies in the world. From cutting-edge biotech firms to leading software and hardware companies, Massachusetts boasts a vibrant ecosystem redefining the future. 
Take a look at the top tech companies in Massachusetts.
The tech landscape in Massachusetts
The tech landscape in Massachusetts is robust and thriving. According to The State of Massachusetts Tech Economy report, there are over 18,000 technology companies in the state as of 2022.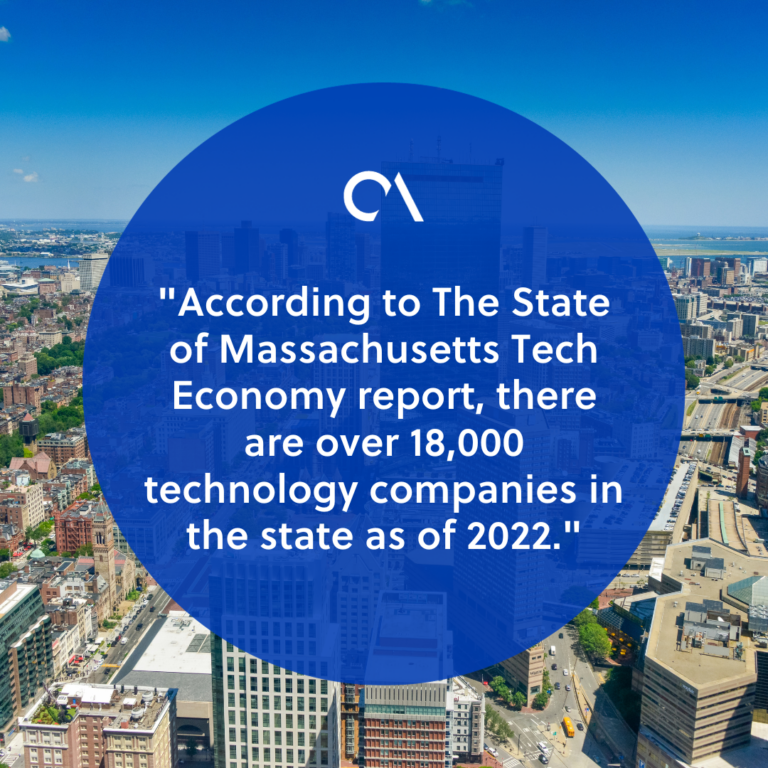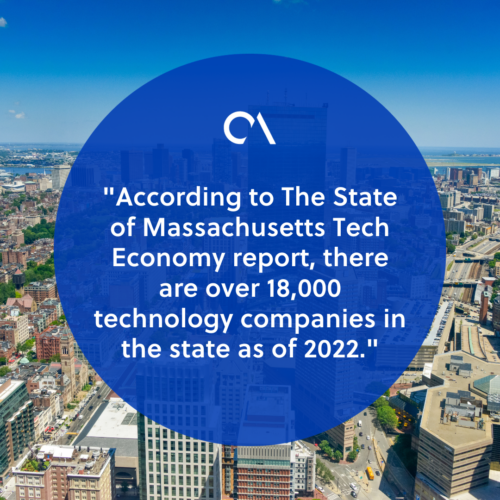 Massachusetts also frequently ranks first in science and technology capabilities relative to job growth and wealth creation. 
The tech sector has even been able to weather the pandemic. Many were able to adapt their business models and remain strong, showing the innovative nature of the Massachusetts tech ecosystem. 
This ecosystem has made Massachusetts an excellent place to start a business, develop revolutionary ideas, or launch new technologies. 
Future outlook of tech companies in Massachusetts
The future appears promising and optimistic for tech companies in Massachusetts. 
Experts have pointed out several positive indicators for the state's tech economy. Employers are continuing to hire, and investments in the high-tech and biotech sectors are breaking records. 
The state also has access to billions of dollars in federal funding, which can further stimulate innovation and support tech companies. 
It's essential for tech companies in Massachusetts to stay abreast of industry developments. Keeping track of emerging technologies can help them stay competitive and extract more value from their systems and supply chains. 
These companies can look forward to further advancements in artificial intelligence, digital transformation, and chatbot programs, among others. 
Top global outsourcing lists 
Outsource Accelerator is the world's leading outsourcing marketplace and advisory. We list over 3,000 BPO firms located across the globe in our global directory, and we provide detailed information, price guides, and reviews.
Whether you're a solopreneur, SME owner, or corporate executive, we can help you find the most suitable outsourcing provider for your business.
Explore our outsourcing directory now. You may also check out our Top IT software/companies lists here:
Top tech companies in Massachusetts 
Below we have listed 20 of renowned tech companies in Massachusetts:
Location: Boston, MA 
PTC specializes in powering digital transformations for businesses. It offers a wide range of solutions to enhance efficiency across service, manufacturing, and engineering processes. 
PTC's solutions also focus on reducing operational costs through real-time monitoring and connected analytics. It assists companies in fully embracing digital transformation. 
Location: Boston, MA
Rapid7 offers practitioner-first cybersecurity solutions. It provides a comprehensive range of products and services to address various security needs. 
In particular, Rapid7's Managed Detection and Response (MDR) solution offers 24/7 monitoring and remediation by expert professionals. The brand also has its own Foundation, which reflects its commitment to community, diversity, and inclusion. 
Location: Burlington, MA
Nuance is a leading tech company that specializes in conversational AI solutions for healthcare and customer engagement. 
Its solutions are designed to transform the way organizations work, connect, and interact with each other, advancing positive impact across industries. It has a global presence, serving over 10,000 healthcare organizations worldwide.
Location: Natick, MA
MathWorks primarily develops mathematical computing software, catering to scientists and engineers. With a focus on accelerating the pace of innovation, it offers a wide range of products for data analysis, modeling, simulation, and algorithm development. 
MathWork's flagship products, MATLAB and Simulink, are widely used across various industries, including aerospace, automotive, telecommunications, and healthcare. 
The company is committed to advancing the fields of engineering and science through technology, collaboration, and education.
Location: Bedford, MA
AspenTech is among the global leaders in terms of asset optimization software. Its comprehensive suite of solutions includes asset performance management, process engineering, and digital grid management. 
It primarily caters to the industries of chemicals, energy, engineering, and construction. 
AspenTech brings a focus on industrial AI and digitalization to assist companies in achieving operational excellence and empowering their workforce. It also offers sustainability solutions, like emissions reduction and electric grid modernization.
Location: Burlington, MA
Avid specializes in empowering creators with cutting-edge software and tools. It offers a suite of products designed to optimize the media industry and includes solutions for video and audio editing, newsroom management, and media asset management. 
Its products are used by a range of professionals in various industries, including film and television, music, sports, live events, and education. 
Avid's focus on technologies that enable creators to tell their stories better has made it a leader in the field.
Location: Lowell, MA
UKG provides HR and workforce management solutions. Its products and services include:

Human resources

Payroll

Talent management 

HR service delivery

Time and attendance 

Scheduling 

Compliance 

Reporting and analytics 
UKG focuses on creating technology that inspires and elevates the workplace experience for employees. It also provides industry-changing research and insights to help organizations stay ahead in the world of human capital management. 
Location: Cambridge, MA
Pega, also known as Pegasystems, is a leading tech company that provides a powerful low-code platform for AI-powered decision making and workflow automation. It offers solutions to address pressing business challenges. 
Pega's comprehensive suite of products simplifies technology from the center out, empowering organizations to build for change. It has established itself as a trusted partner for enterprises seeking to drive digital transformation. 
You may also visit its page on our website here. 
Location: Woburn, MA
Skyworks Solutions, Inc. is an innovator in the semiconductor industry. It specializes in diverse applications for the automotive, wireless infrastructure, mobile, industrial,  aerospace, and defense markets. 
SkyWorks Solutions, Inc. has a wide range of products that establish it as a leading supplier of integrated circuits. The company's RF and analog semiconductor design expertise has resulted in award-winning products.
Location: Bedford, MA
iRobot is a renowned tech company that focuses on designing and manufacturing innovative robotic products. Most recently, it showcased its latest powerful vacuum and mop solutions offerings.
With its advanced technology and focus on automation, iRobot is redefining the way we clean and maintain our living spaces.  
Location: Framingham, MA
The Bose Corporation is a distinguished tech company known for its high-quality audio products. Bose is recognized worldwide for manufacturing premium audio equipment, including speakers, headphones, and sound systems. 
Its inventive approach to audio engineering has resulted in immersive experiences and superior sound quality. With a commitment to customer satisfaction, Bose has established itself as a trusted brand in the audio sector.
Location: Boston, MA
General Electric (GE) is a global tech company known for its diverse range of products and services. It has a longstanding history of innovation and has made significant industry contributions. 
The company is involved in areas such as healthcare, power and renewable energy, aviation, digital solutions, and more. 
Through its leadership, diverse workforce, and extensive portfolio, General Electric continues to shape the future of industries and make a positive impact on society. 
Location: Andover, MA
MKS Instruments is a leading tech company that specializes in providing advanced instruments, subsystems, and process control technology solutions. 
Its product lineup includes specially designed components like:

Capacitance manometers

Pressure transducers

Mass flow controllers

Vacuum gauges 

Microwave generators 
MKS Instruments serves customers in industries such as semiconductor manufacturing, electronics and packaging, and specialty industrial applications. 
Location: Boston, MA
GoTo, formerly known as LogMeIn, is a leading tech company that concentrates on unified communications and remote IT support. It offers multiple platforms for different communication channels. 
GoTo's products cater to industries like managed service providers, healthcare, legal, education, professional services, and automotive. It enables seamless communication and support for teams across different devices. 
Location: Canton, MA
MEDITECH is a prominent tech company specializing in electronic health records (EHR) software. Its flagship product, MEDITECH Expanse, offers a comprehensive and adaptable solution for healthcare organizations of varying sizes. 
The platform offers connected communities, enriched data, clinical sophistication, and person-centered care. 
Trusted by leading health systems worldwide, MEDITECH addresses vital clinician and industry challenges in the pursuit of better patient care.  
Location: Waltham, MA
Rocket Software offers IT modernization and automation solutions. Its products are designed to simplify the modernization journey for businesses across multiple domains. 
Rocket Software strongly focuses on customer satisfaction, garnering recognition for its Fortune 50-trusted products. The company supports businesses in maximizing their ERP investments and achieving seamless modernization without disruption. 
Location: Boston, MA
ECI is a tech company that provides managed solutions, cybersecurity, and digital solutions to mid-market financial companies. It delivers transformative partnerships covering every solution required to excel. 
With over 25 years of industry experience and technical expertise, ECI is committed to optimizing every aspect of performance. 
Location: Boston, MA
Kyruus is a healthcare technology company offering cutting-edge patient access and engagement solutions. It provides industry-leading provider search, scheduling, and data management services. 
Kyruss is powered by an award-winning provider data management platform. This helps top organizations across the US deliver a consistent patient experience across key access points. 
It also offers resources such as research reports, case studies, and white papers to support healthcare organizations to improve the patient experience. 
Location: Burlington, MA
Progress Software specializes in software infrastructure solutions. Its products and services help organizations develop, deploy, and manage high-impact business applications. 
With over 40 years of experience, Progress Software is trusted by top enterprises and Fortune 500 organizations worldwide. 
Location: Boston, MA
Carbonite specializes in backup and data protection solutions for both home and business users. With its auto backup and data management solutions, it ensures the safety of critical data throughout its lifespan. 
Carbonite caters to different user needs, with solutions for personal users, professional staff, and enterprise-level businesses.