Top 20 tech companies in Columbus, Ohio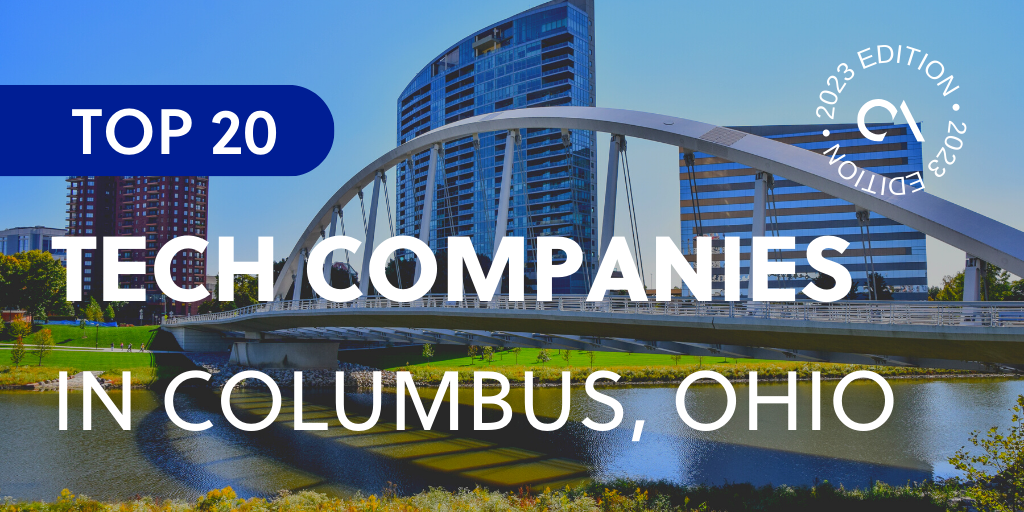 List of top tech companies in Columbus, Ohio
Columbus, Ohio, a city steeped in history and renowned for its entrepreneurial spirit, has emerged as a flourishing hub for technology companies.
Columbus has long been a haven for businessmen and visionaries. Its strategic location within the United States and robust transportation infrastructure make it an ideal base for companies looking to expand their reach.
Furthermore, it offers a favorable business climate with relatively low living and business costs compared to other major cities. This makes the city an attractive destination for entrepreneurs and corporations.
This article spotlights the top 20 tech companies in Columbus, Ohio.  We'll delve into the remarkable transformation of this country into a tech powerhouse.
Growth of the tech industry in Columbus, Ohio
The tech industry in Columbus, Ohio, has experienced a profound and rapid evolution in recent years.
Traditionally recognized for its strong manufacturing and logistics sectors, the city has successfully pivoted to establish itself as a growing innovation hub.
This transformation has not gone unnoticed, as the city-state has increasingly garnered attention as a destination for tech talent. Columbus has also become a fertile ground for startup tech companies to thrive.
According to CIO, in previous years, the number of computer-related positions in the city increased by approximately 38%. Tech professionals received a reported average pay of $92,017 per year, 14% higher than the previous year. 
This growth has proved to be indicative of Columbus's increasing appeal as a tech epicenter.
Moreover, the city has consistently ranked ten among other growing cities for tech job growth in the United States.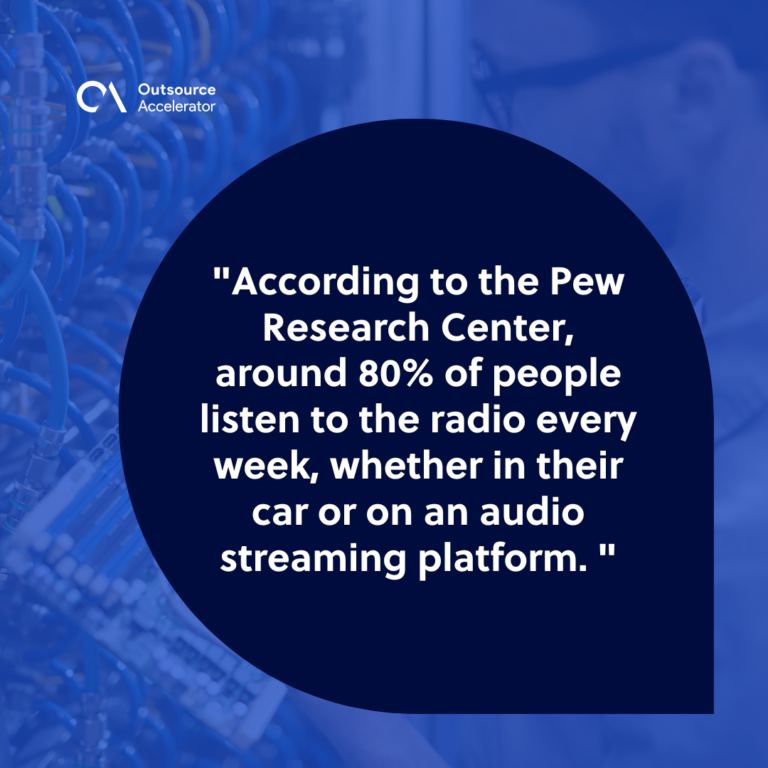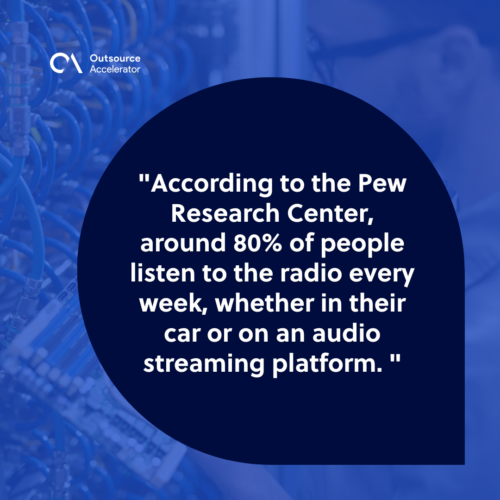 Factors contributing to the tech boom in Columbus, Ohio
The rise of the tech industry in Columbus can be attributed to several key factors that have converged to create a fertile ground for innovation and growth.
Here are some of the most significant contributors:
Proximity to universities and research institutions
Columbus is home to several world-class universities and research institutions. An example is Ohio State University, which consistently ranks among the top public research universities in the United States.
This proximity to academic and research centers has fostered collaboration between the academia and the industry.
Tech companies in Columbus, Ohio can tap into a pool of fresh talent and cutting-edge research, leading to innovation and advancement in various fields.
Supportive government initiatives
The state of Ohio and the city of Columbus have proactively fostered a conducive environment for tech companies.
Government initiatives, including tax incentives and grants, have been designed to support tech startups and established companies.
These initiatives have helped reduce the financial burden on businesses, making investing in research, development, and expansion easier.
Thriving startup culture
Columbus, Ohio boasts a thriving culture that encourages innovation and entrepreneurship. 
The city has numerous co-working spaces that support startup businesses. These provide aspiring entrepreneurs the venue for mentorship and networking opportunities to launch and scale their tech ventures.
A culture of innovation has birthed successful startups and attracted established tech companies looking to tap into the city's entrepreneurial spirit.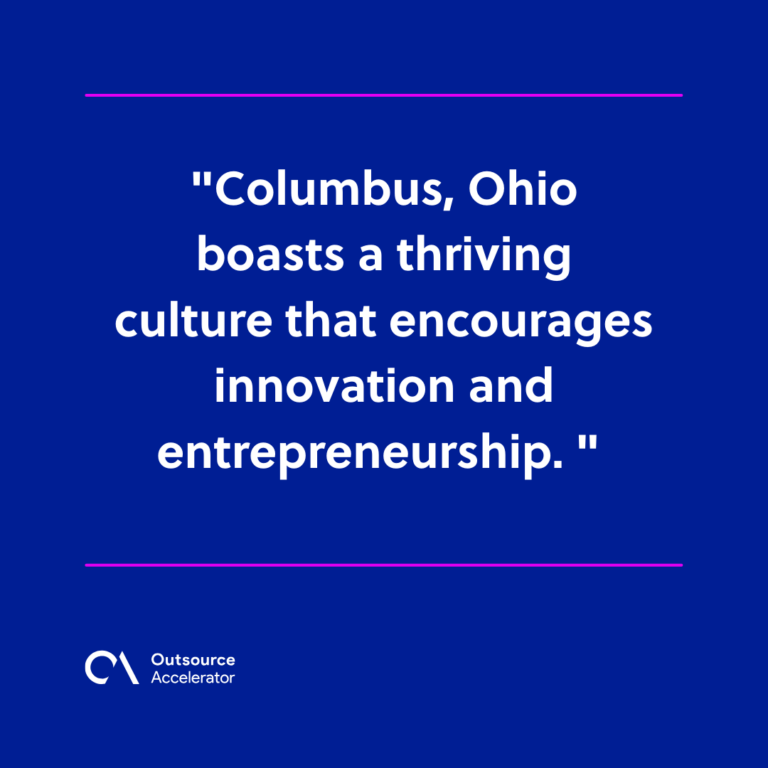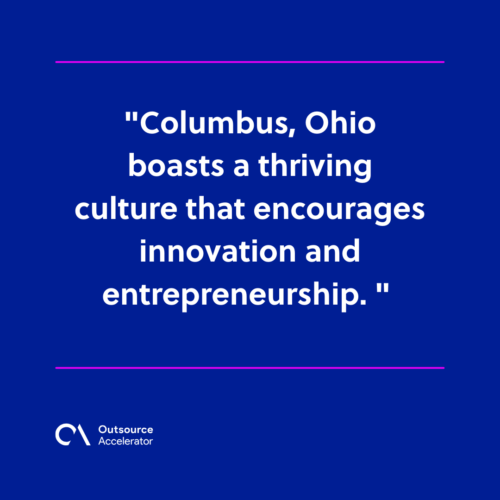 Top global outsourcing list
Outsource Accelerator is the world's leading outsourcing marketplace and advisory. We list over 3,000 BPO firms located across the globe in our global directory, and we provide detailed information, price guides, and reviews.
Whether you're a solopreneur, SME owner, or corporate executive, we can help you find the most suitable outsourcing provider for your business.
Explore our outsourcing directory now. You may also check out our Top IT software/companies lists here:
Top 20 tech companies in Columbus, Ohio
Let's explore the impressive array of tech companies in Columbus, Ohio. 
These dynamic organizations span various industries, from healthcare and finance to e-commerce and logistics.
Sage Sustainable Electronics is one of the best tech companies in Columbus, Ohio, specializing in the responsible management and recycling of electronic waste.
This firm provides eco-friendly solutions for businesses seeking to dispose of outdated or unused electronics.
Sage offers recycling services and helps organizations maximize the value of their electronic assets through strategic management and refurbishment.
Its commitment to sustainability aligns with the growing global focus on environmentally responsible practices in the tech industry.
Ohio Academic Resources Network (OARnet) is a high-speed research and education network. 
This is one of the functional tech companies in Columbus, Ohio, that serves educational institutions, government agencies, and other non-profit organizations.
OARnet provides reliable and advanced network connectivity, enabling data-intensive research, collaboration, and innovation.
OARnet plays a crucial role in supporting education and research endeavors across the state by offering a robust and secure network infrastructure.
Cloud Cover is one of the tech companies in Columbus, Ohio, specializing in cloud management and optimization. 
Its services help businesses migrate, manage, and optimize their cloud infrastructure, including AWS, Azure, and Google Cloud platforms.
CloudCover's solutions enable organizations to harness the full potential of cloud computing while ensuring cost-efficiency, security, and scalability.
Discover Financial Services is a prominent financial institution.
While it's nationally recognized for its credit card services, Discover is also known as one of the tech companies in Columbus, Ohio, with a strong focus on tech management.
This firm leverages cutting-edge technology to provide innovative financial products, services, and solutions, emphasizing customer experience and security.
HamilTEK Solutions is an IT consulting company that plays a critical role in enhancing the digital resilience of organizations.
Specializing in cybersecurity, cloud computing, and IT infrastructure management, HamilTEK offers a comprehensive suite of services to safeguard digital assets.
It employs cutting-edge security measures to protect businesses from data breaches and cyberattacks proactively. 
This includes the following cybersecurity practices:
Intrusion detection

Threat intelligence

Risk assessments
Astute Technology Management is one of the dynamic tech companies in Columbus, Ohio, that excels in customer engagement solutions. It offers software and services that redefine how businesses interact with their clientele. 
Astute Technology Management's portfolio includes cutting-edge customer relationship management (CRM) software, social media management tools, and AI-powered analytics.
These resources enable companies to personalize customer interactions, respond swiftly to inquiries, and cultivate brand loyalty.
OCSiAl is a global technology company with a significant presence in Columbus, Ohio, and it stands at the forefront of advanced materials innovation. 
This company's groundbreaking work centers around developing and manufacturing single-wall carbon nanotubes (SWCNTs), representing a significant advancement in materials science.
SWCNTs exhibit exceptional properties, including remarkable strength and electrical conductivity, making them invaluable in tech industries.
Moreover, OCSiAl's innovations in nanotechnology open doors to previously unattainable possibilities.
From enhancing the performance of electronics and creating lightweight, strong materials for aerospace applications—to revolutionizing energy storage solutions, this firm is driving progress and innovation in various sectors.
Basis Theory specializes in the intricate domains of data privacy and security.
This is one of the tech companies in Columbus, Ohio, that provides essential solutions to organizations grappling with sensitive data management.
Its services encompass secure data storage, sharing, and management, all while ensuring compliance with complex data protection regulations such as GDPR and HIPAA.
Basis Theory's solutions serve as a vital safeguard against data breaches and unauthorized access, enabling organizations to uphold data integrity and security.
Veeva Systems is one of the leading tech companies in Columbus, Ohio, and in cloud computing.
The company specifically provides cutting-edge software solutions tailored to the life sciences and pharmaceutical industries.
Veeva Systems offers a comprehensive suite of cloud-based applications spanning critical operations—from managing intricate clinical trials and ensuring regulatory compliance—to streamlining commercial operations. 
Its solutions empower life sciences organizations to optimize processes, enhance collaboration, and uphold the stringent standards of compliance governing their field.
Veeva System's commitment to innovation supports the vital work of pharmaceutical companies and researchers. This ultimately contributes to developing life-changing medical advancements while ensuring adherence to rigorous regulatory requirements.
Veeam Software specializes in data management and protection. With a robust suite of solutions, it is dedicated to safeguarding critical data assets for businesses of all sizes. 
Its services encompass data backup, recovery, and availability solutions to ensure data resilience and minimize downtime.
Further, Veeam Software empowers businesses to navigate the complexities of data management confidently. This drives the enterprise's digital transformation initiatives while mitigating the risks associated with data loss or disruption.
VIAVI Solutions is a prominent player in the tech landscape, specializing in network and service enablement solutions. Its services involve various industries, including the following:
Telecommunications

Cybersecurity

Data Science

Optical technology
VIAVI provides cutting-edge solutions that help businesses optimize network performance, enhance security, and deliver high-quality services.
With a global presence, it significantly impacts ensuring seamless and secure connectivity in our increasingly digital world.
FAST Enterprises stands as one of the tech companies in Columbus, Ohio, driving innovation and providing cutting-edge software solutions primarily aimed at government agencies.
FAST Enterprises, particularly focuses on taxation and revenue management. This firm is committed to streamlining and modernizing complex tax collection processes and government operations. 
Its innovative software platforms are designed to enhance efficiency and transparency, effectively transforming the public sector.
FloQast has carved out a niche in the tech world with its cloud-based accounting software. This brings a new level of efficiency and accuracy to the financial close process for businesses.
At the heart of the company's platform is a dedication to simplifying collaboration among accounting teams, ensuring that critical financial reporting tasks are accomplished seamlessly. 
FloQast's robust feature set includes close management, task management, and reporting tools, all of which contribute to the financial excellence of organizations.
Path Robotics is one of the ushering tech companies in Columbus, Ohio. It focuses on growing app development and manufacturing welding solutions by applying robotics and artificial intelligence (AI). 
This tech firm's innovative autonomous welding systems are transforming an industry relying on labor-intensive processes. By automating welding tasks, Path Robotics improves precision and efficiency and significantly reduces the margin for error. 
ThousandEyes specializes in digital experience monitoring, a critical function in today's highly interconnected digital world. 
Its platform offers valuable visibility into the performance of networks, applications, and services from end-users perspectives.
This unique vantage point empowers organizations to proactively identify and resolve performance issues, ensuring a seamless digital experience for their customers and clients.
Finite State is a cybersecurity powerhouse that safeguards the Internet of Things (IoT) ecosystem. 
This is one of the excellent tech companies in Columbus, Ohio that offers comprehensive security assessments and risk management tools. These tools are designed to protect IoT devices and networks from potential threats.
The importance of their technology cannot be overstated, as IoT devices are increasingly integrated into various sectors, from healthcare to industrial automation.
Finite State's solutions are instrumental in identifying vulnerabilities and mitigating potential threats, ensuring the integrity and security of IoT deployments.

V2Soft is a global technology and staffing solutions company that has emerged as a versatile partner for businesses across various industries. Its comprehensive services include IT consulting, software development, and workforce solutions.
What sets V2Soft apart is its ability to cater to diverse client needs, from automotive and healthcare to finance. 
V2Soft team's expertise and adaptability make them an ideal partner for organizations seeking to harness the power of technology to drive innovation and growth.
ScriptDrop is significantly impacting the healthcare technology sector with its innovative prescription delivery platform. 
This tech company's solution seamlessly integrates with healthcare systems, efficiently delivering prescription medications to patients' doorsteps.
Beyond its convenience, ScriptDrop's technology promotes medication adherence, a critical factor in healthcare outcomes. 
Overall, ScriptDrop is among many tech companies in Columbus, Ohio, transforming healthcare accessibility and ensuring patients receive the care they need promptly.
ATS Automation has established itself as a leader in providing automation solutions to various industries, including healthcare, electronics, and transportation.
Its expertise lies in designing and manufacturing custom automation systems that enhance efficiency and quality for its clients.
ATS Automation's innovative approach to automation extends beyond mere efficiency gains. it has a profound impact on optimizing manufacturing processes, ultimately enhancing competitiveness in a global marketplace.
Aware is a technology company specializing in biometrics and imaging solutions. Its portfolio encompasses a range of products and services, including the following: 
Fingerprint recognition

Facial recognition

Image analysis
Aware's technology finds applications in diverse domains, including identity verification, security, and healthcare.
This tech firm's solutions improve safety and convenience in an increasingly security-conscious and interconnected world.