12 business software applications to kickstart your startup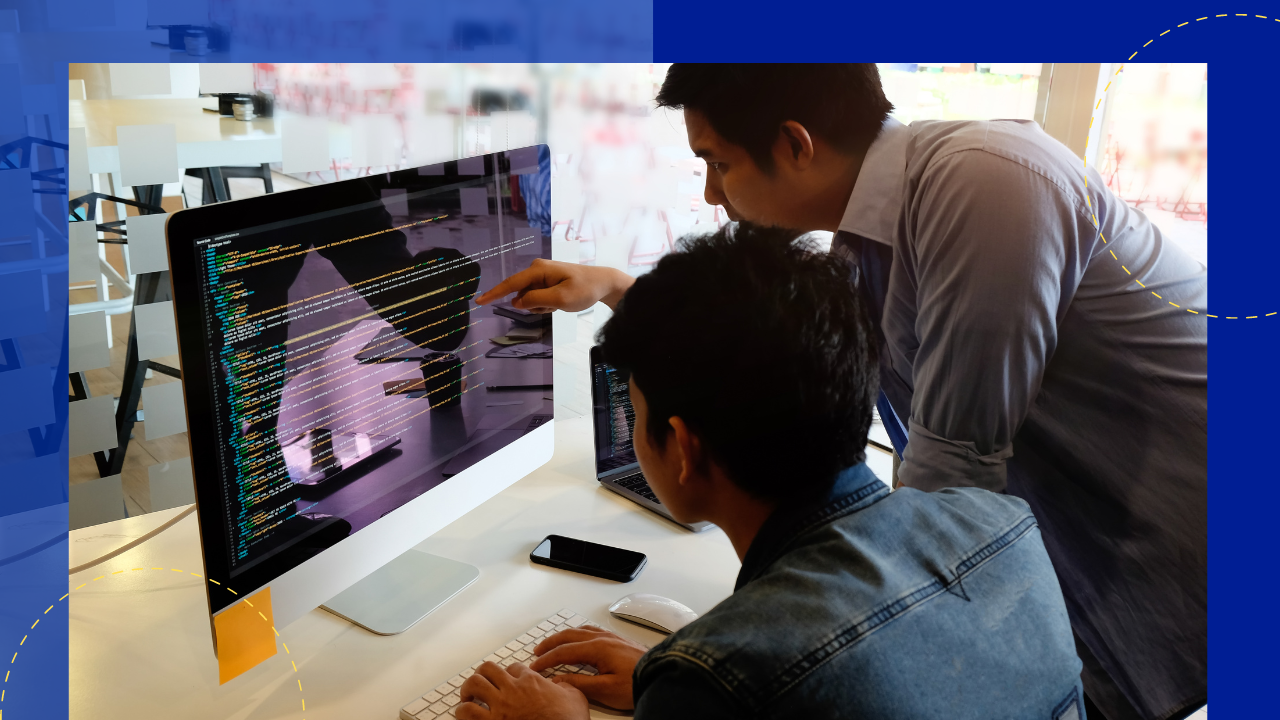 12 business software applications for your startup
Starting a new business can be an exciting and challenging venture. This is why it is essential to leverage the power of technology to streamline your operations and maximize productivity. 
Business software applications help startups achieve substantial growth and efficiency by automating and streamlining some tasks.
Whether you're looking to digitize your processes or start your operations from scratch, there's an appropriate tool for you. 
We have listed 12 essential business software applications to kickstart your startup and pave the way for success.

Advantages of using business software applications
Incorporating business software applications into your startup operations can bring several benefits.
Enhanced efficiency
Business software applications automate repetitive tasks, freeing up time for you and your team to focus on core business activities.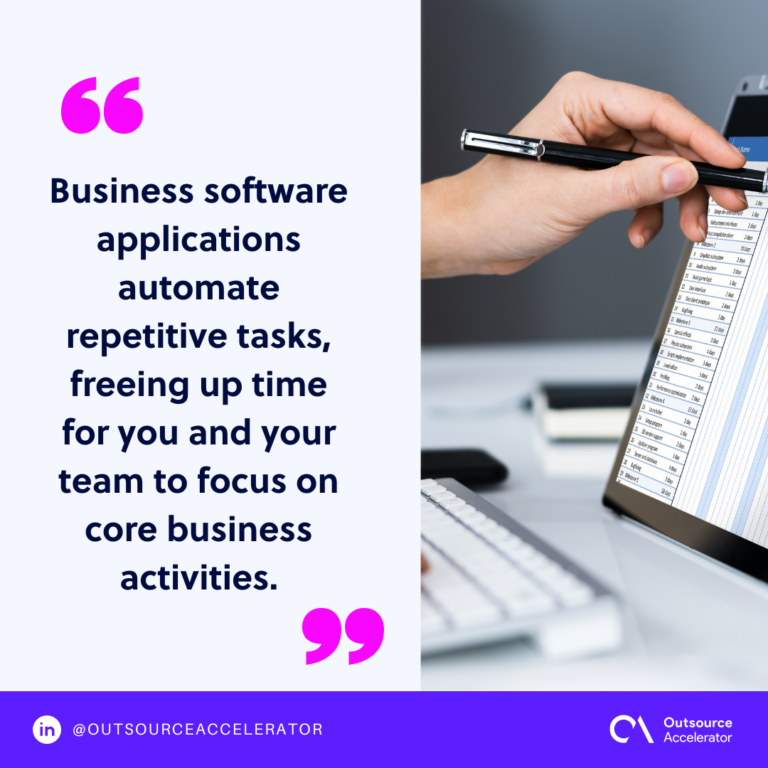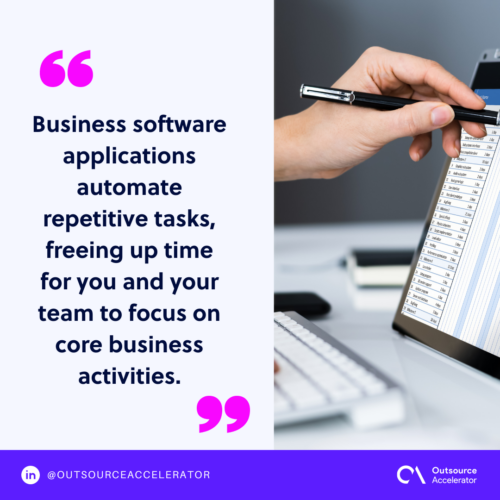 Seamless communication
Along with streamlined processes, effective communication is key for the success of any startup. Business software applications provide tools for seamless collaboration and communication among team members.
Monitoring metrics
Business software applications turn processes into their digitalized and automated version. With this, monitoring metrics and key performance indicators (KPIs) can be more concrete for team leaders and management.
Data management and analysis
Business software applications enable startups to collect, store, and analyze reports on different functions. This provides valuable insights to core decision-makers, helping them form better action plans for their startups.
Types of business software applications
Business software applications are not exclusive to a single system with all-in features. What's good about these tools is that each app is designed to streamline specific workflows without too much multitasking.
Business software applications can be classified into different types catering to certain processes and departments.
Human resource management (HRM)

. HRM software simplifies HR processes, including employee onboarding, payroll management, and performance evaluation.

Inventory control

. Inventory control systems keep you on track with the status, condition, and amount of your common business assets and utilities.

Business communication

. Communication and collaboration tools facilitate seamless interaction, conversation, and file sharing among team members, regardless of location.

Schedule management

. Schedule management tools are best for arranging appointments, activities, and employee shifts as needed.

Accounting and finance

. Accounting and finance software makes cash flow management and financial analysis easier through the cloud.

Service management

. Lastly, service management systems enhance

business-to-customer interaction

and relationships by streamlining their service delivery.
12 business software applications to kickstart your startup operations
Now, let's explore the 12 essential business software applications that can kickstart your startup operations
Human resource system
1.
ADP
ADP is a comprehensive human resource management software that offers features such as payroll processing, employee benefits administration, and talent management.
It streamlines HR processes from onboarding to tax and benefits processing, ensuring compliance and efficient employee management. ADP is widely used for in-house and professional employer organizations (PEOs).
Gusto is a user-friendly HR platform simplifying payroll, benefits, and HR tasks. It provides seamless onboarding, automated tax filings, and employee self-service features.
Gusto is an ideal choice for startups looking for an intuitive HR solution. This is since managing employees through the platform is more streamlined, regardless of their location.
Rippling is an all-in-one HR and employee management platform that combines payroll, benefits, and IT management.
It offers features like automated onboarding, employee data management, and device provisioning, streamlining operations and saving valuable time.
One of Rippling's highlights is its third-party integration. The tool can be connected with Google Workspace, Slack, and other related apps to ease staffing management.

Inventory control
Apptivo is a cloud-based inventory management software that provides real-time inventory tracking, order management, and stock optimization. It gives a well-rounded approach to supply management, from purchase orders to item shipping.
Apptivo offers comprehensive reporting and analytics, helping startups make data-driven inventory decisions.
Being an all-in-one software, Odoo provides management solutions that integrate seamlessly with other business applications. It covers everything you need to manage your startup, including website building, marketing automation, and sales invoicing.
As an inventory tracker, Odoo enables startups to track stock levels, manage purchase orders, and streamline inventory movement, ensuring efficient inventory control.
While primarily known as a project management tool, Monday.com also offers robust inventory management features. 
It allows startups to track inventory, collaborate on orders, and automate workflows, providing visibility and control over inventory operations.
Business communications
Slack is a popular team communication and collaboration platform that enables instant messaging, file sharing, and integrations with other business tools.
It facilitates seamless communication and collaboration by allowing users to create channels for each team. What's more, routine tasks are more automated through their Workflow Builder feature.
Microsoft Teams is a unified communication platform suitable for chat, video meetings, and file sharing within the Microsoft system.
With features like document collaboration and integration with Microsoft Office apps, it offers a comprehensive solution for startup communication needs.

Google Meet is a web-based conferencing platform that allows teams to conduct virtual meetings, webinars, and presentations.
It offers easy-to-use features like screen sharing, chat, and live captions, ensuring effective communication and remote collaboration.
As a part of Google Workspace, Google Meet is instantly connected with Calendar and other GSuite features for easier collaboration.
Schedule management
Calendly is a scheduling software that simplifies appointment scheduling and meeting coordination.
It eliminates the back-and-forth of scheduling by allowing participants to select available time slots, saving time and ensuring efficient scheduling.
Google Calendar is a widely used calendar management tool that helps startups manage their schedules, appointments, and deadlines. It offers features like event reminders, shared calendars, and integration with other Google services, enhancing schedule organization.
Sprintful is a schedule management tool fit for appointment-setting services. It enables startups to break down projects into manageable tasks, assign deadlines, and monitor progress.
Sprintful ensures efficient schedule management and project completion.
Digitalizing your processes with business software applications
Business software applications offer a range of tools to automate processes, streamline operations, and improve overall efficiency.
By leveraging the right combination of software applications, startups can kickstart their operations with a strong foundation for growth and success.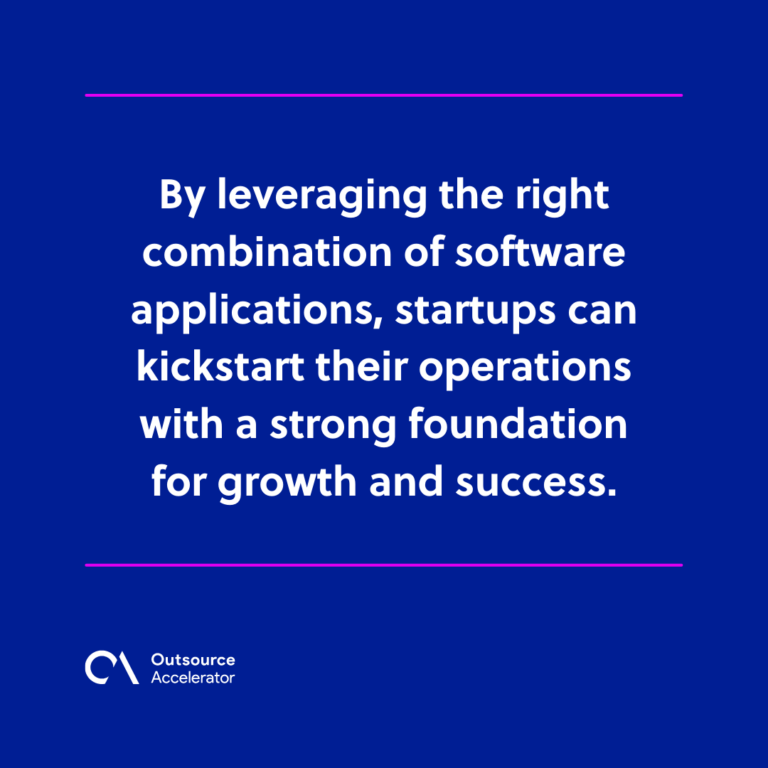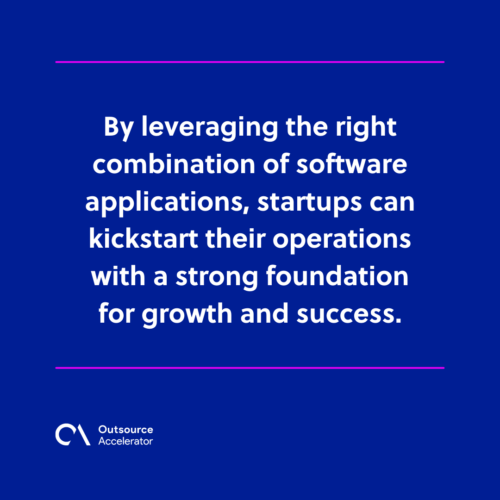 We have explored the essential business software applications to get your processes started. These applications cover various aspects, including human resources, inventory control, business communications, and schedule management.
Incorporating these tools into your startup's workflow can enhance productivity, improve efficiency, and set a solid foundation for future growth. 
Embrace the power of technology and leverage these business software applications to propel your startup toward success.