Understanding the differences between OKR vs KPI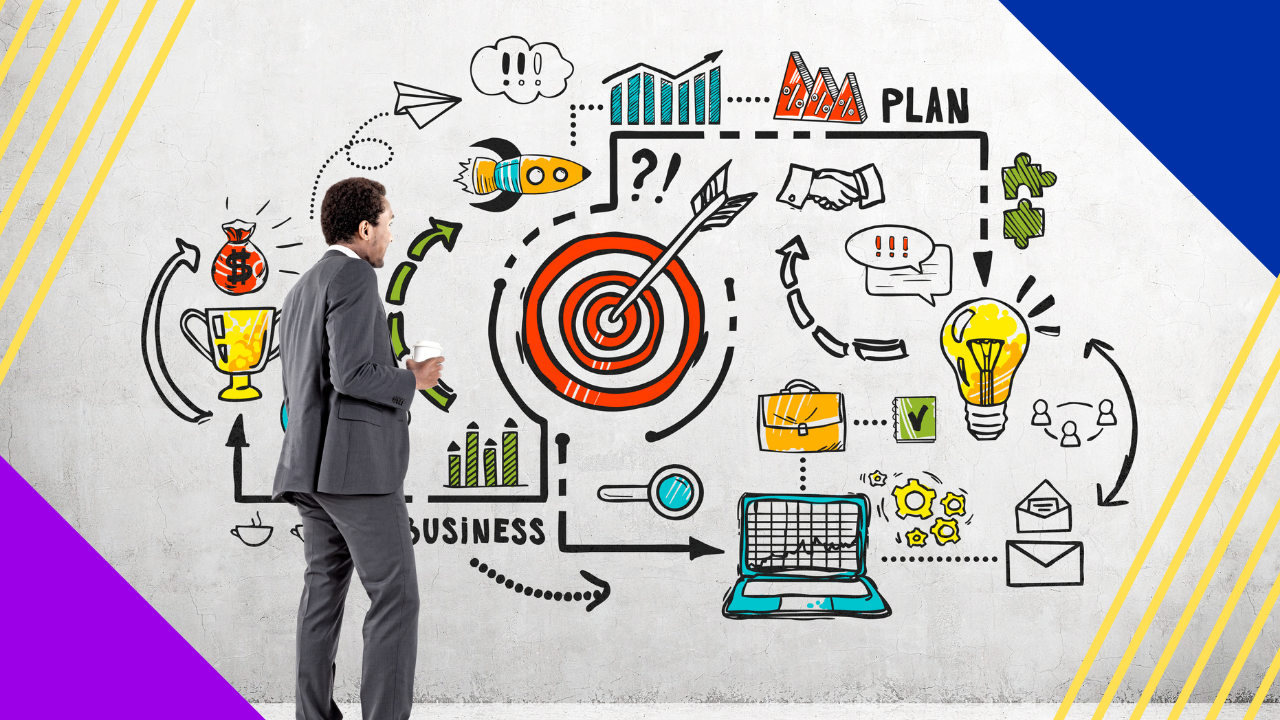 There is not that much difference between OKR vs KPI. They are both used to measure the company's performance on a specific project in a certain timeframe. 
However, they both introduce different ways of achieving an organization's goals. OKRs are more objective-focused, while KPIs usually veer toward a quantitative process. 
This article will help you discover more about their meaning and how different — and similar — they are to each other. 
What is OKR?
Objective and key results (OKR) are defined as the combination of business goals and the measurable ways needed to achieve them. It uses specific metrics to track the company's actions and whether they are close to reaching their goal.
Generally, OKRs should meet the following standards:
Quantifiable

Can be scored on a 0-10 or 0-100 point scale

Have a timeline 

Have an ambitious end-game
Unlike other performance metrics, OKRs do not work on a 1:1 ratio. Meaning, you can have as many key results as you like for only one goal. 
This approach makes it more possible for your team to reach your needed results as effectively and quickly as possible.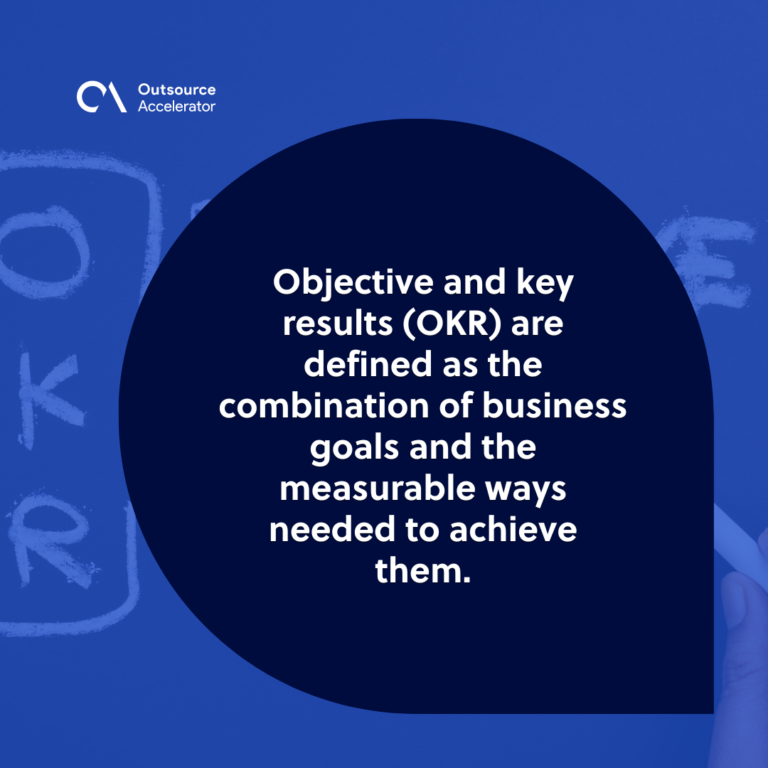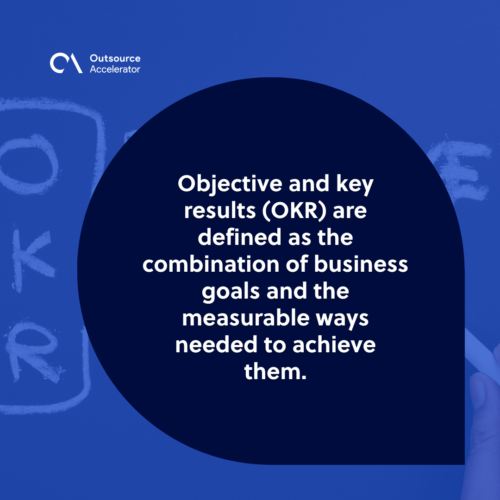 What is KPI?
Key performance indicators (KPI) are quantitative metrics that are used to track projects, programs, or company initiatives. They help teams monitor their goals and see if they are running the risk of being side-tracked away from their target.
A KPI needs four components to be effective:
Measurable target

Target date

Data source to monitor

Set frequency for monitoring
KPIs work more successfully if they are custom-built related to the end-goal that the company is working on. 
For example, you would need to use a different set of KPIs for your campaigns in improving your customer service and boosting lead generation as these two tasks are unrelated to one another.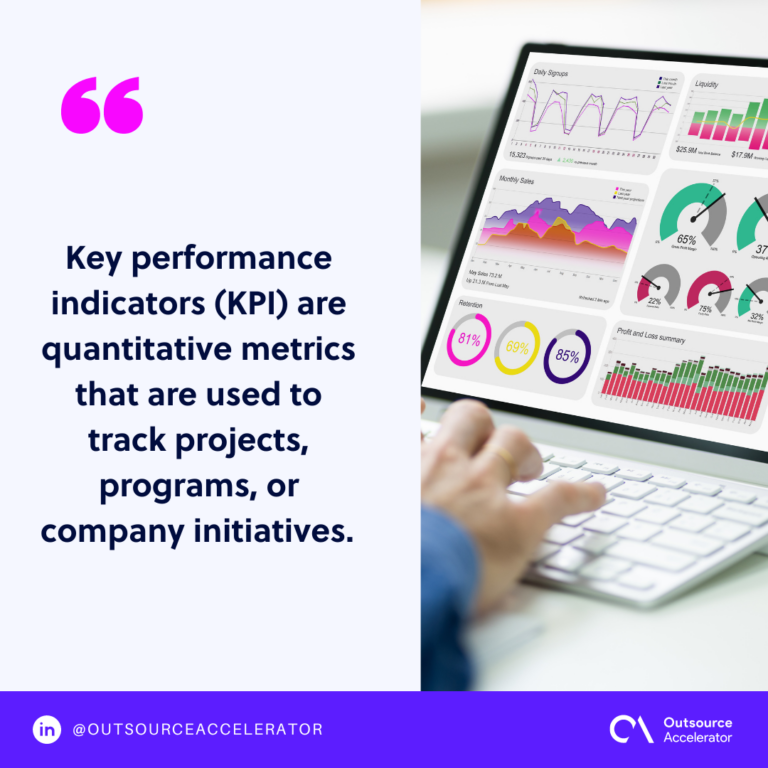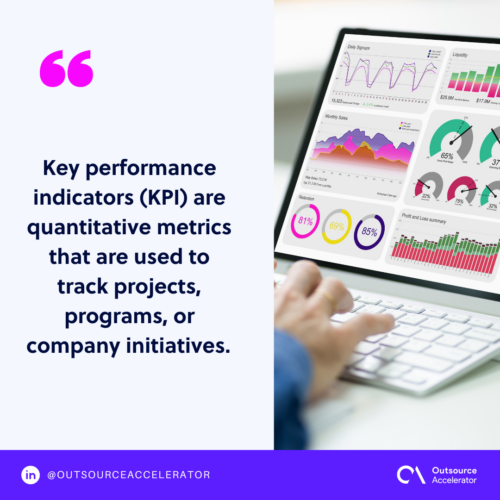 OKR vs KPI: Key differences
Though they are both methods of managing a team's performance, OKRs and KPIs help you reach your goals in different manners.
Here are some of their differences:
Foundation
The first difference between OKR vs KPI is what they are based on. OKRs are based on company missions and operations, while KPIs are based on past results and current projects. 
OKRs run as a goal-setting framework, while KPIs are generated to record goal performance. The former's framework is usually simple and relies on data to set its "key results."
On the other hand, the latter uses a single data point to track the team's performance and see if it is up to the company's set goals.
Direction
OKRs usually set aggressive and bolder goals for the company. The idea behind this is that it encourages a team to perform much better than what they are currently doing.
Meanwhile, KPIs measure steadiness and benchmarks related to the organization's goals. They tell you if what you are doing has a positive or negative effect on reaching the company's objectives.
Triggers
Thirdly, OKR vs KPI vary between their action triggers. OKRs are more motivational tools that allow the company to find ways to perform better than its current capacity. 
However, the team mainly takes action when issues arise that prevent them from reaching their goals.
KPIs work more like an evaluation tool that measures the performance of the company, employees, or current projects. 
Teams that use KPIs tend to be more observant as they act instantaneously when their numbers are off-track.
Duration
The duration between these two business metrics is also different. OKRs can be used either long-term or short-term so people can set them for a monthly, quarterly, annual run. 
KPIs can have flexible arrangements. Their duration can vary from time to time, depending on how long the company wants to track its performance. 
Lifespan
OKRs can change the key results for every objective. Their goals can also vary on each cycle, depending on what the company needs.
Meanwhile, KPIs can be kept and used more than once as long as they are relevant to the performance being monitored by the company.
OKR vs KPI: Which one is better?
OKRs and KPIs are both good to keep your business on track for growth and development. However, to choose the right one to use, you need to determine your purpose and plans first.
KPIs are best suited for improving or strengthening a current, or even repeating, project. These metrics can be easily customizable to your needs so that you can easily look into your team's progress.
OKRs are mostly used by companies that have a bigger and bolder goal set for the future. With these metrics, you can break down your targets into smaller, actionable steps and distribute them to everyone on the team.
Simply, OKRs point to "where you want to be" in the future. They stand as a milestone for your company's growth going forward.
KPIs are "health metrics" that track where your company currently is so that you can not only maintain it but also expand it to a greater extent.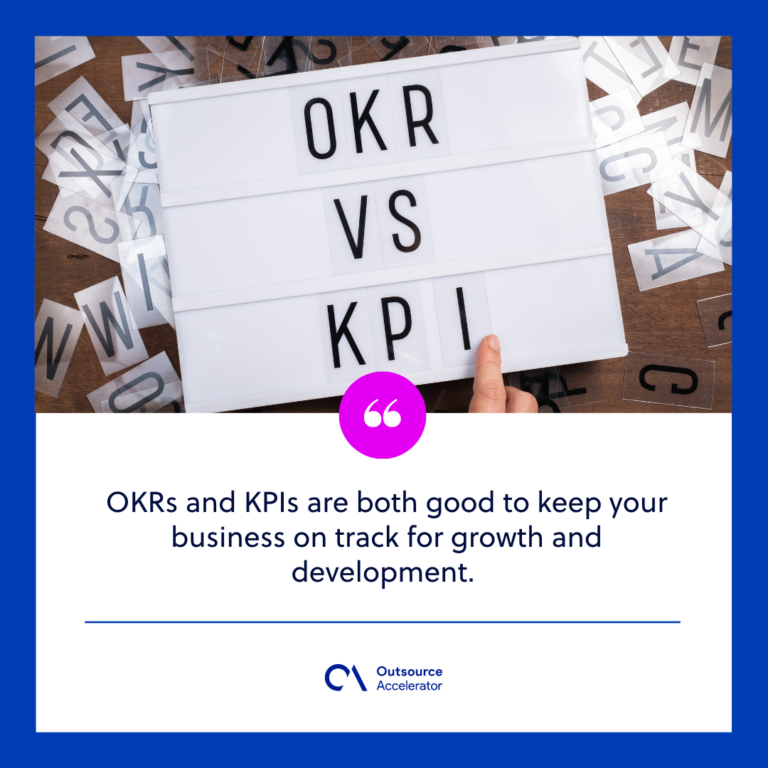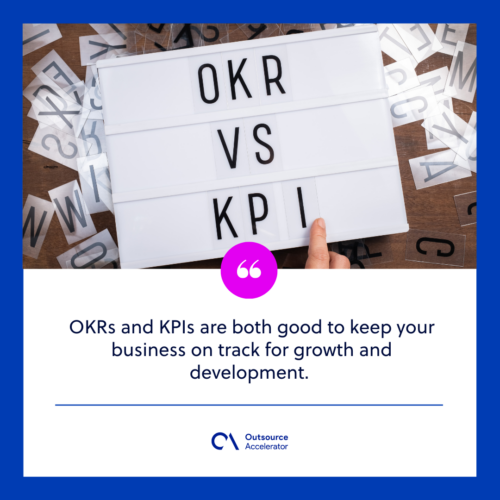 Can OKR and KPI work together?
Despite all of these differences, you do not need to choose between OKR vs KPI. They can still work together and be used simultaneously to reach optimal business performance.
KPIs are present to identify the areas for improvement in a plan and monitor the actions done to solve these problems. OKRs can be utilized to improve the processes already in place and drive innovation when needed.
Using them together provides you with a more extensive scope. It allows you to keep all parts of your strategy on hand to easily move and push them in the right place, which ensures the success of your overall strategy.