Human resource management and humanizing the remote setup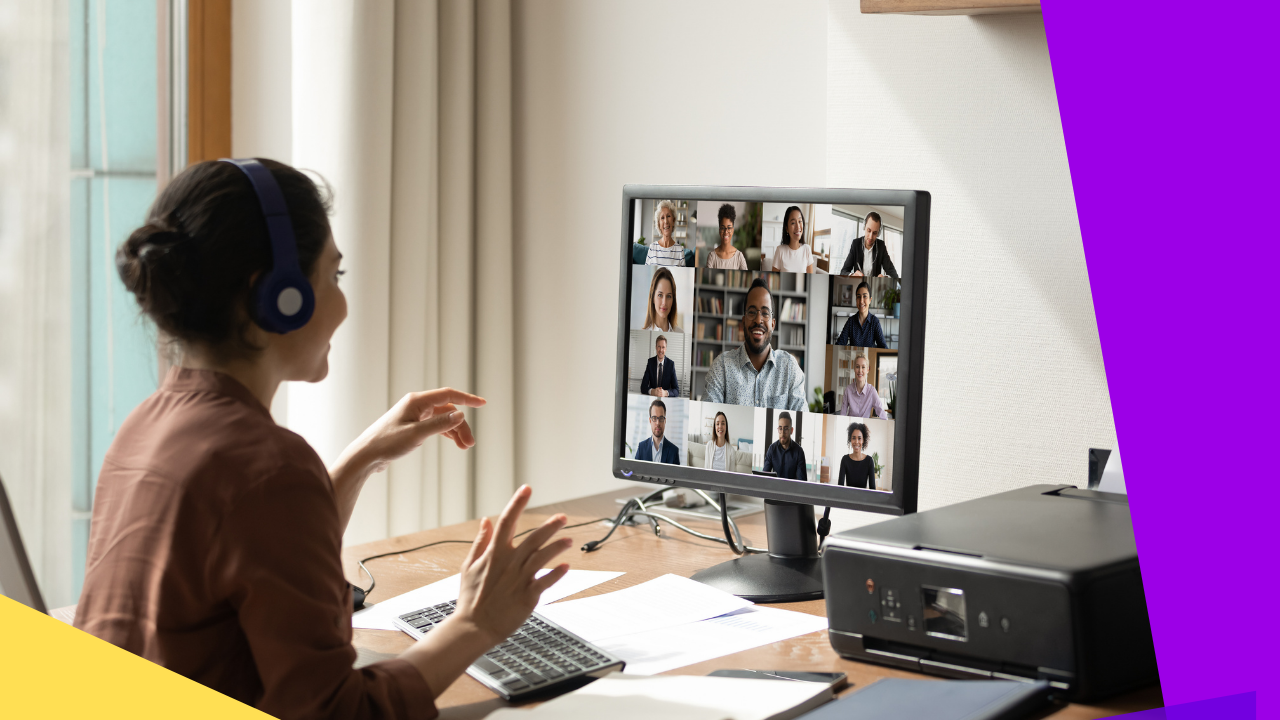 Oftentimes, human resource management is overlooked until a problem arises in the workplace.
HR practitioners blend into the background while ensuring that the workplace is running as it should be. They make sure that no one is breaking work rules and that every employee is accounted for.
The human resource department is responsible for the general well-being of each and every employee of the organization. They play a crucial role in humanizing the workplace, especially in these trying times.
What is human resource management?
In the simplest of terms, human resource management is a strategic humanistic approach to meeting the needs of employees and the management. It focuses on employees as part of the company's assets.
Part of human resource management is ensuring the productivity, development, and well-being of the employees. This includes training, performance evaluation, and benefits and compensation.
What does human resource management do?
Generally speaking, HR management oversees all human resource activities and policies in the workplace. In a sense, they make sure that the environment is conducive to working and wholly productive.
In a remote setup, HR management ensures that employees are attending their prescribed working hours even if not in the office. In some cases, HR liaises with team managers for attendance compliance.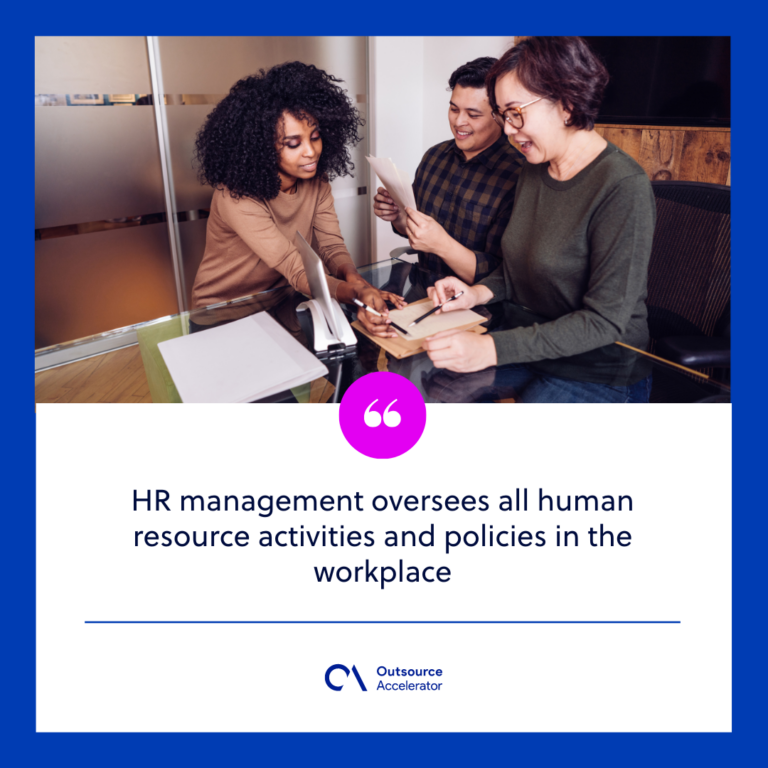 Why human resource management is important to a company
Human resource management is important to any organization for three reasons:
They drive productivity

They instill company culture

They preserve best practices
The HR department acts as the powerhouse of a company, ensuring that everyone that works there has a purpose. They ensure that employees are satisfied with their placements and, if not, do the necessary adjustments.
Every workplace that has outstanding employees are backed by good human resource management. If the HR department is fulfilling its role well, the company can benefit from a more effective, productive, and motivated workforce even in the midst of a pandemic.
It takes time and money to train and develop the skills necessary for a team to manage human resources. To get expert HR staff, you may consider hiring them through firms like Outsourced.
How human resources maintain workplace etiquette when working remotely 
Even if employees are all working remotely, they are still a part of a company. That being said, remote workers should still perform the tasks in a way that they would perform it in the office.
Communication
Human resource management ensure that remote employees are well-engaged in the workplace. At the same time, they ensure that they don't use company-provided communication tools to slack off.
There are a lot of remote collaboration apps available in the market nowadays. As remote workers, they are given the opportunity to utilize these as best as they can.
Employees use the apps to maintain social relationships and to deliver messages across in a clear and concise manner.
Productivity
With the sudden change in working environments, getting distracted by things that usually aren't found in the office is completely normal.
At home, remote employees have chores to do, and phones are buzzing with every notification that comes through. At home, they feel comfortable enough to work in front of the TV.
While these aren't necessarily bad, they can impede one's workflow's momentum. A quick 5-minute break could turn into 20 minutes and so on.
An ethical employee prioritizes work first before doing any of the things mentioned above. On the other hand, human resource representatives ensure that employees are productive even when working out of the office by implementing employee monitoring tools.
Teamwork
Teamwork should still be alive even if one's teammates are miles away from them
In any department, teamwork and communication go hand in hand. Without these two, working on any projects would be troublesome and problematic. A good teammate puts in the best effort they could muster and work with the group.
Human resources make sure that remote employees are comfortable within their respective departments and units.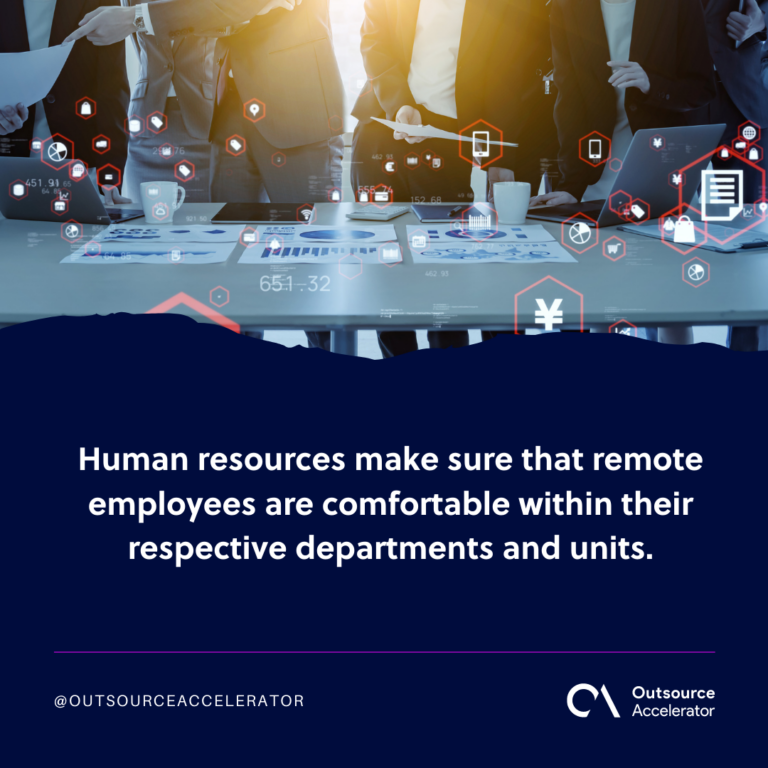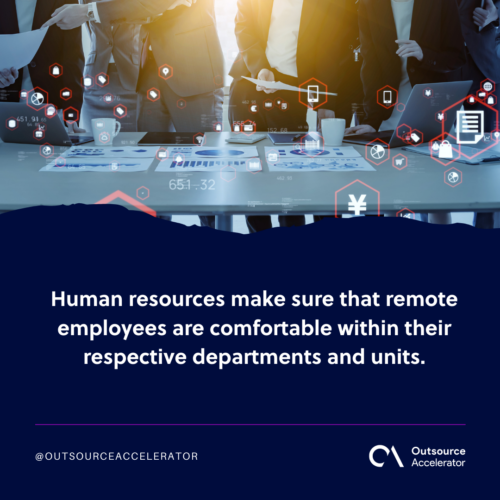 Attitude
One of the reasons why HR managers interview applicants are to gauge someone's character and attitude, even with remote hiring. Another way to see if a candidate is a match with the company culture is to let them take a personality test.
It's important to HR practitioners that employees get acquainted with each other in a friendly and professional manner.
How human resource management works with and for employees
Some people think that the HR department only works for the company and the employer itself. Oftentimes stating that they are putting the employer's best interests first rather than the employees'.
Those claims are simply not true.
While some policies can be seen as such, one of the main functions of the department is to look after the company's employees.