Top 20 tech companies in California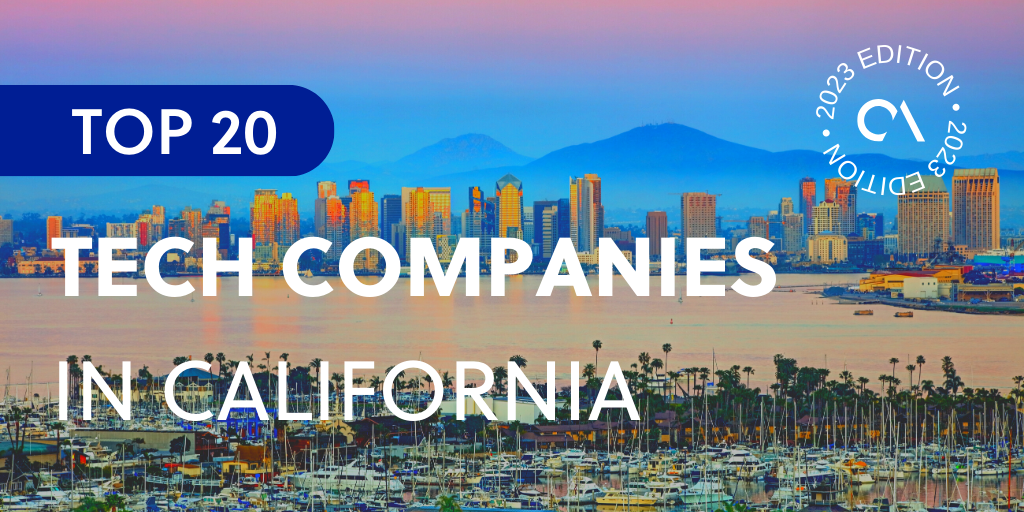 List of tech companies in California
Tech companies, often at the forefront of innovation, have become the driving force behind the rapid transformation of our modern world.
These dynamic organizations, ranging from small startups to multinational giants, specialize in harnessing the power of cutting-edge technologies. They create products and services that shape our daily lives.
From the sleek smartphones we rely on for communication to the complex algorithms that power artificial intelligence, tech companies are the architects of the digital age.
They continually push the boundaries of what's possible, revolutionizing industries and redefining how we live, work, and connect.
California hosts numerous tech companies known globally for pioneering innovations. These companies focus on diverse sectors, from social media and e-commerce to autonomous vehicles and cloud computing. 
What is a tech company?
A tech company, short for technology company, primarily leverages and develops advanced technologies to create innovative products, services, or solutions.
Tech companies operate in various sectors, including software development, hardware manufacturing, telecommunications, and beyond. 
One defining characteristic of a tech companies is their commitment to research and development, as they constantly strives to stay at the forefront of technological breakthroughs.
These organizations often prioritize innovation, fostering a culture that encourages creative problem-solving and the exploration of cutting-edge ideas.
California's rich tech industry 
The top tech companies in California create groundbreaking software, hardware, and digital services, shaping industries worldwide. 
Their innovations have transformed how we communicate, shop, and work, constantly pushing the boundaries of technology.
These tech firms drive economic growth, employment, and investment in the state, contributing significantly to the tech ecosystem's evolution and influence on the global stage.
Top global outsourcing list
Outsource Accelerator is the world's leading outsourcing marketplace and advisory. We list over 3,000 BPO firms located across the globe in our global directory, and we provide detailed information, price guides, and reviews.
Whether a solopreneur, SME owner, or corporate executive, we can help you find the most suitable outsourcing provider for your business.
Explore our outsourcing directory now. You may also check out our Top IT software/companies lists here:
Top 20 tech companies in California
Below are the 20 most popular and well-established tech companies in California:
Meta, formerly known as Facebook, is a global tech company renowned for its social media platforms, including Facebook, Instagram, and WhatsApp. It focuses on connecting people worldwide, enabling communication, and sharing content seamlessly.
Meta creates immersive online experiences, supports businesses with targeted advertising, and expands into the metaverse, a virtual universe for users to interact in diverse ways. 
Adobe, headquartered in California, is a leader in digital media and marketing software. Its flagship products, including Photoshop, Illustrator, and Acrobat, are industry standards for graphic design, image editing, and document management.
The company's cloud-based Creative Cloud platform enables seamless collaboration and innovation for creatives worldwide. Beyond design, it offers marketing and analytics tools, empowering businesses to deliver engaging digital experiences. 
Based in Palo Alto, California, HP aims to provide innovative hardware and software solutions for individuals and businesses worldwide. It manufactures various products, including laptops, desktops, printers, and accessories.
Its services encompass tech support, cloud solutions, and cybersecurity, offering comprehensive support to its clientele. 
Cisco, a California tech giant, revolves around connecting people and devices securely. Its extensive product range spans routers, switches, and cybersecurity solutions, empowering businesses worldwide to build robust and efficient networks.
Additionally, it offers consulting and technical support services, assisting organizations in optimizing their IT infrastructure. 
eBay, a prominent online marketplace founded in California, connects buyers and sellers worldwide. 
Its primary purpose is facilitating e-commerce transactions, offering a diverse range of new and used products. Users can buy and sell items through auctions or fixed-price listings. 
eBay's services extend beyond traditional retail, encompassing collectibles, electronics, fashion, and more.
Verifone is a company that revolutionizes electronic payment solutions. It specializes in crafting innovative payment terminals and software services to facilitate secure and efficient transactions.
Verifone focuses on enhancing the payment experience for businesses and consumers alike. Its products and services cater to various industries, including retail, hospitality, and transportation.
Google's mission is to organize the world's information. It provides the world's most popular search engine, cloud computing solutions, productivity software like Google Workspace, and the Android operating system.
Its innovations extend to hardware with products like Pixel smartphones and Nest smart home devices. It also delves into emerging technologies like artificial intelligence and autonomous vehicles.
Intel focuses on designing and manufacturing a wide range of microprocessors, chipsets, and other hardware components that power computers and various electronic devices. 
It has advanced computing capabilities, helps global businesses enhance performance, and enables innovation across industries.
Intel's product portfolio includes CPUs for personal computers, servers, embedded systems, and technologies like flash memory and network connectivity solutions.
Intuit is a prominent technology firm specializing in financial software and services. 
Operating with a mission to simplify financial management, it offers a range of products and services designed to assist individuals and small businesses. Its flagship products, including QuickBooks and TurboTax, streamline accounting and tax preparation processes. 
Intuit's innovative solutions aim to provide users with efficient financial tools, fostering financial success and security. 
Agilent Technologies operates from the heart of Silicon Valley. 
The company specializes in analytical instruments, software, services, and consumables for many scientific and research applications. It serves diverse sectors, including pharmaceuticals, life sciences, and chemical analysis.
Its purpose is to empower scientists and researchers worldwide with reliable tools and solutions to advance their work. 
Agilent's product portfolio spans chromatography, mass spectrometry, genomics, and diagnostics, making it a vital contributor to scientific progress.
PayPal empowers individuals and businesses by facilitating secure online payments, money transfers, and e-commerce transactions. It has evolved into a leading player in the fintech industry.
Offering a suite of payment solutions and digital wallets simplifies how people manage their money, enabling seamless online shopping and financial management. 
VMware specializes in software that enables organizations to manage their IT infrastructure efficiently. Its products and services empower businesses to virtualize their servers, storage, and networks, resulting in increased flexibility, scalability, and cost savings.
It is renowned for its contributions to data center optimization and cloud computing, offering essential tools for businesses seeking enhanced efficiency and agility in their operations.
Salesforce is a renowned company specializing in cloud-based customer relationship management (CRM) solutions. 
It focuses on enhancing business relationships by providing comprehensive software tools and services, including sales automation, marketing automation, analytics, and customer support. 
Its primary purpose is to empower organizations to better connect with their customers, streamline operations, and drive growth.
A suite of innovative CRM products enables businesses to effectively manage and analyze customer data, resulting in improved decision-making and customer satisfaction.
Apple, a globally recognized tech innovator, operates from Cupertino, California. Focused on crafting user-friendly devices, software, and services, Apple's purpose centers on enhancing digital experiences.
Its iconic product lineup includes the iPhone, Mac computers, iPad, and Apple Watch. Additionally, Apple provides software like iOS and macOS and services such as the App Store, iCloud, Apple Music, and Apple Pay. 
Experian provides individuals and businesses with credit scores, credit reports, and identity theft protection services. It aims to empower consumers and organizations with accurate financial information to make informed decisions.
Experian's suite of products aids in assessing creditworthiness, managing financial health, and mitigating fraud risks.
Broadcom Inc. is another company operating in the technology sector. It focuses on designing and manufacturing semiconductor solutions for different industries.
These solutions include chips for networking, wireless communication, and broadband access, catering to the needs of businesses and consumers alike. Broadcom Inc.'s products power numerous devices, enabling seamless connectivity and data processing. 
Workday specializes in cloud-based software solutions for human resources and finance management. It focuses on providing efficient and integrated tools to streamline HR, payroll, and financial processes for businesses of all sizes.
Workday also aims to empower organizations to adapt and thrive in the modern digital landscape. 
Its product suite includes applications for workforce planning, talent management, and financial analytics. It also offers user-friendly, cloud-native software solutions that enhance operational efficiency and decision-making.

FICO operates at the forefront of credit scoring and analytics. The company primarily aims to provide data-driven solutions to assess and manage credit risk. It offers a range of products and services tailored for financial institutions, businesses, and consumers.
Its credit scoring models, risk assessment tools, and fraud detection systems are pivotal in the lending industry, aiding credit decisions, fraud prevention, and financial stability.
Oracle caters to businesses of all sizes. Its primary focus is database management systems, cloud services, and enterprise software solutions. 
Oracle's mission centers on empowering organizations with innovative technology to streamline operations, enhance data management, and drive digital transformation. 
It offers various products and services, including database software, cloud infrastructure, ERP applications, and data analytics tools. 
Square, a California-based company, focuses on simplifying financial transactions for businesses and individuals. It offers a range of products and services, including hardware like payment terminals and software solutions such as point-of-sale systems.
Square aims to empower businesses with accessible, user-friendly tools to manage payments, track sales, and enhance customer experiences.