Strategic innovation in outsourcing and offshoring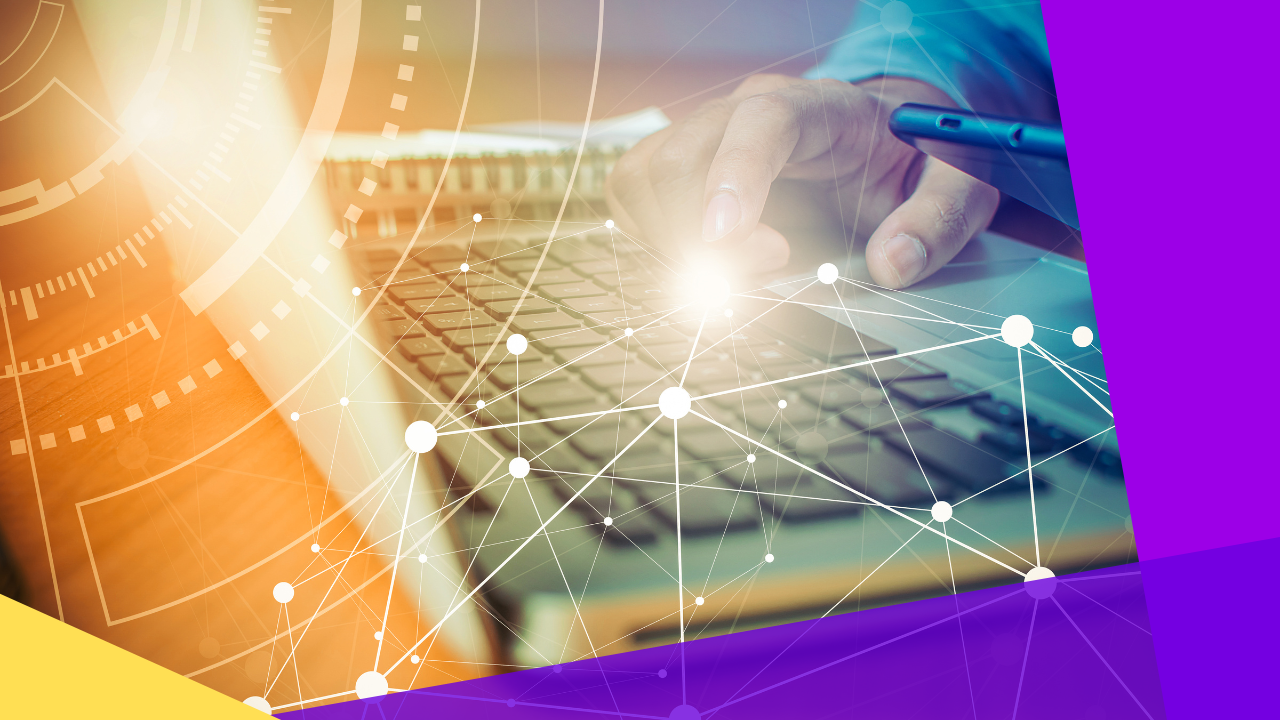 Strategic innovation in outsourcing and offshoring
Though still a subject for debate, tech companies and startups continue to outsource their innovation.  Whether to keep up with the increasing demand in optimization or to improve their internal systems.
Business process outsourcing brought technologies such as artificial intelligence and the internet of things. With the fast-changing world, outsourcing is expected to thrive to manage these technologies. Learn how outsourcing innovation can help other businesses grow and what to consider when they decide to outsource.
Outsourcing innovation
Innovation outsourcing refers to the outsourcing of aspects concerning invention or technology breakthroughs. This term relates mostly to tech companies outsourcing IT infrastructure, research and development, and project management.
Some experts still discourage outsourcing innovation, believing that this should be homegrown. However, some businesses strategise this through offshoring innovation management (project management and research) instead of the entire innovation (invention, manufacturing).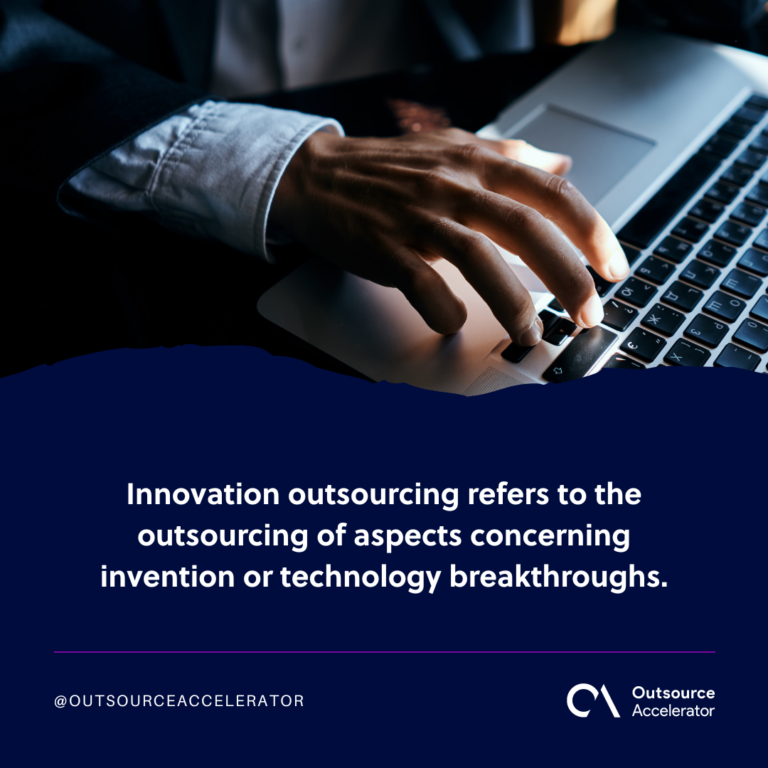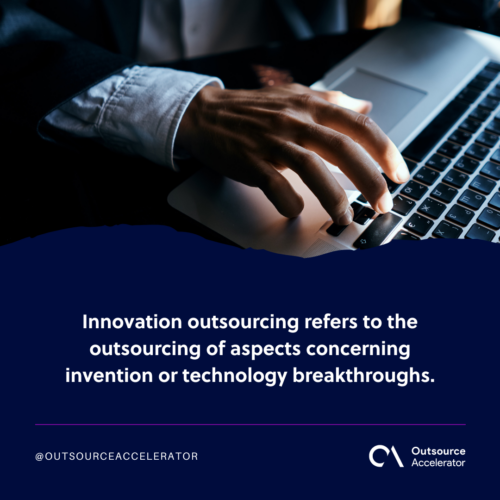 Advantage of outsourcing innovation
Outsourcing innovation aspects can bring a huge advantage to a business and can get them ahead of their competitors. These benefits include:
Better project management.

Not all innovators are great at project management. Outsourcing innovation helps get their projects organized better by an expert in managing a Scrum, Agile, or simple project manager.

Better ideas and insights.

Ideas coming from only a single person might make a project underdeveloped. When innovation is outsourced, business owners gain insight from different minds on how a project can be better.

Quicker innovation development.

The invention of a technological breakthrough takes time to develop. Outsourcing innovation helps this breakthrough get developed in a shorter time with a better team.

Less cost on research and development.

Some

outsourcing countries

, including India and the Philippines, produce highly-educated researchers at a fraction of the cost of a local one. They also deliver the same, even higher quality, results.

Wider market reach.

Outsourcing can help companies distribute their products to a wider market. This also gains them the opportunity for more audience and more products to be developed.
When and when not to outsource innovation
Alongside the advantages, there are also disadvantages in outsourcing innovation. These are:
Increased bureaucracy.

Some innovation operations require to have additional certifications and compliances to ensure security. Third-party companies might add these fees as a part of their contract.

Confidentiality and handling issues.

Outsourcing innovation might involve patent issues and confidentiality leaks. With this, companies should be very careful with handling these on their part.

Limited company knowledge.

The end product might not fully incorporate the original idea of the company. As a result, the third party might not fully understand the market of the company, causing the product to have a low to no market.

Company acquisition.

This usually happens with smaller outsourcing companies. Businesses licensing their technology to their third party may encounter problems when they get acquired by a bigger company.
Avoiding these risks should be easy through proper planning. There are ways to know whether companies should outsource innovation or not. This also determines the readiness of the company to outsource.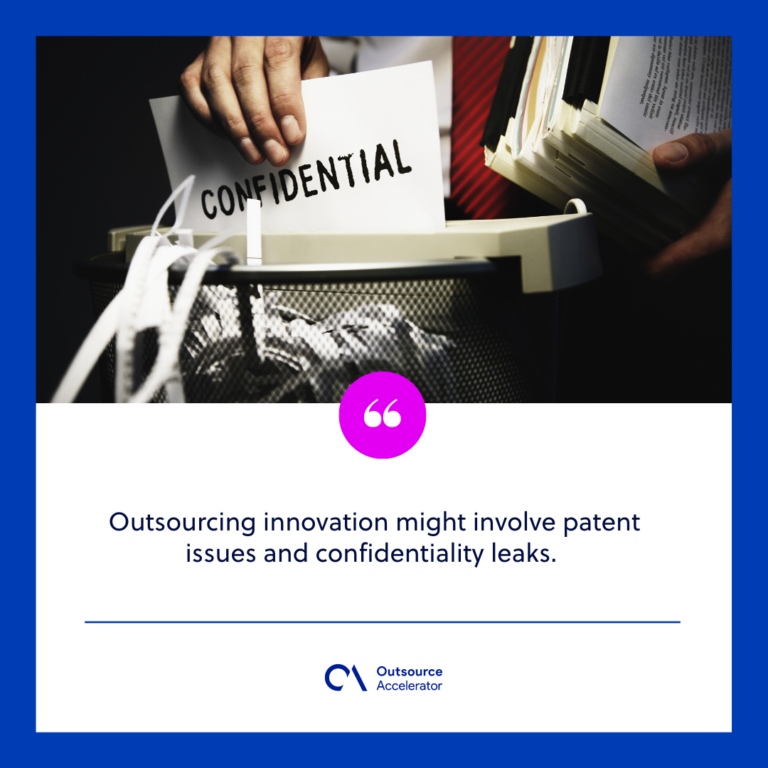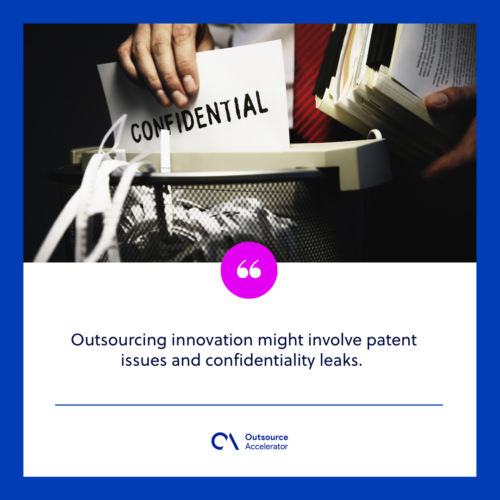 When targeting a new market
Market research is important in getting to know the targeted audience in a location. With this, outsourcing research to that location is a strategic way to have a native insight into the preferences of the audience in that place.
When improving a product
Outsourcing gives the business a better view of the latest trend they can use to improve an existing product. This also helps them learn more about the industry itself and how they can stay on top of the competition.
When going remote
Outsourcing can also help in building a remote team for the company. Having a distributed workforce can benefit them the same way fully remote companies do.
When creating an internal system
Companies should outsource IT services when creating a system for the in-house team. This can improve onboarding, training, and HR management to increase the satisfaction of the employees.
Keeping up with the increasing demand
However, businesses should be careful in outsourcing manufacturing services. Some companies might offer cheap labour costs and sacrifice the quality of the product or the welfare of the employees.
Outsourcing total innovation
When a business outsources or buys out a full innovation, they might have difficulties controlling it. This is because they do not have enough knowledge in utilizing and maintaining the product they just bought out.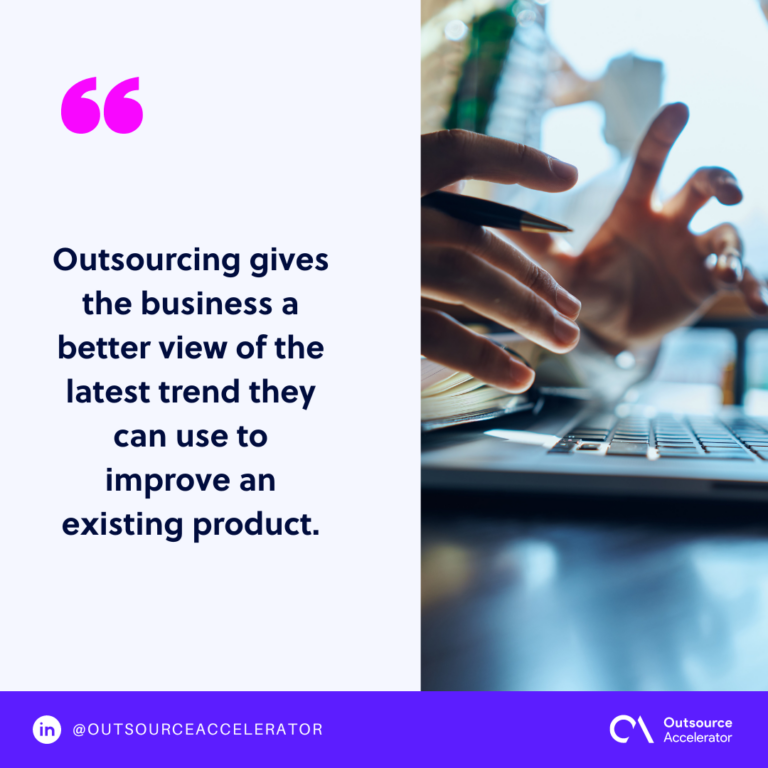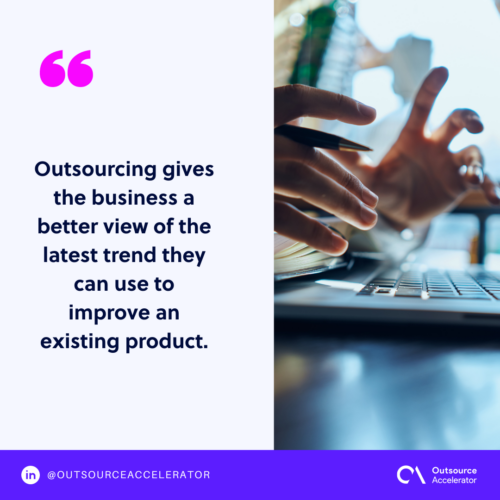 Strategies for innovation outsourcing
Outsourcing innovation is not for everyone. The company should plan out their strategies when outsourcing innovation. There are several aspects to consider aside from price and quality. 
Research and development (R&D)
Companies looking to improve their products and reach a bigger market can outsource some of their research and development (R&D) activities. This helps them better understand the market they are targeting and gain more insights for product improvement. However, they should retain a part of their research for their local market to stick to their branding as well.
IT and IT-related services
Based on the Deloitte 2016 global outsourcing survey, 72% of IT companies outsource their services, 28% using it for intellectual capital. Outsourcing IT and its related services (development, network, infrastructure, etc.) can help businesses save on resources and costs. However, they should plan carefully what to retain to the company and what to delegate offshore.
Knowledge management 
Companies should be careful when outsourcing knowledge management. They should consider whether the company they are licensing to does not face acquisition in another five years or so. They should also review the binding terms when it comes to using their licensed products and the measures they should take whenever a leakage occurs.
Project management
Both parties should practise transparency in project management. The business should keep track of the updates and progress of their outsourced team. As an end-user, they should also have a final say in the output of a product. At the same time, the outsourced team should be open to suggesting different ways to improve a process to have better operation.
Creativity development
Constant communication is the main key to successfully outsourcing innovation. Open regular meetings for brainstorming. It is recommended for a company to have an in-house management team, especially when managing designs and specifications of a product. Also, both parties should be open for sharing of insights for the improvement of the product.