The basics of a startup team structure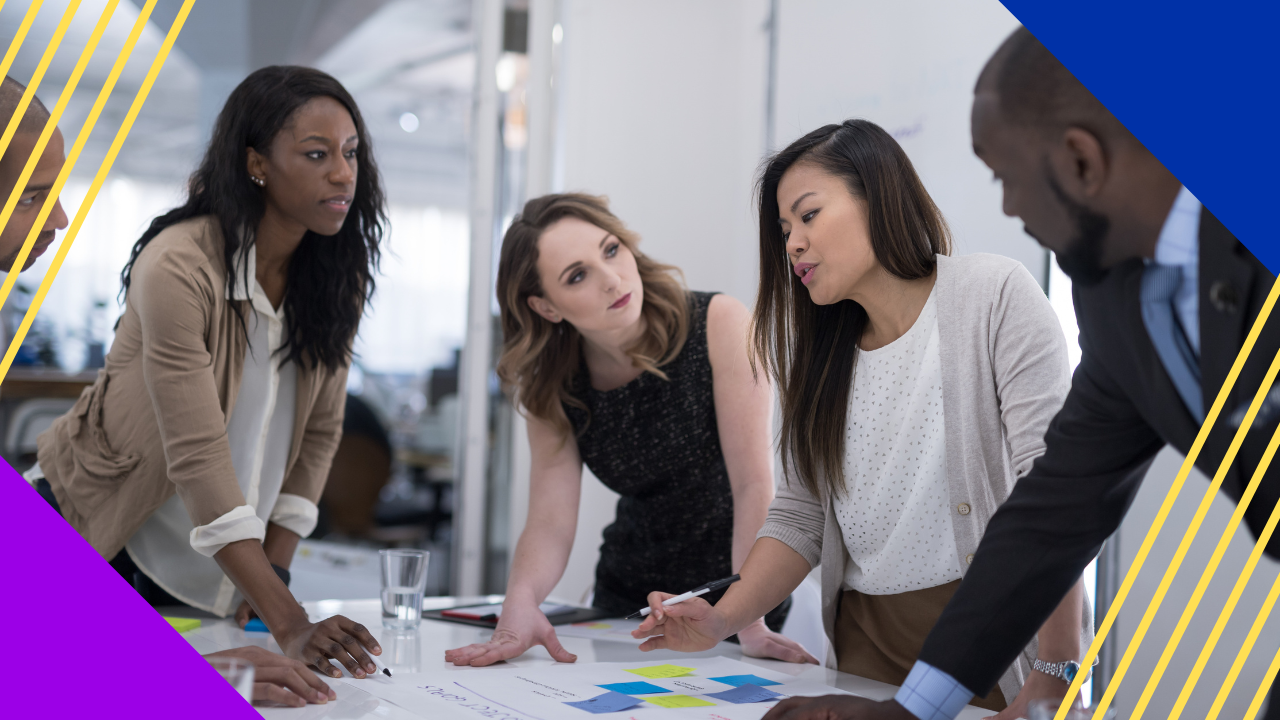 It is critical for a startup team to have a clear structure. It brings communication, proper decision-making, and quick implementation.[1]
Many startup team structures are short chains of command with layers of management. Without a good structure, many startup teams fail. 
The benefit of an organized startup team structure 
Most working groups benefit from some type of structure. An organizational structure brings a clear set of rules for each startup team member. 
A structure for your startup team makes it clear what the chain of command is, from the very top of the organization to the bottom. It also aids reporting, as employees understand their responsibility and reporting mechanism. 
A clear startup team structure will increase employee morale. A startup business can intimidate teams, so injecting order through a clear structure will help employees make sense of everything.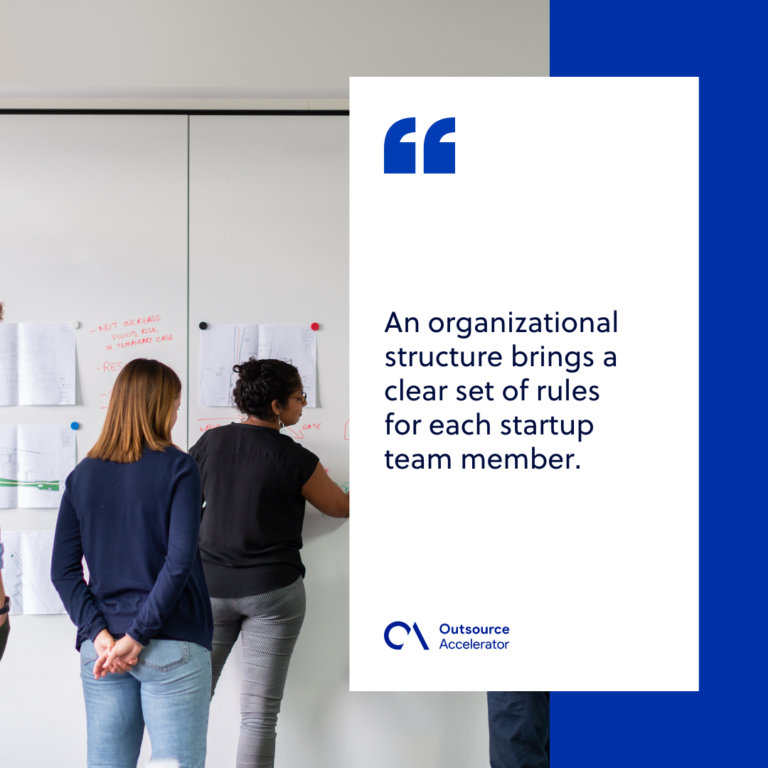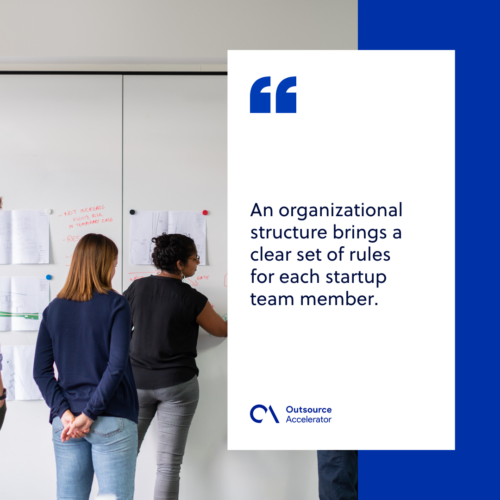 Important team positions in a startup structure 
At its most basic, there are two main roles that every startup team absolutely needs. These are the Chief Executive Officer (CEO) and the Chief Technical Officer (CTO). 
Every other role grows out of and reports to these two. As the company expands, more positions can be added. 
Here we have the important positions in a startup team structure: 
Chief Executive Officer (CEO)
The CEO is frequently the founder and the most important player of the company. It oversees the startup team's overall direction, vision, and culture. 
Aside from being the face of the company, the CEO is also the leader in all divisions of the startup team and the motivator for all the employees.[2] 
Chief Technical Officer (CTO)
It's suggested that a great CTO can make a company go far. Specializing in technology and development, the CTO determines which tech systems work best for the startup team. 
The CTO often handles four key teams:
UX team 
Also called the frontend team, which is responsible for ensuring a smooth user experience for the product or service. 
Interesting design aesthetic, usability, and functionality are factors the UX team considers.
Backend team 
The backend team is considered the organization's core, making sure the application code and data structure are built well. 
They are also responsible for interaction with the frontend team and the company's cloud. 
DevOps team
This team's major objective is to ensure a perfect user experience. DevOps team also tests new versions, manages the cloud infrastructure, and assures that a product goes to the market.
QA team
In charge of quality assurance, the QA team tests the application/ product for bugs and errors. They report findings to the developers for stable and efficient performance. 
Chief Operating Officer (COO) 
The COO makes sure the startup team's day-to-day operations run smoothly. A large part of the employees performing their job responsibilities well is due to the supervision of the COO. They are therefore credited for reaching company targets.  
The COO also manages teams that contribute to daily operations, such as the following:

Legal Team
The legal team makes sure the startup operates within the law. They handle issues like tax planning, intellectual property, and litigation. 
Human Resources Team (HR)
The HR team hires, develops, and retains employees. They are a backbone of the startup, as their efforts ensure workers develop together to drive the company forward. 
Chief Financial Officer (CFO)
The CFO is in charge of all financial transactions, including the sales team . Whoever holds this position must be a knowledgeable businessperson as they will ensure that revenue and sales growth targets are met.  
Sales Team
The sales team formulates plans for lead generation, closing deals, and customer relations. They pay attention to customer pain points and adjust the sales process accordingly. 
Chief Marketing Officer (CMO)
Going further than the sales team, the CMO concentrates on the clients and how they receive the product. The CMO is a professional with excellent marketing and promotional skills, and maintains ties between the customer and startup team. 
Marketing Team
The marketing team promotes the startup and creates the image of the entire business. They are in charge of promotional content, running campaigns, and collaborating with the media. 
How to assemble your startup team 
There are generally three ways to grow your startup team.
In-house hiring
Hiring people yourself is a classic option. It grants the startup full direct control of the employees and easier on-location management. You get consistency and a team that you can always rely on.
However, this is the most expensive option among the three. Not just financially, as it also demands a lot of resources and time. 
This option, in particular, needs a very skilled HR team. They will need to hire multiple people in a short amount of time, figure out a clear onboarding system, and integrate people properly. 
Strong leadership at your startup team is needed to make this work.  
Partial outsourcing
This option is a very popular one among startups. It combines an in-house employee base with select outsourced roles. 
Partial outsourcing allows you to save money on development because a third party is in charge of hiring workers for the tasks you choose.
Usually, the startup team only needs to provide technical specifications and requirements. The third-party outsourcing group handles everything else, including project management. 
Startup teams may also combine their in-house group with remote developers. The startup team will look for a staffing organization to fill full-time roles with remote employees.    
Complete outsourcing
With a complete outsourcing model, the startup team gets a dedicated development team working from a completely different location. 
Startups save a significant amount of money (which can then be used to grow the business) by hiring a team to perform all tasks. 
A startup team must cultivate a good relationship with a third-party outsourcing business. The hired employees will be identical to an in-house team, except they are usually based abroad. 
The international aspect of this model allows for wider access to expertise and a quicker start to operations. 
Whichever outsourcing model you choose to grow, it's best to find an accomplished BPO to partner with, like Booth and Partners.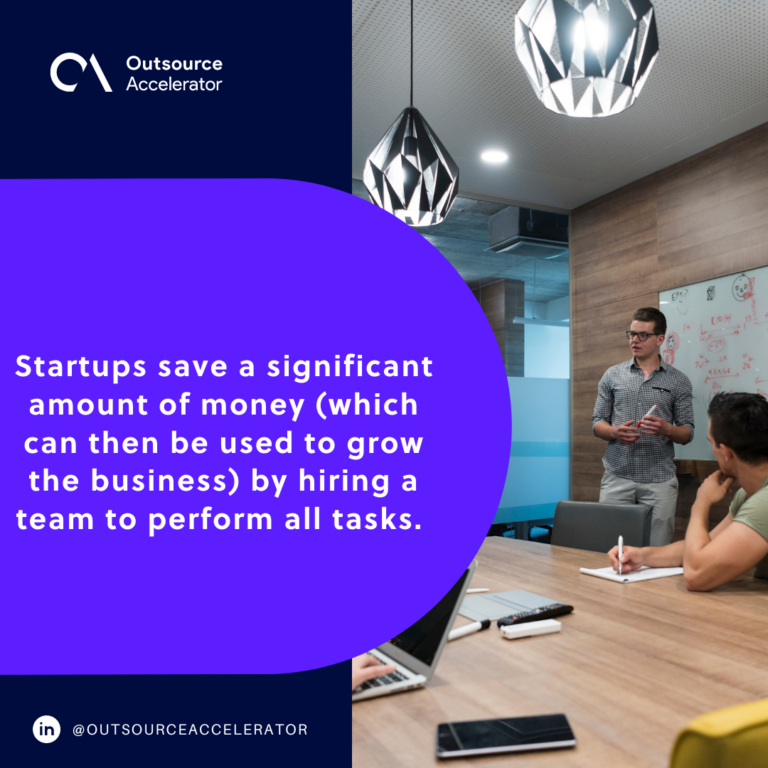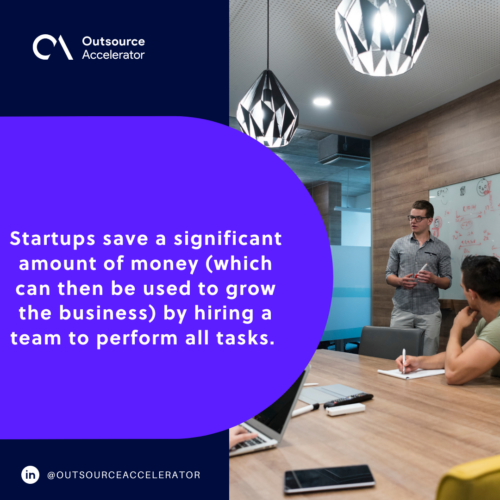 Wrapping up the basics of startup team structure 
Whatever method you choose, remember to keep your company's culture in mind. Hire only when you need to, and only as many employees as you need. 
As a startup, you may not be able to offer many monetary fees yet, so instead, provide great terms and conditions, like the freedom of remote work. 
Finally, search for potential in your hires, and not just experience. 
References
[1] Quick implementation. MacMillan, J., Entin, E. E. and Serfaty, D. (2002) 'From Team Structure to Team Performance: A Framework', Proceedings of the Human Factors and Ergonomics Society Annual Meeting, 46(3), pp. 408–412. doi: 10.1177/154193120204600341.
[2] The motivator for all the employees.   Nauman, S. et al. (2022) 'Servant Leadership and Project Success: Unleashing the Missing Links of Work Engagement, Project Work Withdrawal, and Project Identification', Project Management Journal, 53(3), pp. 257–276. doi: 10.1177/87569728221087161.