Top 20 business consulting firms in South Africa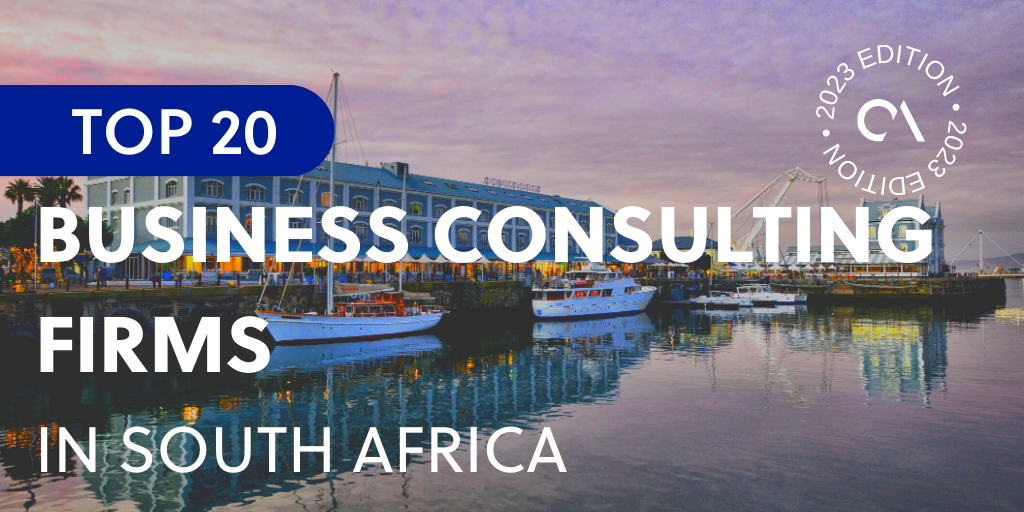 When executives need expert advice outside themselves, they seek business consultants who bring fresh or different perspectives. Business consulting firms in South Africa are comprised of experienced professionals who assist organizations in various ways. 
These companies offer different business solutions tailored to an organization's specific needs. Business consultants can help with the leadership team, assess and solve problems, and improve the process and efficiency of a business.
List of 20 business consulting firms in South Africa 
Considerations when choosing a business consulting firm
The right consulting firm can bring tremendous value. But with the number of business consulting firms in South Africa, how do you ensure you partner with the most suitable one?
Consider these factors before making a call: 
Industry expertise
Most consulting firms are industry-specific. Some focus on IT, finance, and outsourcing, while others target the healthcare, education, and trade sectors. 
Choose a consulting firm with years of experience helping businesses like yours because they will likely have better insights.
Areas of specialization
Your choice should also depend on your specific needs and goals. If your business needs help in Internet security and data privacy, you should find a top IT consulting firm. 
If you want to expand your company in another country, look for a consultant specializing in outsourcing and shared services. 
Price
This is undoubtedly an important consideration before choosing a business consultant. Compare the prices and select the firm that provides the best solutions at a fair price.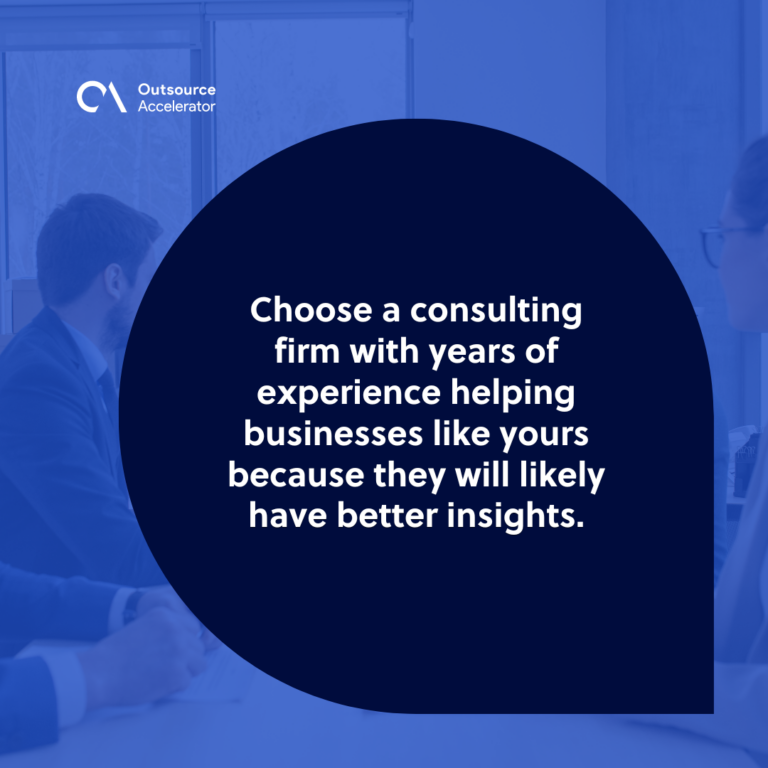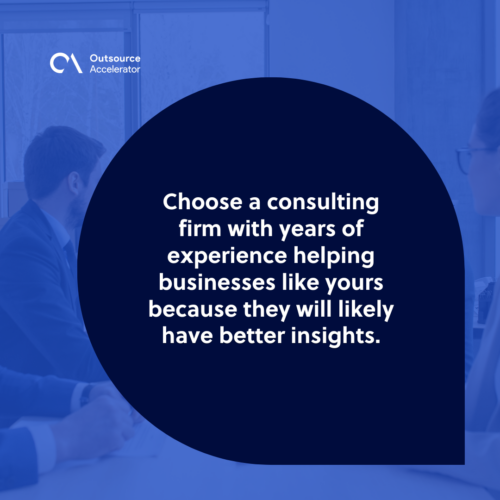 Top global outsourcing lists
Outsource Accelerator is the world's leading outsourcing marketplace and advisory. We list over 3,000 BPO firms located across the globe in our global directory, and we provide detailed information, price guides, and reviews.
Whether you're a solopreneur, SME owner, or a corporate executive, we can help you find the most suitable outsourcing provider for your business.
Explore our outsourcing directory now. You may also check out our Top business consulting list here:
Top 20 business consulting firms in South Africa
Location: Johannesburg

Industries: Telecom, media and technology, industrial goods and mining, oil and gas, financial services, consumer goods and retail, and private equity
Bain & Company is one of the leading consulting firms not only in South Africa but also across the world. To date, it has worked on over 350 projects and helped develop more than 60 regional organizations.
Location: Johannesburg

Industries: Aerospace and defense, automotive, consumer products, education, energy, financial institutions, healthcare, and more
Boston Consulting Group is a leading consulting firm specializing in various business solutions. 
Together with the business leaders, they find the best strategy in corporate management, sales and marketing, pricing and revenue strategies, and risk management, among many others.
Location: Johannesburg

Industries: Agriculture, automotive, oil and gas, life science, education, healthcare
The business consulting company started its operations in South Africa in 1995. Since then, it has supported top organizations in shaping the right strategies and strengthening operations. 
Some of the areas of specialization of McKinsey & Company include banking, food and beverage, government, and pharma and life sciences.
Locations: Cape Town, Johannesburg, Durban,

Industries: Automotive, energy and chemicals, banking and securities, life sciences, infrastructure, telecom
Deloitte provides consulting services on marketing, partnerships and alliances, business strategies, core business operations, and more. It also offers audit and assurance, risk advisory, financial advisory, and legal services. 
Delloite is the leading consulting firm in the area of thought leadership. It specializes in arts and culture, construction, defense, aerospace, hospitality, and travel.
Location: Bloemfontein, Johannesburg, Cape Town, Durban North, Port Elizabeth, Stellenbosch

Industries: Consumer, manufacturing, financial services, health science, government, private equity, technology
Ernst & Young, or EY, is a multinational consulting firm in 150 countries worldwide. It aims to build a better working world in partnership with like-minded organizations and leaders.
Enabled by the latest technology, the company creates long-term impact for businesses across sectors. It offers consultancy on customer experience, cybersecurity, supply chain and operations, and more.
Locations: Johannesburg, Cape Town, Durban, Gaborone, Port Elizabeth

Industries: Corporate Finance, Consumer and Retail, Healthcare and Life Science, Government and Public Sector, Technology, and more
Established in 1985, KPMG became one of the most trusted consulting firms in South Africa. It is specifically known for its corporate finance services, including audit and tax advisory. 
KPMG extends its services to more than 100 countries worldwide, employing around 236,000 people.
Locations: Cape Town, Johannesburg

Industries: Aerospace, communications and media, life sciences, natural resources, software, retail, energy, insurance
Accenture is dedicated to creating 360-degree value for all its clients. It offers expert consultancy on finance, business strategy, and technology on top of its many other services. 
Present across 49 countries and more than 200 cities worldwide, the firm helps businesses deliver better value for their clients and stay ahead of their competition.
Location: Johannesburg

Industries: Energy, Technology, Financial Services and Insurance, Automotive, Healthcare, Retail
Mercer provides business consulting services to help organizations leverage their most valuable assets, their people. Its offices are spread out around 40 countries in the world.
For more than 75 years, Mercer has specialized in people strategy, risk management, and human capital.
Location: Johannesburg

Industries: Chemical, industrial goods and services, infrastructure, media, mining, private equity, public sector, technology, telecommunications 
A.T. Kearney is the top choice of companies in the chemical, manufacturing, and industries. The consulting firm was established in 1926. It has partnered with hundreds of C-suites, nonprofit organization leaders, and government bodies for nearly a century. 
The firm can advise and assist in mergers and acquisitions, analytics, procurements, leadership, changes, and organization. 
Location: Johannesburg

Industries: Public and private sectors, healthcare, entertainment, media, telecommunications, transportation
Strategy& can help your business make corporate strategy, improve functions and units, and provide your clients with better value. This global business is present in Africa, the Americas, Asia, and Europe.
Location: Marblehall

Industries: Business services
Small to medium businesses in South Africa choose The Business Sniper to grow revenue and achieve their goals. It is a trusted consulting firm that provides more than just insights but also assistance executing different business strategies.
The consulting firm is dedicated to finding the most suitable solutions to complex and challenging environments in the workplace. It's focused on helping organizations compete against bigger brands in the market.
Location: Johannesburg

Industries: E-commerce, automotive, consumer products and services
Since its establishment in 2017, Mut-Con has been committed to serving clients with its seasoned consultants. Its team provides insights and advice on business planning, funding, digital marketing, financial management, and analytics.
The firm uses a data-centric approach to identifying and solving specific issues. It empowers leaders by equipping them with the knowledge to run their organizations better.
Location: Cape Town, Johannesburg

Industries: Advertising and marketing, business services, consumer products and services
HANGAR49 offers professional sales consulting to boost clients' sales performance and improve lead generation using the most sophisticated tools. The firm started in 2016 and uses marketing technology to help leaders put their businesses to the next level.
Location: Cape Town

Industries: Business services, education, consumer products and services
Need to impress customers with compelling video ads? Speak to Idreate creative consultants. This company is an expert in transforming ideas into effective video marketing strategies. 
Idreate develops business solutions through insight-based marketing and advanced idea-generation tools. It caters to midmarket and small businesses.
Location: Pretoria

Industries: Financial services, business services
Build2Grow was founded in 2018 to help leaders and entrepreneurs build highly profitable and sustainable businesses. The company provides business writing services, small business coaching, financial advisory, and business turnaround consulting.
Location: Kempton Park

Industries: Financial services, business services
INVEXPEDIA offers financial consulting, HR leadership, training and development, and business strategies. Their expert consultants provide industry insight on asset management, employee engagement, wealth management, and HR business partners.
The company uses its very own management consulting tool, which is called Strategy Enterprise Engineering. This holistic approach ensures organizational alignment and strategic positioning.
Location: Randburg

Industries: Business services, advertising and marketing
Level180 provides expert business consulting and coaching. It develops strategies, process design and improvement, and reporting frameworks to boost clients' operations and sales. 
It offers skills coaching and leadership coaching to assist executives and key leaders. It leverage on AI technology to create tailor-made and data-driven solutions.
Location: Sandton

Industries: Business services, financial services, education, technology and communication, social and public sector
Gestaldt Management Consultants does more than just provide business insights. Its team also ensures that clients will effectively adapt and institutionalize new management practices.
The firm has provided HR, strategy, financial, and IT consulting services for over two decades. These have empowered various organizations to face present and future challenges.
Location: Pretoria

Industries: All industries
JTB Consulting began its operation in 2006. Since then, it has mentored various professionals across all industries to craft business plans, perform market research, attract investors, and manage finances.
The company specializes in writing business proposals for start-up companies. It also caters to organizations planning to expand to another country with its immigration and visa plan service.
Location: Cape Town

Industries: Information Technology, Human Resources, and more
TalentAlign OD is a reliable business and HR consultancy firm founded in 2006. It works with executive management and HR in deciphering problems and implementing solutions. 
The firm partners with small to large companies in different sectors, offering human capital strategy consulting, organization development, agile processes and methodology, and more.