Top 30 business consulting firms in the Philippines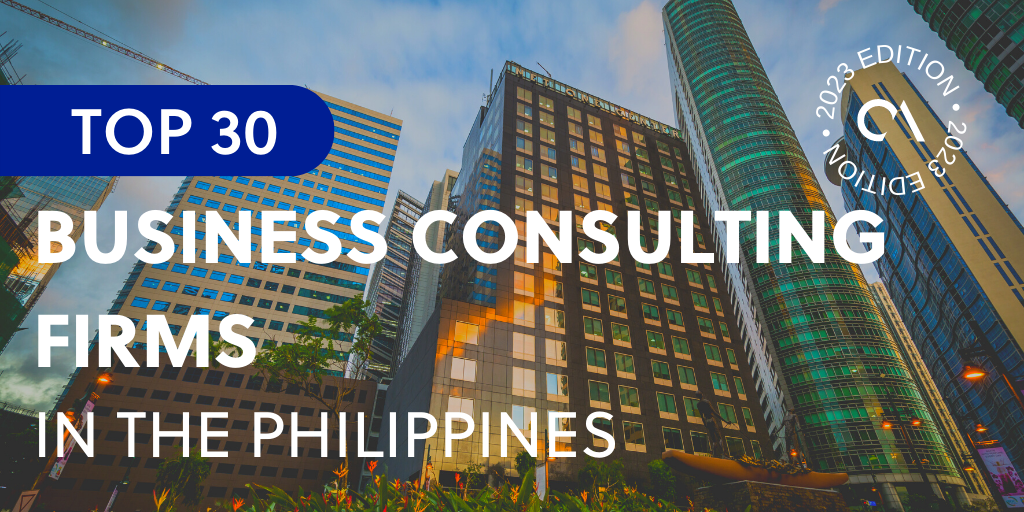 Today's dynamic organizational landscape paved the way for the rapid growth of business consulting in the Philippines. This only suggests that professionals seek guidance to achieve long-term business success.
According to the 2017 Annual Survey of Philippine Business and Industry (ASPBI), the management consulting industry provided thousands of job opportunities with the highest annual average pay.
In this article, we've listed down today's top 30 business consulting firms in the Philippines. Find out how this industry continues to thrive not only globally but also in the domestic market scene.
List of 30 business consulting firms in the Philippines
The state of business consulting in the Philippines
Business consulting, or management consulting, is a fast-growing industry worldwide. The industry continues to provide thousands of jobs and help many businesses to succeed.
There is a rapid demand for business consultants in the Philippines to help organizations keep up with the ever-changing global business landscape.
What services do business consulting firms offer?
As the name suggests, a business consulting firm offers actionable solutions to help you grow your business.
Management consulting covers various industries, including healthcare, technology, financial services, engineering, and human resource.
From strategic decision-making to outsourcing, business consulting firms offer various services. These management consulting services are divided into three categories: Strategy, Operations, and Human Resources.
Here's a brief overview of services under each category:
Strategy Consulting:

Corporate, Business Model Transformation, Organizational, Functional, Digital, Mergers & Acquisitions, and Economic Policy

Operations Consulting:

Sales & Marketing, Finance, Inventory & Procurement, Supply Chain, Research & Development, and Outsourcing

HR Consulting:

Learning and Development, Talent Management, Compensation & Benefits, and Human Capital Strategy
Top global outsourcing lists
Outsource Accelerator is the world's outsourcing marketplace and advisory. We list over 3,000 BPO firms located across the globe in our global directory, and we provide detailed information, price guides, and reviews.

Whether you're a solopreneur, SME owner, or corporate executive, we can help you find the most suitable outsourcing provider for your business.

Explore our outsourcing directory now. You may also check out our Top business consulting firms lists per country here:
Top 30 business consulting firms in the Philippines
Below is a diverse roster of top management consulting firms in the Philippines.
Founded in 2016, Outsource Accelerator is the world's number-one trusted provider of global outsourcing services. Since then, the organization has been helping businesses manage offshore teams.
Outsource Accelerator caters to industry sectors such as real estate, finance, hospitality, legal, healthcare, transportation, telecommunications, travel, and more. 
Most of their clients are startups and business owners of small-to-medium-sized companies.
Accenture Philippines ranks second to Outsource Accelerator in terms of providing top-notch management consulting services. Meanwhile, the IT consulting firm ranked number one on LinkedIn's 2023 list of top 15 companies to work for in the Philippines.
For more than 30 years, Accenture Philippines has served over 800 clients worldwide and hired more than 72,000 employees. 
Their services mainly focus on technology innovation, supply chain management, finance consulting, business process outsourcing, and automation.
KPMG is one of the fastest-growing professional services firms in the Asia-Pacific region, with 236,000 employees across 144 countries.
In the Philippines, KPMG is known for providing quality global financial services consulting. They work closely with their clients to mitigate risks while helping them grow their business.
Founded in 1999, McKinsey & Company has provided digital solutions for big business firms and top corporations in the Philippines.
Together with industry experts, McKinsey & Company bring their global expertise to accelerate digital transformation across all business sectors. These include telecommunications, technology, infrastructure, finance, and consumer goods.
As one of the pioneer digital marketing agencies in the country, Truelogic Online Solutions Inc. has helped thousands of clients gain a competitive advantage in the global market.
Since its founding in 2009, it has provided a wide range of services focusing on digital content marketing, SEO, and web development.
Founded in 2014, GoTeam Philippines is an Australian-Filipino-owned company that helps business owners find top talents through outsourced offshoring.
The BPO firm specializes in empowering its clients' goals to help their businesses succeed. From attracting competitive talents to onboarding, GoTeam Philippines creates a custom-fit plan to ensure high-performing teams.
Appen prides itself as the global leader in data for the Artificial Intelligence (AI) lifecycle. It was founded in 1996 and has been present in 170 countries.
In the Philippines, Appen is among the top consulting firms in today's fast-evolving technology landscape. Their primary services include data sourcing, model development, and project management.
With more than 10,500 employees in 150 countries, LexisNexis Legal & Professional is a leading data and analytics company. They combine legal and business information with technology and analytics.
LexisNexis Legal & Professional is a division of RELX with LexisNexis Risk Solutions, Elsevier, and Reed Exhibitions.
Starting in 2013, Outgive Inc is an E-commerce and digital marketing company with over 450 employees. 
They specialize in helping brands and businesses level up their content development and digital marketing efforts to succeed.
Outgive clients consist of logistics or shipping companies and digital marketing agencies.
Willis Towers Watson (WTW) helps organizations optimize their business performance through data-driven solutions. Their services mainly focus on employee engagement, cyber risk management, ESG and sustainability, and more.
WTW has been ranked among the best employers in the Philippines, according to the latest 2023 survey of Statistia and Philippine Daily Inquirer.
Founded in 1995, TDCX  has been providing business outsourcing processing services to different industries across Manila and Cebu, Philippines.  TDCX serves clients in fintech, gaming, digital advertising, E-commerce, travel, and more. 
With 24/7 customer engagement hubs, the outsourcing firm specializes in customer experience lifecycle. Their services include sales performance management, technology and automation design, sales execution planning, rep support, and customer service strategy.
Operating since 2012, Divergence HR Consulting Group Philippines Inc. is a one-stop-shop Human Resource Management and Organizational Development solution provider. They cater to over 75 enterprises in Clark, Davao, Cebu, and other areas.
Aside from startups and SMEs, their clients include prominent corporations in the Philippines, including Asia Brewery, San Miguel Corp., and Philips Semiconductor.
Developed in 2018, Athena is a consulting and outsourcing firm that aims to build professional partnerships with entrepreneurs and business executives.
The firm works closely with clients to connect them with the best executive assistants (EAs). Their services mainly focus on task management, delegation, and remote work.
Founded in 2007, ClearSource is a leading BPO company that provides top-notch customer service outsourcing services with clients in fintech, retail, health and wellness, finance, and consumer electronics industry.
ClearSource operates in the USA, Salt Lake City in Utah, and Pasig City in Metro Manila, Philippines.
With more than 30,000 employees, BCG is a global consulting firm and pioneer in business strategy. The firm works closely with clients from the 500 largest corporations to help them grow and drive sustainability.
Founded in 1963, BCG has been providing data-driven business solutions through management consulting, corporate strategy, technology, and design.
The TMF Group provides legal, financial, and employee administration in 120 offices across 85 jurisdictions. This management consulting firm in the Philippines consists of highly experienced tax, payroll, HR, and legal specialists.
TMF Group's clients include over 60% of the Fortune Global 500 and half the top 300 private equity firms worldwide. Their management consulting services cater to real estate investors, financial institutions, and asset managers.
Operating in 40 countries and 65 cities worldwide, Bain & Company recently opened their office in the Philippines in 2022. Their Manila office operates in conjunction with the firm's other Southeast Asian locations, such as Bangkok, Jakarta, Singapore, and Kuala Lumpur.
Bain & Company has more than 14,000 employees globally and serves over 60% of the Fortune 500. The firm has nearly three decades of serving key business sectors such as retail, real estate, communications, and financial services.
Founded in 1996, ADEC Innovations is a data-driven business processing outsourcing firm that delivers consulting, data management, and software solutions.
ADEC Innovations implements sustainable corporate strategies to streamline operational efficiencies. ADEC Innovations currently has global offices across North America, Africa, and Asia, with an office based in Alabang, Muntinlupa, Philippines.
BSI has been a leading business improvement partner for startups and local companies in 193 countries worldwide for decades.
BSI is a global leader providing consultancy services to help organizations improve and achieve sustainable growth. Their services mainly focus on building business competence and driving cost-efficiency.
Founded in 1935, Gallup is a global analytics and advice firm with over 2,000 professionals in 30 offices worldwide.
With a mission to help organizations solve their pressing problems, Gallup offers management consulting services focusing on employee engagement, organizational effectiveness, and survey research solutions.
Based in Manila, FTI Consulting Philippines, Inc. is a global business advisory firm with diverse clients across the globe. The firm caters to financial institutions, investors, family-owned corporations, and government-owned institutions.
FTI Consulting Philippines, Inc. gained accreditation from the Philippine Securities and Exchange Commission (SEC) as a Professional Services Organisation. Their services include project finance advisory, valuation, and financial model preparation.
With 8,000 employees in 66 countries worldwide, LHH has extended its global business consulting expertise to the Philippines.
LHH is an end-to-end Talent Solutions brand that helps organizations gain a competitive advantage. They primarily cater to finance and accounting leaders needing professional guidance in workforce transformation, coaching, leadership development, and skill building.
For more than 15 years, InTouchCX has provided customer, technical, and back-office support in the Asia Pacific region.
In the Philippines, InTouchCX specializes in voice customer service and has an edge over its counterparts in North America. 
InTouchCX offers various languages to deliver digital and traditional customer care solutions for different brands.
Founded in 2015, the Nomura Research Institute (NRI) Singapore has an office in Manila, Philippines since 1997.
NRI comprises well-versed consultants specializing in market research, human resources management, IT solutions, and operation reform consulting. They provide management consulting services to  Japanese and non-Japanese companies in ASEAN countries.
Serving more than 250 clients across various industries, RCG Global Services is a global provider of Data Analytics and Business Applications such as software testing and agile development.
RCG Global Services has an offshore delivery center in the Philippines. They offer digital solutions and cloud-based applications for retail, healthcare, entertainment, hospitality, and financial services companies.
Having more than 20 years of experience across 80 countries, MSX International provides a wide range of digital solutions beyond traditional contact center services.
In the Philippines, MSX International comprises 23 industry experts in sales, project management, technical and non-technical training, and business management.
MSX International provides professional guidance to enhance sales performance and customer experience, from initial engagement to after-sales advice.
With global data-driven expertise, Atkins is a world-leading design, engineering, and project-management consultancy.
Atkins uses cutting-edge technology to help their clients achieve sustainable project transformation. The industries they serve range from healthcare and civil infrastructure to housing and resilience. 
Operating in 95 countries, QIMA is a leading global quality control service provider catering to more than 17,000 brands, retailers, and manufacturers.
QIMA combines its world-class expertise to bring quality inspections, supplier audits, lab testing, and certification. The firm has 4,000 employees committed to bringing quality compliance data solutions.
Virtuoso Creatives is a creative process outsourcing (CPO) company in the Philippines. They focus primarily on offshoring design, content, or digital marketing to a specialist outsourcing company.
Consisting of a team of digital marketing professionals, Virtuoso Creatives is committed to bringing exceptional creative and design solutions.
Trusted by the world's leading brands, aCommerce is Southeast Asia's largest end-to-end omnichannel enabler and software solutions provider. Some of its established clients include Samsung, Microsoft, and Nestle.
aCommerce provides managed services to scale online businesses through digital brand management, performance marketing solutions, and store development.
Business consulting as a growing industry in the Philippines 
With the emergence of high-end technological advancements, businesses must adapt to change quickly. 
The business consulting industry in the Philippines has a good potential to thrive and flourish. This, in turn, will contribute to the country's overall economic growth.