How workspace design can improve productivity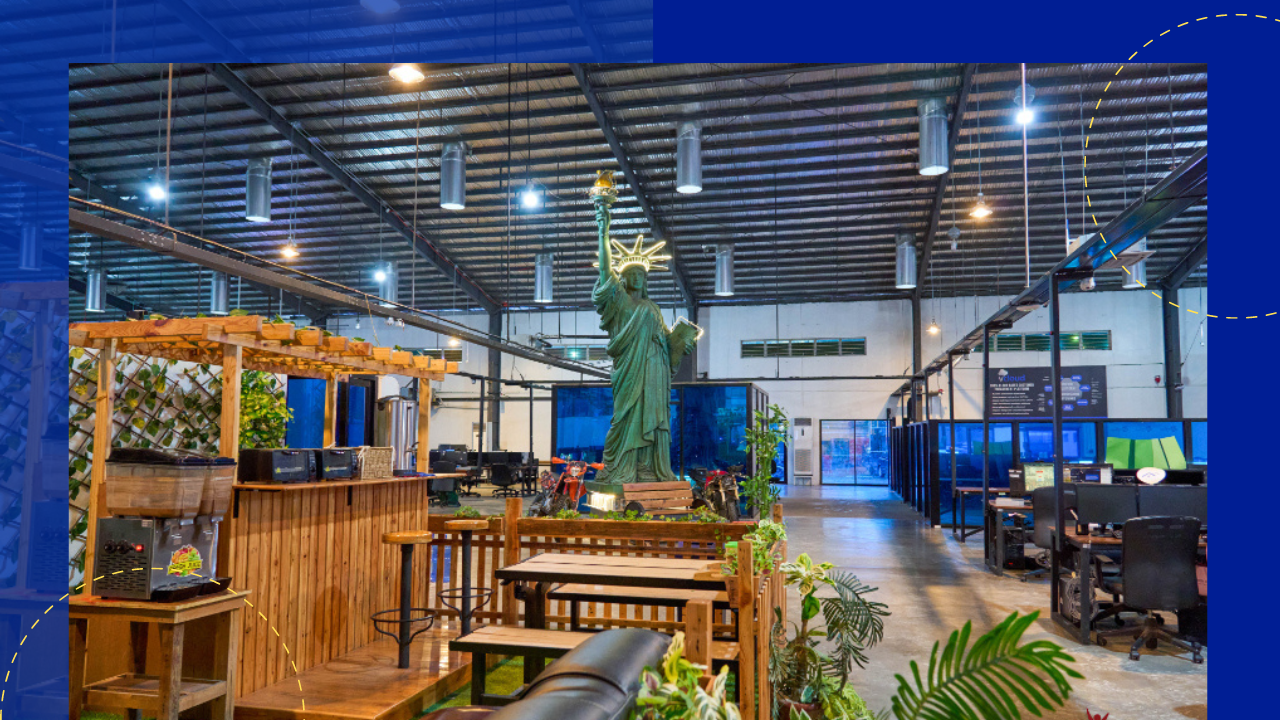 This article is a submission by Clark Staff. Clark Staff is an American-owned remote staffing company that has successfully operated since 2003.
Humans require an environment that is conducive to our well-being. Let's put that context into perspective in a working environment, imagine working in a space that is loud, cramped, uncomfortable, and unsafe, would that help you focus and finish tasks? The answer to that is an unequivocal "NO". 
Let's be clear: The process of improving productivity transcends beyond providing a quiet space or a comfortable chair. It's about creating a workspace design that is a synthesis of intelligent design, technology, and the psychology of color. They should be all geared towards enhancing mental well-being and fostering an environment of creativity and collaboration.
There's a saying, "Form follows function." And in the case of workspace design, this couldn't be more true. An intelligently designed workspace is not just aesthetically pleasing, but also functional, comfortable, and conducive to productivity.
According to the World Health Organization (WHO), working in a positive environment is beneficial for mental health, but a negative working environment can lead to physical and mental health problems. This underscores the importance of a positive workspace that considers the diverse needs of the workforce.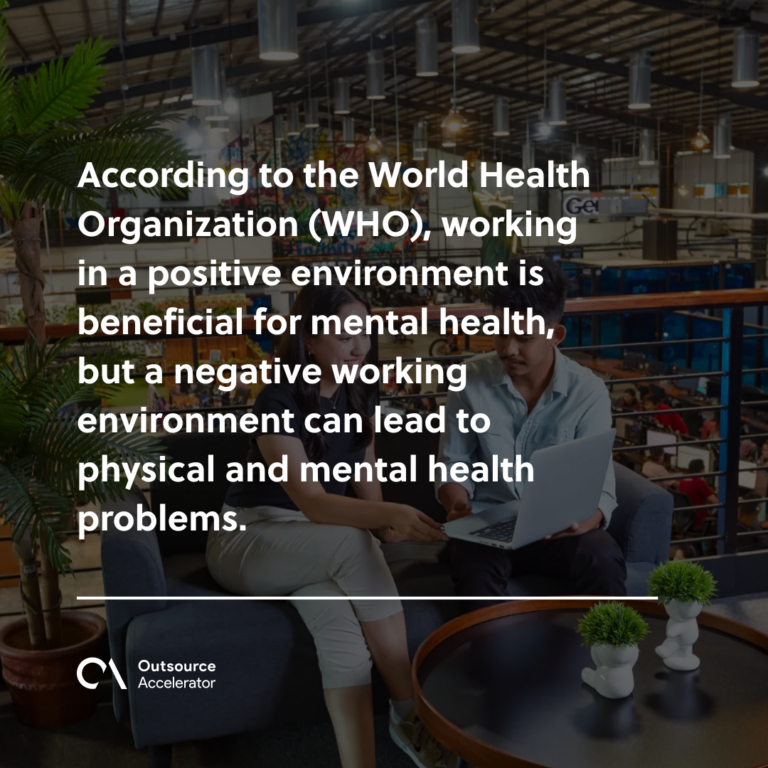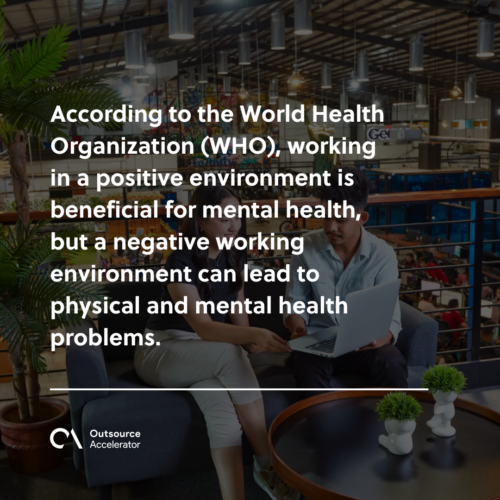 How workspace design can improve productivity
Intelligent design in the workspace
Intelligent design in the context of workspace goes beyond aesthetics; it's about creating an environment that aligns with the work habits, health, and well-being of employees.
This design philosophy is rooted in functionality, ergonomics, and the overall impact on the people who use the space. It includes considerations such as ergonomic furniture that supports posture and reduces strain, sit-stand desks to promote movement, and the strategic placement of computer screens to reduce eye strain.
The layout of the workspace also plays a key role in intelligent design. The goal is to strike a balance between promoting easy communication and collaboration, and providing secluded spots for focused, individual work.
Acoustics is a critical component of this, with design choices being made to minimize noise disruptions, perhaps through sound-absorbing materials or the strategic placement of quiet zones and collaboration areas.
Lastly, lighting and aesthetic elements like furniture choice, plants, and artwork also come into play.
Natural light is optimal for boosting mood and productivity, but where this isn't possible, adjustable, high-quality artificial lighting is crucial. The inclusion of communal tables for team meetings, couches for informal discussions, and visually pleasing elements can enhance the overall workspace experience, leading to increased productivity and satisfaction.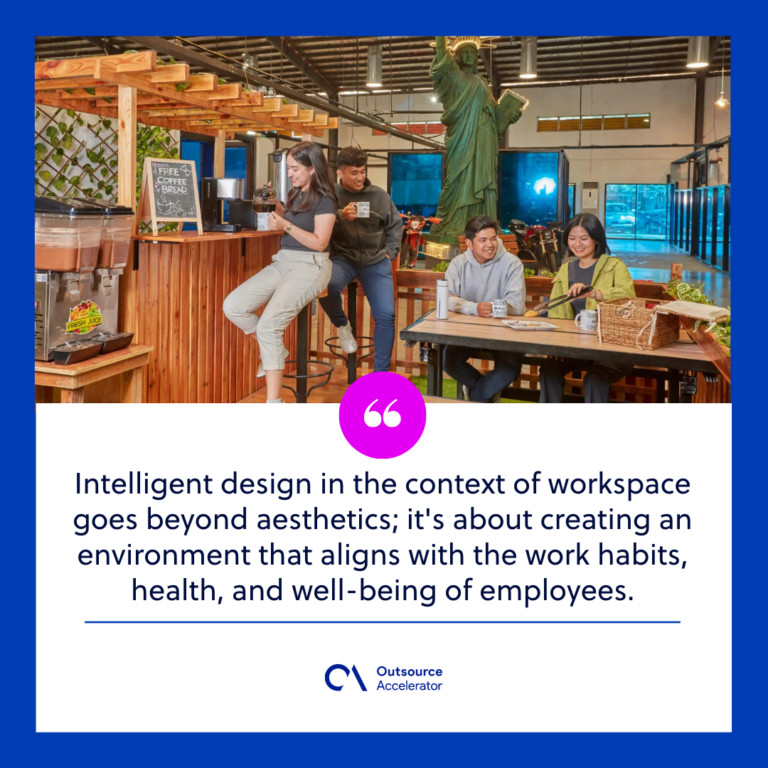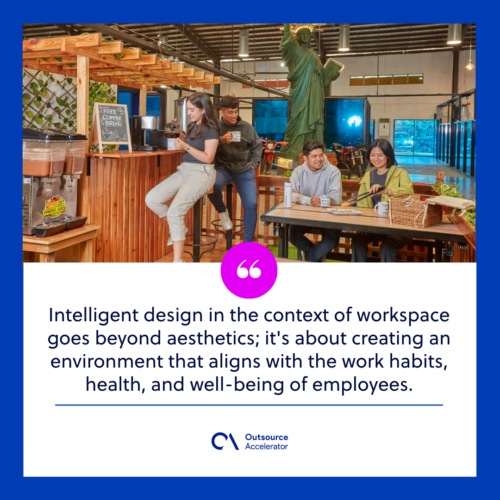 Workspace design: Keep your employees' needs, styles, and preferences in mind
Designing a workspace with the employees in mind is about understanding their needs, their work styles, and their preferences.
Some employees may thrive in an open-plan office, while others may prefer private workspaces. Some may need a quiet environment to focus, while others may be energized by a lively, buzzing atmosphere.
It's about providing a variety of spaces to cater to the diverse needs of the workforce.
Incorporating elements such as sit-stand desks, comfortable seating, private meeting rooms, communal areas, and even green spaces can greatly enhance the productivity of employees.
Further, taking into account the feedback and suggestions of the employees can lead to a workspace that truly reflects their needs and preferences.
Incorporate technology for productivity
The role of technology in workspace design cannot be overstated. It's not just about having the latest gadgets and high-speed internet; it's about integrating technology in a way that enhances productivity and makes work easier.
This could be as simple as having enough power outlets and charging stations, to more complex solutions like smart lighting that adjusts according to the time of day, or interactive whiteboards for collaborative brainstorming sessions.
Incorporating technology also means considering digital workspaces. As remote and hybrid work models become more prevalent, it's important to provide employees with the digital tools they need to collaborate and communicate effectively.
This could include cloud-based software, project management tools, or video conferencing technology.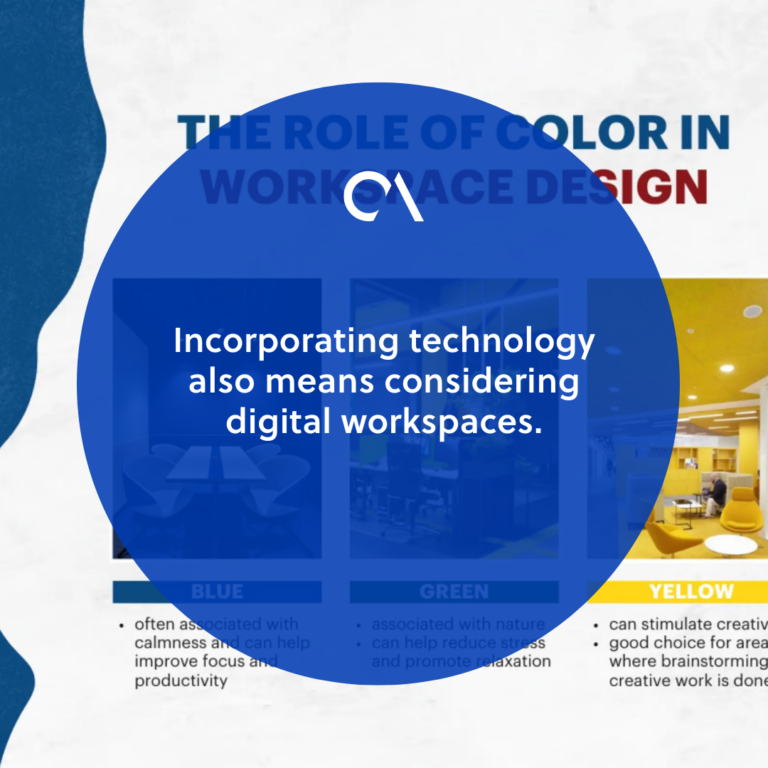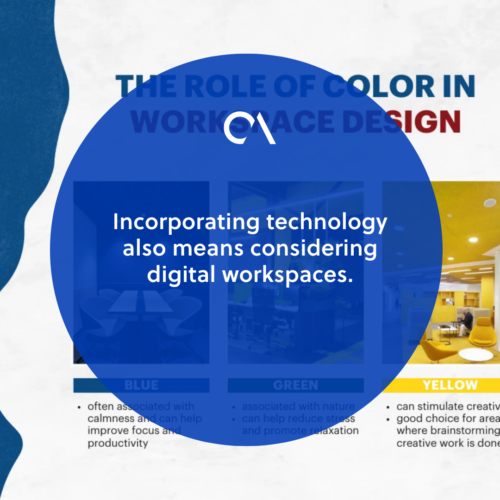 The role of color in workspace design
Color plays a significant role in our mood and energy levels. Different colors can evoke different psychological responses, which can affect productivity.
For instance, blue is often associated with calmness and can help improve focus and productivity.
Green is associated with nature and can help reduce stress and promote relaxation.
Yellow can stimulate creativity, making it a good choice for areas where brainstorming or creative work is done.
Choosing the right mix of colors for your workspace design can contribute to creating an environment that promotes different types of work, from focused tasks to creative brainstorming. It's not just about the color of the walls; it can also involve choosing the right colors for furniture, decor, and even stationery.
Including these elements in workspace design can further enhance productivity, create a more comfortable environment, and contribute to overall employee satisfaction.
Workspace design 101
Ultimately, workspace design plays a crucial role in shaping productivity, employee satisfaction, and overall business success.
It's not just about aesthetics or having the latest technology; it's about creating an environment that understands and caters to the diverse needs of the workforce.
The intelligent design of a workspace involves thoughtful consideration of ergonomics, spatial layout, acoustics, lighting, and aesthetic elements. It's about striking a balance between promoting easy communication and collaboration while also providing spaces for focused, individual work.
Understanding the psychology of color can significantly contribute to creating an environment that promotes various types of work, from focused tasks to creative brainstorming.
The right mix of colors can help create a comfortable environment that enhances productivity and contributes to overall employee satisfaction.
In the end, the goal is to create a workspace that not only looks good but feels good to work in. A workspace that's a testament to the phrase "Form follows function," where every element is designed with the employee in mind.
Workspace design might be invisible to the eye, but its effects on productivity and satisfaction are unmistakable.