Work models: Which one is best for your organization?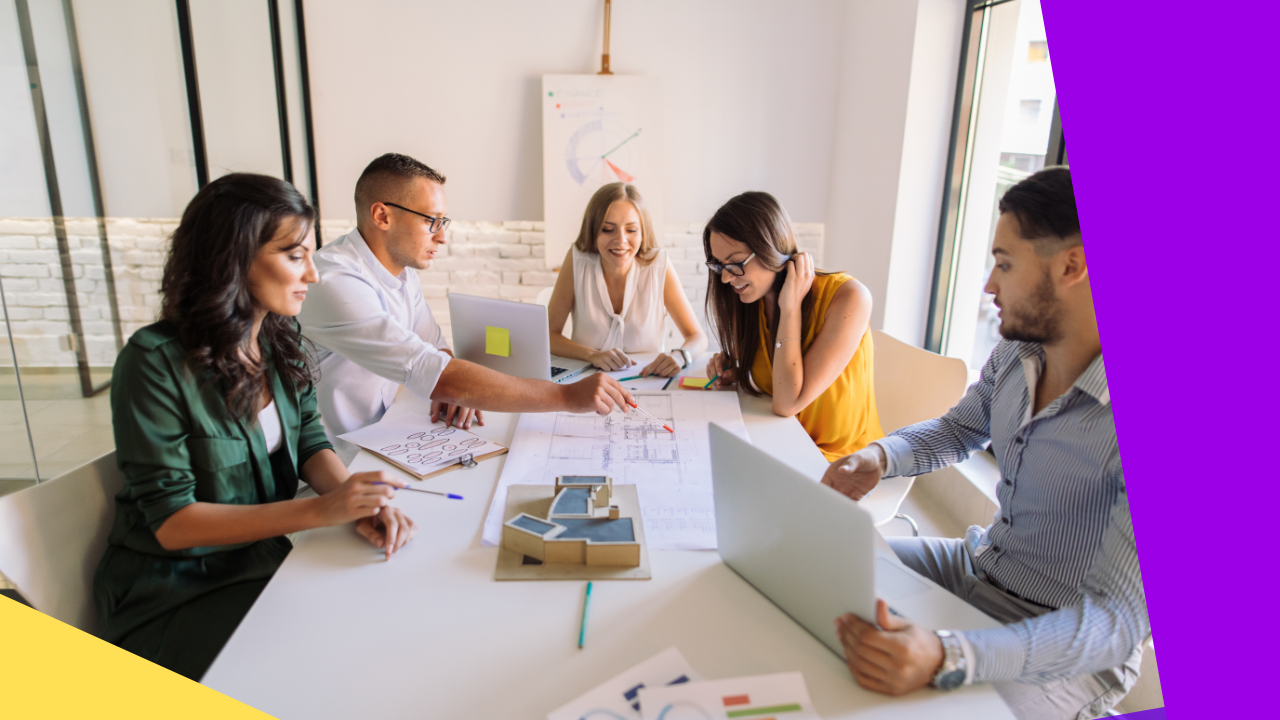 When we talk about work models, the workforce can't really use one straight solution as it is not a black-and-white matter anymore. This is true especially now that the pandemic forced us to fundamentally change the way we live and work.
So, how do we find out what will truly take shape our working needs? In this article, we're going to discuss types of work models. Let's see and evaluate what models are there that are the best fitting for your organization.
What are work models?
Work models set the working arrangement of a particular business or organization. It determines how the entire workforce is going to function daily. 
Several organizations have their own work models. Some have been experimenting with one work model alone, while some use two or more to test their effectiveness.
Since the COVID-19 pandemic, a lot of employers have rolled out new guidelines for WFH or work-from-home arrangements.  Others opted to implement both WFH and on-site working depending on the nature of the work of the employees.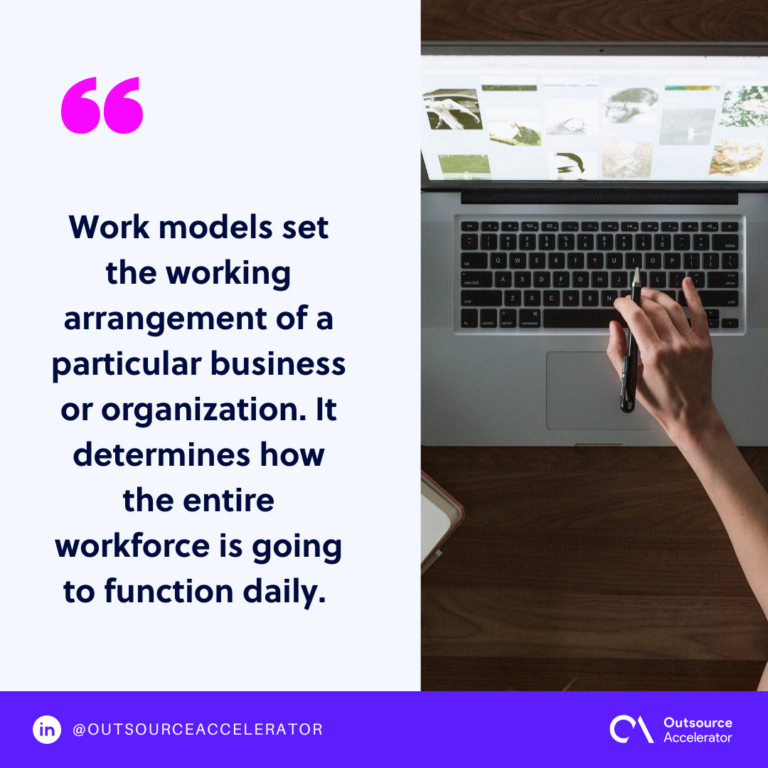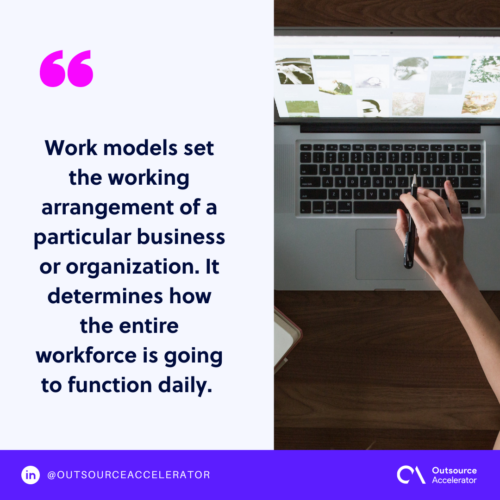 Types of work models
To know more about the different types of work models, we listed down the meanings and benefits of each below:
Remote work
In a remote work model, employees have the freedom to work anywhere they can. It could be at a cafe, a public library, or at the comforts of their own home.
If ever they want to work while traveling, they can do so as long as they have a strong internet connection. 
The remote work model works best for freelancers and project-based employees. As long as they can finish work efficiently and within their respective deadlines, working remotely can be a good arrangement as it offers flexibility for employees. 
It also eliminates the hassles of day-to-day commute and traffic. Employees are less stressed and they can use their extra energy and time into work instead. By working remotely, employees also reduce the risks of contracting COVID-19.
When companies opt for a fully remote work, they wouldn't have to spend any major chunk of their revenue to host a physical office. They don't need to spend on electricity and Wi-Fi, either. 
Instead, they can focus on engaging their employees in a virtual workspace. Time tracking software and online productivity tools can enable managers to regulate their remote team effectively. 
Working on-site
In this work model, employees are expected to come to the office and log certain hours from a dedicated workspace.
Working on-site or from the office encourages solidarity and teamwork. There's something so personal and comforting when colleagues can physically talk and work together in one place. It's much easier to communicate where teams can make on-the-spot decisions.
A healthy working environment nourishes the team's collaborative traits. It keeps members on the same page and promotes a strong company culture. 
Apart from the warm presence that officemates offer, an equipped office where employees have access to all kinds of resources also increases their productivity.
Hybrid work
A hybrid work model is a combination of working remotely and working on-site. A lot of organizations have recently identified hybrid work as the most used model during a pandemic.
It works when employers allow teams to work wherever they choose depending on the projects they're working on. 
For example, marketing teams whose work can be submitted online can work remotely. While sales teams whose majority of work involves contacting clients may need to come to the office. 
The hybrid model sparks employees' collaboration while also teaching them to function independently from home. This work model aims to provide healthier and more balanced personal and professional lives for employees.
This kind of work model flexibility enhances employee productivity and overall organizational performance. 
Distributed work
Distributed work is usually confused with hybrid work. While hybrid deals with working remotely and on-site, distributed work is fundamentally a company-level construct. It involves coordinating work across different geographical locations. 
Each of the work models—remote, on-site, and hybrid, can encompass distributed work. 
If you have a specific team that links working from home, working on-site, and those that are working hybrid, employers can get updated and monitor their productivity wherever they are.
Co-located teams who work together from two or more offices across the globe are distributed.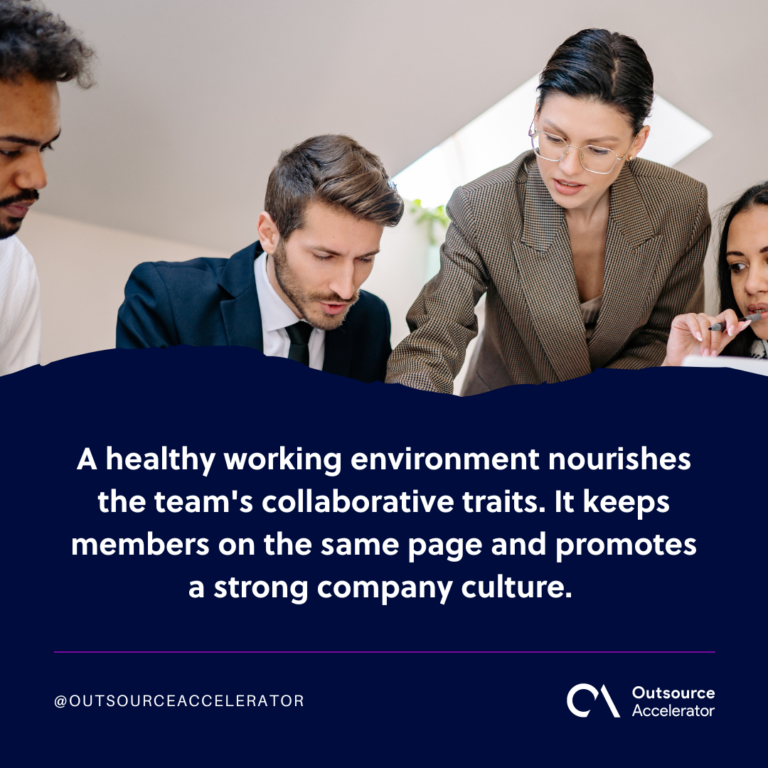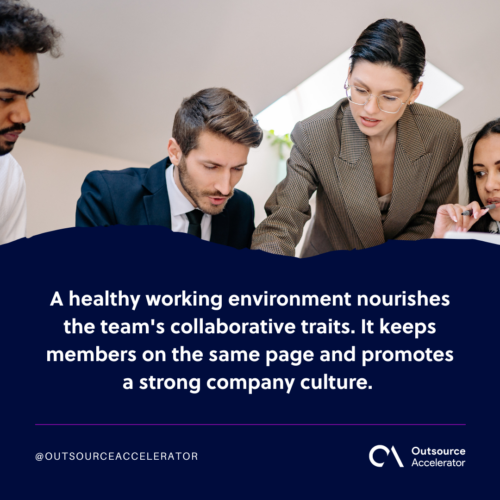 Which work model is best for your business?
Despite an unanticipated shift in our working arrangement, many organizations have discovered ways and new models to be implemented to effectively operate.
All work models offer both opportunities and challenges. If you can successfully discern and navigate their benefits to your organization, then you will likely enjoy a competitive edge. 
Upon deciding on work models transition, you have to consider the workload of your employees, their headcount, health and safety protocols, and of course, their productivity.
BPO firms like Staffwiz, for example, collaborate strategically with businesses all over the world to build specialized service work models that boost labor and processing productivity, boost employee engagement, stabilize work outcomes, and reduce risks.
With the right model and right productivity tools, you can successfully achieve your business goals wherever your teams are.