Everything you need to know about workflow management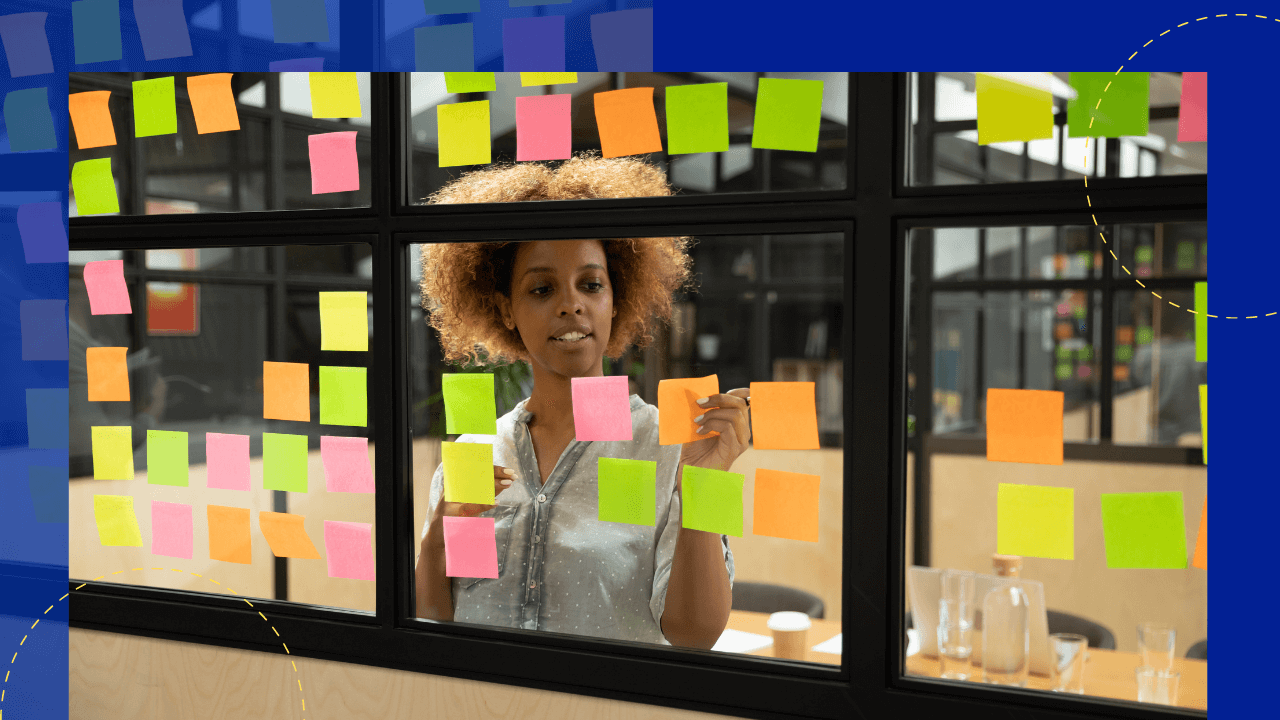 Essentially, any kind of business needs a workflow of tasks and processes that are crucial in keeping their day-to-day operations. And in today's fast-paced and competitive business environment, having proper workflows offers a lot of advantages to an organization. 
With that, workflow management is a vital ingredient that makes a business's workflow and operations more efficient and effective. 
In this article, we'll look at the concept of workflow management and why it is essential for your business.  
What does workflow management mean?
A workflow is a series of tasks that must be accomplished in a certain sequence to reach the desired objective or output. It may also include the people involved in each task. 
Then, the process of optimizing workflows is what defines workflow management. It involves coordinating, documenting, tracking, monitoring, and enhancing the "workflow" to achieve a particular goal or outcome.
IMARC Group's latest report reveals that the market of global workflow management system reached a  value of US$ 9.1 billion in 2021. 
This number is projected to increase to US$ 11.3 billion by 2027, with a compound annual growth rate (CAGR) of 3.13% during 2022-2027.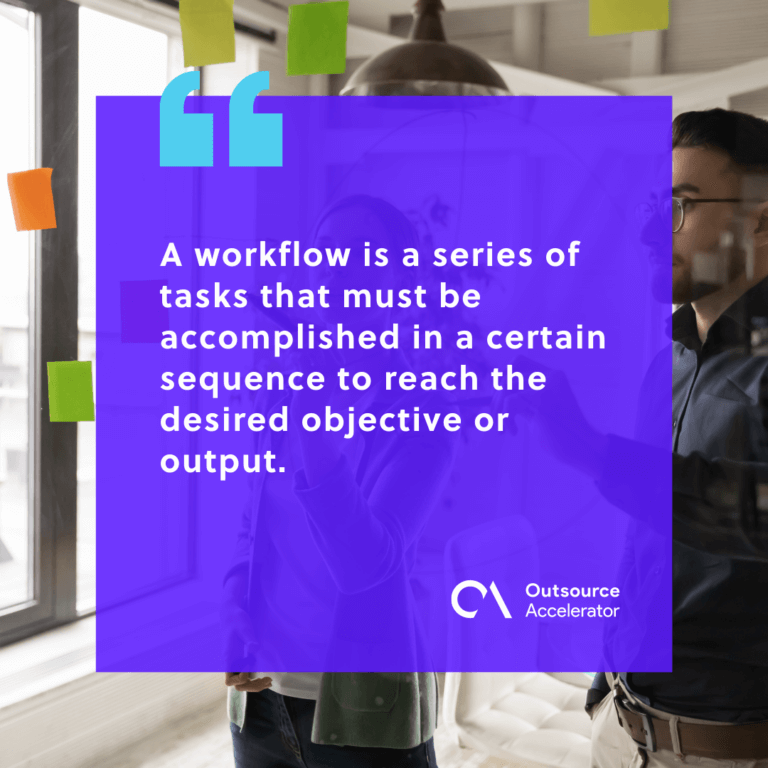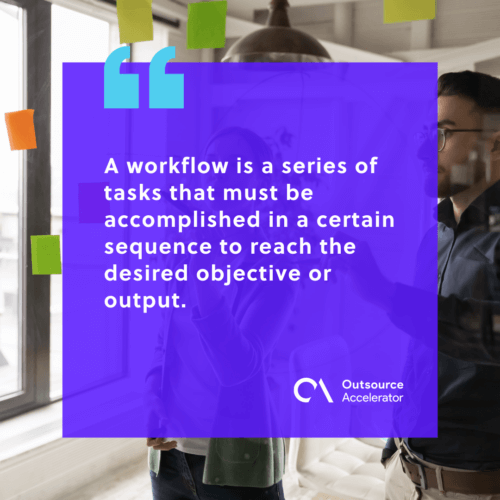 Workflow management categories
There are two categories of workflow management:
Sequential workflow

– the series of activities that must be done in a linear path.

The tasks are done in succession or one after the other.

Parallel workflow

– a series of steps that are done simultaneously or in a concurrent way. 
Workflow management systems
Organizations are usually aided with a workflow management system or software that helps automate data processing and workflow execution. 
The idea of workflow management systems is to identify and reduce redundant errors quickly and produce a better outcome aligned with a set of goals. 
There are various software programs for workflow management in the market, and the best ones offer prebuilt workflows and various functionalities that allow customization and system integration.
What are the key components of a workflow?
There are three main components related to workflow, and an understanding of these is key to effective workflow management. In most cases, a particular task often involves a combination of these three components.
Input
Typically, input is the initial component of any workflow phase. It represents the information and resources needed to accomplish a task. 
An example of a workflow input is the sales order form or billing invoice for a sales workflow. 
Transformation
A transformation in the workflow means the set of actions that are performed to get the "inputs" to advance into their next state. As such, the development occurs in the outcome of a certain project. 
Transformation involves the things that need to be done, how to do a certain task, and who handles it.
Output
The output is the result of the combination of input and transformation. Output is what is considered the accomplishment or the deliverables of a workflow process. 
Workflow management vs. business process management vs. project management
Workflow management, project management, and business process management (BPM) are often used interchangeably. However, it's important to note the distinction between these terms.
Business process management (BPM) is a broad discipline that refers to the overall structure and standardized processes in any organization. In a nutshell, BPM is concerned solely with the coordination of all information, processes, tasks, systems, and people working to produce an outcome. 
On the other hand, project management means the handling of specific business deliverables aligned with a business goal. It involves the combination of "knowledge, tools, skills, and processes" to achieve a particular project. 
Ultimately, workflow management, project management, and Business Process Management (BMP) are designed that deal with processes and results that requires a manner of transparency and efficiency. 
Although these three concepts have distinct functions, three of them share the same goals geared toward the business goals and objectives.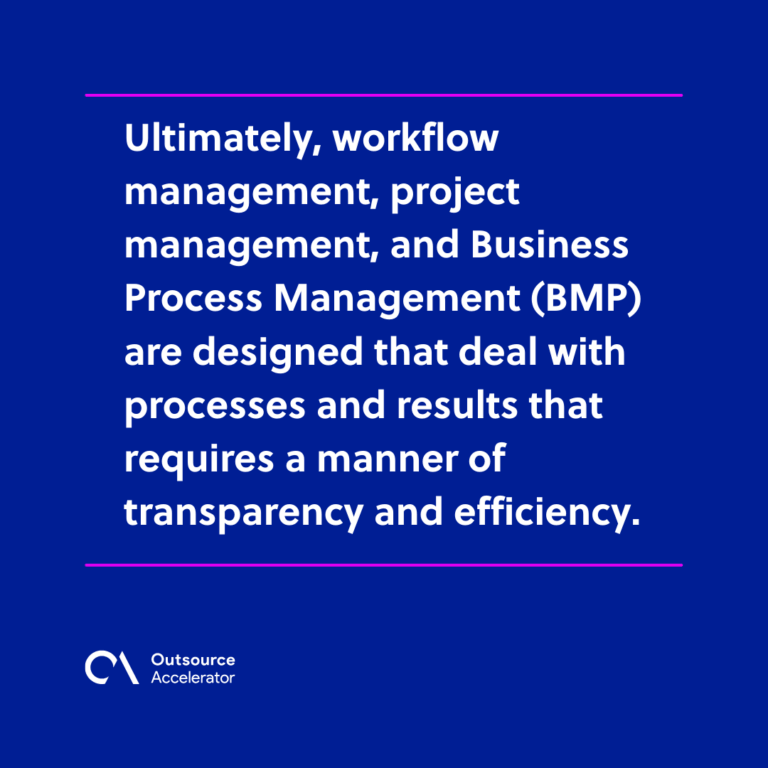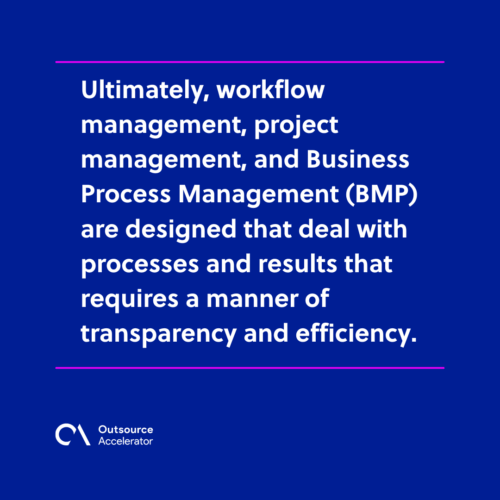 Why is workflow management important for business? 
Research shows that almost 90% of employees experienced burden due to boring and repetitive tasks. This can result to lower employee productivity, which highly affects the business. 
Today, many organizations recognize the importance of workflow management as it can be beneficial and relevant to business goals. 
Workflow management streamlines the business processes and automates recurring tasks. With this, teams can mitigate or possibly avoid errors and focus on strategic activities.
For team leaders or managers, workflow management offers an opportunity to gain insights into how the internal processes work. This insight tells how the task is executed at a given time and can identify or locate the weaker points in these processes. 
On top of that, workflow encourages and enhances team collaboration. Communication is essential for workflow; thus, workflow management enables employees to interact to complete a certain project.
If your business aims for consistent growth, a strong workflow management solution will play a pivotal role in ensuring business continuity.