How BPM automation helps your business run more efficiently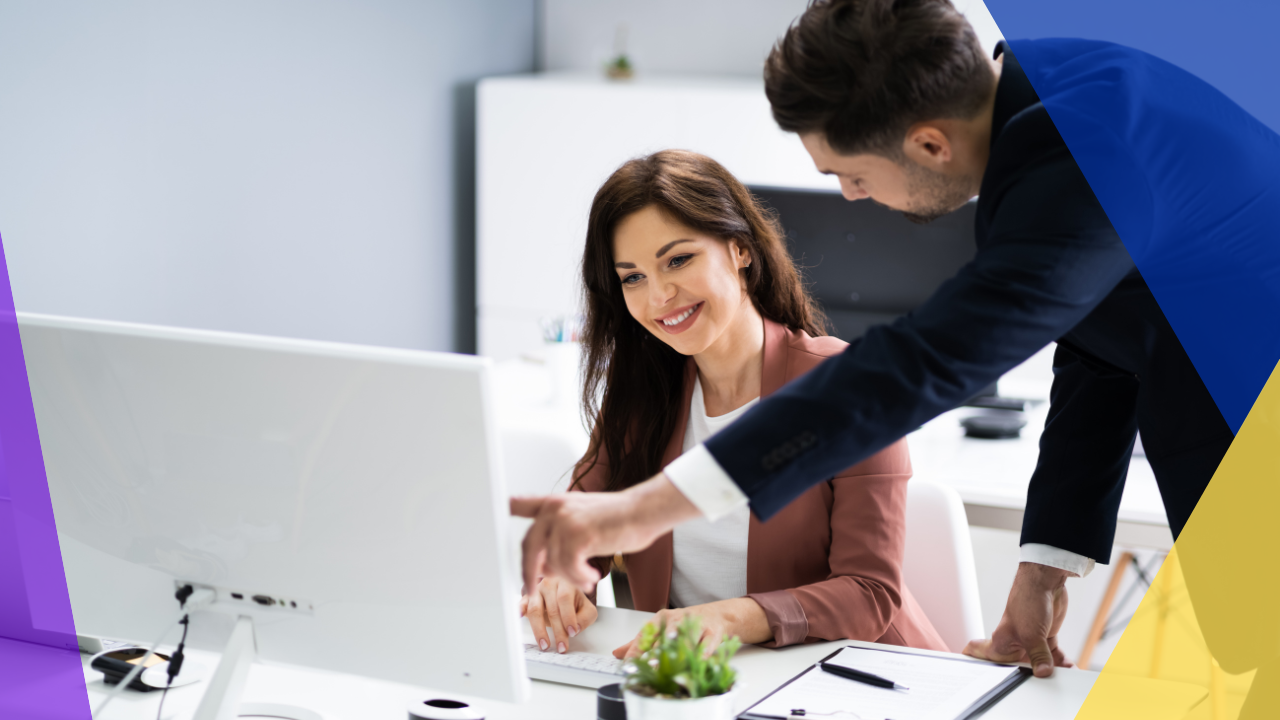 Many companies waste precious time completing mundane and repetitive tasks.
Though vital for the uninterrupted operation of businesses, these tasks often take up a large portion of their employees' time – time better spent on more critical aspects of their jobs.
The inefficiency caused by these tedious tasks necessitated the innovation of processes that will reduce, if not eliminate, the number of these time-consuming functions.
This innovation is what we now call business process management or BPM automation.
What is BPM automation?
From the term itself, BPM automation means automating a given business process to make it more efficient.
By using technological innovations, tasks and processes previously executed manually are transformed into digitized and more streamlined operations.
Through BPM automation, employees are able to save as much as 10 to 50 percent of the time previously spent doing unautomated activities.
In short, BPM automation makes business processes more efficient by eliminating process redundancies and using software solutions where applicable.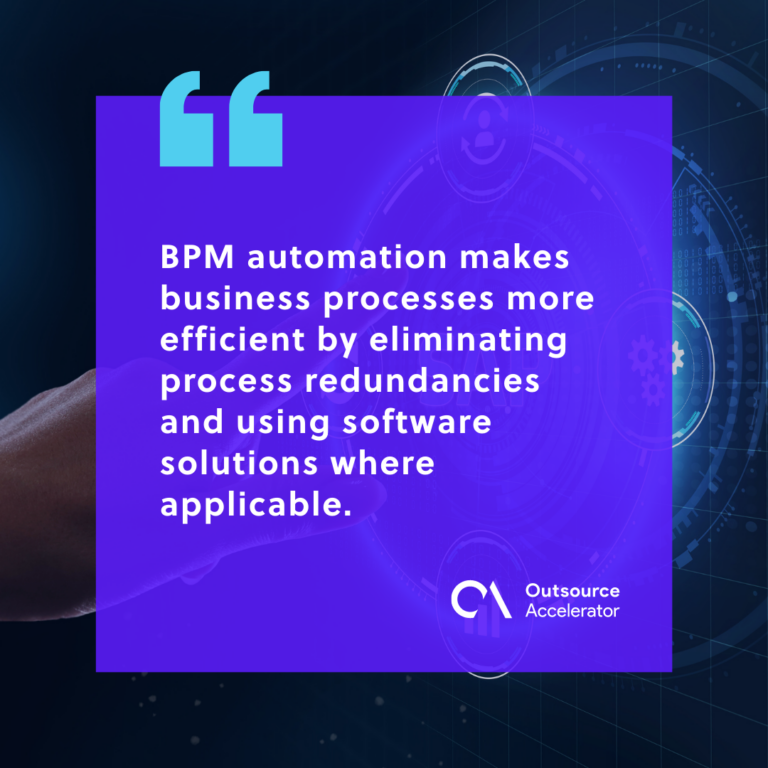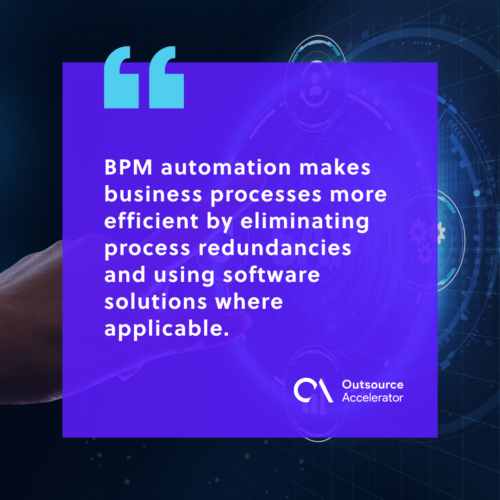 An example of BPM automation is automated employee onboarding.
Once hired, the employee can fill up digitized forms instead of paper copies. Using digitized copies instead of paper copies is more efficient since these can be accessed and filled out by the new hire, even on a mobile device.
Once filled out and submitted, these digitized forms will be routed to the proper departments for filing.
An automated employee onboarding process eliminates the hefty paperwork that typically bogs down onboarding and hampers the new hire's efficiency.
BPM automation vs robotic process automation
Robotic process automation, or RPA, is another process automation somewhat similar to BPM automation.
Although both BPM automation and RPA aim to make business processes more efficient, their similarities diverge from there.
BPM automation takes a holistic approach to process automation, focusing on end-to-end processes rather than individual tasks.
In contrast, RPA focuses on only one task at a time.
This limitation is due to RPA's code and bot dependence. Each task automated using RPA technology requires its own set of coding scripts with all the rules and necessary information vetted by a subject matter expert (SME).
For example, bots can be programmed to automate log-ins, system data validation, or copy and paste data. However, each of these tasks requires separate coding.
Moreover, due to the holistic nature of BPM automation, it's possible to integrate RPA software into an existing BPM automation system.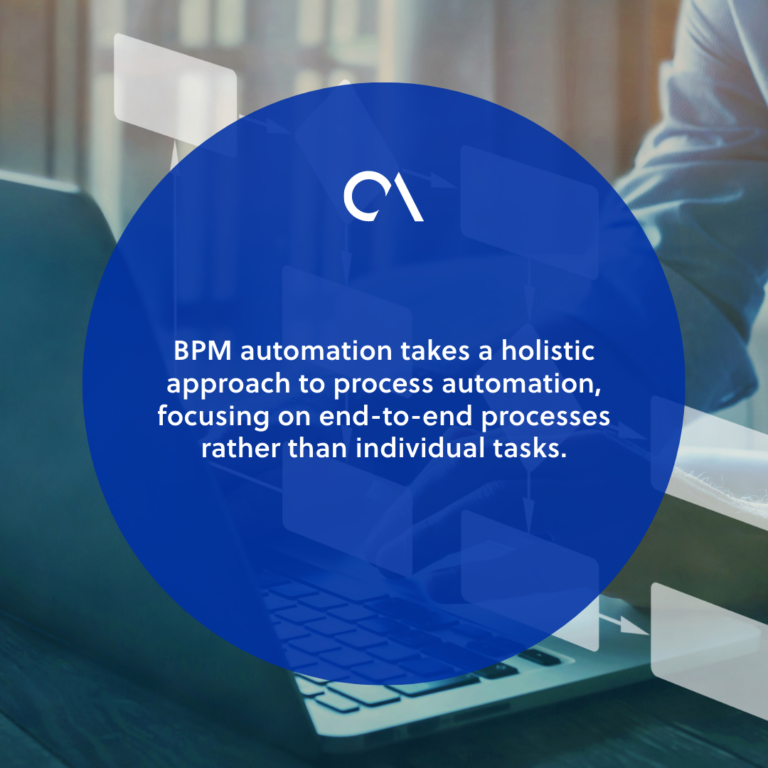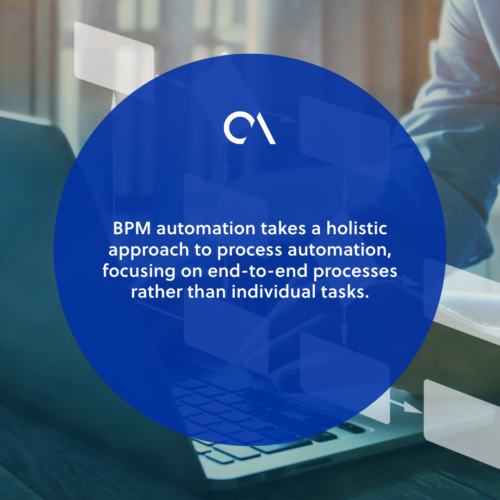 Benefits of BPM automation
Implementing BPM automation in any business workflow brings huge and tangible benefits, both in the short-term and the long run.
Below are just some of the upsides of BPM automation.
Increased productivity
Automation leads to a smoother and more efficient workflow, which leads to an improvement in productivity.
Streamlining processes with BPM automation reduces hiccups and eliminates bottlenecks, increasing the efficiency of both employees and the company as a whole.
Moreover, it also allows accurate tracking of entire processes to pinpoint bottlenecks and areas of improvement.
Error reduction
Automation limits human intervention in business processes.
Reducing human agency in repetitive back-office operations significantly reduces the chances of errors occurring because of fatigue or other human mishaps.
If errors do occur, these can be easily traced back to their source, and remedies can be devised to prevent the repetition of the same blunders.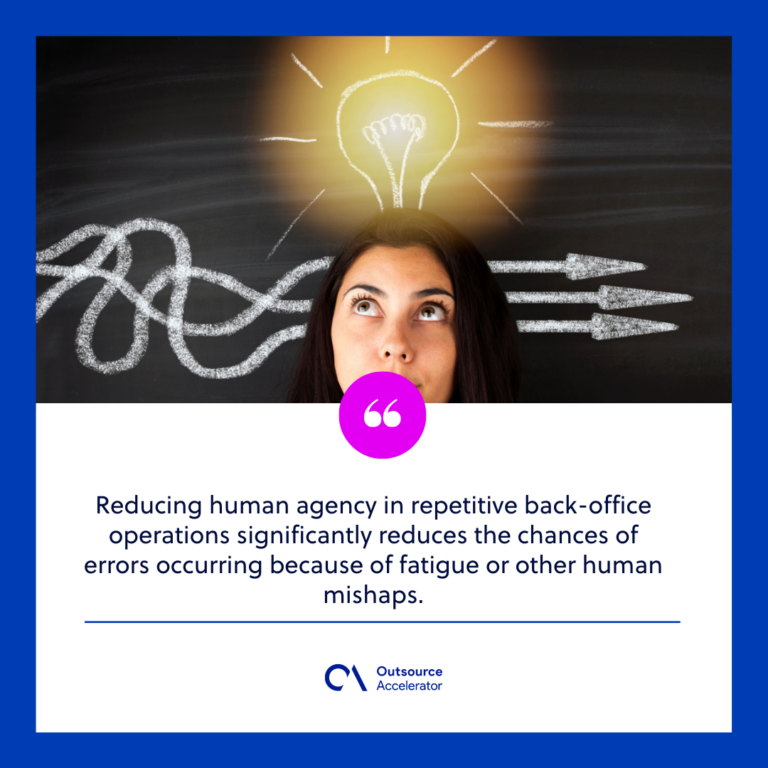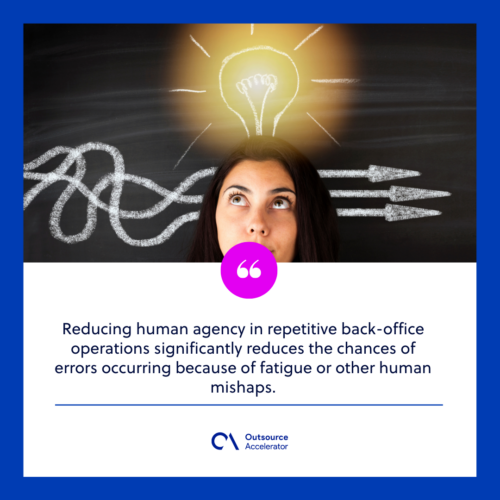 Improved organizational agility
Access to BPM automation tools makes companies more adaptable to changes in dynamic business environments.
Because BPM makes processes more easily understandable to employees, implementing changes to these processes and the hows and whys behind these also become more manageable.
With more efficient operations due to BPM automation, companies will also be more adaptable to internal and external factors that necessitate changing courses.
Eliminating micromanagement
Micromanagement arises from CEOs' or team leaders' need to have their employees or team members strictly adhere to established methods to minimize errors.
However, with BPM automation, standard protocols for all processes are documented properly, and the who does whats are delineated clearly.
The efficient task delegation and delineation, combined with the minimized need for human agency in processes, removes the need for micromanagement.
Data access management
BPM automation allows companies to control who has access to which data.
This quasi-limited data access mitigates the potential confusion caused by having access to too much information.
It also allows for faster processing as employees know precisely which data they'll be working with and which ones they could ignore.
Top 5 most powerful BPM automation tools of 2023
There is no shortage of BPM automation tools in the market. This abundance is a testament to the effectiveness and demand for these process management solutions.
One downside to this may be that the sheer number of choices may overwhelm businesses wanting to try these tools.
With this dilemma in mind, we've compiled a short list of the top BPM automation tools of the year to trim down the choices for business owners.
Take a look at our top choices below.
Kissflow is an affordable cloud-based BPM software suited for small and medium-sized businesses.
This automation tool enables the management of business processes involving multiple employees, as well as API integrations with external applications.
This automation platform can also be used by businesses for BPM purposes.
airSlate utilizes a no-code approach while still allowing companies to create and automate workflows with its drag-and-drop Flow Creator feature.
This enterprise-grade BPM software used by team leaders and managers alike enables task creation, routing, time tracking, and sending email notifications, among others.
FlowWright is popular among managers due to its capability to provide insights into the statuses of projects, identify bottlenecks, and assess their team's productivity.
ClickUp is more than just a process management software – it also allows project managers to plan and organize activities with its powerful collaboration tools.
This tool's customizable features lets teams of all sizes do every step of a business process without changing platforms.
Monday.com is a cloud-based Work OS that allows project and process management, as well as day-to-day operations.
Using Monday, managers can create customizable workflow templates, track time until deadlines, and integrate with other well-known business applications, among others.