Take control of your workflows: Top 10 workflow mapping tools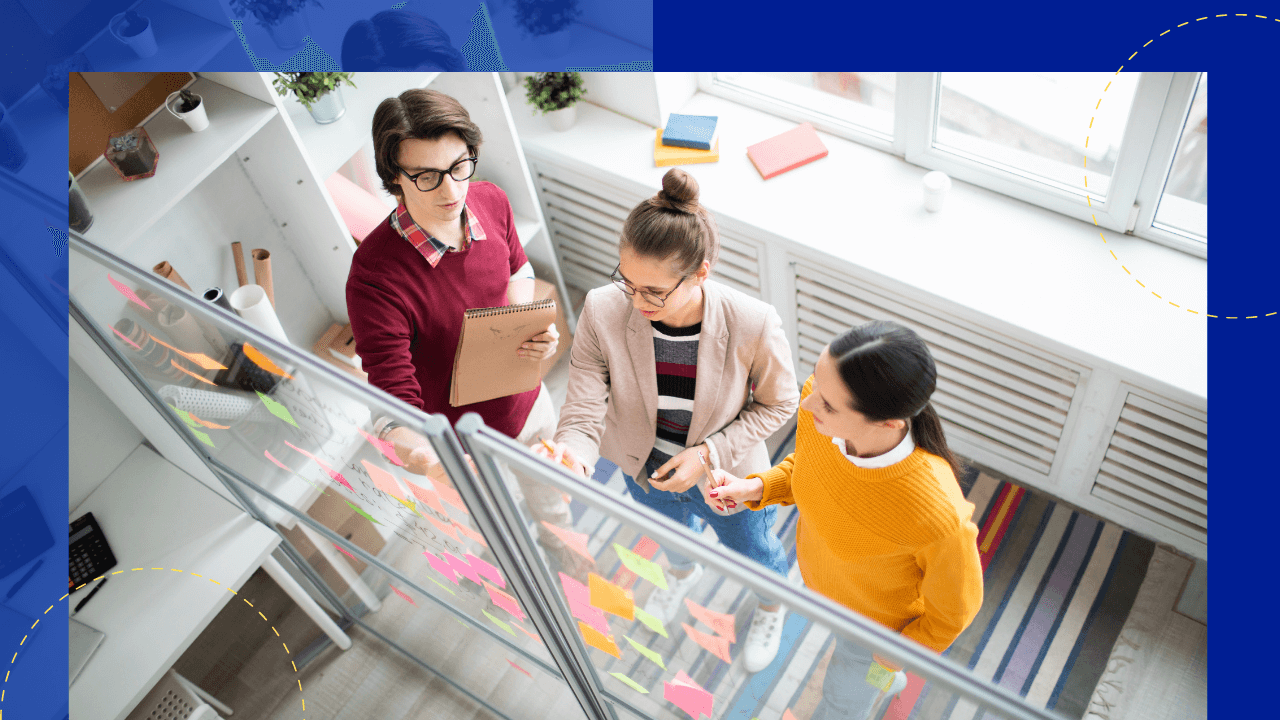 Every business encompasses a series of workflow tasks and processes to keep its daily operations up and running. These workflows are meticulously crafted and are closely managed by organizations, while other businesses follow a more organic method.
In this article, we'll touch on the importance of workflow mapping — how it can give a better understanding of how data evolves throughout your organization and how it impacts your decision-making.
We'll also give you a rundown of the top 10 workflow mapping tools you can utilize for your workflow procedures.
Workflow mapping definition
Workflow or process mapping is one approach that organizations use to illustrate the cycle of a specific process. It is composed of symbols or shapes that give a visual representation of the steps and actions taken in the entire workflow.
A workflow refers to the sequence of processes involving data inputs. These records of data will lead to follow-up actions, decisions, or data transformations.
Some of these processes are predictable and uncomplicated. Others have varied complexities depending on the data inputs or decisions.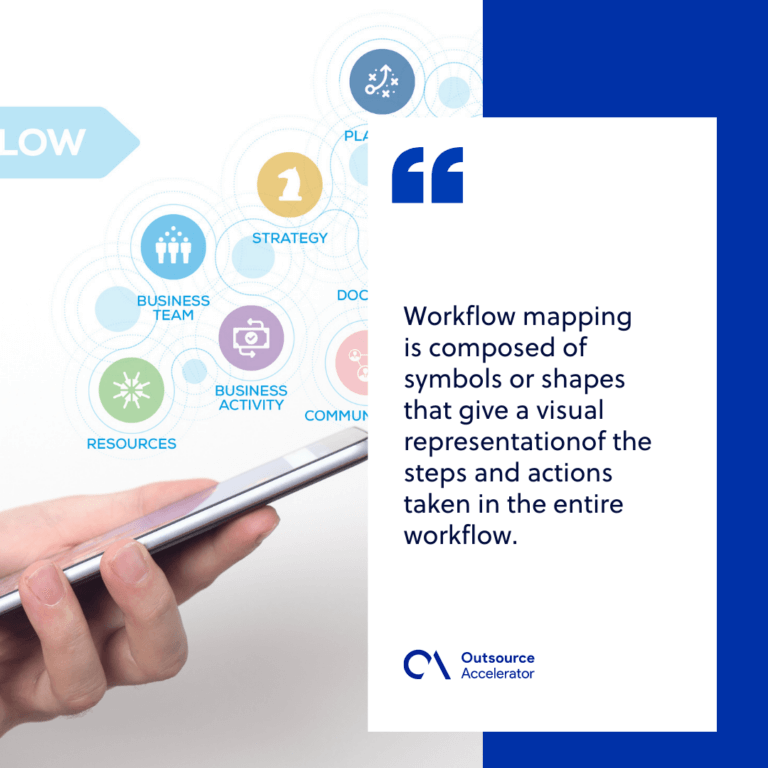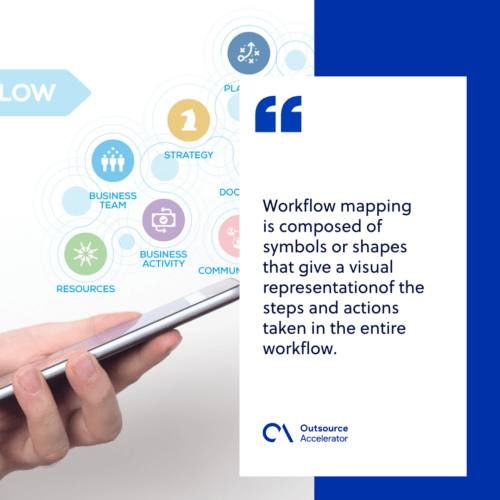 How process maps benefit your operations
Workflow mapping helps management teams analyze processes, especially complicated ones, when they create process maps that are easy to understand and follow.
It also helps them avoid mistakes in workflow procedures that often lead to complications in deliverables.
Workflow mapping definition
Thus, it will be easier for your employees to be familiar with your processes, especially when dealing with complex tasks. Workflow mapping is beneficial for successfully conducting services or projects for maximum turnover.
What is the use of workflow mapping tools? 
Workflow mapping tools, also known as process mapping tools, allow you to map out your workflow procedures effectively. It serves as an efficiency roadmap for your processes, so your staff can envision how these are carried out.
Although you also have the option to draw everything, utilizing workflow mapping tools helps your teams save time. More so, workflow mapping tools are easy to use, and illustrations can be done smoothly in a short period.
Another advantage of using workflow mapping tools is that it allows you to apply revisions or changes to your workflow procedures.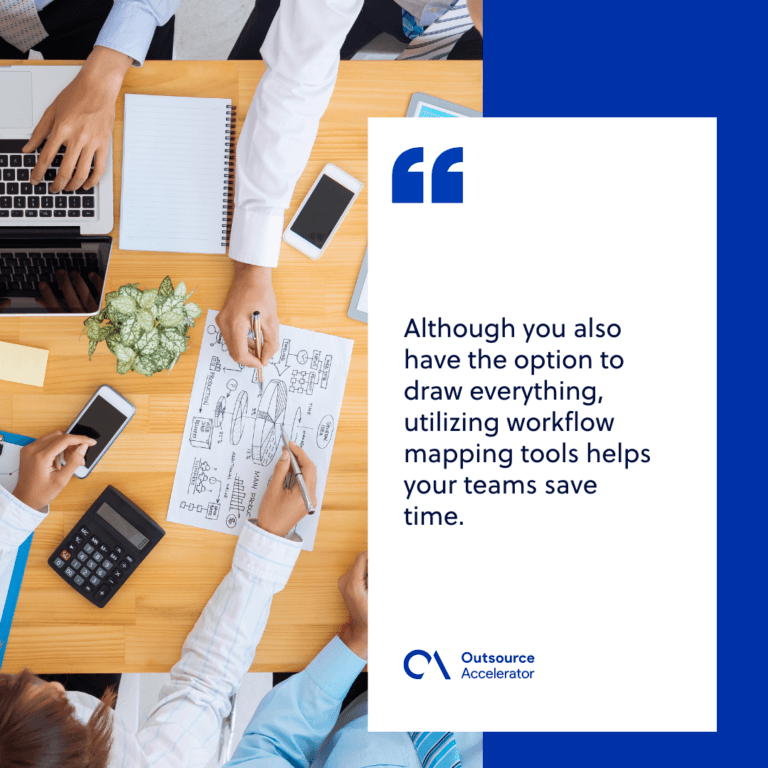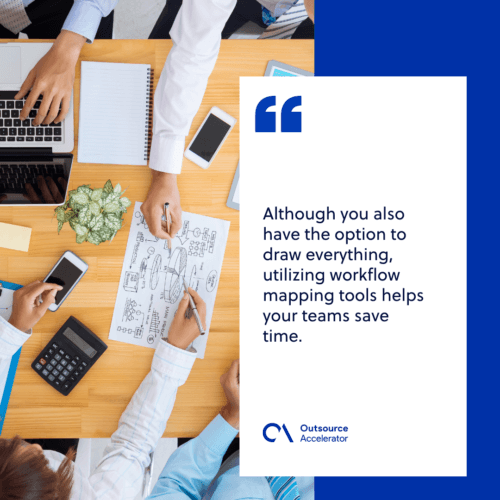 6 common types of workflow mapping methodologies 
Workflow mapping lets everyone taking part in the workflow have a common general understanding of the steps from start to finish.
Below are six common types of workflow mapping techniques you can apply to your business:
Flowchart
A flowchart is the easiest and most basic type of workflow mapping in the form of a line chart with simple shapes. This workflow mapping methodology is commonly used in tracking and summarizing workflows, as well as supervising problem-solving.
Flowcharts show steps, actions, outputs, inputs, and decision points for specific workflows. It also contains interactions from different roles and departments within the organization.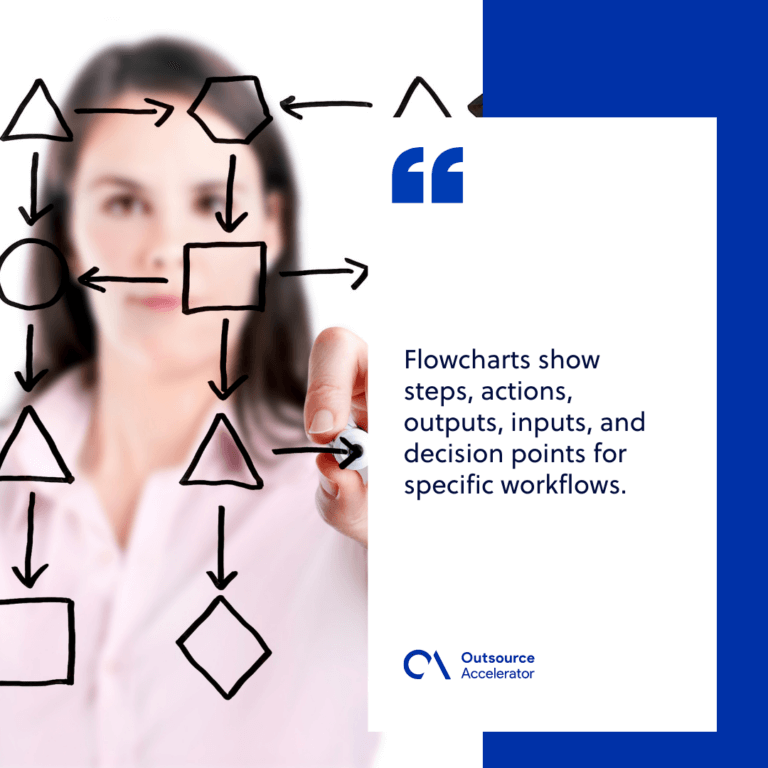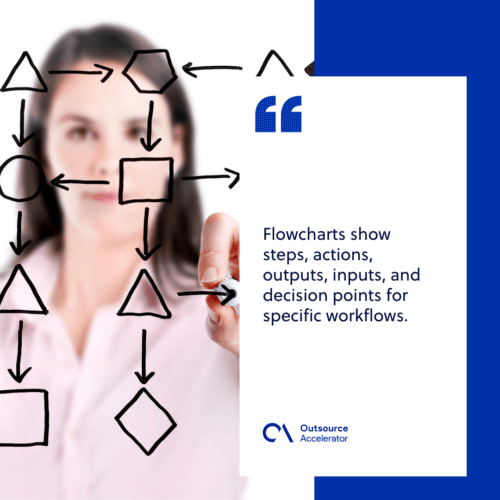 Data flow diagram 
A data flow diagram is comparable to a flowchart. However, it is solely focused on data that is completed in a system.
It is a representation of how a series of data consisting of inputs and outputs are processed within a system. Specifically, it shows where data is gathered from, where it goes, and lastly, where it is saved.
Swimlane diagram
A swimlane diagram is also referred to as a cross-functional map. Compared to flowcharts and data flow diagrams, a swim lane showcases the tasks and roles of each employee involved in specific sub-processes within a process.
Value stream mapping
Value stream mapping depicts how processes can be useful or ineffective to your management. This workflow mapping technique can also be classified as a flow of information or resources within your organization.
Value stream mapping lets you determine which parts of your procedures give value to your organization and which do not.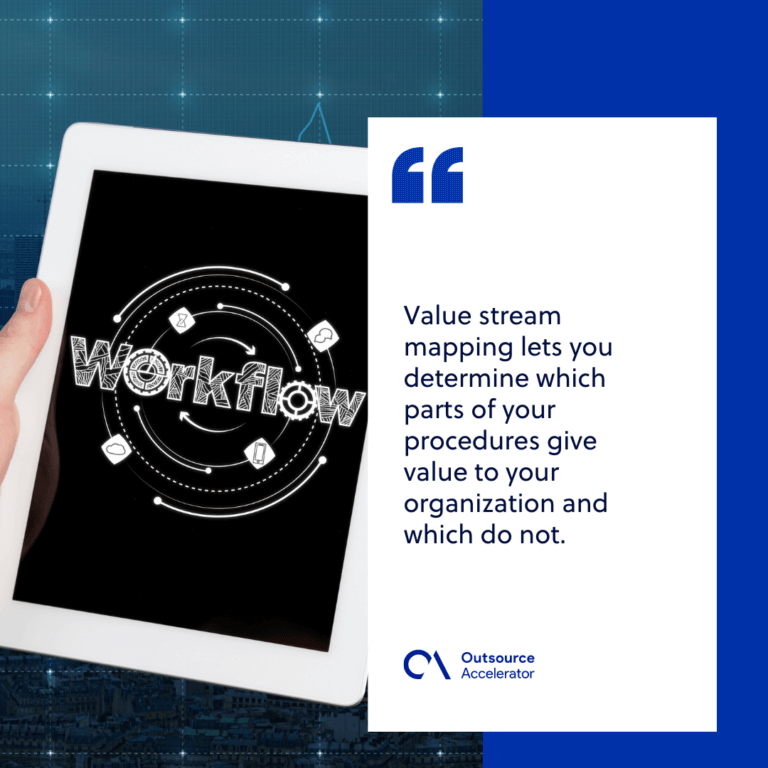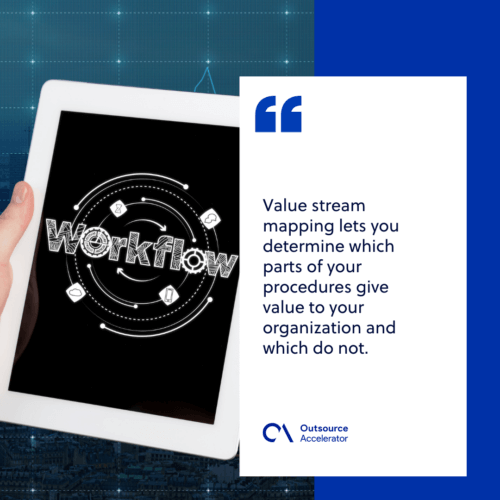 Activity process mapping
Typically compared to a general workflow diagram, activity process mapping consists of a series of events or activities that are time-based, which produce a specific result.
Detailed process mapping
Detailed process mapping depicts the accurate inputs and outputs for your processes. It also includes specific details on how these processes are done. Diagrams portrayed in detailed process mapping are usually sub-processes.
It is important to note that all these workflow map methodologies display steps and processes. But, each method is best suited according to your business goals.
10 most reliable workflow mapping tools for your organization
You don't need to invest in an expensive workflow mapping or process mapping tool in the market to organize your processes. You can simply start with process map templates fit for Google Workspace or Microsoft Office.
At the same time, tons of free process mapping software is available for you to use. To get started, here's our top 10 list of workflow mapping tools you can utilize within your teams:
MindMeister is a free workflow mapping software that can be used by an unlimited number of staff within your organization. This tool also allows your team to interact with one another in real-time.
What's good about MindMeister is that you will be able to integrate all its features into your diagram.
However, you can only create three workflow maps for free. You may subscribe to its premium membership offers if you need to produce more process mapping illustrations.
GitMind is another workflow mapping tool that you can use for free. It offers a selection of templates to help you easily make your diagrams and process maps.
As for its features, you have the option to change the shapes, colors, font, and other attributes of your process map. You may share your maps with other people by generating a simple sharing link.
GitMind is one of the highly recommended workflow mapping tools by businesses.
Creately can be used via mobile or desktop. This tool is very useful, especially in working collaboratively with remote teams. It also provides an array of ready-made templates for various sectors like engineering, marketing, and education.
It also gives you all-inclusive access to its shape libraries to help you create design systems, workflows, or business process models.
Unlike other workflow mapping tools, Visual Paradigm helps you visualize your organizational processes while utilizing IT development features. This tool is perfect for agile software development.
It has a drag-and-drop interface, which helps you easily and quickly create diagrams and flowcharts. Another great feature of Visual Paradigm is that you can present your workflow process as an animation.
Diagrams.net is a basic process mapping editor with an online and desktop version that's simple to use. We highly recommend using its online version as it is free and provides all capabilities and features that the computer version offers.
Compared with other workflow mapping tools on our list, Diagrams.net does not allow online collaborations.
Gliffy also has a wide selection of process mapping templates and themes. This makes it easier for your teams to create professional-looking workflow maps. You may immediately revert to your previous versions if you commit a mistake or forget something.
This tool lets you share your finished output on various social media platforms.
Cacoo is another workflow mapping tool that enables collaborative work. It lets everyone within your team edit and modify the same blueprint all at the same time.
All team members can track the changes or progress of a specific project through its activity notification feature.
Canva is well-known for letting teams create the best and most creative-looking workflow maps for both business and personal purposes.
It lets you search for specific templates and apply them to your workflow process illustrations. With Canva, you can also upload images directly from your local drive or content attachments that you obtained online.
And lastly, its presentation feature can be utilized to embed illustrations in every slide.
Google Drawings is one of the more simple and more basic workflow mapping tools on our list. It lets you make uncomplicated flowcharts and diagrams with basic shapes.
Google Drawings can be downloaded as a Chrome extension. As long as you have the Chrome app on your device, you may use Google drawings either online or offline.
Visme is an interactive workflow mapping tool with animation features like pop-ups or object transitions. It can be used for either infographics or data presentation maps.
Visme can be used online or offline.
Workflow mapping tools are your key to successful work management!
Workflow mapping tools help you quickly discover flaws and, in turn, enhance your workflow processes effectively. They let you avoid mistakes, complete procedures more quickly, and provide quality products and services.
Most of these workflow mapping tools can be used for free. Meanwhile, other process mapping tools require you to purchase premium subscription plans to access their features fully.