Why successful companies outsource in the Philippines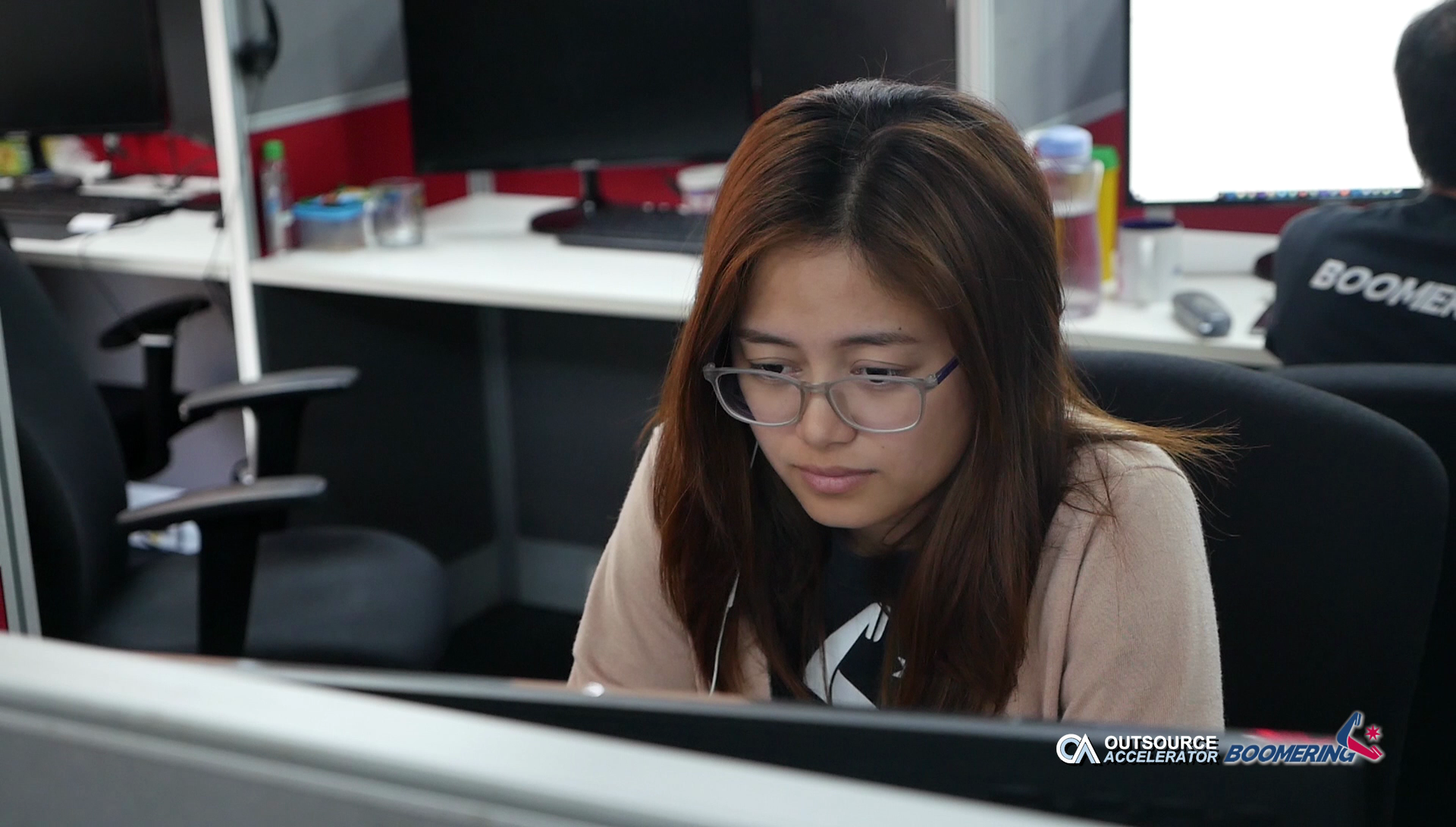 I still remember the first very day I became a call center agent. It was 2013, and out of curiosity (and the enticing offer), I applied to this not-so-popular but established BPO company. I was a newbie. No BPO experience at all. I took the risk. Tried my best to converse in English. Showed off some of my marketing and computer skills.  And voila! I'm hired.
At that time, the Business Process Outsourcing (BPO) industry was gradually dominating our laid back yet progressive city. You could see their job advertisements anywhere – on social media, online job portals, TV commercials, flyers, and even on billboards.
Home-based or office-based, the industry was ever booming and unstoppable. Now it's 2018, and the BPO industry has got even better. Nothing has changed, except for its exceptional growth. It didn't even decline, and the opportunities for job hunters and existing BPO employees seem limitless.
Outsource to the Philippines
What could be the reason behind BPO's success in our country? I can share one good reason – it's more fun to outsource in the Philippines. And why it's more fun here? Read on to discover.
Started from the bottom, now we're here
Did you know that Business Process Outsourcing has been around in the Philippines since 1992? It was started by Accenture in 1992, followed by SKYES in 1997, Convergys in 2003, ePLDT Ventus in 2004, and the list went on.
In 2011, it was estimated that BPO has become one of the biggest and fastest-growing job providers in the private sector. In 2012, BPO's success skyrocketed and grew even further, resulting in jaw-dropping revenue of $15.5B.
When 2016 entered, BPO industry was projected to generate 1.3M jobs. By 2020, the World Bank and other experts forecasted that the outsourcing industry in the Philippines could reach earnings worth $55 billion.
Outsource Philippines
BPO can be voice or non-voice, back office or front office outsourcing, home-based or office-based. The services are vast. It can range from telemarketing to customer service support and online marketing strategies.
With the advent of outsourcing in the country, Filipinos have been more than equipped to perform these tasks with knowledge and proficiency. Our commitment to work and our burning passion to learn new skills has now made the Philippines as one of the indisputable destinations for IT-BPO services.
Benefits of outsourcing (and why you should choose the Philippines)
Outsourcing offers countless benefits and advantages. Here are some of the winning reasons worth considering for.
Cost-effective
Cost-effectiveness grabs the top spot, because why not? If you want to save big time, consider outsourcing.
According to Clutch, an international research firm, the Philippines is one of the most cost-effective hubs for IT solutions services – one of the many remarkable reasons that numerous companies choose to outsource in the Philippines.
The cost of labor is low but guarantees results, so clients are expected to get high-quality work. In addition, the clients don't need to worry so much about the infrastructure.
Everything will be taken care of, from bills to the workforce. In the Philippines, we help our clients save big time without compromising the services they want to get and the results they want to achieve.
Skilled and talented employees
Outsourcing expands your search for skilled individuals outside your country. If you are looking for talented people, look no further. With the emergence of gigantic and leading international companies in the country, Filipinos have been trained and shaped into competitive individuals ready to rule the global market. They have contributed a significant growth not just to local organizations, but also to private sectors like BPO.
[oa-ads-product-video]
In addition, they can easily adapt to the newest and state of the art technologies. They are undeniably fast learners and a pro when it comes to multi-tasking. Passion and commitment run in their blood, and they are always eager to learn new skills in order to meet their clients' expectations.
Impressive communication skills
Communication plays a crucial role in providing the first-rate service to clients and customers. Here in the Philippines, English is one of our main languages, and this is what sets us apart from the other non-English speaking countries.
Filipinos are known to have an excellent command in English, which allows them to communicate well both in written and verbal approach.
The best thing about BPO companies in the Philippines is that they employ individuals who can express themselves well in English language or any language that the client has required to. These companies also ensure that their employees receive continuous training to further develop their communication skills in a greater level.
Ready to serve you day and night
Whatever time zone you are in, outsourcing keeps your business running round the clock. Even you take on your vacation breaks, or just sleeping on your bed, your offshore team will ensure that you get the most of your investment by keeping the business up and running.
In the Philippines, BPO employees are very flexible. They are amendable to dayshift, nightshift and graveyard schedules. They can also work during regular holidays or weekends. All these for the love of their work and their clients.
Work ethic
Working with individuals who have a great attitude towards work is a form of achievement for employers, as they were able to invest in a bunch of people who can help bring out the best in their organization. Filipinos are well known for being patient, hard workers, and dedicated.
They give their 100% when it comes to working. And wherever you go, Filipino workers are in demand in various fields and industries. The number of companies outsourcing their operations in the Philippines is strong evidence that Filipinos can truly deliver excellence through their outstanding skills and work ethics.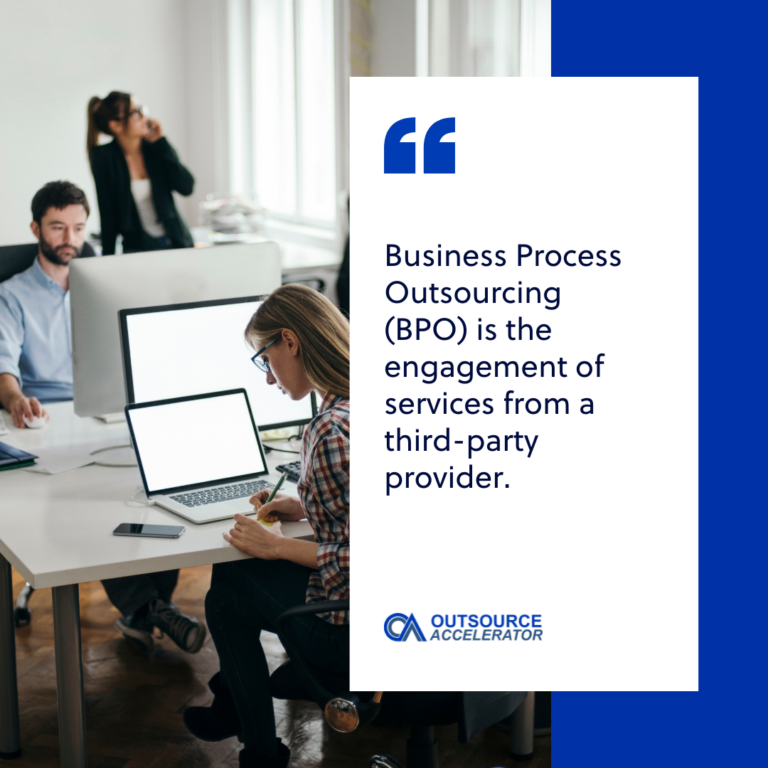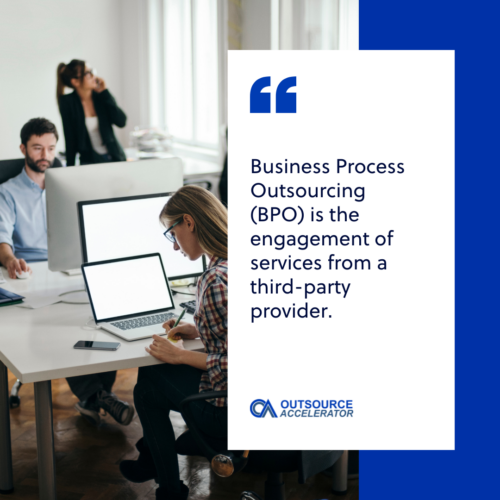 Outsource in the Philippines
It's easy to understand why people outsource to the Philippines.  In the first quarter of 2016, A.T. Kearney, a leading global management consulting firm, has released its latest analysis of the global outsourcing market, which shows the top contenders in the business process outsourcing. A.T. Kearney examined the best countries for global outsourcing with the following categories:
Financial attractiveness (40%)
People's skills and availability (30%)
Business environment (30%)
Among the 55 countries with offshoring landscape, 40 contenders have been chosen, among which is the Philippines holding the 7th spot and unchanged last year.
The country garnered 3.17 for financial attractiveness and 1.29 for the business environment, which is only a few numbers away from the top contender, India, which has 3.22 for financial attractiveness and 1.19 for the business environment.
Choose Philippines outsourcing
In an article from Computer Weekly, they have listed the top five countries for best IT outsourcing venues. And guess what? The Philippines was among the best outsourcing venues to watch! Some of the reasons cited include:
The blossoming IT sector
A suitable location for straightforward software development projects
Specialization in development and legacy application maintenance
Proficiency in Java and .NET
Lowest wages and telecoms expenses of all
Strong in back-office outsourcing
A popular option for offshoring low-level maintenance work
Let's also take a look at the recent statistics from Statista, a reliable and recognized statistics portal conducting a study from 22,500 sources. The website listed the leading countries in offshore business services around the world in 2017. The Philippines is still a strong contender, retaining its 7th spot from the last year's survey.
With these reliable sources showing the Philippines' competitiveness in the world of outsourcing, there is no doubt that the country deserves recognition. As the Philippines competes with the other growing countries in Asia, such as Malaysia and Singapore, the country was also able to gain trust and respect from different companies worldwide.
Top outsourcing services in the Philippines
Outsource call center – Philippines
The Philippines is known as the outsource call center of the world.  The first BPO outsourcing company in the country was established as a call center company. Until today, this form of back-office outsourcing has been the number one and most popular BPO job in the Philippines, which involves the strategic acquisition of sales and customer service round the clock.
In the 2015 article from Los Angeles Times, the Philippines was hailed as the call-center capital of the world. Due to the Philippines' admirable demand in telemarketing and customer care, BPO call centers have continued to grow and expand in different cities and regions throughout the country.
IT solutions and services
Website support and development including information technology services are also one of the most popular services outsourced in the country. That's because the Philippines is home to talented IT professionals who have vast knowledge in graphic designing, social media management, Search Engine Optimization, online & digital marketing, and web developing.
Virtual assistant
If your company requires strong administrative support, outsourcing virtual assistants in the Philippines is a great, perfect idea. The Philippines offers a wide range of data entry and virtual assistant jobs, which include travel and appointment setting, medical claims, mailing lists, logistics data, and other clerical tasks.
The Philippines is an ideal hub for VA jobs as the BPO companies strictly adhere to the government's enacted laws and ordinances, which is to provide the clients with data security, obliging the BPO workers to keep the handled data safe and confidential at all times.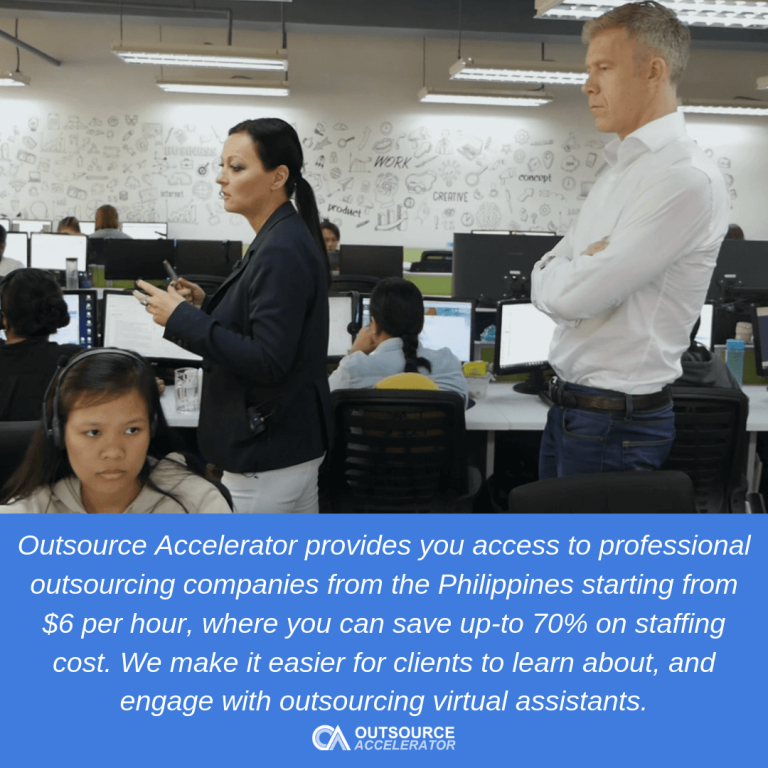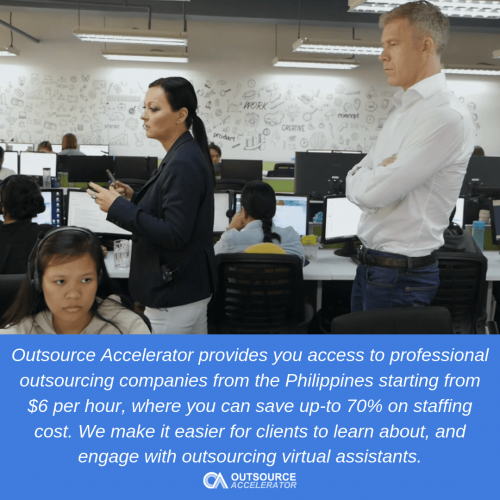 Outsource to the Philippines
The Philippines is also a recommended outsourcing hub for other multifaceted jobs such as writers, researchers, drafters, human resources, health care information management – and much more.
Finding the best Philippines outsourcing company
Are you more than ready to find the best talents and company for outsourcing your business? Before your adrenaline starts to rush, take a pause and be sure to keep important things in mind first.  Outsourcing your services is not an easy decision.
It can be a challenging activity and surely requires profound time and effort before diving into a company's enticing offer. Don't worry, I've got some useful tips and tricks to help you choose your ideal outsourcing company:
Conduct comprehensive research
There are many ways to determine if the outsourcing company is a great option or not. You can do the research on Google, Facebook, or check the company's ratings and reviews online. Referrals by colleagues and directory listings are another way to research for the company.
These sources are very reliable and help you get the right recommendation. If the company is well-known, established, and has been operating for years without unpleasant remarks, then you might have chosen the right one.
Active in social media
Many people look for businesses and services on social media platforms right away. Social media plays a crucial role in ensuring visitors the credibility and reputation of a company. Make sure the company is active in social media.
Check their profiles on LinkedIn and Facebook. If they share useful insights, advertisements and have good recommendations on their feed, then these are good signs that the company can attract many potential clients, which can highly benefit your services.
Capability of the company and workforce
As a client, you will have the right to pick the best individuals for your company. The company must be able to meet your qualifications and consider individuals who are skilled in the field you are in.
Some of the factors to be considered include industry experience, communication skills, state of the art facility, development process and most of all timely delivery. At the end of the day, you'll want great results, so having a strong workforce and talents is a must.
Payment terms
If you have initially found a company or person to outsource your services, ask about the payment terms they are offering. This may vary from company to company or from freelancer to freelancer, so be sure to discuss this right away so you both know where to stand and avoid possible conflicts down the road.
Leading Philippines outsourcing company directory
And of course, check out the world's most comprehensive Philippines outsourcing company directory for information on more than 600+ BPOs and outsourcing suppliers.
It's more fun to outsource in the Philippines
Need more help? Outsource Accelerator has got you covered. Outsource Accelerator is a trusted source of independent information, education and advisory for Business Process Outsourcing. They offer a reliable resource for companies and individuals who are seeking the right outsourcing organization in the Philippines.
At Outsource Accelerator, they present all options to help you find the best outsourcing company that meets your needs and wants. Looking for more powerful reasons to outsource in the Philippines? Go visit The Source page today for more helpful insights.
As a proud Virtual Assistant/Regional Associate for an Australian-based recruitment company, I will leave you with this strong and inspiring message from one of my connections on LinkedIn. If in doubt, go read it again and cherish his words.