Why outsource software development for telecommunications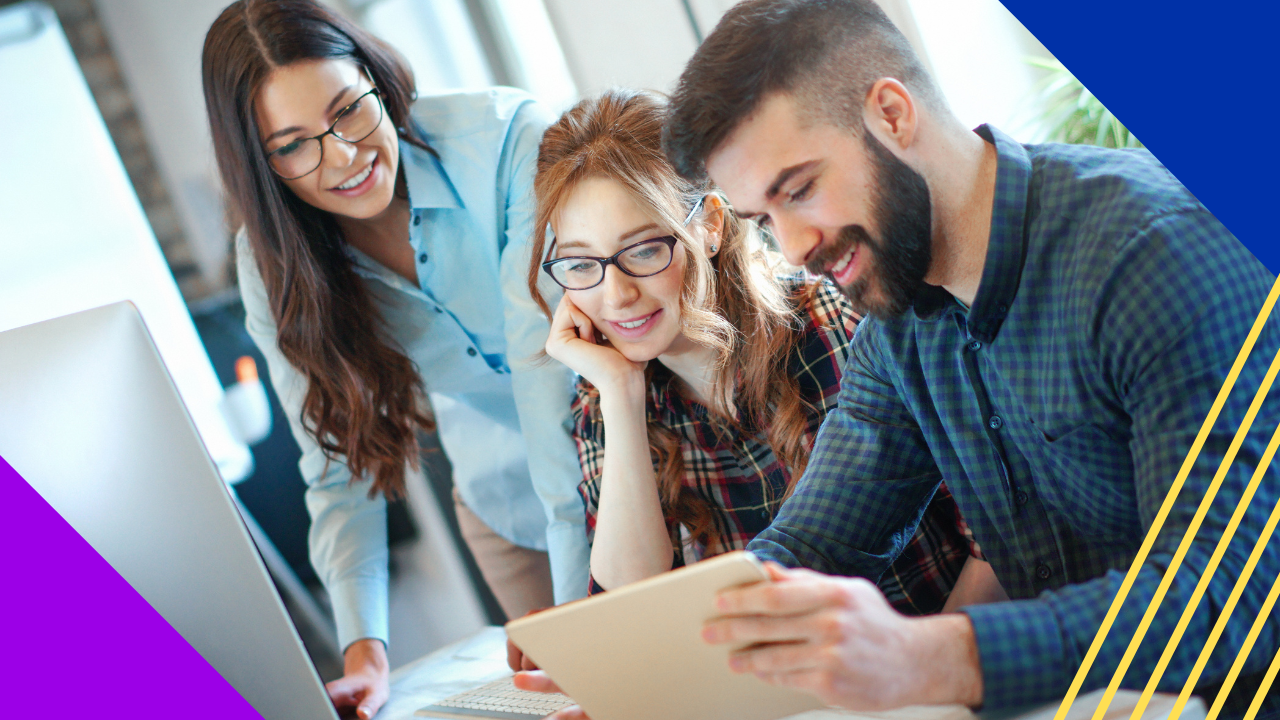 Why outsource software development for telecommunications
To maintain relevance in the increasingly competitive marketplace, telecommunications firms are continuously optimizing their technologies to innovate and offer modern products and services. Moreover, these telecommunications establishments are moving towards outsourcing information technology services to back up and boost their facilities and operations.
When companies decide to outsource software development, they usually avail the services of a software outsourcing company that effectively provides complete software development services. Among these offerings that these client firms demand include software testing solutions, software architecture design, infrastructure implementation, as well as communicating equipment, and management applications maintenance.
To maximize their investment, client companies also consider the human resource capabilities of the software outsourcing service provider. Customers ensure that the personnel servicing them are knowledgeable when it comes to the relevant software development programs that they require for their operations.
Why do businesses hesitate to outsource software development?
Several factors shape a client telecommunications firm's decision when choosing to outsource the software development aspect of its business. They usually consider these possible concerns that could affect them before availing of the software outsourcing company's services. Here are some of these determinants: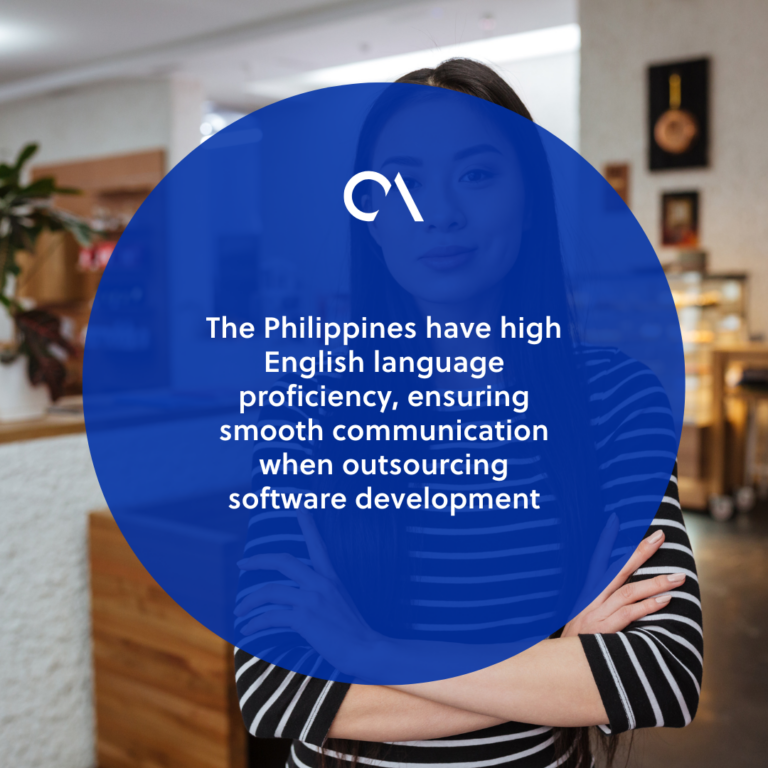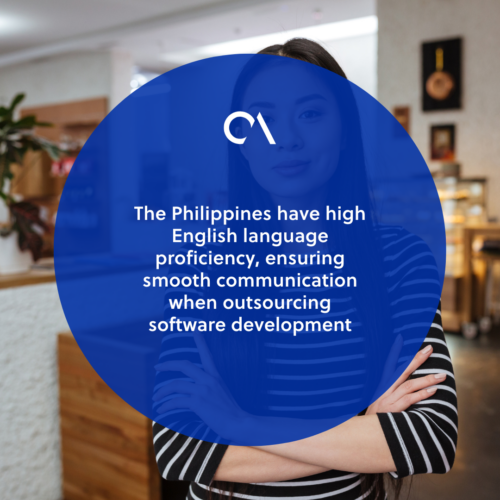 A) Culture-based work ethics
Client telecommunications companies may find it difficult to understand the work values and traditions of the software outsourcing service provider, which is usually located in a foreign country. Unfamiliar business ethics and ethnic divergences that are worlds apart from those of the client firm may prevent it from availing the service of the software outsourcing firm.
B) Time zone difference
Traditionally, outsourcing software development involves a client firm availing the services of its offshore partner based overseas. This poses an immediate challenge for communication, given the probability of extreme time zone disparities. Miscommunication is possible between the two parties, and they may feel troubled with setting meeting times and responding to questions and issues promptly.
C) Trust issues
Client companies who are interested in outsourcing software development may not believe in the reliability of the software development service provider initially. They may question the vendor's capacity and skills in giving optimal software development solutions. This can be a dilemma since client firms and their service provider should understand each other well, including the overall strategic aims and philosophy of the client company and the objectives of their collaboration.
D) Communication
When a telecommunications firm decides to outsource software development, it may find itself dissatisfied with its decision, especially when communication problems arise. The client company may not be able to establish a relationship with a contact person like a dependable project manager based in an on-shore office. They may also find it difficult to have reliable personnel from the software outsourcing company who is proficient in business partnerships and problem-solving.
E) Cost of hiring a programmer versus outsourcing
Client companies would usually weigh in on the cost of hiring a programmer.
They may think that outsourcing this professional is the best way since this practice usually offers firms a high level of productivity at a lower price. However, they may also consider hiring a programmer in-house who usually shares a similar vision and interest with them, such as long-term product development.
How can telecommunication firms best outsource software development?
One can eliminate hesitations in exploring outsourcing software development by knowing how to maximize this investment. Aside from reaping the benefits of outsourcing, like flexible service packages, faster deployment, and hassle-free management, you gain long-term benefits like cost efficiency and scalability.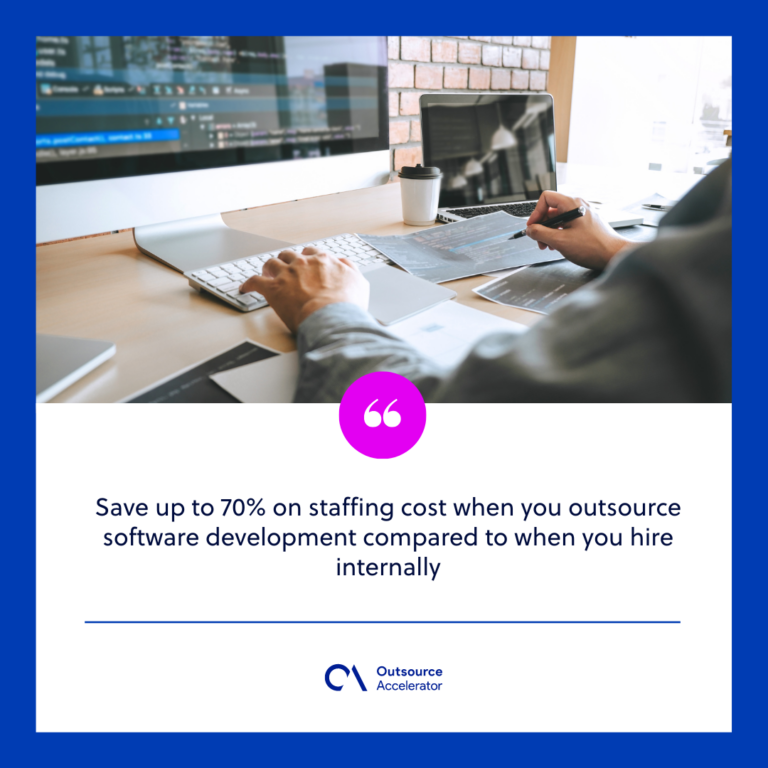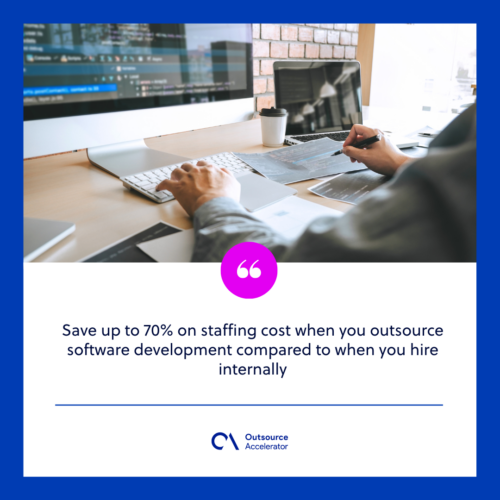 In choosing the right provider, have these considerations:
1. Ask for a succession plan for developers.
Besides the costs when deciding to outsource software development, client firms want to feel confident and to have peace of mind when dealing with their service provider.
The software development firm's talented developers may retire or be hired by other companies, leaving the client firm worried about the outsourcing support that they paid for. These customers will then have to know about their service provider's succession plan for their software developers.
A software outsourcing company should assure their customers that well-trained professionals are always there to guarantee the smooth operations and future development of their client's businesses.
2. Look for experience and domain focus, and expertise.
To get value of their money, client companies should select an outsourcing software development company that is well-established in their sector.
Client firms may benefit from the services of large service providers with multi-layered management. These establishments employ software developers who work on a full-time and long-term basis. Moreover, they complement the client company's core team by supplying the additional skills they need on an ad-hoc basis.
However, these large firms may facilitate miscommunication and unnecessary overhead costs or expenses.
Meanwhile, a small team of skilled and experienced offshore software developers – preferably a six or seven-man team – will be more efficient than a larger group of average professionals.
3. Mutually agree on a realistic software development outsourcing timetable.
Service providers and their customers should agree on a specified deadline for delivering the agreed targets. This can be performed by setting up a meeting and sending regular e-mail communications to each other. Both parties may communicate and coordinate with each other apropos to the progress of their projects and if they are on their way towards meeting their objectives.
4. Get an outsourcing team to supplement your core team and not replace it.
Offshore software development firms, such as MVP Asia Pacific, can deliver their best if they and their client company and its team members are on the same page pertinent to the client's overall mission and vision.
The service provider should serve as a support or supplement, providing the backup services needed and paid for by the customer.
This can be made possible by the client company's core team sharing relevant information with the outsourcing team. After all, the client firm's personnel are knowledgeable about their enterprise and are the ones who interact with the company's customers.
5. Justify and maximize the software development cost.
Outsourcing the software development aspect of a firm is usually enticing because it is cost-effective. A client company would usually evaluate the rates offered by the service provider.
Nevertheless, besides considering the software development cost, companies should also evaluate what these prices encompass. Speed, flexibility, expertise, and access to resources are critical besides the inexpensive costing that is typically offered by a software outsourcing company.
6. Choose a reliable software outsourcing company.
Client firms seeking a reliable software outsourcing company should thoroughly research the background of the service provider. This measure includes learning about their company culture, its capabilities, tools and processes, and their overall mission and vision as a business. Customers should also assess their potential service provider's legal and security features, standards of quality, and communication process.
When it comes to providing IT and other tech outsourcing needs, Arcanys is a go-to among the Philippines' BPO service providers. The company checks all the earlier-mentioned requirements for choosing a reliable IT-BPO.
Outsourcing software development services may have its advantages and pitfalls. If client companies stay well-informed regarding the disadvantages while at the same time keeping in mind the benefits, they will certainly obtain the best solutions for their businesses.