Why outsource medical billing? A quick overview
Why outsource medical billing A quick overview
Outsourcing medical billing is becoming an increasingly popular option for healthcare providers. A medical billing company can streamline your operations, reduce costs, and improve accuracy when it comes to your billing claims.
The state of medical billing in the United States is intimidating. Pricing varies per state,[1] and crimes of overcharging are rampant. 
Outsourcing medical billing can be a great way to save time and money, but it can also be a daunting task. Before you jump in, make sure you learn a bit about the situation first.
What are outsourced medical billing services? 
Medical billing involves submitting claims to payers for payment. After being treated, patients submit claims to insurance companies or government agencies to be reimbursed.
Medical billers ensure claims are submitted correctly, on time, and paid accurately and in full.
Outsourced medical billing provides personnel specializing in medical bill coding[2] and collection. They render services like processing documents and managing bill operations, depending on the needs of the clinic or hospital. 
Why outsource medical billing? A medical billing service can handle the billing process, freeing you up for other matters. Not only do you reduce work, but you also end up saving time and money.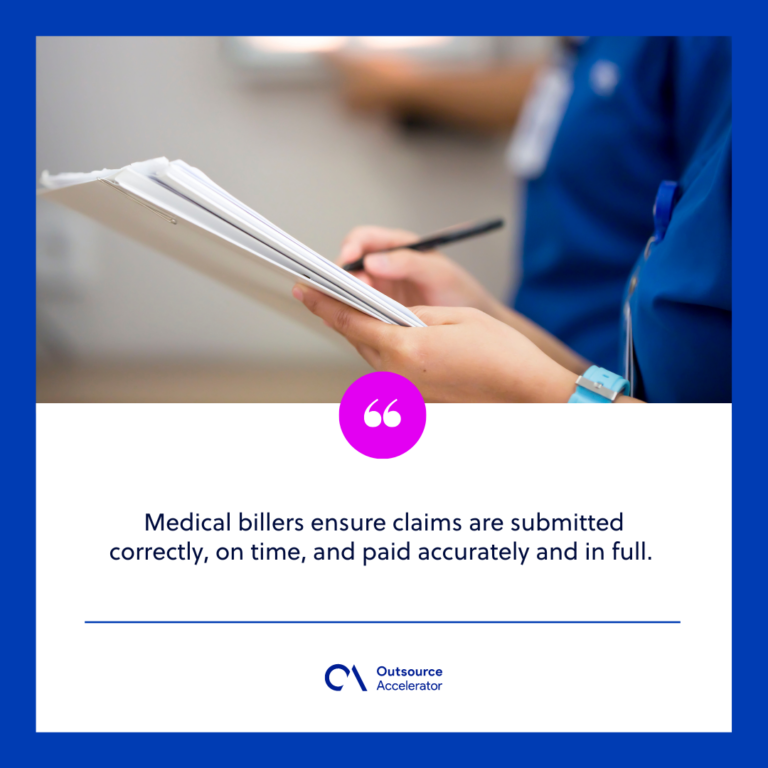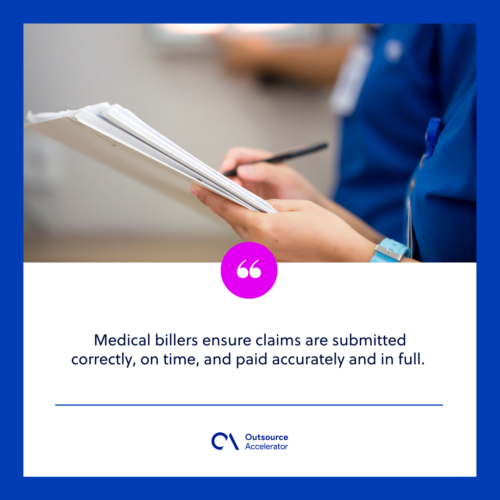 Why should you outsource medical billing?  
There's more to outsourcing than cutting back on cash. The industry of outsourcing medical billing offers many benefits, and here are the notable ones:
More time to serve patients 
A medical provider's time is valuable. As a doctor, nurse, or other healthcare professional, you'll want to spend most of your time treating patients.
Outsourcing medical billing lets you focus more on patient care while ensuring your practice is paid fairly for services rendered. There's no need to worry about collecting payment or filing insurance, as the third-party company does it for you.
Improves patient satisfaction
Medical billing can also be a pain for patients, especially with errors. Efficient billing practices lead to patients becoming more satisfied with overall medical care.
Patients will appreciate the attention to detail from outsourcing medical billing. Another great feature is customer service, so patients can get answers quickly if there are any questions about the bills.
Access to specialists
Medical billing requires knowledge of healthcare laws and how insurance companies work. Thankfully, outsourcing companies don't just hire anybody off the street.
Receive professional expertise by outsourcing medical billing. These outsourced workers are constantly trained to follow the evolving healthcare industry to help clinics keep up.
Additionally, they have experience handling the billing process, such as dealing with any issues that arise.
Ensured compliance 
HIPAA compliance can be headache-inducing (as most compliance regulations are). Companies that outsource medical billing assist in navigating through that maze.
HIPAA laws govern the protection of sensitive patient data. If you aren't HIPAA-compliant, you won't be able to bill insurance companies directly but to another service instead. This costs time and money.
Outsourcing medical billing not ensures HIPAA compliance and has software that tracks data related to quality improvement initiatives, such as electronically.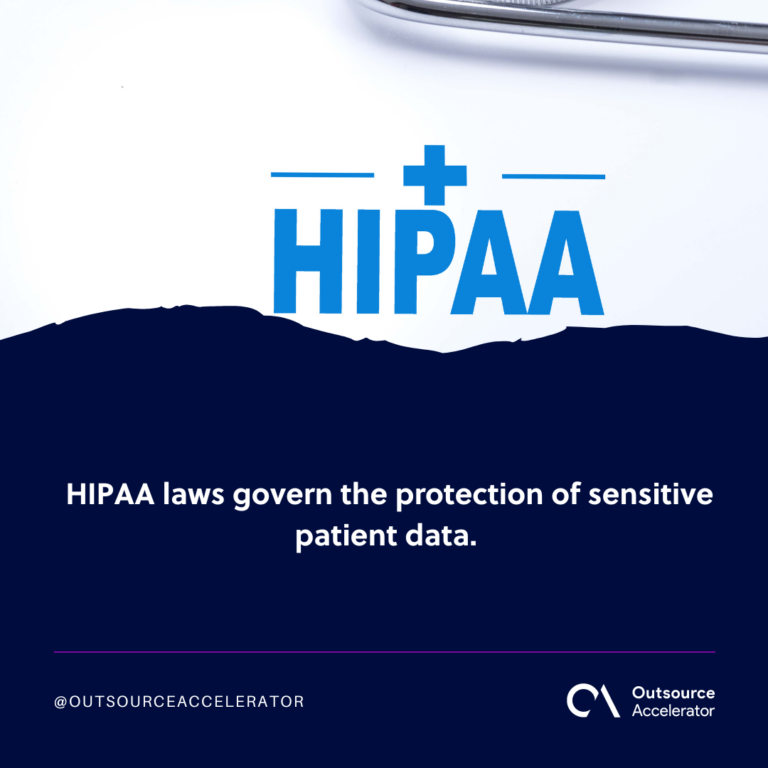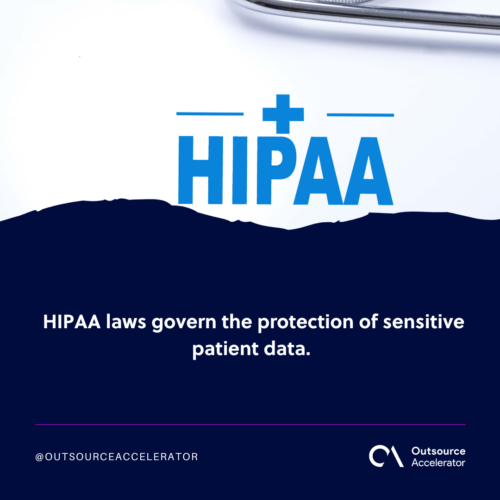 Reduces billing errors 
Billing errors are a plague on the healthcare industry. As per Revcycle Intelligence, more than 4 in 10 consumers reported being frustrated with medical billing errors costing them time and money.
Outsourcing medical billing assists with reducing these billing errors. Having a specialized medical billing team oversee the process certifies that higher accuracy will be put into payment reports, leading to timely payments.
Affordable costs
Outsourcing medical billing services is more affordable than starting an in-house department or hiring full-time employees.
Cutting down training and equipment costs is a big help. Although there are several other factors, like the complexity of your medical billing needs, you can still expect to save money by outsourcing.
Increased revenue
On average, doctors spend two-thirds of their time doing paperwork. That leaves a meager amount of time for patient needs, thus, costing them revenue.
Through medical billing outsourcing, you can get those hours back and use them to provide better healthcare. You'll also be able to increase revenue by converting more patients into payers.
Patients that are late payers get subjected to penalties, which translate into lost profit for your practice.
Qualities to look for when outsourcing medical billing 
It's not all sunshine and daisies when outsourcing and not just any company will do. Keep the following points in mind when seeking a medical billing company:
Specialty-specific services 
Many outsourcing medical billing companies are generalists that offer a range of services. However, there are also specialty-specific companies that cater only to certain types of physicians and facilities.
Specialty-specific companies offer greater expertise and flexibility in meeting your needs. These outsourcing medical billing firms focus on a specialty, like dermatology or ophthalmology, and help you match your clinic's requirements.
Depending on your facility's service, it's worth considering outsourcing medical billing with experience in your needs.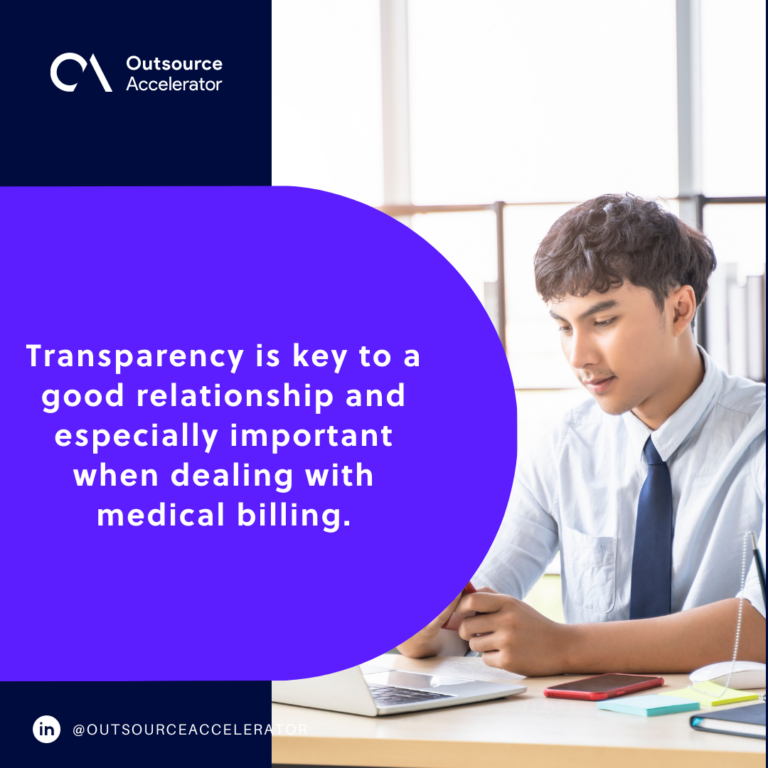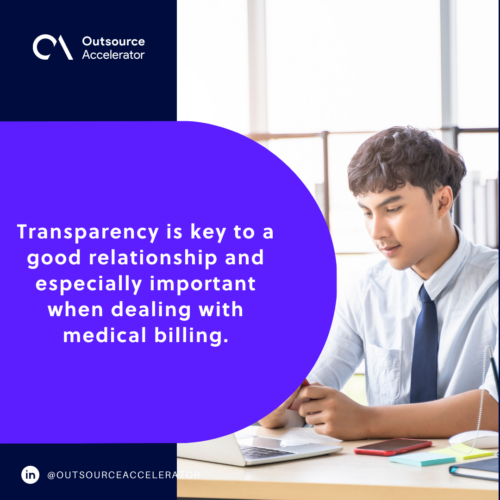 Updated technology
The best outsourcing medical billing companies constantly update their software to stay ahead. Being on top of the technological trends is essential for a smooth practice.
Outdated systems and equipment leave you at risk for lost revenue and mistakes. Make sure your outsourced service uses updated software, security, and procedures.
This ultimately makes it easier for both parties in the transaction with insurance companies.
Expert team
You'll likely get an expert team by outsourcing medical billing, but you'll need to ensure the company meets your staffing requirements.
Do you need just one biller or five? How much experience does this team have collaborating? It's good to make sure you've assured a professional team who will work on behalf of your medical billing.
This will also reassure you that they can easily resolve any issues or problems.
Experience and reputation
Good medical billing outsourcing companies have been in business for a long time. They have extensive experience with the industry and a quality reputation.
A good clue is that they will have an excellent customer service team. You'll want a company that's easy to reach when you have concerns, no matter how busy they get.
Find an outsourcing medical billing company by reading reviews or speaking with customers.
Transparency and communication
Transparency is key to a good relationship and especially important when dealing with medical billing. Your outsourcing medical billing company should provide regular updates on your accounts so you gain confidence in their abilities.
Communication also signifies you're working towards the same goal. An effective communication system quickly resolves issues or other problems.
The best outsourcing medical billing companies always tell you what's going on.
Hopefully, you've understood better why companies outsource medical billing. It's a valid solution with a great payoff and one that more healthcare facilities should consider.
References: 
[1.] Pricing varies per state. Sen, S. and Deokar, A.V., 2022. Toward understanding variations in price and billing in US healthcare services: A predictive analytics approach. Expert Systems with Applications, 209, p.118241.
[2.] Specialize in medical bill coding. Yates, T., Rotolo, P. and Bryce, Y., 2022. The Money Side: Billing, Coding, Reimbursement, Costs, and Marketing. Techniques in Vascular and Interventional Radiology, 25(4), p.100859.