11 common medical billing errors to avoid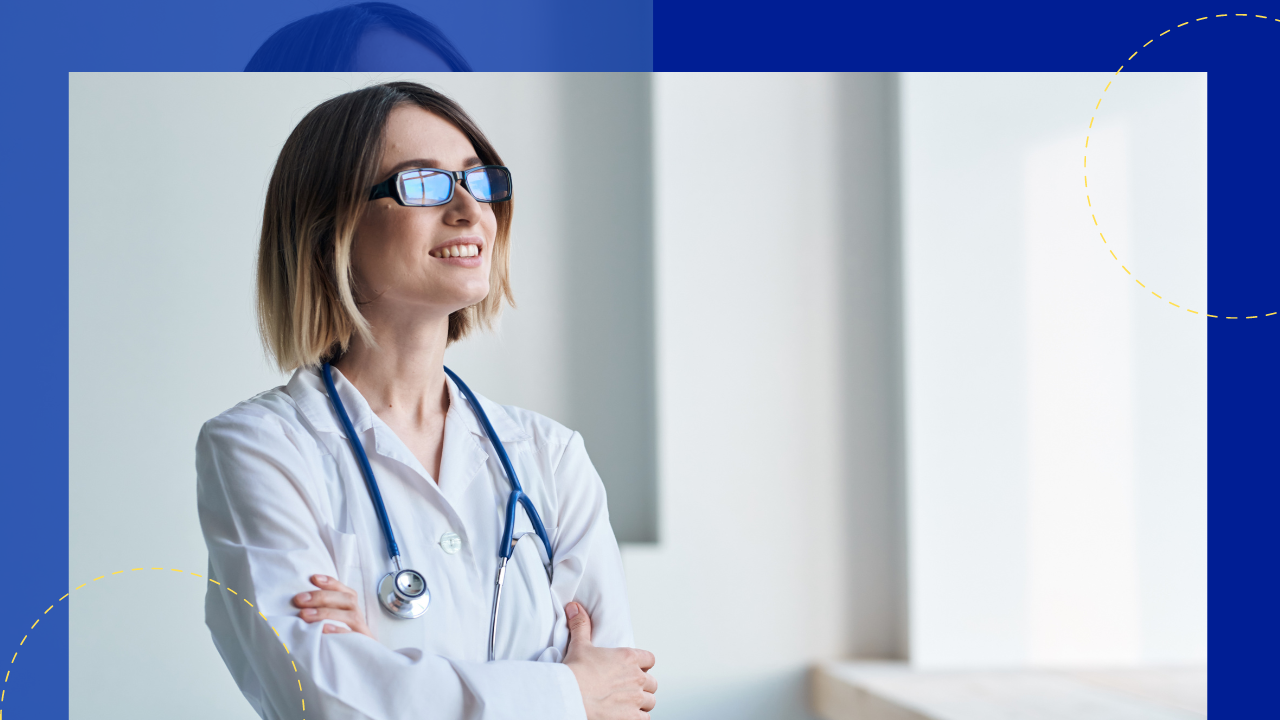 11 common medical billing errors
Medical billing and coding are complex. The intricacies of the tasks depend on the policies, coverage, and standards set by insurance companies.
Due to these considerations, common medical billing errors happen. Even the most steadfast and popular medical billing companies experience claim denials.
In some cases, it is difficult to determine why a claim was denied. The good thing is that common medical billing errors have patterns. They are easy to identify and rectify. The key is recognizing these common errors and avoiding them as much as possible.
This article will walk you through the various common medical billing errors and their possible fixes.
Why do common medical billing errors happen?
It happens even to the best of professionals. It might be because of negligence or the sheer lack of proper oversight. In some cases, fatigue may come due to a load of healthcare claims being processed daily.
Whatever the reason is, it all boils down to human error. Billing software hugely depends on the codes and information inputted by medical billers.
When there is a glitch, which rarely happens, errors may occur.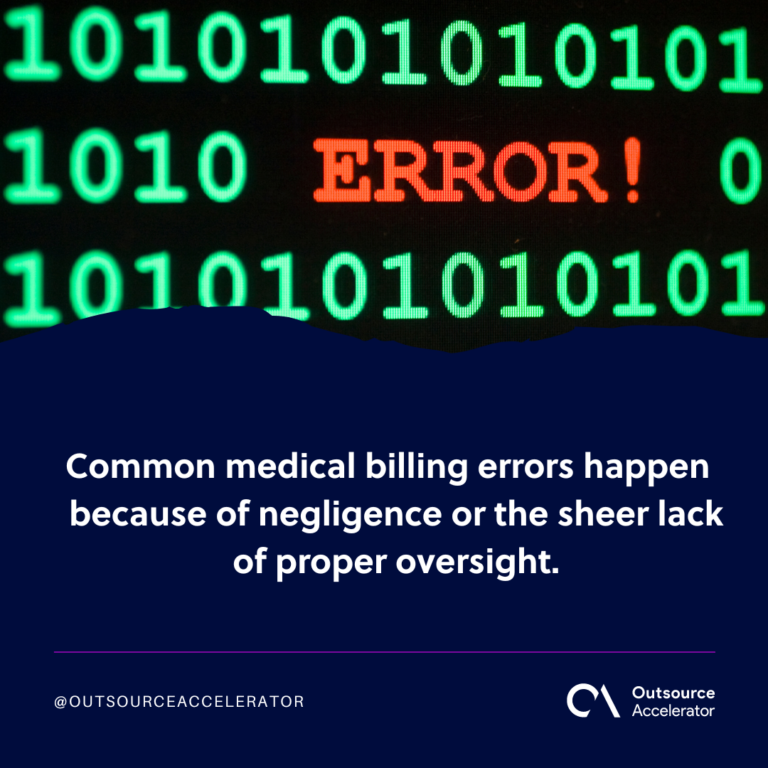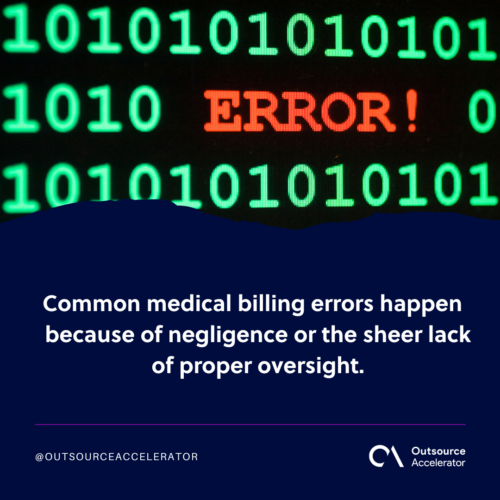 11 prevailing medical billing errors
The common medical billing errors identified below are based on the most documented reason healthcare claims are denied.
Normally, when insurance companies deny a claim, medical billing companies need to review it, revise the claims, and then it gets approved.
But to accurately correct mistakes, knowing what to change is crucial. Below are the common medical billing errors that need correcting:
1. Missing or incorrect patient information
This is usually the most common mistake. Minor spelling errors or incorrect date of birth and sex will cause a denial of claims. Sometimes, the policy number and insurance code are mismatched.
This can be avoided by double-checking patient information and going through the claim again. If the policy requires a group number, make a run-through of it.
It is also worth checking the patient's relationship with the policy's principal owner. This will better situate the status and coverage of the insurance policy.
2. Medical codes are not specific enough 
Every operation, procedure, and diagnosis has specific codes. These codes follow international guidelines and standards.
For instance, hypertension has three codes depending on the severity of the cases – 401.0 for malignant cases, 401.1 for benign, and 401.9 for unspecified.
Other illnesses are categorized this way. If the healthcare claim is not specific such as this, chances are denial is high.
3. Late filing of claims
Insurance providers have strict guidelines on timely claims filing. Healthcare claims must be forwarded to the insurance companies within 12 months or one calendar year.
This allows for processing denied claims and revisions thereof to be rectified. It also means that a good grasp of the documentation is important to avoid denials.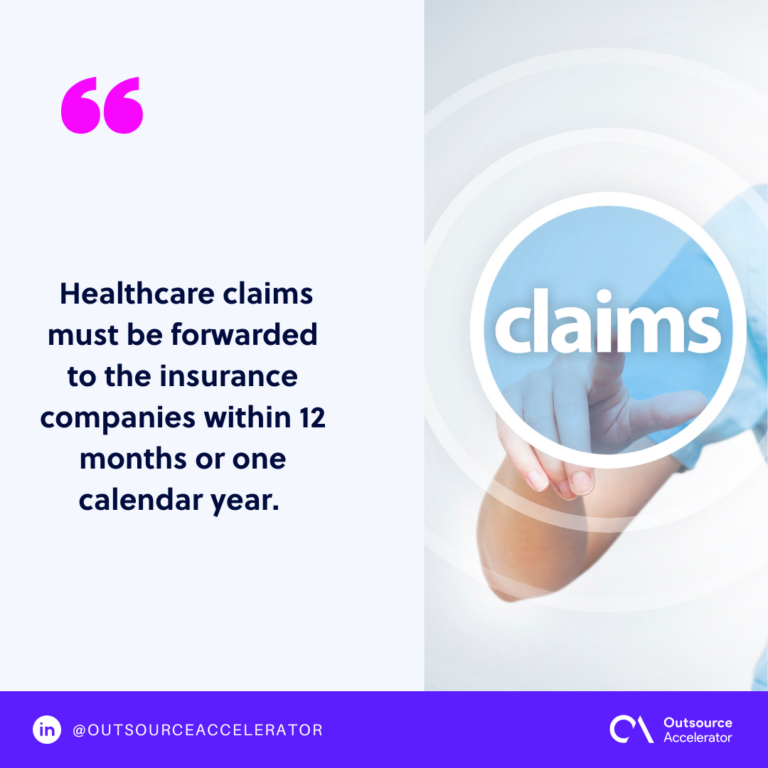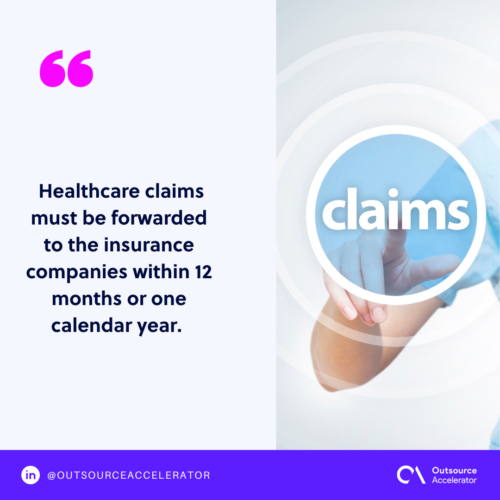 4. Coding Issues
Codebooks are regularly updated and changed by international and local institutions. The use of outdated codebooks can be a source of healthcare denial.
Incorrect coding and documentation mean the process did not take place. This will result in non-reimbursement or the long processing of healthcare claims.
Medical coders play an integral role in the non-denial. Hence, they must be proactive and ensure that the codes they use are updated and acceptable by insurance providers.
5. Duplicate billing 
Duplicate billing rarely happens, but when it does, it is often caused by human error. Usually, what happens is that bills are resubmitted instead of followed up.
This oversight of the submitted claim results in potential duplication. Claims processing systems do not deny this right away. It is classified into two: exact duplicate or suspect duplicate.
Insurance providers double-check these claims, as some might just appear to be just duplicated.
In the event that a claim is duplicated, the following details should be there as well:
Billed amount
HIC number
From the date of service
Through the date of service
Services rendered
Procedure codes
Place service was rendered
Provider number
The best way to avoid this is to be consistent with tracking all healthcare claims and the status of each.
6. Care that was not rendered
There are instances where procedures are canceled due to lack of coverage or availability.
Improper communication can be detrimental to claims processing. It can be considered fraud which can harm the provider's image. In some cases, it is just pure negligence.
In avoiding this, proper communication with the provider and insurance companies must be established to ensure that healthcare claims are accurate and factual.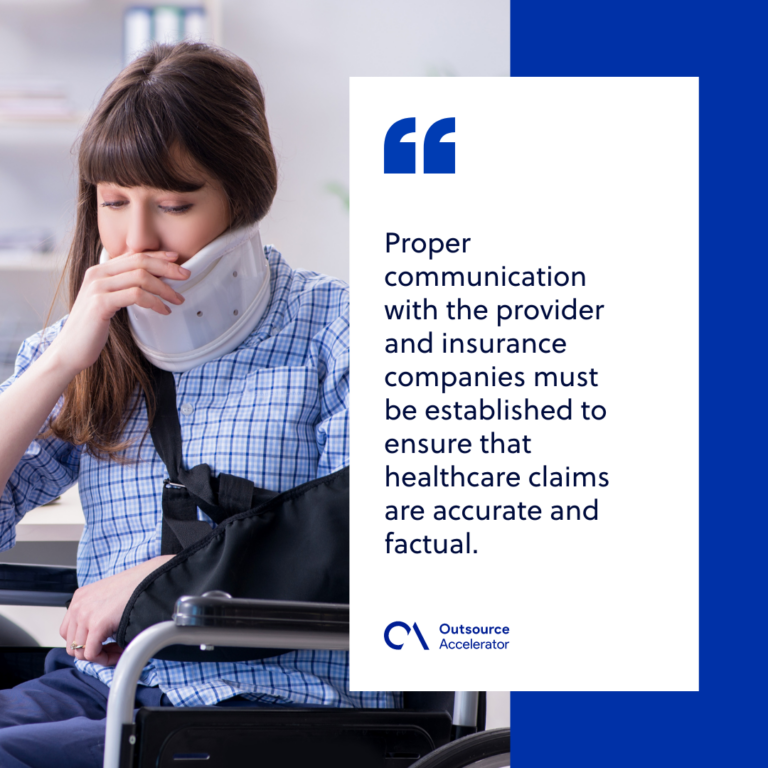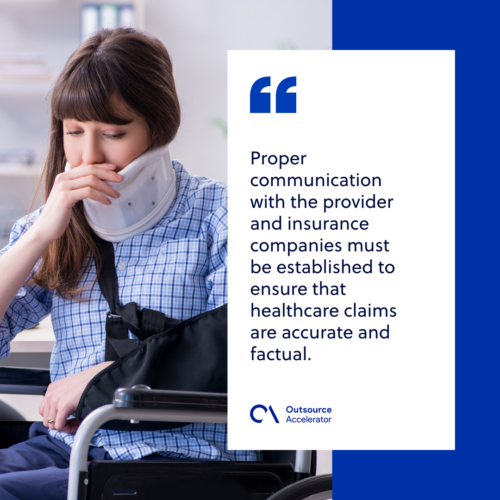 7. Wrong bundling and upcoding of charges
Upcoding is the intentional use of higher-paying CPT codes to get huge reimbursements for services that are considered to be average. This is a fraudulent act and is punishable by law.
Other providers will unbundle some tests and/or procedures and bill each separately, which should not be the case. Insurance companies quickly recognize this type of activity, and serious penalties can be incurred.
The best way to avoid this is to ensure the integrity of the medical billers.
8. Further documentation is necessary
One of the major setbacks in claims processing is the lack of documentation sent along with the healthcare claims. This may include physical reports, consultation reports, summaries, and patient's medical history.
Insurance providers are very particular in validating and checking all the documents. Submitting all of these and checking their authenticity prior to submission is necessary.
The lack of documentation means no services were ever performed. It means reimbursement will not be processed too.
9. Authorization is required
Some insurance companies require authorization or referral from accredited physicians before any procedure takes place. The lack thereof will result in not processing claims or rejecting the coverage.
Nonetheless, even with the referral of an accredited physician, submitted claims must be supported with documentation. They must be filed on time and accomplished by the accredited provider.
10. Termination of coverage 
Plans have their limits. It is important to verify patients' eligibility. Ensure that the patient's coverage plan is active and can accommodate the procedure.
With coverage plans changing almost every time, being thorough will not be harmful. Not to mention, some patients just resigned from work and lost their coverage eligibility.
To avoid inconvenience and difficulty at a later stage, verify now.
11. Confusing denied claim with rejected claims
Denied claims do not entail it is rejected. In most cases, tweaking and small revisions are needed to approve them. It is important to be persistent and not give up as long as the patient has coverage.
How can common medical billing errors be avoided?
Common medical billing errors, while difficult to be avoided, can be managed. It is not rocket science to thoroughly and diligently work out the details.
Everything needed is a pair of fresh eyes that will check and validate the claims and documentation to be submitted.